When researching things to do in Marrakech there's no doubt you've seen pictures of the markets of Marrakech. They are a cacophony of colors and stores overflowing with things like shoes, lanterns, and clothing. No wonder It is easy to get lost and wander for hours in Marrakech markets! But, many people find it very nerve-wracking to be in such an environment and don't relish the thought of being lost. That's totally understandable.
So, where are the souks in Marrakech? The Souks of Marrakech are located near the Jemaa el Fna square. If you're standing in Jemma el Fna (the big square) you're standing on the edge of the souks. These are the main markets of Marrakech. Souk is the Arabic word for market. There are three main entrances from the square.

At the edges you'll find that products are mixed together. Lamps, clothing, wood works – everything. You don't have to wander in more than a few meters to find all of these things. However, if you can resist buying things here, and walk further in you'll find workshops and specialty areas or the best markets in Marrakech.
In the dying area you'll see the roofs of the walkways covered in colorful yarns drying.
Once near the wood workshops, men will be creating objects on site as many times their storefronts double as their workshops.
In the Ta'ala area is where you'll see the shops making leather goods.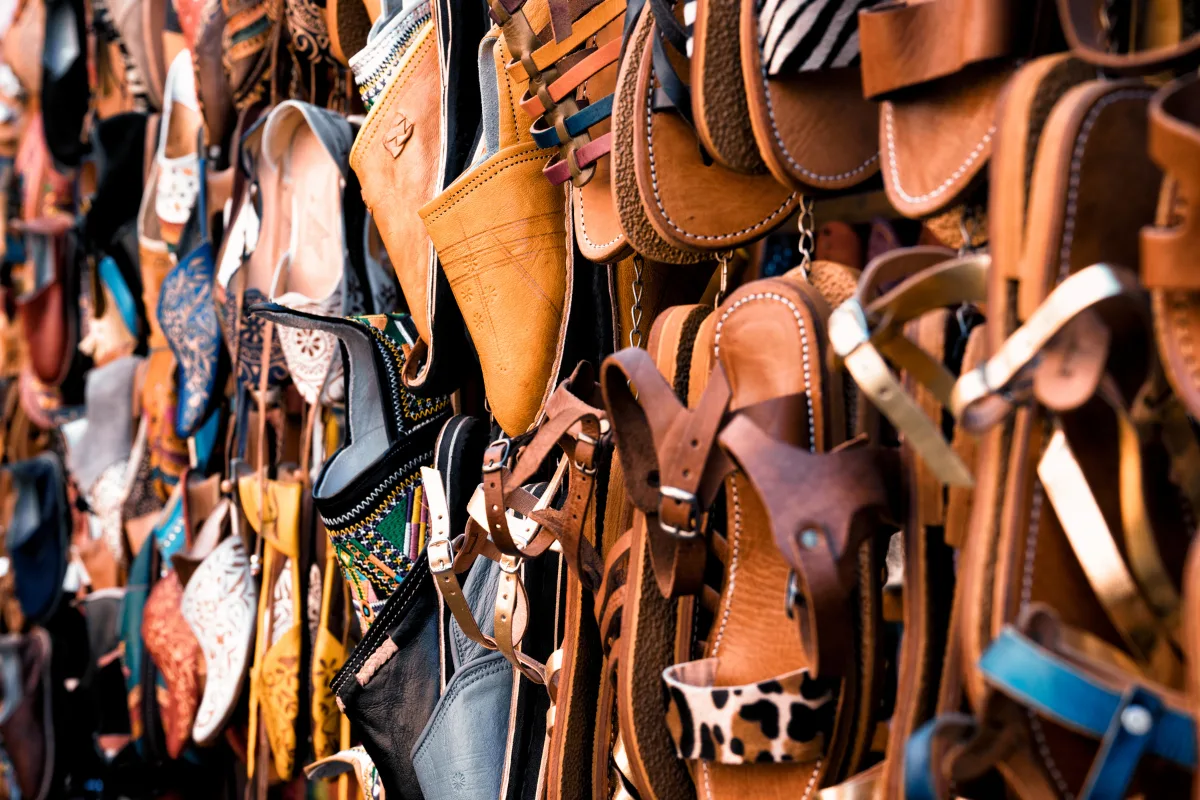 Other areas such as metalworks and tailors shops are all bunched together to make their goods.
Aside from the ability to see people at work making their trades going further into the souk to shop often means you'll be able to secure a much better price. If you want to make a big purchase like a rug or leather boots than it's worth going just a bit further to get a better deal.
Seeing so many people doing this traditional work by hand is something a lot of people want to document. But, take a moment to stop before taking that picture. Many of the people who are working near their shops in the markets in Morocco are ok with having their picture taken but you should ask and take into consideration some of the tips I shared on taking photographs in Marrakech.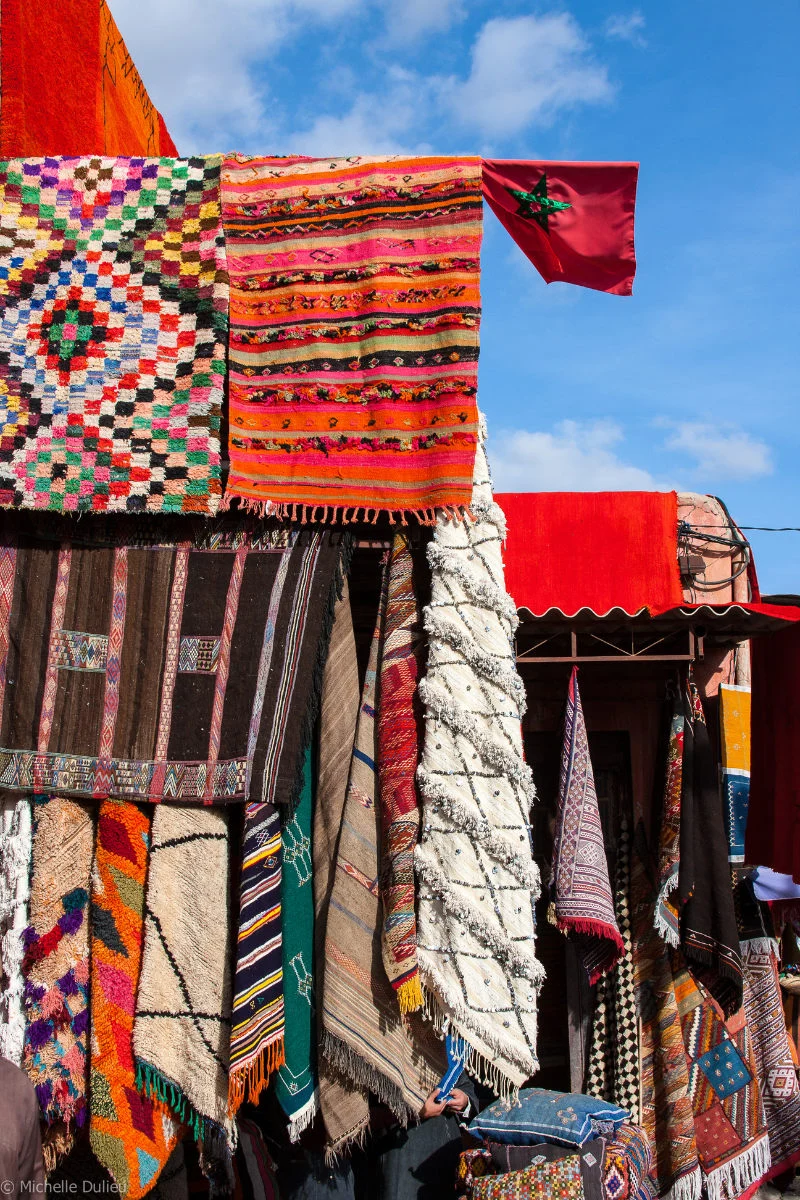 Marrakech Markets: What to Buy
Remember this part of the city is not just a tourist attraction.
It is also where people live, work, and go to school. Ask yourself if you were on the other side of the camera what would you want to happen?
Winding off of the main streets where goods are for sale are smaller streets (called derbs) that are residential. Mixed in to the workshops and homes are restaurants, food shops, and street vendors. There truly is a little bit of everything. There's even more happening that goes beyond what you will see from the street of the famous market in Marrakech.
But what if I get lost in the medina?
The question isn't if you get lost, the question is how soon you'll get lost.
It took me over a year to finally get my bearings and learn how to navigate the streets of the souk. For first-time visitors it's inevitable. Go into the experience knowing you're likely to get lost and accept it as part of having a Marrakech experience! And don't panic if ever you find yourself getting lost in Marrakech night market. You'll find signs scattered through the souks with arrows pointing to Jemma el Fna so if you truly want to get out and are lost just follow the signs or ask someone to point you in the right direction.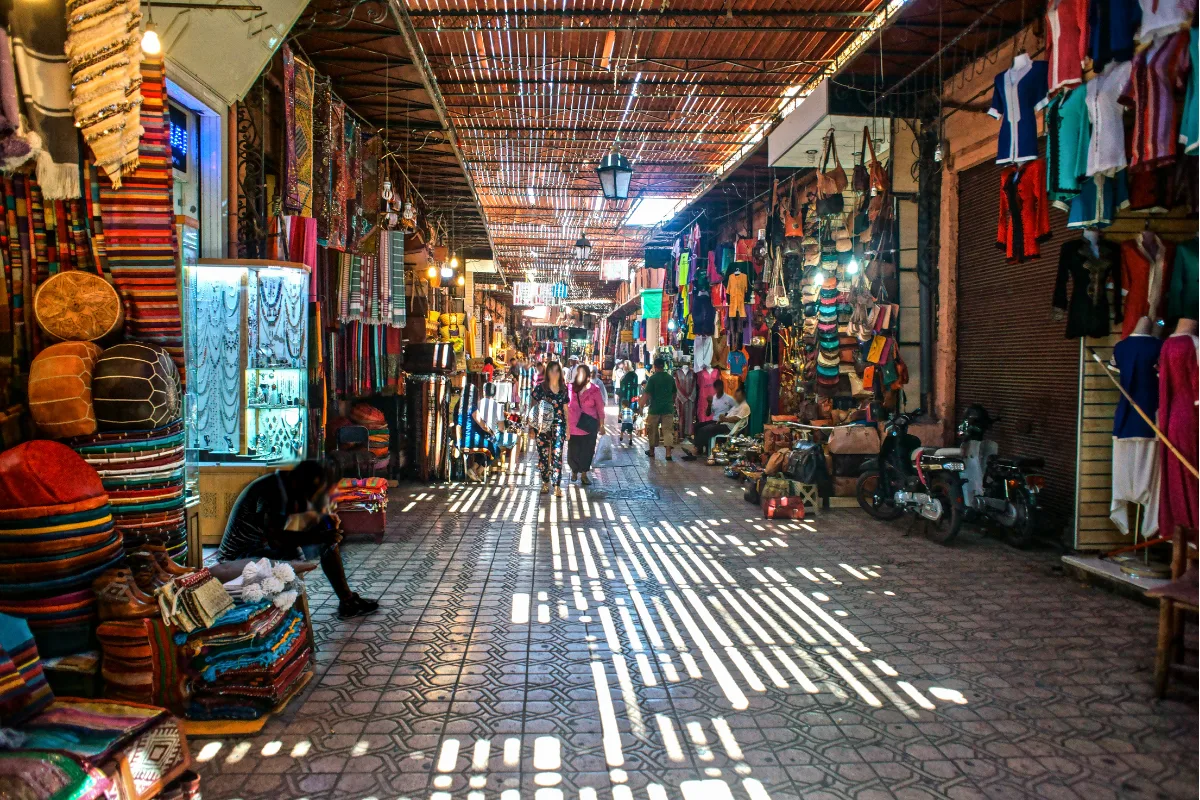 Also, it's worth noting that all paths will lead you out of the souk – eventually. The question is just where you'll come out. But, don't be worried that you'll be stuck inside forever, it will come out and you can take a taxi to the destination you'd like to go if you're really lost.
Much of the souk is car free however donkeys, motorcycles, hand carts and bicycles are used as transportation. If you hear someone say "ballack", "endek" or "pardon" it means get out of the way or you will be run over by something.
Some final tips for visiting the souks of Marrakech:
Resist purchasing items on the edges of the souks as they'll be marked up and more expensive.
If you'd like any custom work done go directly to the area of the souk where the workshops are and speak with the artisans directly.
Try some of the food being sold in the shops near the workshops. These foods are not made for tourists but for the workers in that area – meaning it's pretty good!
When you get lost, don't panic. The roads do lead out, and you can find many signs pointing back to Jemma el Fna, or ask someone.
Watch out for bicycles, donkeys, hand carts and motorbikes as they're the main transportation used in the car-free areas of the souks.
You're going to constantly be talked to by vendors. They'll want you to come in and look at whatever it is they are selling. Don't feel bad ignoring them but also a simple "no, thank you" is just fine.
Have fun! It can feel very overwhelming but if you go in knowing this and just embracing the chaos you'll have a much better time.