History, culture, spicy foods, gorgeous landscapes, and friendly locals characterize the spectacular country that is Morocco. No matter your interest, you'll find something that will make you fall in love with Morocco.
It's also a peaceful, safe country to travel in, making it increasingly popular amongst tourists. With more and more westerners visiting this North African country, you may be asking yourself how expensive is Morocco? This Morocco travel guide will show you that you can enjoy everything on offer – from mouth-watering spicy foods to historical sights and shopping – even if you're traveling on a budget.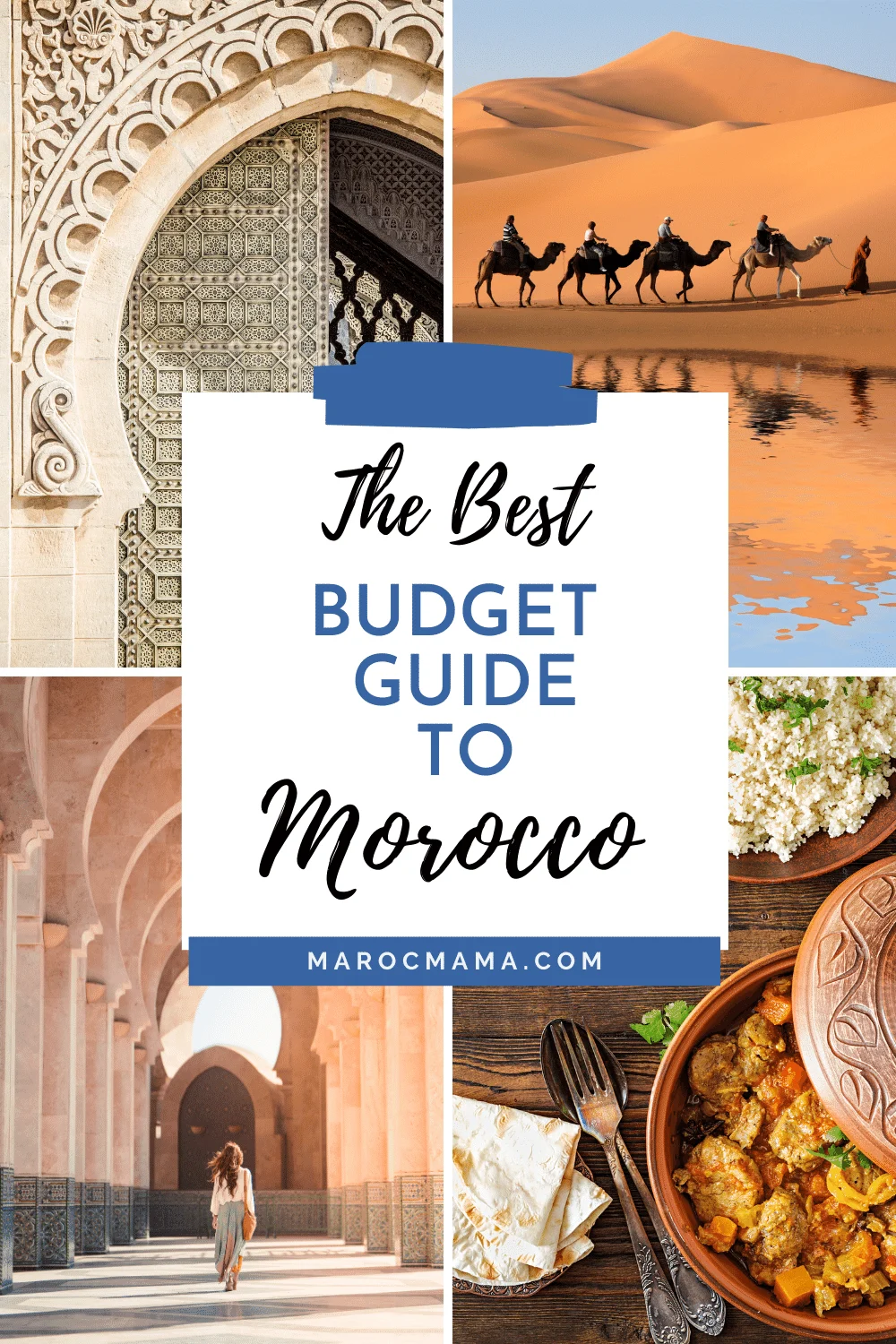 Where to go in Morocco on a Budget
Morocco is filled with interesting cities, each unique in its legacies, foods, and people. There's so much to discover throughout the country. In search of the best free things to do in Morocco? I've got that covered too! Below you'll find both popular and smaller cities that cater to both budget and luxury travelers.
Marrakech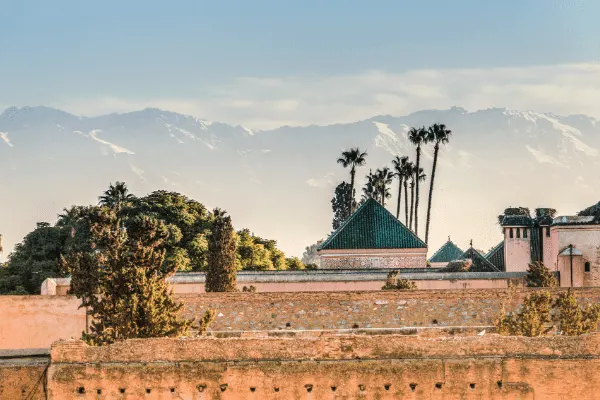 Marrakech, also known as the Red City, is a hub of activity. This prominent Moroccan city is filled with architecture, history, culture, and fun things to do. While it is a vibrant place, you can still enjoy Marrakech on a budget.
This city has endless attractions to visit. The Koutoubia mosque, which is a 12th-century mosque, is unfortunately not open to the public, but the spectacular architecture attracts many visitors. If you're looking for an oasis amidst the bustle of Marrakech, head to the Majorelle Garden. It does cost US$ 12 (107 dirhams) to enter, but this also includes access to the Berber Museum.
Some of the other best things to do and see in Marrakech include the Saadian Tombs, the Bahia Palace, and the Ben Youssef Madrasa. Many of these attractions only cost US$7 to visit. You should also be sure to stop off and enjoy a traditional hammam here or in any other Morrocan city.
If you're looking to get out of the city, why not take a day trip out to Ait Ben Haddou or take a guided tour in the Sahara Desert?
Fez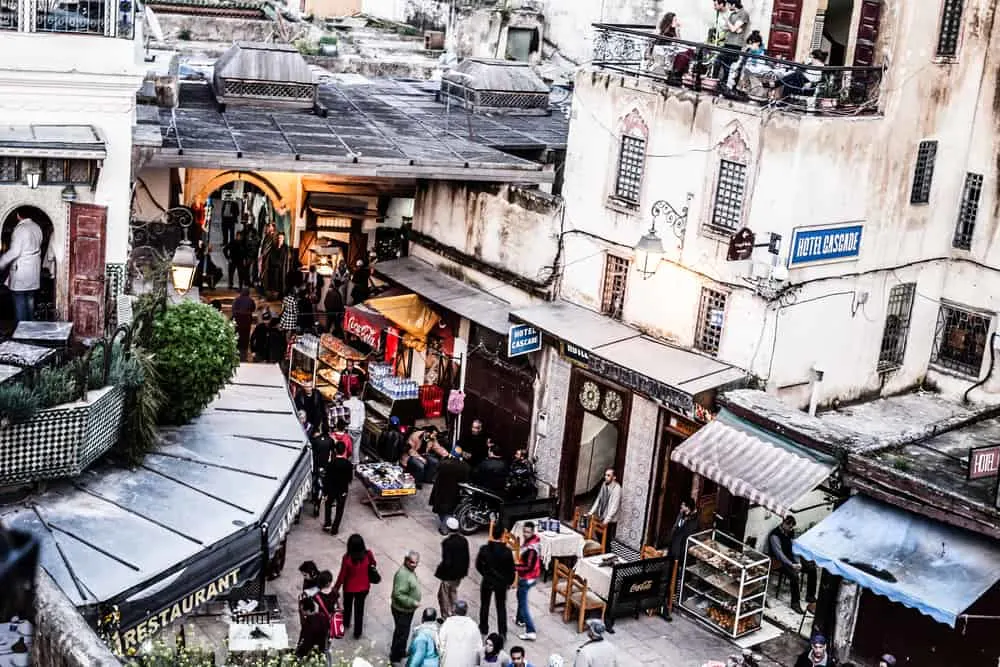 What was once Morocco's capital until 1912 is now another large city, bustling with activity. With over 1200 years of history, this town's filled with interesting attractions and cultural heritage – there's so much to learn about Fez. For US$2 (20 dirhams), you can discover the Borj Nord, a 16th-century defensive structure, or the Medersa el-Attarine, which is a spectacularly decorated madras.
Travelers on a tight budget can also enjoy attractions like Bab Bou Jeloud, a blue and green mosaic gate, and admire the 13th century Royal Palace at no cost (no pictures though!). Another must-see Moroccan sight is the Middle Atlas Mountains; one can easily spend an entire day walking around its lush cedar forest.
Beyond that, just walking the incredibly vibrant and historical streets of the Old City will be entertainment enough. The art, architecture, markets, and crafts you'll meander past are sure to make your day a memorable one.
Tangier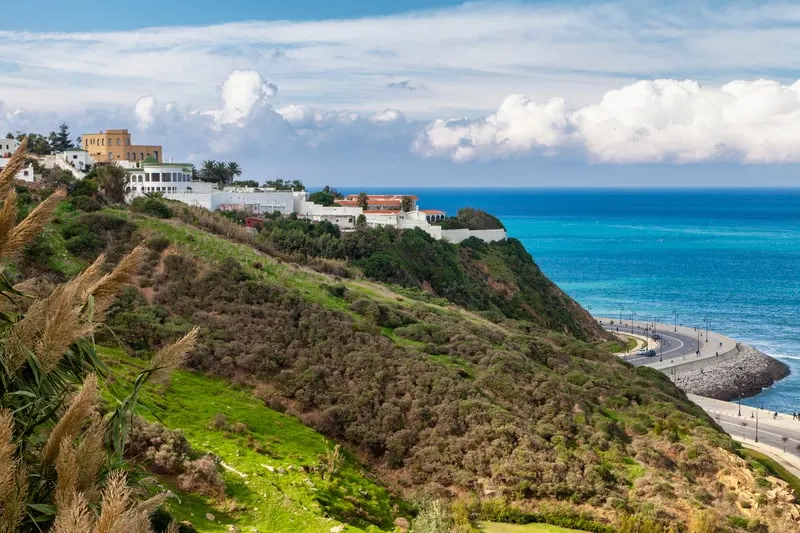 You may be wondering if Tangier is worth the visit, but this port city provides tourists with a true sense of Moroccan culture. Its location makes it a cosmopolitan hub featuring historical attractions, sights, and sandy shores.
The Phoenician tombs located on the cliffs near the Old Kasbah are an awesome sight – and the sunset view from this spot is even more incredible. The Grand Socco is a must-see spot – this large open plaza is always bustling with activity.
If you love history, then head to the Kasbah Museum. It was once the residence of Portuguese governors between the 15th and 17th centuries. It is now a museum brimming with archeological and ethnographic treasures. You can enter at a small cost.
Just past Cape Spartel, along Tangier's coastline, is this awe-inspiring Cave of Hercules. It's shrouded in legend and is completely accessible to the public. These are just a handful of the many amazing things to do in Tangier.
Chefchaouen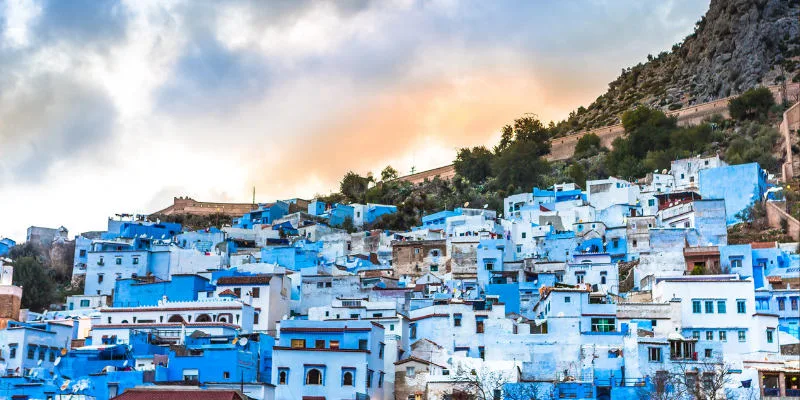 Chefchauoen, better known as the "Blue Pearl of Morocco," is a picturesque town in the Rif mountains. Below the blue walls of this city, you'll get to admire stunning views of the green valley. However, there's more to this quaint town than its colored buildings.
From its Kasbah museum and Spanish mosque to the Rif mountains surrounding the town, you'll certainly find plenty of fun and affordable things to do in Chefchaouen.
Casablanca
Casablanca has become Morocco's economic hub, so it's not quite as rustic as Chefchouen or some other cities. However, if you take the time to explore this metropolis, you'll discover its unique charm and the many things you can do in Casablanca.
The Hassan II Mosque is a popular landmark of Casablanca. The 210-meter tall minaret and intricate ornamentals make for a spectacular sight. You can only visit this monument outside of worship times and by purchasing a guided tour, which will cost you about US$ 14 to US$ 15 (125-135 dirhams).
Take a (free) stroll through the Casablanca Cathedral or head to Corniche boulevard for a sunset walk and sea breeze. For those who love architecture or even art, the Mahkama Du Pacha is a must-see – it features intricate tilework, marble carvings, and more. You'll need to book a tour for this last attraction.
Agadir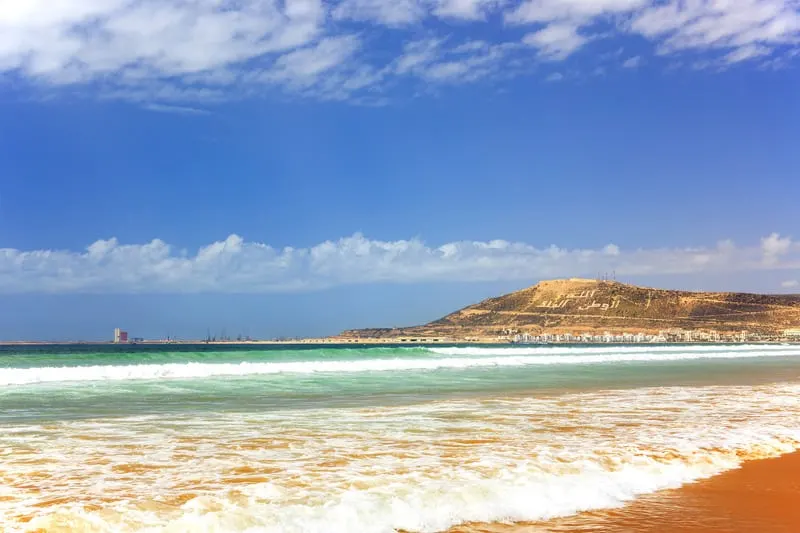 Agadir is a popular seaside destination in Morocco, and for good reason. Due to its recent reconstruction, it's far more modern than other cities – you'll find it to be quite similar to a seaside resort. However, this doesn't mean that it has a luxury price tag attached to it.
Agadir boasts a diverse terrain, making it an ideal spot for those looking to relax on the beach or get active with hiking, surfing, and other adrenaline-filled activities. If you're planning on catching a couple rays, make sure you know what you're going to wear to the beach.
If hiking's your thing, then take a day trip out to Paradise Valley – and yes, the name really is a perfect description for this breathtaking place. It'll be easiest to visit this natural wonder through a guided tour. On average, these will cost anywhere from US$35 to US$44 (313-394 dirhams). Surfing lessons also cost about the same price.
Those on a tight budget may want to consider the more cost-effective attractions such as Agadir Oufella, Vallee des Oiseaux, or wandering through Souk el Had.
Essaouira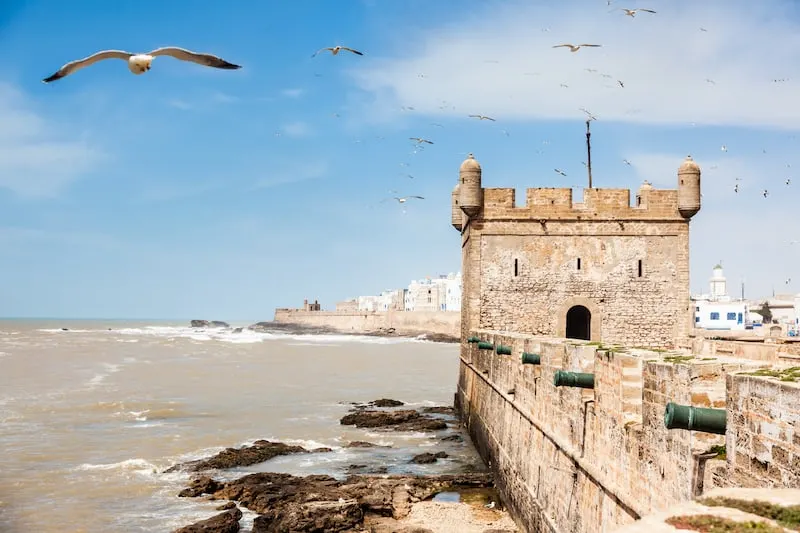 This relaxing town situated on Morocco's western coast is perfect for travelers on a budget. Its small size means it's not commercialized to cater to western tourists, yet Essaouira is full of activities.
A Morocco must-see historical site is the Ramparts, located close to the port. This will cost you US$ 6 to US$ 7 (approximately 60 dirhams) to enter, but the ocean views are well worth it. If you're looking for a little more adventure, consider a quad biking or horseback riding excursion. If you happen to be here during the month of June, head to the Gnaoua and World Music Festival, where you can watch free performances.
Rabat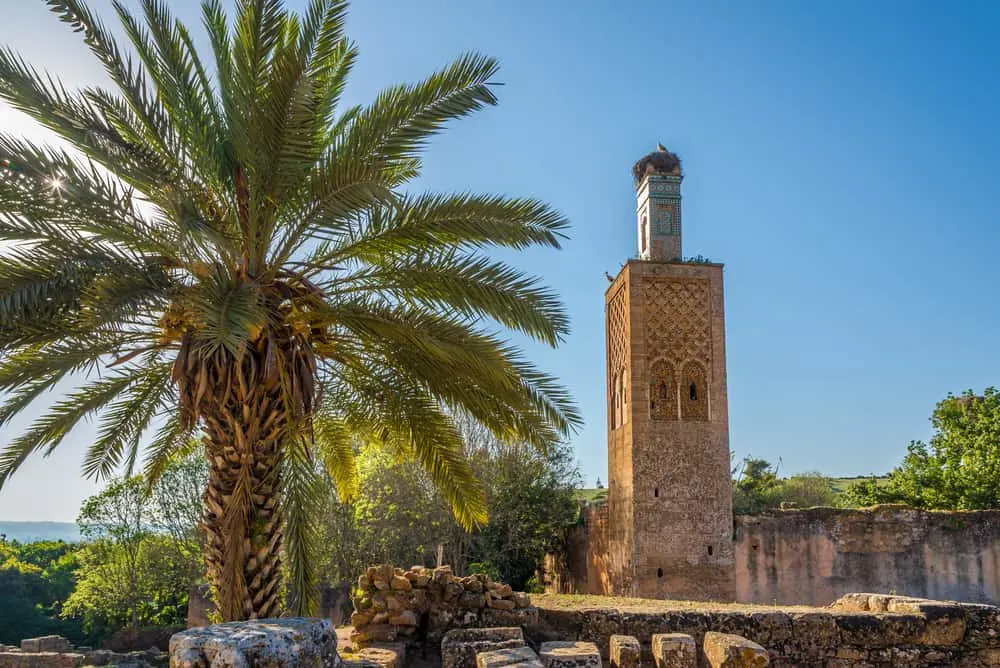 Rabat is a place of arts, culture, sandy beaches, and several significant heritage sites. If you're in Rabat and haven't yet treated yourself to some Moroccan mementos – head to the medina. It is frequented by as many tourists as those in Marrakech or other busy cities, so prices will be lower.
Backpackers and budget travelers can enjoy a range of activities and sights such as the buildings of Chellah, the Hassan Tower, the 11th century Kasbah of the Udayas, or the annual street-art festival that takes place during the spring.
Accommodation: Is Morocco cheap?
Moroccan accommodation caters to all tastes and budgets. Whether you're simply looking for a bed for the night or a luxury suite, you'll find what you're looking for. Do remember that prices may vary depending on the city and time of year. A general rule of thumb is that the further out of the city center you stay, the lower the cost tends to go.
The cheapest option by far is couchsurfing – I mean, who could complain about free accommodation? However, it's always important to remain cautious, and it's probably not the best option for women traveling on their own.
Hostels are another well-priced accommodation choice, and they're a great place to meet like-minded travelers. These can range anywhere from US$5 to US$40 (44-357 dirhams) per person a night, depending on the type of room, the hostel, and distance from the city center.
Riads are typical Moroccan homes that have been converted into bed and breakfasts or boutique hotels. These are essentially mid-range accommodation options (though there are many luxury options), and their prices can range from US$50 to US$150 (445-1340 dirhams).
The last accommodation option in Morocco is hotels. While these typically cost US$80 (715 dirhams) and up, it is possible to find well-priced options if you look. There are many luxury hotels but there are also smaller, more inexpensive options.
If you're not quite sure which accommodation option will suit your needs best, check out my detailed guide on staying in riads, hostels, or hotels in Morocco.
When to visit Morocco
Before you book your flights and pack your bags, be sure to check the weather in Morocco. Luckily, it's pretty spectacular year-round. However, the weather can vary depending on which part of Morocco you're in.
The fall and spring time (October/November and March/April) are the busiest months for tourists while coastal towns tend to become very crowded in summer months. This is undoubtedly the hottest time of year, so be prepared for sweltering heat.
January is Morocco's coldest month with temperatures ranging from 10°C to 20°C or more, but when the sun's out, you'll enjoy the balmy weather. It also makes day trips out to hotter areas like Marakkech or the Sahara desert more tolerable. Furthermore, there will be less tourist traffic during the winter months, meaning lower travel costs and less crowded spaces.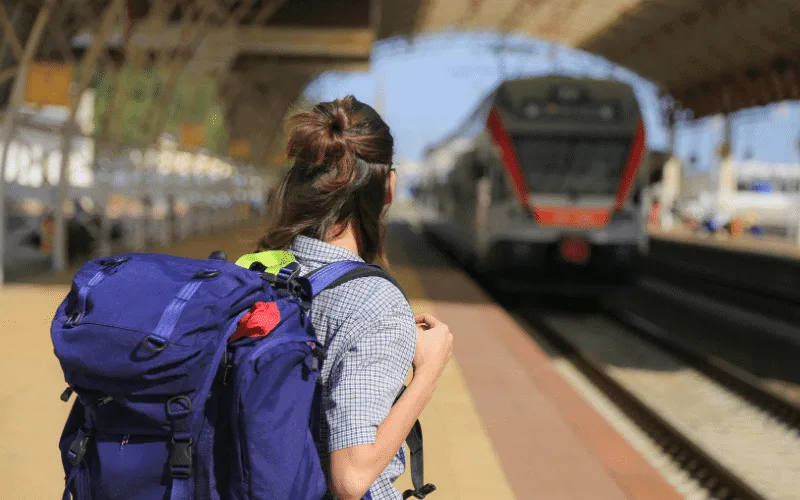 Transportation: Getting around Morocco
Within Morocco, you'll find an array of public transport options connecting the cities. There are trains, buses, and taxis that can get you to your desired destination.
Traveling by train
Traveling by train is often pricey, but in Morocco, it's actually quite affordable, and it's a great way to see parts of the countryside too. Most main cities like Marrakech, Fes, Casablanca, Rabat, Oujda, Tangier, and Meknes are connected, so you can easily travel to most destinations this way.
When it comes to punctuality, Morocco's train network is pretty good. Timetables and prices can be found on the ONCF website; however, it's best to book in person and with cash. It's also advisable to book your ticket in advance as the trains can sometimes be overbooked depending on the time of year.
During the day, you'll choose from an "ordinaire" train or a "rapide" train, with the latter being quicker and costlier. There are also first-class carriages offering for more comfortable travel, and second-class carriages which are perfect for those traveling on a budget. You can also take a trip on the overnight train for some destinations, which will cost you anywhere from US$ 41.38 to US$ 77.16 (370-690 dirhams) depending on whether you choose a dormitory-style carriage or private compartment.
Traveling by bus
If you're looking to travel between cities at the lowest cost, then a Moroccan bus is just the thing for you. Popular routes such as Marrakech to Essaouira have buses (Supratours and CTM) driving out almost every hour. Smaller towns, like Chefchoauen, only have a few buses traveling in and out each day. So it's definitely worth booking ahead!
Traveling by taxi
One of the best ways to get around almost any Moroccan city or town is by taxi. You'll find petite taxis, which are small vehicles that transport up to three passengers, and grand taxis. These grand taxis carry up to eight passengers (and will only leave once they're completely full) and also can take you over long distances.
When it comes to taxis, they're generally cheap. But be sure to negotiate the price before climbing in the car or ask the driver to use the meter – they should always turn the meter on. Otherwise, you may get a surprise price at the end of the journey.
One last thing that you should be aware of is illegal taxis. Grand taxis have a red sign on the front or side of the car, and petite taxis have a sign on top – if you can see either of these items, then you know not to get into the car.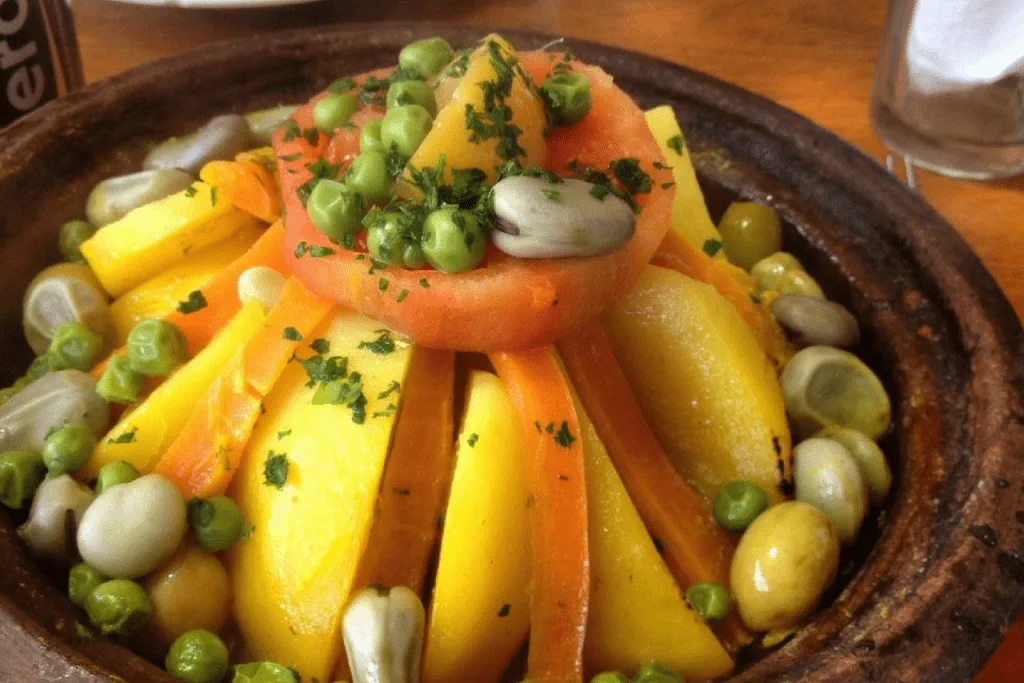 Food: Is Morocco expensive?
Morocco has a cuisine that's all its own. Having been influenced by French, Arabian, pan-African, and Spanish cultures, the country creates unique dishes that are aromatic, spicy, and absolutely mouthwatering. The best part about Moroccan cuisine is that you can try all of its delectable dishes and not pay an arm and a leg!
It is possible to find more western-style foods in restaurants – but why would you want to eat the same old thing when you're on a travel adventure in Morocco?
Where to get food that's cheap & delicious
Prices will vary from city to city and depending on what kind of establishment your dining at – restaurants will be the priciest, followed by cafes. However, your best budget option is to try street food. You'll find kiosks (called snaks) on the corners of many streets or stalls in the souqs and medinas.
When trying out street foods, it's always best to go to the stalls crowded with locals. They typically know which stalls serve the best foods made from the freshest ingredients. It's also a good idea to check the cooking oils and ingredients on display before ordering – you'll quickly notice whether the oil needs changing or the foods look a couple of days old.
Before eating, be sure to clean your hands, and this is often what leads to tourists experiencing food poisoning. For ease when traveling, carrying some hand sanitizer is always handy! Finally, it's best to drink bottled water. If you're worried about getting food sick in Morocco take a read of this post on preventing tummy troubles.
Even if you're coming to the end of your time in Morocco and having to stretch your food budget, you can still eat like a king.
Typical breakfast meals
Starting with the most important meal of the day, these Moroccan meals will definitely satisfy your tummy. Generally breakfast is always offered when you stay somewhere so this is a good time to fill up and make your budget go a little further.
Coffee (kAwa), Orange juice (Aseer limoon), and mint tea (atay maghrebi) are just a few of the top drinks to try.
Khlii – A mix of meat, usually beef or lamb, with eggs. It's originally from Fez, but many people throughout Morocco enjoy this yummy breakfast dish.
Beghrir – Pancakes with a Moroccan twist. They have a light, spongy feel and are served with jam or honey.
Khobz – This Moroccan bread is eaten many times throughout the day. It's not just bread – it's the utensil!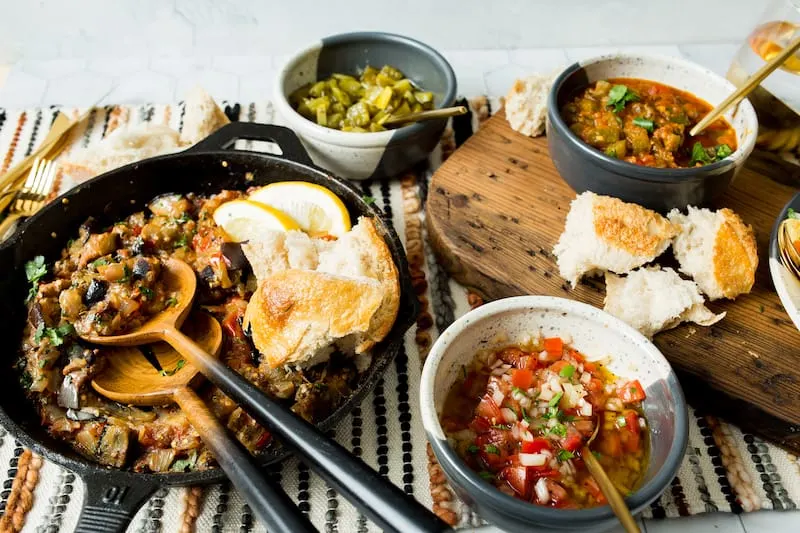 Typical Moroccan lunches
This is usually the largest meal of the day and is usually paired with a good nap to ride out the heat of the day. While you may be used to a strict lunch hour, Moroccans lunch from around 1pm through till 3 pm or even 4 pm, and businesses typically close during this time – bare the few catering to tourists.
Couscous (seksu) – you think you know what couscous is? Think again. Authentic Moroccan couscous is actually a delicate pasta the size of a grain. It's hand-rolled and steamed in a broth until it becomes light and fluffy. Couscous can be served with vegetables, meat, or fish song with spices. The vegetable couscous will often be the more cost-effective option. Couscous is eaten on Friday's and while some tourist restaurants will offer it any day of the week know where Moroccans go to eat will only be serving this on Fridays.
Vegetable Tajines – for an authentic dish, definitely go to someone making this famous stew over coals. If you have a more flexible budget, then definitely try the meat tajines.
Moroccan salads – If you're not much of a meat eater and don't need a huge meal, try mixing and matching Moroccan salads. They're often more like a dip than a green salad. With bread they're quite filling and inexpensive.
Dinner in Morocco
Locals usually enjoy dinner sometime between 8 pm and 9 pm, after work has ended. Upscale restaurants cater to tourists with a large feast in the evenings. For more authentic and affordable dinners, stick to the souqs and snaks.
Tajine and couscous are two standard dinner options in tourist-oriented restaurants. You can also try Briouat, a pastry filled with savory items like goat's cheese, herbs, meats, or eggs and has then been fried or baked.
Or, if you want to try something that's both sweet and savory, Pastilla is a pie made from a thin pastry (think Philo but thinner). It's layered with pigeon or chicken, caramelized onions, lemon, eggs, toasted sugared almonds, and dusted with cinnamon and powdered sugar. This won't be an inexpensive option but it's good to splurge for at least once.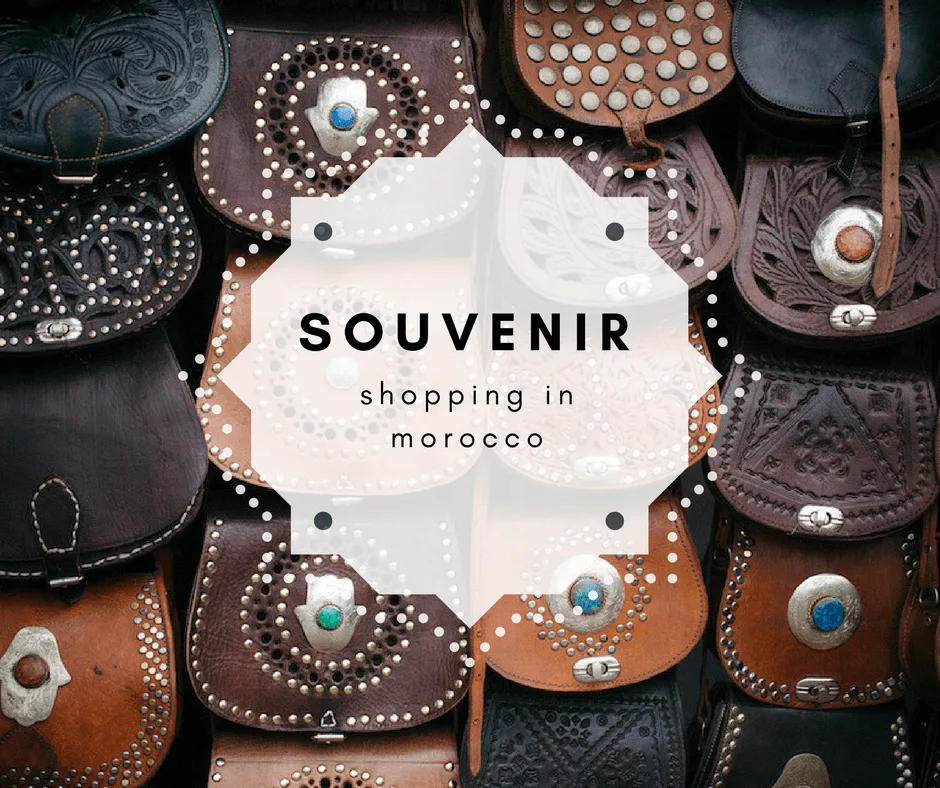 What souvenirs to buy in Morocco
Morocco is like heaven on earth for shoppers. The souqs and markets are filled with handcrafted items like leather jackets and handbags, lanterns, pottery, rugs, teas, and straw bags.
When you go out to shop, you should first look at a couple of vendors to see the average price. But, you'll need to be prepared to haggle as vendors often will give an inflated price the first time around. Make sure you have a price in mind that you're willing to pay – remember it should be reasonable for both you and the shop owner.
Travel tips for Morocco
Being such a diverse country, you may find yourself wondering whether you'll have difficulty communicating with the locals or if you should dress a certain way. Perhaps you're curious as to whether travel insurance will be necessary on your trip to Morocco. Well, you'll find all the answers to these questions below, so keep scrolling.
Travel insurance
Whenever you're traveling, it's always advisable that you get good insurance. As much as you may think nothing bad will ever happen to you, it's always best to be prepared for the unexpected.
When choosing the best travel insurance for yourself, be sure to consider the medical coverage, what activities you're going to be doing (such as extreme sports), as well as how much you would want to get back if your trip was canceled. A truly comprehensive cover will protect you in the case of injury, theft, illness, and cancellations.
Language
The two official languages of Morocco are Arabic and Amazigh. French is widely spoken as a second language, so knowing or learning the basics of any of these three languages would be beneficial. You will find that hostel and hotel staff, as well as professional Morocco tour guides, usually speak English too.
What to wear in Morocco
While there are no laws as to how anyone may or may not dress in Morocco, the country is still relatively conservative. Therefore, it's best not to wear anything revealing, especially for women, as this can attract unwanted attention.
It's often best to have something to cover your shoulders and clothing that covers the legs. No matter the time of year, the temperature is often quite warm. Be sure to pack the right things for summer or winter.
Final thoughts on Morocco's cost of travel
Morocco is an incredible country with so much to offer. Whether you're interested in history, architecture, culture, food, language, or sports, there's something available for you.
Luckily, prices in Morocco are quite reasonable. One can easily backpack across the country on a tight budget or even have a lavish experience on a mid-range budget – how amazing is that? So now that you have a better idea of what a trip to morocco costs, what's stopping you from exploring this vibrant country?