With Mediterranean coves and windswept oceanic waterfronts, Morocco boasts spectacular fun in water and sun for locals and tourists alike. But what does one wear on a Moroccan beach beach getaway? We've got you covered (and maybe not the way you're thinking!)
What to wear in Morocco: The Beach
A Day on the Waves
For adventure seekers, a day riding the waves of Tagahzout's coastline or taking up wind and kite surfing in Essaouira is the ultimate draw. A trusty pair of water resistant shoes, a practical bathing suit and a cute, matching rash guard to protect your skin from the salty waves and air are a must. Don't forget to throw in a towel to dry off and warm up after experiencing the power of the ocean. Sunscreen and a bottle of water are also highly recommended!

Add these items to your luggage;
A Day at the Cove
For relaxation along the calm, warm waters of the Mediterranean in towns like Al Hoceima, a sunhat is highly recommended to keep your face protected from UV rays. A stylish bathing suit and strappy sandals complete the look and will have you ready to dip your toes in the waters or relax on the sands all day. Throw a few snacks, a bottle of sunscreen and my favorite SPF lipbalm into your beach bag, and you're set!

Add these items to your luggage;
Beach Bums on the Sand
If you're like me, usually unwilling to dip anything past my toes in the deep blue (I just recently faced my fear of the ocean), the beaches of Morocco are the perfect spot in to devour your newest book or log a few words in your favorite journal. Need reading suggestions? I've got plenty!
Throw your book or e-reader into a cute cover to protect from sand and water, plop your sun glasses on your head and hit the beach in your favorite bathing suit covered by lightweight linen pants or a cute cover-up dress. Now that's what I call the perfect beach day!

Add these items to your luggage;
To Bikini or Not?
This question comes up a lot and I'll do my best to answer. If you're headed to the beach and plan to wear a bikini know that there is nothing that makes this wrong. You MIGHT get more looks than if you were wearing a one-piece but truthfully most Moroccan beach communities are really laid back and open-minded. Wearing a bikini off the beach however will be more frowned upon. If you're headed to a pool or private beach, wearing a two piece swimming suit is not a big deal at all. It is however not ok to sunbathe topless in public.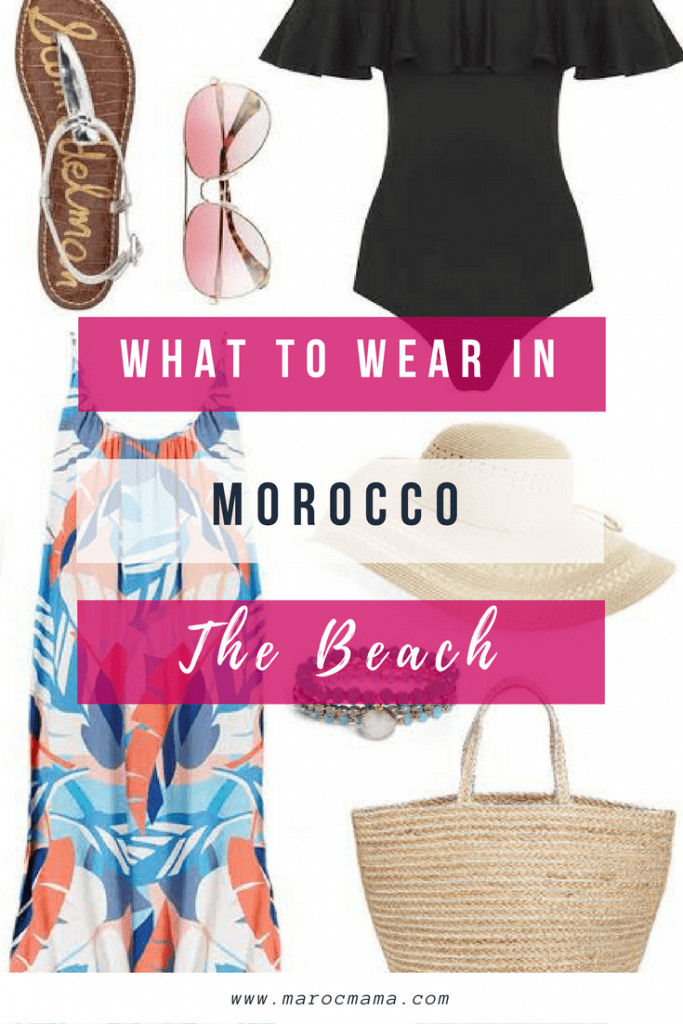 Now that you know what to wear in Morocco for a day at the beach have a great time in the sun! 
PS Love the pieces in the pin? Find them here; Ruffle Bathing Suit,  Cover Up, Gladiator Sandals,  Aviators,  Woven Straw Tote, Floppy Hat, Beaded bracelet set
Be a part of the MarocMama family!
Do you want access to all things MarocMama? Join our community of readers to get updates on new posts, inside information that won't go on the blog and so much more!
Sound good? Pop your email below and you're in!