With Mediterranean coves and windswept oceanic waterfronts, Morocco boasts spectacular fun in water and sun for locals and tourists alike. But if you're wondering what to wear to the beach in Morocco you're in the right place. We've got you covered (and maybe not the way you're thinking!)
Morocco is a predominantly Muslim country, and while there are many progressive and liberal-minded people, it's still important to dress respectfully. While it can feel overwhelming to decide what to wear in Morocco, the truth is it's not as complicated as it may seem.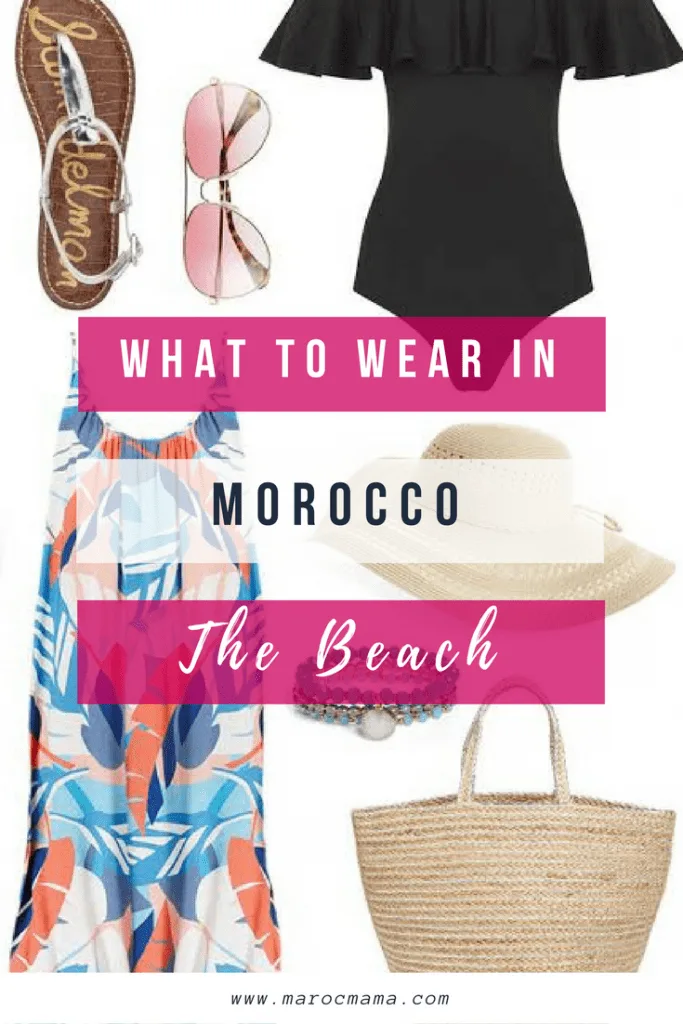 PS Love the pieces in the pin? Find them here; Ruffle Bathing Suit, Cover Up, Gladiator Sandals, Aviators, Woven Straw Tote, Floppy Hat, Beaded bracelet set
Can I wear a bikini in Morocco?
This question comes up a lot and I'll do my best to answer. If you're headed to the beach and plan to wear a bikini know that there is nothing that makes this wrong. You MIGHT get more looks than if you were wearing a one-piece but truthfully most Moroccan beach communities are really laid back and open-minded.
Wearing a bikini off the beach however will be more frowned upon. So once swimming is done and you head back into town it's a good idea to at least put on a swimsuit coverup.
If you're headed to a pool or private beach, wearing a two-piece swimming suit is not a big deal at all. It is however not ok to sunbathe topless in public.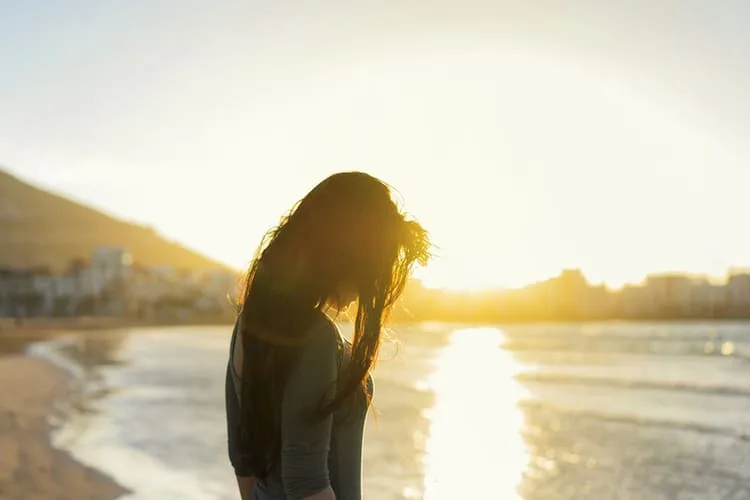 What Do Men Wear to the Beach in Morocco?
When it comes to planning for men's beach wear it's a little easier. You will see men wearing both swim trunks as well as Speedo-style briefs. Both are completely acceptable. Often you will see Moroccan men prefer to wear a tank top as well when they're not in the water but this is not necessary.
A Day on the Waves
For adventure seekers, a day riding the waves of Tagahzout's coastline or taking up wind and kite surfing in Essaouira is the ultimate draw. A trusty pair of water-resistant shoes, a practical bathing suit and a cute, matching rash guard to protect your skin from the salty waves and air are a must if you plan to go swimming in Morocco.
Don't forget to throw in a towel to dry off and warm up after experiencing the power of the ocean. Sunscreen and a bottle of water are also highly recommended!
Add these items to your luggage;
A Day at the Cove
For relaxation along the calm, warm waters of the Mediterranean in towns like Al Hoceima, a sunhat is highly recommended to keep your face protected from UV rays.
A stylish bathing suit and strappy sandals complete the look and will have you ready to dip your toes in the waters or relax on the sand all day. Throw a few snacks, a bottle of sunscreen, and my favorite SPF lip balm into your beach bag, and you're set!
Add these items to your luggage;
Coolibar UPF 50+ Women's Hat
Women's High Waist Bikini
Rope Bag Sling Crossbody Backpack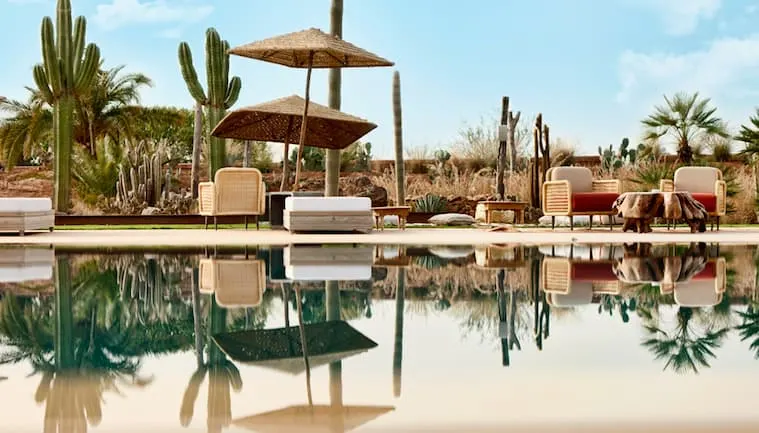 Beach Bums on the Sand
If you're like me, usually unwilling to dip anything past my toes in the deep blue, the beaches of Morocco are the perfect spot to devour your newest book or log a few words in your favorite journal. Need reading suggestions? I've got plenty!
Throw your book or e-reader into a cute cover to protect it from sand and water, plop your sunglasses on your head, and hit the beach in your favorite bathing suit covered by lightweight linen pants or a cute cover-up dress. Now that's what I call the perfect beach day!
Add these items to your luggage too – perfect for the beach vacation!
Women's Swimsuit Lace Covers the for Beach – Make sure to protect your skin if you'll be sitting out for long periods of time. This cover up works for those moments while still being stylish.
Vera Bradley E-Reader Sleeve – I don't go anywhere without my kindle and it needs sun protection too. I love having a case like this to slip it and a little Moleskin in for reading and writing waterside.
TKEES Women's Foundations Flip Flop – Wear these flip flops with anything!
Lilly Pulitzer Women's Beach Pant – Whether you're lounging near the pool or beach or heading out for a walk these pants are multi-functional and lightweight for the hot sun of Morocco.
Rectangular Sunglasses – Sunglasses are your best friend in Morocco, so you'll for sure want to bring at least one pair (or more!)
So there you have it, a few simple tips for what to wear to the beach in Morocco. Now go out and enjoy the waves! Just remember to respect local customs by covering up a bit, and you'll be all set for a great day at the beach.
More Packing Advice for Morocco
What to Wear in Morocco: Summer
What to Wear in Morocco: Sahara Desert Clothes