I've compiled a list of ten ideas for things to do in Tangier when you are when visiting. Many of these are fun options, even if you are only in town for one day. If you're visiting for longer, you'll have ideas to keep you busy for days! There's no shortage of things to do in Morocco and Tangier is no exception.
Whether you have a few hours or a few days you'll be able to find many different options to fill your time in this cool city.
The Top Things to do in Tangier, Morocco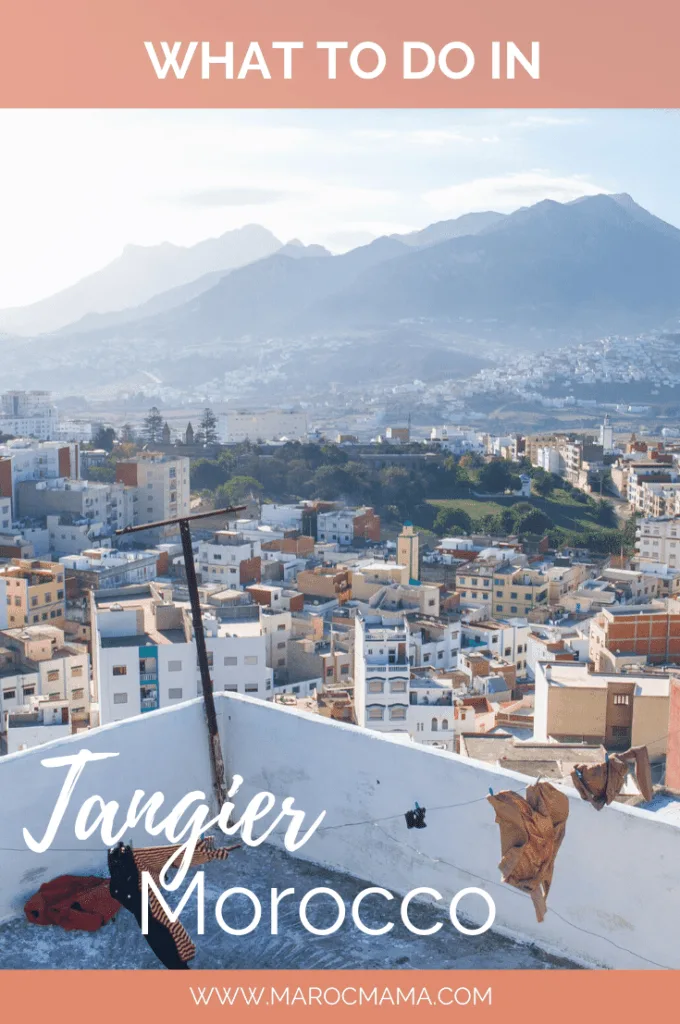 Cap Spartel and the Caves of Hercules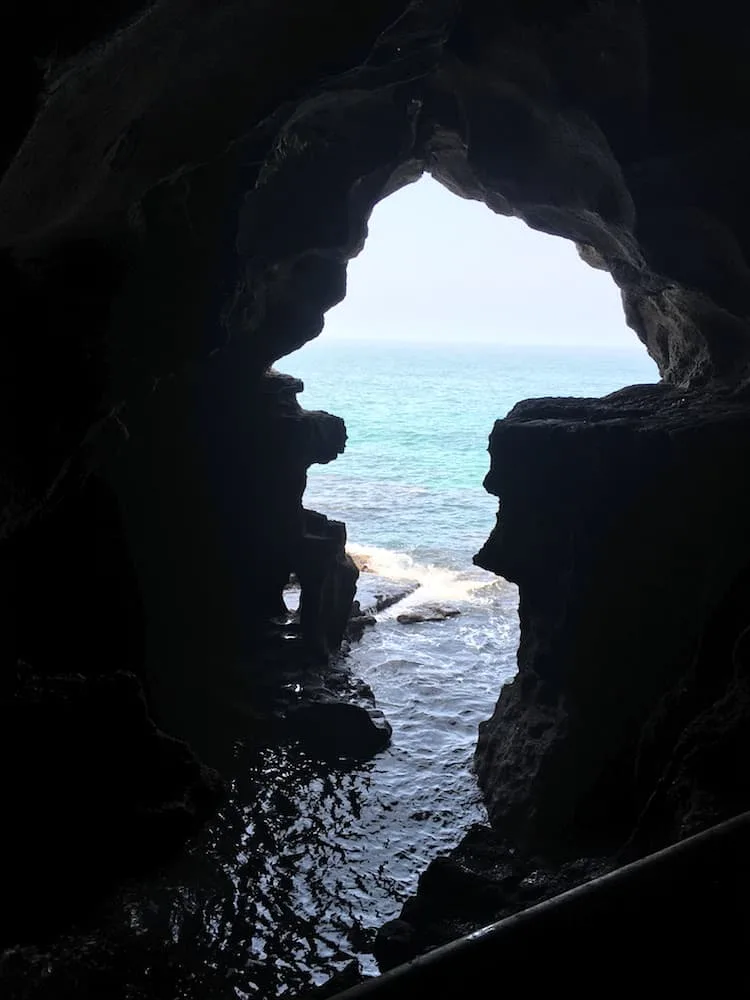 One of the most popular locations just outside of Tangier is the beautiful Cap Spartel and the Caves of Hercules. Located just nine miles outside of Tangier, Cap Spartel sits at the entrance to the Strait of Gibraltar, about 1000 feet above sea level.
The Caves of Hercules are located below the cape. The history of the beautiful caves is rich with intrigue. At one point, the caves were mined, which expanded them beyond their original size. There are signs that the caves were occupied in Neolithic times, and according to mythology, the Roman God Hercules once slept here. No matter what you believe, their beauty is well-worth the trip to see them!
Visit the Tangier Kasbah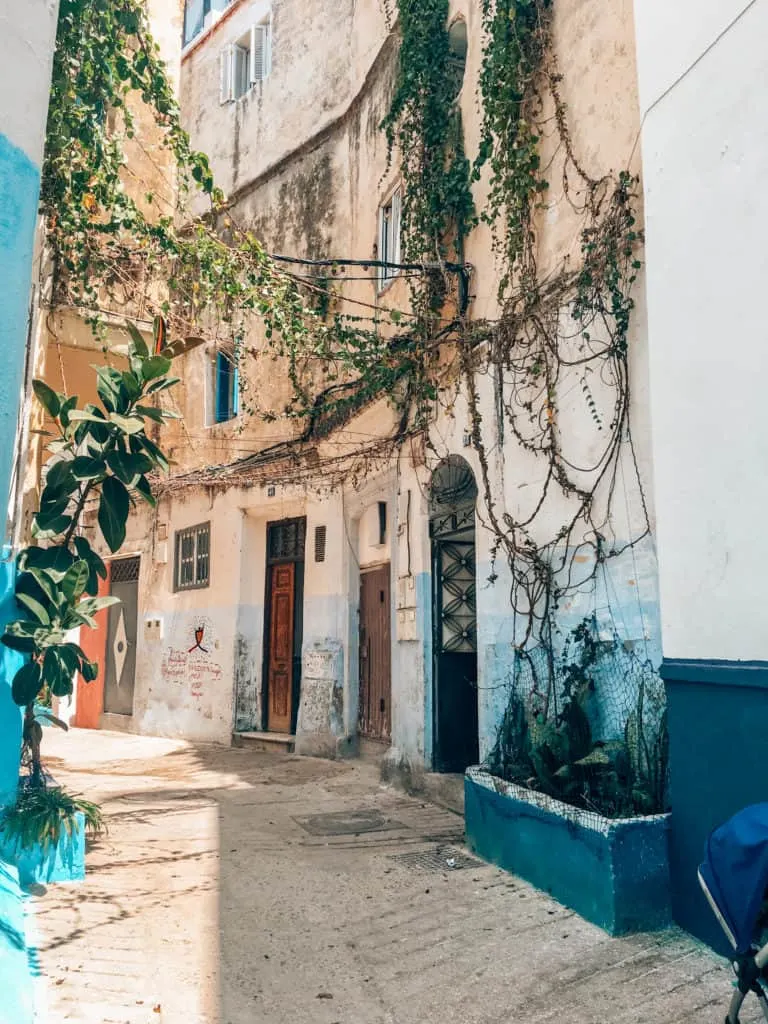 One of the must-see locations in Tangier is the Kasbah. The old walled city is the quintessential Tangier experience, with meandering walkways leading from area to another. It is quite easy to get lost in the Kasbah, but getting lost is truly half the fun.
There are so many amazing discoveries to be made, for one thing. You never know when you might turn the corner and find some incredible food that you'll be dreaming about for years to come. Turn another corner and find the perfect bag or rug that you simply have to take back to your home. Keep heading uphill until you reach the top of the Medina where you will see gorgeous views of the city and the land and ocean all around.
If you want to see the Kasbah but fear getting lost, there are always tours available so you won't have to miss out on this wonderful experience!
Tangier Medina Souks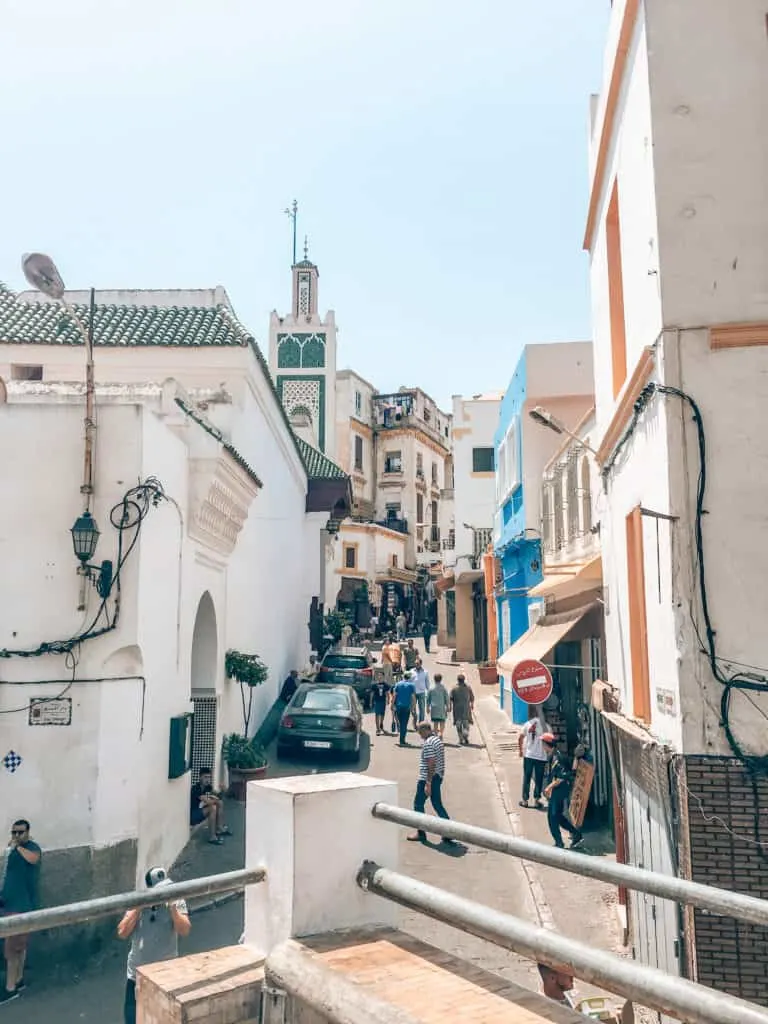 The medina is a place where people live and work and it's also worth a wander to experience daily Tangerine life. You should expect to find some hustlers but typically they mean no harm, they're just trying to make a living. You'll find a wide variety of goods for sale; from handcrafted Moroccan artisan ware to imports from around the world.
One of the items you should keep a look out for are the red and white striped towels that local women sell. Also for sale are the wide-brimmed pom pom hats! If food is more your thing look for vendors selling kalinte, a chickpea-type pancake that is great warm with some salt and cumin dusted on top.
American Legation Museum
Did you know that Morocco was the first country to recognize the United States as a brand-new country? They even signed a treaty together – the 1786 Moroccan-American Treaty of Friendship. And the American Legation is the first piece of American property to exist outside of the united states.
The beautiful building is created in the Moorish-style stucco. It was presented to the United States by Sultan Moulay Sulliman in 1821 and was home to the United States Legation and Consulate for 140 years. It fell into disrepair at one point, but today it is home to the Tangier American Legation Institute for Moroccan Studies and is also a popular tourist stop.
Cape Malabata
Cape Malabata is a beautiful cape located six miles east of Tangier. In addition to amazing views across the Strait of Gibraltar, the location features a lovely lighthouse. There is also a medieval-style castle which was built in the early 20th century. If you love lighthouses and a stunning view with great picture-taking potential, Cape Malabata is worth a visit.
Church of Saint Andrew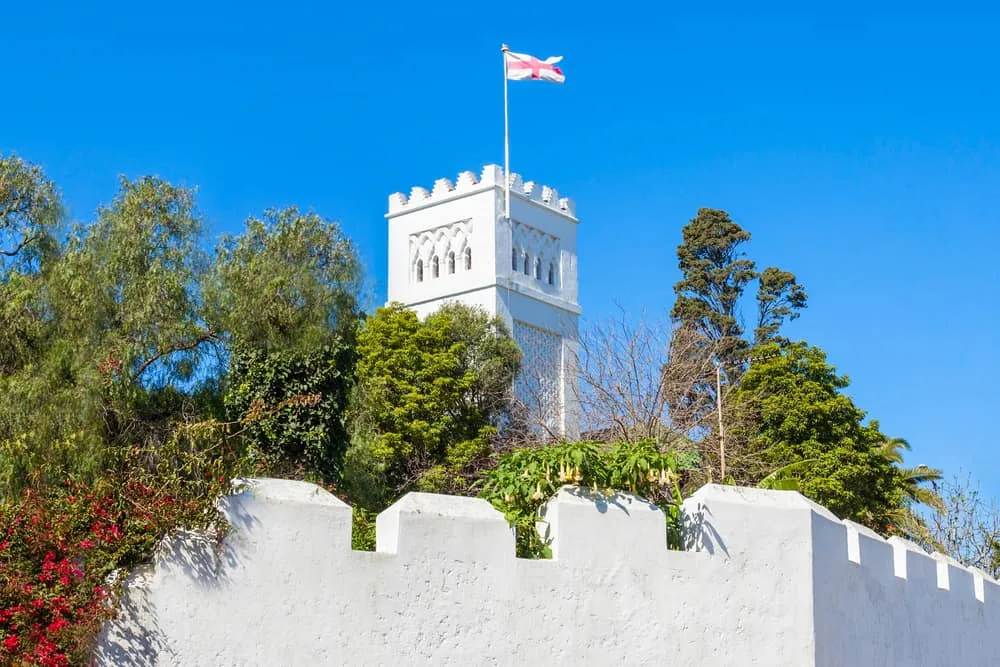 The Church of Saint Andrew is a lovely Anglican church built on land that was donated to the British community in 1880 by Hassan 1 of Morocco. It was completed in 1890 and consecrated in 1905, the architectural style of this beautiful building is Moorish. The interior is decorated in high Fassi style and behind the altar is an area carved with quotes from the Quran, showing the direction of Mecca. Be sure to visit the graveyard where you will find the graves of a number of people from history – bankers, military people, and the British writer Walter Harris.
Fondation Lorin
One really interesting place to stop is the Fondation Lorin. This art museum is housed in one of the oldest synagogues in the city. The museum is devoted to Jewish heritage and features posters, photographs and other items of historical importance from Tangier since the 1930s. You will get a true sense of history as you look through these incredible exhibits and pieces of art found in this lovely museum. Truly, the atmosphere alone is worth the visit.
Medina Art Gallery
This modern art gallery is one of the most famous in Tangier. It opened in 1999 and has housed works by many well-known artists, such as Antonio Fuentes and Omar Mahfoudi. They are always on the lookout for new talented artists, so even if this isn't your first visit to this Tangier Art Gallery, it is a great place to visit, again and again!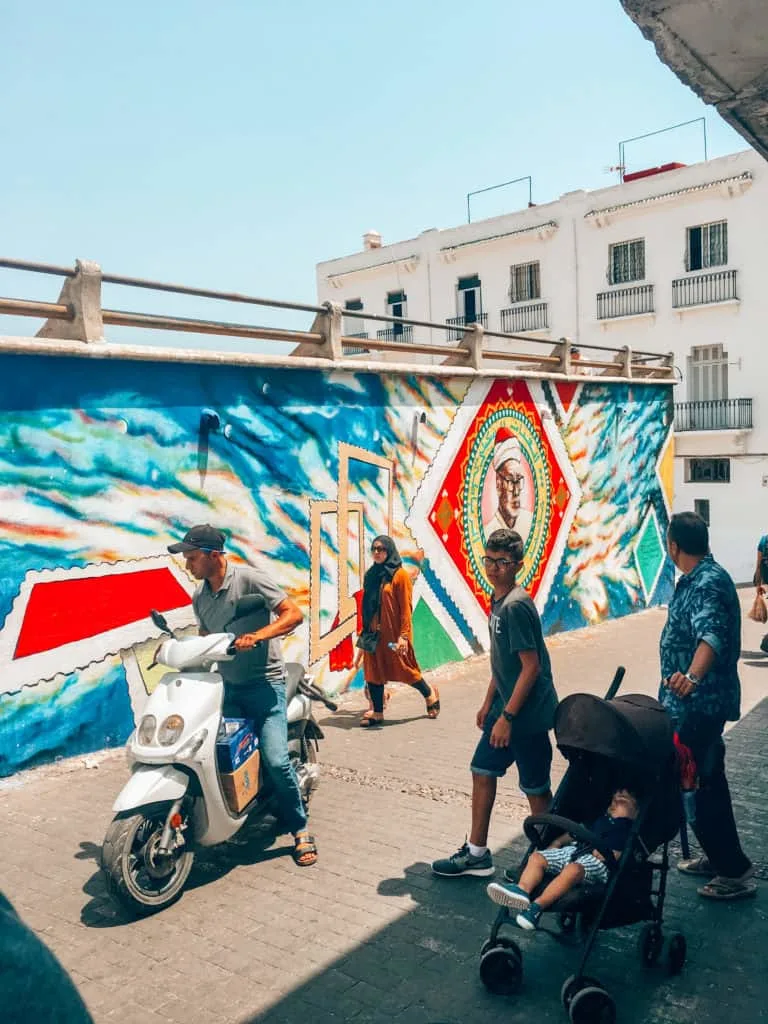 Museum of Moroccan Art
Another must-see for art lovers exploring the Tangier Medina – the Museum of Moroccan Art. Housed in a former Governor's Palace which was built in the 17th Century, this beautiful place sweeps you back in time as you explore the incredible works of art. This place really is a feast for the eyes – from the colorful marble and glass mosaics to the art pieces like paintings and glazed earthware. You might want to allow extra time to thoroughly enjoy this wonderful place.
TanJazz Festival

Since 2000, the city of Tangier has hosted an amazing international jazz festival in September. Called Tanjazz, it is well worth a visit if you love music and have been dreaming of an early Autumn vacation in Morocco. Held on the grounds of a beautiful Italian Palace, the gardens and fountains provide a charming environment in which to enjoy the music and rich culturally-diverse atmosphere. This festival is wildly popular and fills to capacity every year. So, if it is on your bucket list, be sure you book your visit in advance!
Cooking Class
Blue Door Cuisine offers cooking class in Tangier with a variety of menu options you can choose from. If you'll be staying in the city and have some time, it's worth learning how to make a special dish – and eat it too!
Need Travel Insurance for Your Trip to Morocco? Check rates for your upcoming adventure!
Tangier Hop on Hop Off Bus
I'm not always a fan of these buses but if you don't want to deal with taxis and do want to see things like the Cave of Hercules this offers you transportation – that alone may make the price of this worth it for you! You can buy online in advance and present your voucher to the bus driver. (Do double check after purchase exact redemption steps)
Private Tours in Tangier
Want to see all the sites in Tangier with the help of a local guide? Here are a few options for guided tours that you can consider.
4 Hr Private Guided Tour of Tangier
Full Day Guided Tour of Tangier
Go to the Beach!
Tangier has a beach right in the city as well as several nearby beaches that you can visit – both on the Atlantic Ocean and Mediterranean Sea. It's very popular during summer months with beachgoers but also for those looking for ocean sports. If it's warm get your beach on!