If you're planning to spend some of winter in Morocco than you'll want to be prepared. Many people think that the sun shines and it's nice and hot all year long. This just isn't true. In winter months the temperature in Morocco really can plummet. Depending on where you plan to spend your time, you'll want to be prepared for whatever can happen.
There's a saying that Morocco is a cold country with a warm sun and this couldn't be more true than from November – March. This means layers, layers, layers!
Even though you should be prepared this is also one of the best times to visit Morocco. Save for the 3 weeks around Christmas and New Year's most of the months of December, January and February are a low season meaning you'll have more options that are much lower priced.
To get you started on your preparations I've put together a few different scenarios with suggested items to pack. You can also download a packing list to make sure you've got it all!
Women's Outfit for a Moroccan City Break
Burgundy Women's Straight-Fit Stretch Twill Chino Pant
While denim is the go to for most packing, try something a little different with these burgundy chino pants. They're a little looser fit and can transition from day to night easily. The darker color means any accidental stains won't show as easily and lighter fabric means if you do need to do a quick wash they'll air dry much quicker than jeans.
Cowl Neck Chunky Asymmetric Knit Sweater
This medium weight sweater is a great idea for winters in Morocco. When it's warmer you can simply pair with a tank top underneath for coverage or when colder add something longer and warmer underneath. It has a unique design (though the buttons are just for show). A great piece that can be used several ways.
Sam Edelman Women's Tinsley Rain Boot
These boots are fantastic because you don't lose any style while still staying dry! No one will ever guess they are rain boots while you're wandering the medinas of Morocco. Available in multiple colors to suit your needs and personality.
This might seem like something a bit strange to add to the list but trust me, the last thing you want while walking around is wet feet. These shoes from Loom are great, we've used them in the city as well as in more rural areas – you never know when you'll have to cross a stream! They're also easy to match with most outfits. We do suggest ordering up a size especially if you're a half size.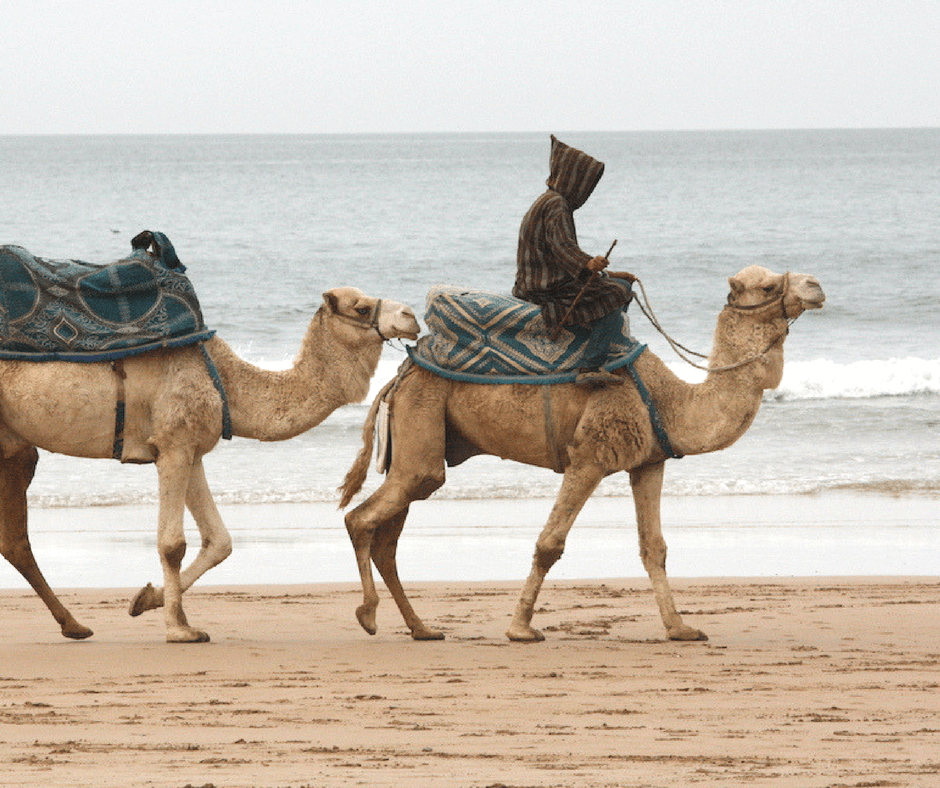 Men's City Break Outfit Idea
Showers Pass Trailhead Bamboo-Merino Hoodie
We road tested this hoodie before giving it a big thumbs up! This Portland, Oregon made hoodie is the perfect light-weight travel shirt. As indicated in the name, the hoodie is made of a combination of bamboo and merino wool, so it's breathable, soft and wicks moisture easily, making it perfect for hiking, breezy nights along the coast and even airplane travel. An added feature that I love is the UPF 50+ sun protection the shirt provides – much needed in Morocco even in winter.
After wearing the hoodie for multiple months, and testing it out in a variety of climates, I can say I'm impressed with the quality of the shirt. It washes up wonderfully, and even though I hang dry mine, it is soft after each washing.While on the spendier side for hoodies, the features, comfort and design will quickly make it your favorite go-to shirt for travel.
Men's Athletic Fit 5-Pocket Chino Pant
Pack a pair of dark colored chino style pants that are ideal for adventure activity or a night out. A darker color means any stains are a little more covered up. Choosing a lighter weight fabric is also helpful for packing as well as if you need to wash and dry your pants while on vacation. These also have a wide variety of inseam and length options.
This is a really lightweight jacket that is packable in your luggage as well as in your daypack. A jacket is a must for evenings in winter in Morocco and this one has been weather-tested up to -10F, cold enough that you should stay plenty warm wherever you go. It is water resistant though not a rain jacket, but pair with an umbrella and you'll be set just in case it does rain.
Trekking in Morocco in Winter: Outfit Idea
Women's Mid-Rise Waterproof Hiking Boot
If you plan to do hiking in the mountains you should be prepared for cold, wintery weather. Having a pair of waterproof winter hiking boots is really important to make sure your feet are properly cared for. If you'll be hiking just a few hours you may not need something as hard core as these but do make sure you have waterproof boots/shoes.
Winter Warm Knit Wool Crew Socks
A few pairs of good wool socks are going to be much appreciated when you're at higher elevations. These will work for a hike (though if you plan to do several days or hard hiking, I recommend sourcing socks made specifically for that). If you're in the city or even just curled up in your room at night they'll also help keep you warmer.
Columbia Women's Anytime Outdoor Boot Cut Pant
These pants are great because they're made for the outdoors and can be layered in cold weather or worn as is when out and about. They're a great transition piece if you plan to spend time hiking as well as in the city because they'll easily work in both situations without being too hot or too cold. Add a layer beneath in higher altitudes or on colder days.
This is another great layering piece that is perfect for hiking or a trip to the desert in winter and can be bulked up to be even warmer with an under layer or a jacket if needed. It's also ideal for colder nights in the city when you don't want to wear something bulky.

Outfit Three: An Evening Out in Morocco
When it's time to dress up and head out for an evening this is where to look! Morocco is a moderate Muslim country so it's always advisable to be a little more conservative than you might be at home. That being said in most large cities night clubs and bars do exist and in the newer districts of these cities you'll find people dressed much as they would in any other city across the world.
Here again you'll find the key is layers so that you can dress up or down depending on the situation and comfort level. Oh and don't forget people go all out for parties like New Year's Eve!
Vintage Square Neck Floral Lace 2/3 Sleeve Cocktail Swing Dress
This dress is modest enough to wear in the medina areas of cities while still being able to wear to other areas that are more trendy. The fabric is a mixture of cotton, nylon and spandex so you won't have to worry too much about wrinkles – easy to pack and store while you travel. Dress it up with some jewelry and shoes for a complete look.
If you want something with a little more pop than consider something like this pencil dress. Do keep in mind most places DO NOT have central heating so you likely will want to have something to wear along with this dress unless you're tearing up the dance floor. This dress would be suitable for newer areas of cities but I would recommend wearing a jacket over the top in other areas of the city.
Men's Voyager 2.0 Travel Blazer
Every guy should have a blazer in his arsenal and this one is the perfect option. It looks great but it also packs incredibly well and is water repellant. It comes equipped with an interior zippered pocket to put your identification or travel documents. Unlike most blazers this one you can toss in a washing machine and dry.
Extras
Black and White Cashmere Scarf
Having a nice scarf on hand is a must in the winter. It can be just what you need to keep warm on cooler days and is a must for winter al fresco dining. You'll find that it will come in handy on more than one occasion.
Anti-Theft Classic Lite Slim Bag
This gender neutral bag is great to carry all the items you need to have on hand like your credit cards, cash, and phone; while still remaining safe and not carrying a big bulky bag or needing to reach under your clothing to retrieve items. The bag is lightweight and fits compactly making it a perfect day bag when you really don't want to carry around something bulkier.
Collapsible Silicone Water Bottle with Air Release Valve
Stay hydrated while helping our local environment. Chances are you'll be drinking bottled water while you're in Morocco. Instead of purchasing the small, single use bottles every time you need a drink, opt instead for a reusable bottle. You can purchase 1.5 liter and 5 liter bottles of water just about anywhere. Refilling this bottle will cut down on your plastic consumption while in Morocco. It compacts easily taking up almost no luggage space.
Reusable Hand and Pocket Warmers
Take along a pair or two of these hand warmers to make night times (and cooler days) a little warmer. When they cool off simply place into boiling water, allow to cool and they're ready to go again. Slip them into your socks or between your sheets before going to bed at night to warm a little. Ideal if you plan to visit mountain areas or the desert during your stay.
Be a part of the MarocMama family!
Do you want access to all things MarocMama? Join our community of readers to get updates on new posts, inside information that won't go on the blog and so much more!
Sound good? Pop your email below and you're in!