I spent a while searching for the perfect travel insurance for Morocco, and I do believe I found it! Whether you're traveling to Morocco or simply living a nomadic lifestyle, SafetyWing Nomad Insurance is something you'll want to pack for your next trip.
Why do I need travel insurance for Morocco?
There are many reasons to get travel insurance, some you wouldn't necessarily think of. Accidents and natural disasters can't be predicted, and it's difficult to be prepared for something so unpredictable. If you're a nomad, you already know you need to be ready for anything.
Whether you're learning how to surf in Morocco or climbing to the highest peak in North Africa, anything can happen. That's why travel insurance is never a bad idea.
No matter how prepared we are, there will always be surprises along the way. Doing what we can, like purchasing travel insurance, can help prepare you for the unexpected.
Is travel insurance a waste of money?
If you think insurance is a waste of money, chances are, you haven't had to file an expensive claim. Accidents happen, flight delays are inevitable, and COVID-19 isn't going anywhere any time soon. Why not cover yourself, just in case? It's one of those "rather be safe than sorry" things.
What is SafetyWing Insurance?
Traveling to Morocco is an amazing experience, but things can go wrong just like they could on a trip anywhere else. International travel introduces risks that just don't exist at home, but having the right Morocco insurance can protect you.
SafetyWing offers Nomad Insurance to travelers anywhere in the world outside of your home country – with the exception of Cuba, Iran, Syria, and North Korea.
They also offer COVID-19 coverage, while most other companies do not. This is one coverage area that I was most excited to learn about. I have known about SafetyWing for awhile now so when they released their updated policy coverage for COVID I was really happy to know they included it. Very few travel insurance policies offer this.
SafetyWing provides more coverage than most other travel insurance policies, at an affordable rate. If you are traveling outside of your home country, this is the travel insurance I recommend.
Doing your own research to find the right travel insurance for your needs is important. I'm going to share what I've learned about SafetyWing and why I believe they offer the best international travel medical insurance on the market.
What types of insurance does SafetyWing offer?
SafetyWing offers a uniquely designed, much-needed insurance policy for travelers that covers you almost anywhere outside of your home country. They offer Nomad Insurance for people who are either everyday travelers as well as remote health options for those who are remote workers and nomads.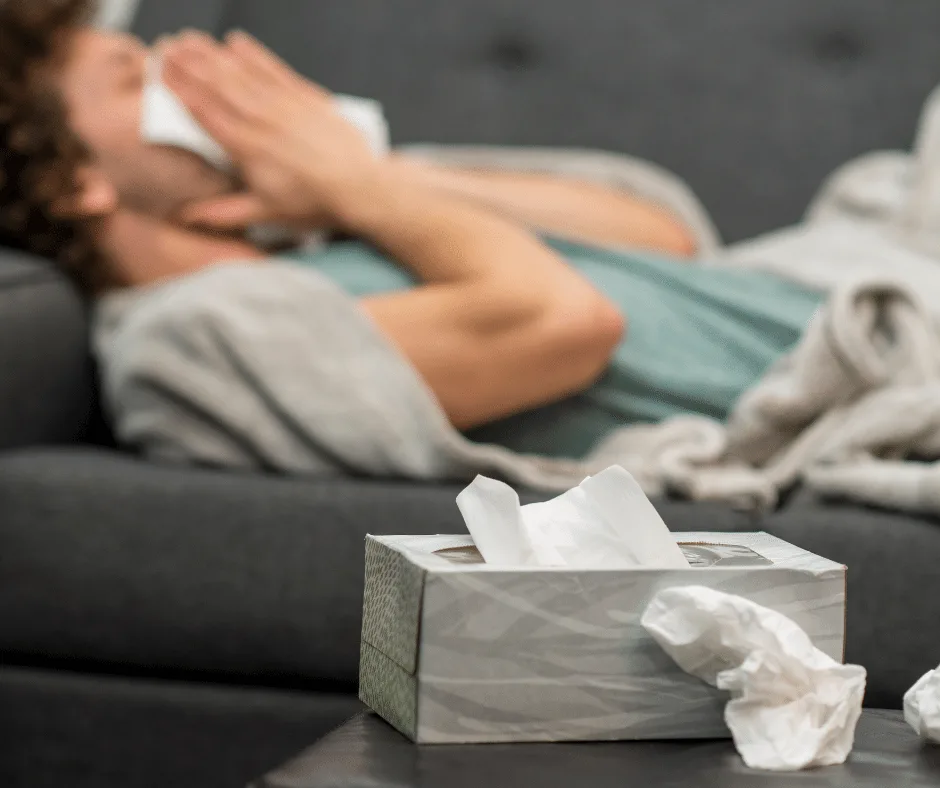 How much does SafetyWing cost?
You can use the calculator on the website or below to calculate exactly how much it will cost, but at the time of me writing this post, it's about $40 for a 28 day period. With automatic monthly payments, you'll never have to worry about when yet another bill is due – it's already taken care of!
What about the deductible… that's where they get ya, right?
I'm so glad you asked. Your deductible is capped at $250 per policy period (which is a year if you keep continual coverage), but there is no deductible at all for many types of claims, including dental, emergency medical evacuation, travel delays, and more.
You can find out what your coverage would cost by using this calculator tool!
What is covered?
Nomad Insurance provides emergency medical evacuation services as well as benefits for hospitalization or repatriation expenses while traveling internationally. It even covers costs for travel delays, lost checked luggage, and travel delays caused by weather conditions such as earthquakes or hurricanes.
After 90 days of being abroad, you are able to keep your medical coverage for 15 days if your home country is the U.S., and 30 days if you reside anywhere else. This is a feature rarely found in other travel insurance options. You'll sleep easy knowing if something happens upon arrival to your home country, for a visit, you're covered.
One other benefit of using SafetyWing is you can purchase it at any time. Normally travel insurers make you purchase the coverage before you leave your home country. For people who are on the road a lot or simply lead a different lifestyle, this can be hard if not impossible. With SafetyWing this isn't an issue.
If you have kids, you'll also be happy to know that 2 children under 10 years old can be included on your travel insurance, free of charge.
SafetyWing's COVID-19 Coverage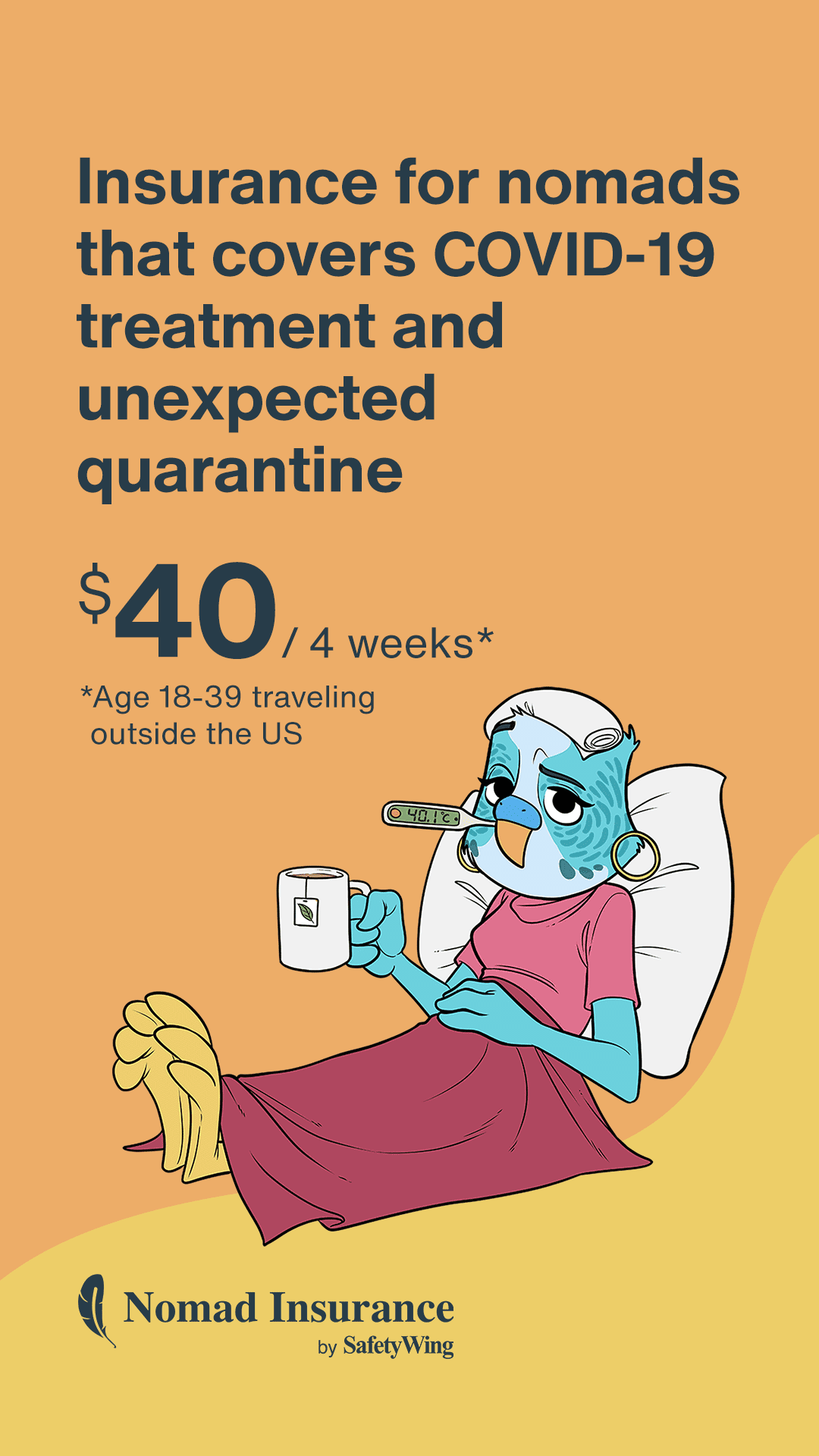 COVID-19 related medical expenses are not covered by most travel insurance networks. With SafetyWing Nomad Insurance, COVID-19 coverage is the same as other illness coverage, as long as it did not begin before your beginning coverage date (and is not covered by other policy exclusions).
Testing for COVID-19 is covered when medically necessary. As long as you've been covered by Nomad Insurance for at least 28 days, government- or physician-mandated quarantine outside your home country is also covered. I highly suggest reading the full policy coverage for this so that you understand completely what is and isn't covered.
What is not covered by SafetyWing?
SafetyWing Insurance is not primary health insurance. Cancer treatment, maternity care, routine check-ups, and some pre-existing conditions are not covered.
How to Register for SafetyWing Insurance
Signing up takes literally just minutes! To being you will want to use the calculator above and click through to sign up or register directly on the website using this link.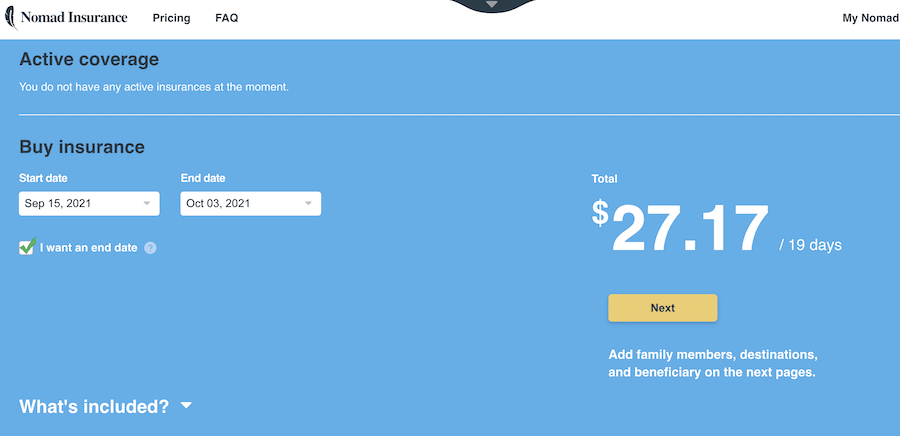 Simply input the dates that you are traveling (no end-date required!) Then click next. The following screenshots will walk you through step by step of the screens that will appear. You will;
add your own information
where you will be traveling
who else is in your group traveling. I have two screen shots here and as you can see when I added a child under 10 the cost did not increase. When I added my 17 year old the rate did double. Essentially it's the same cost per person but all combined on a single plan – easier to manage!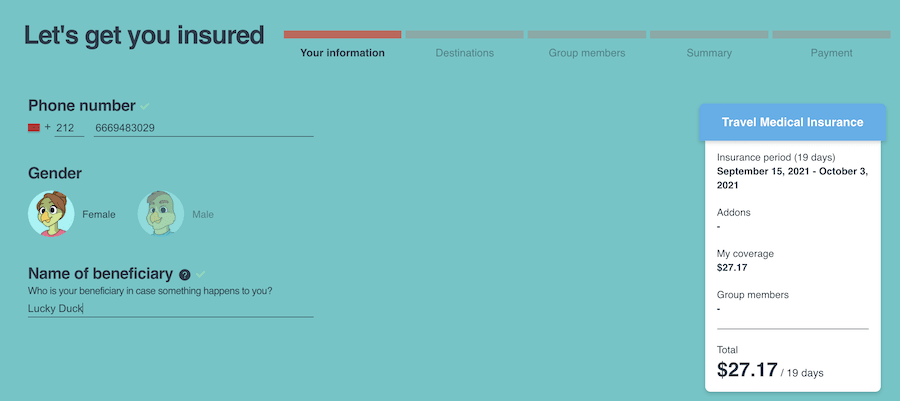 How filing a claim with SafetyWing works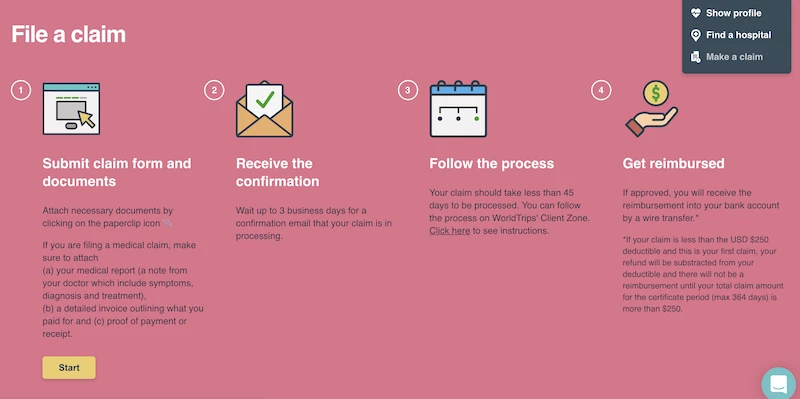 SafetyWing keeps it simple. Here's how you file a claim:
If you have a covered event or injury, seek medical attention.
Log into your account and access the file claim page. It can be found in the dropdown menu on the right upper corner.
For smaller amounts, pay upfront and get reimbursed after you file a claim. If it's a bigger emergency, SafetyWing can organize direct billing, but it does vary from case to case and country by country. There is a 24/7 hotline available for this at 1-800-605-2282
Make a copy of all receipts from the hospital and pharmacy, and download the online claim form. The website will walk you step by step through the process.
Then, submit it. It's that easy, and it's all done online!
Keep in mind all claims need to be filed within 60 days of your insurance ending. Reimbursements are typically made directly to the bank account you provide.
How do I choose the best travel insurance?
I've done a lot of research, just as you should, to find the best travel insurance for your unique situation. However, I can tell you I've compared many major travel insurance options and SafetyWing:
is super affordable at around $40 per month
offers short-term coverage (4 weeks minimum)
has a low deductible of $250
covers COVID-19 related expenses
offers coverage to almost every country
has free coverage for up to 2 kids under 10 accompanying a parent.
and more!
So for me, it's a no-brainer. Whether you're looking for affordable holiday insurance for Morocco or are just enjoying yourself traveling around the world, don't leave home without SafetyWing. And if you do, you can get coverage even if you're currently away from your home country.
More Information on Health and Insurance While Traveling in Morocco
Handling Medical Emergencies and Healthcare in Morocco