Rarely do you find Oujda on the list of cities to visit in Morocco. This easternmost city of Morocco is only a handful of kilometers from the Algerian border. It's also harder to reach than many other popular Moroccan destinations. But, if your travel plans have you itching for somewhere different or find you in this part of the country and you're wondering more about this city – here it is!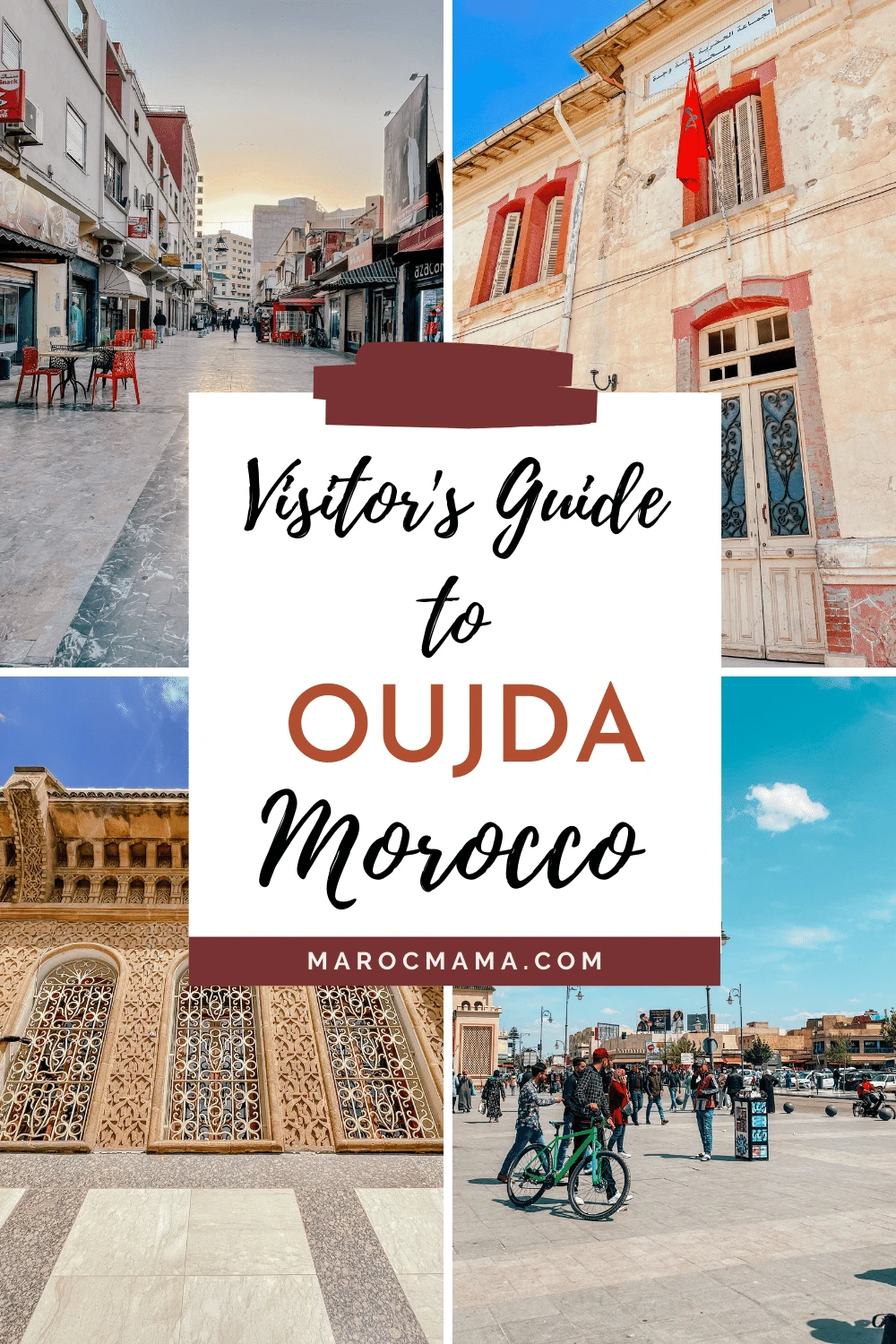 All About Oujda
Oujda has a long history which sadly isn't much known outside of those who call it home. When the Ottoman Empire attempted to capture Morocco in the 1500's Oujda was the "front" for the battle. Soldiers were sent here to train for the incursion. The name for training in Arabic is "oujed" and thus Oujda as a name place was born – the place of the training.
But this wasn't it's only historical significance . In the 1800's Morocco supported neighboring Algeria and their attempts to fight back against the French who took the country as a colonial possession in the 1830's. Later, the Battle of Isly – at the Isly River near Oujda was a turning point. Moroccan forces numbering approximately 20,000 along with the sultan of Morocco. France was determined Morocco would recognize them as the rulers of Algeria. They won the battle thanks to their overwhelming firepower. While Oujda was the first front they also bombed Mogador (Essaouira) a day later and Morocco capitulated.
Getting to Oujda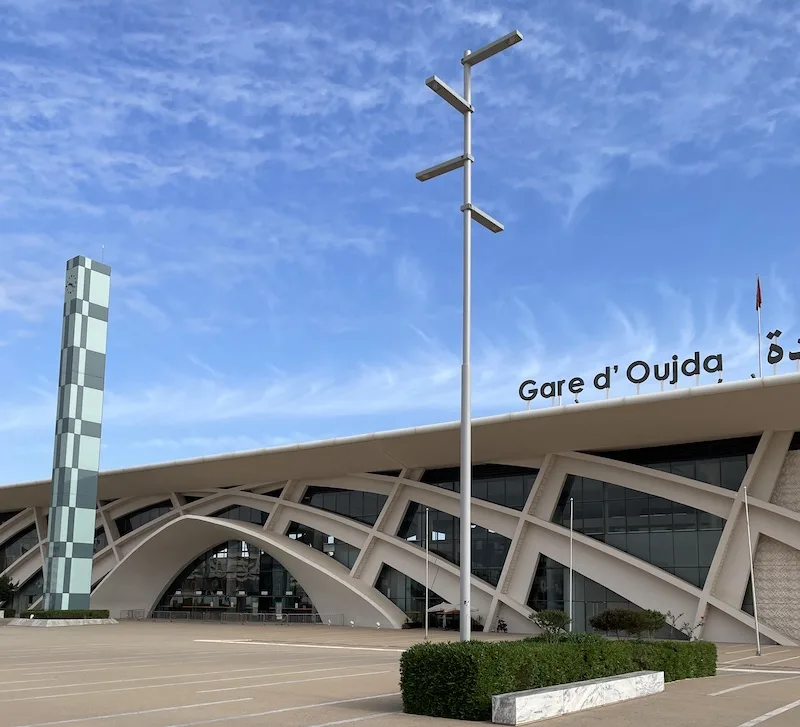 Flying to Oujda
Truly the easiest and fastest way to reach Oujda is to fly. The land crossing distance is deceptive on a map and many people who regularly make this trek do fly. There are regular flights from Casablanca on Royal Air Maroc. This is the only domestic connection to date. There are international connections to Oujda as well.
Taking the Train to Oujda
This is one of the reasons I would go – especially if you're someone who likes an adventure and trying new things. There are only two routes in Morocco that have overnight trains and this is one of them. You have the option to book a seat or to book a cabin. Cabins come as singles, doubles and single-gender quads. While there are trains that also run during the day, I'd suggest doing the overnight option as it's a long trip (11+ hours overnight) and you can at least get a little sleep this way.
The Moroccan train system is pretty cut and dry. You can book tickets in the station or online and the price does change depending on how far in advance you book. Not all tickets can be bought in every station. For example we wanted to buy the Casablanca – Oujda leg of our trip in the sleeper cars starting in Marrakech however we could only do the online option or get at the Casablanca station the day of travel. That was too risky as I wanted to guarantee a cabin.
While we started in Casablanca, there are several other points you can begin from including Rabat and Fez (which will be much closer) for this journey.
Car rental Oujda Airport
Departing Oujda we rented a car at the airport as it was the easiest point to pick up a vehicle. All of the major car rental companies are at the airport and it was fairly straightforward and easy. We rented from Sixt and the agent spoke English and explained everything to us. We were also able to rent an automatic car and while it's a little more expensive the convenience if you're planning to drive long distances is great.
If you're considering renting a car in Morocco, this is a good read in advance.
Where to Eat in Oujda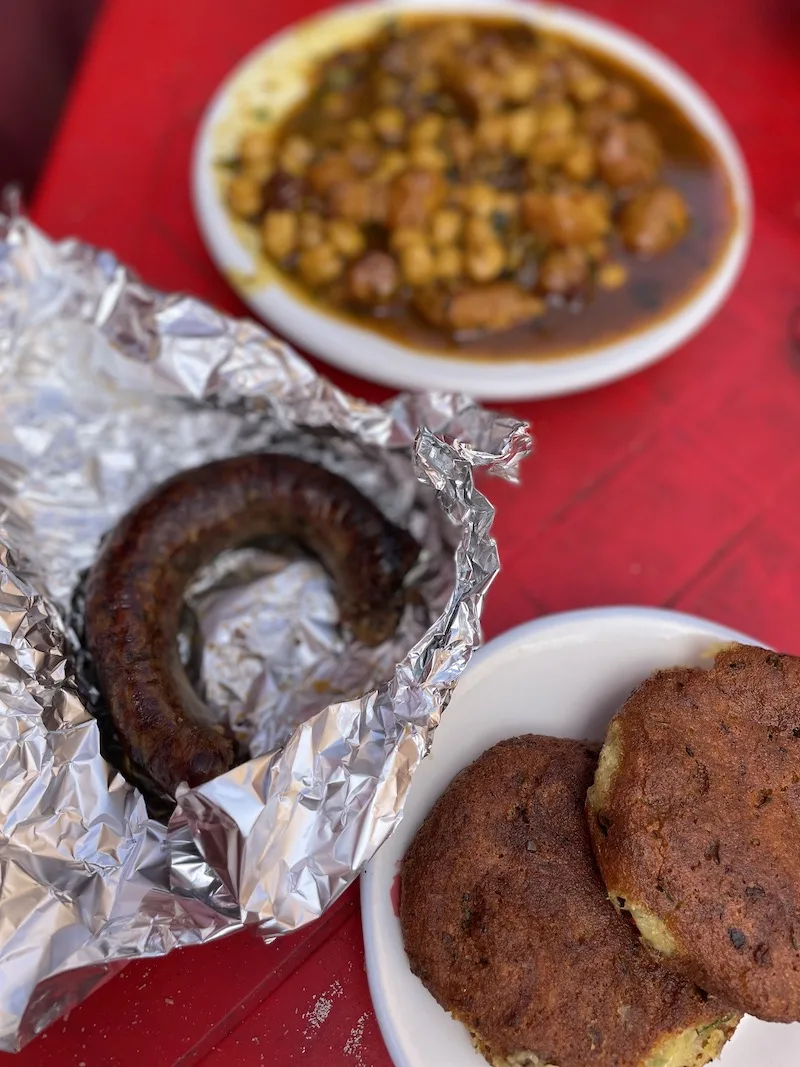 Ferran Lhacen
Every single person we asked in Oujda told us to go here. It is out of the way – you'll need a taxi there and back but the food is good. They also sell out early so if you're planning to go for lunch and want more than a grilled meat sandwich plan to get there before 2pm.
Street Food Vendors in the Souk
Inside the old medina are many different vendors selling a wide range of foods. Some are sit down spots but most were small bites to grab and go. Because there are basically no tourists here you can rest assured what's being served is vetted by locals!
Cookies
We stumbled into this patisserie when we were on the lookout for food items unique to Oujda. The staff in this tiny hole in the wall shop were so incredibly kind and made sure we tried just about everything in the shop – I was full when we walked out with several boxes in hand!
Foods to Seek out in Oujda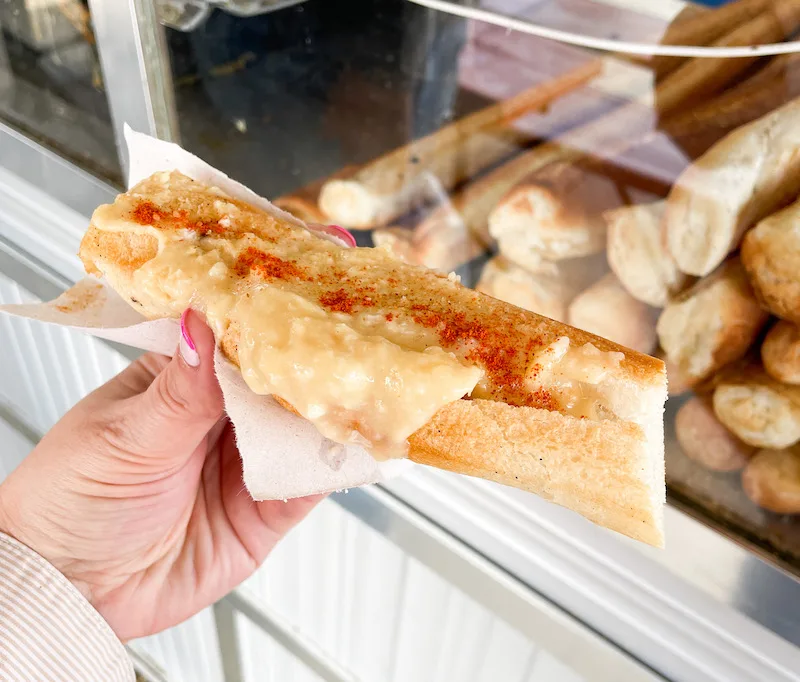 Boudin – Thanks to French occupation this sausage has a home here. You'll find this sausage in round circles and it's the halal cousin of Louisiana boudin. It's filled with meat, spices and rice, in a natural casing (yes that's intestines) and grilled. The vast majority of Moroccan food is not spicy by nature, but this sausage is! Don't confuse it with merguez, it's not that!
Karan – Without a doubt, this is the single food that people have said is special here. I'd agree. There are several versions of this found in northern Morocco (and across the Mediterranean) but this one is different. Karan is a cooked chickpea flan/paste that's added to bread and then sprinkled with salt, cumin, and hot peppers. In Oujda it's much thinner than in other places. At only 1 dh for a piece, it's a great snack.
Skinny, Extra long baguettes – These are what makes the karan extra good in my opinion. The Oujda baguette is skinny and the perfect texture!
Kaskrout (sandwiches) – One of my Instagram followers from Oujda suggested trying these out. We did pass a sandwich shop making these but didn't stop. I know kaskrout as a type of bread similar to French toast (at least that's what my in-laws call it) but here, it's a sandwich. A little digging showed me this is what they're called in Algeria and Tunisia too. Kaskrout are like a bocadillo – a baguette that's filled with vegetables and your choice of meat. (Yes casse-croûte (snack) is the original French word).
Ka'ak Cookies – You'll find round cookies like this in other parts of Morocco, particularly where there was a Jewish presence. The ones here are less dense than in other cities and have a light flavor. They come in different shapes – like stars and moons and keep well making them a good choice to stock up on for your travels further.
Lemon Juice – Paired with a karan sandwich, lemon juice is the way to go. It's super popular in Oujda and again only 1dh for a cup.
Tea with Sheeba – Normally in Morocco tea with mint is what's offered to you however, we noticed here sheeba was the default herb of choice. Sheeba is wormwood and a type of absinthe. Try it out!
What to Do in Oujda
Here's the thing – there isn't a lot to do in Oujda, which can be part of its charm.
The Medina – Oujda is a very local market scene so expect more pajamas and few (if any) items for tourists to purchase. If you're looking for things like kaftans or Moroccan slippers you're in luck because they're here and inexpensive. I'm sure there's also an area that has rugs and if you're a collector this is a must. Rugs from eastern Morocco rarely make their way to the markets in other areas of the country and are unique.
St. Louis Catholic Church – Catholic and Protestant services. There are fences with a police presence nearby – this is not for the church but the nearby royal palace. Be alerted you're only permitted to take images from the angle show here as it's a restricted area.
The Gold Street – If you're not into shopping you can avoid this but if you like jewelry and especially gold, check out the market here. Many of the styles and designs are different from other areas and we found also a bit more reasonably priced than in larger cities.
French Colonial Remnants – Oujda was the first city in Morocco that had a French presence. It was where the first train depot in Morocco was built and was the start of the rail system. There's a large European cemetery as well as the original train depot.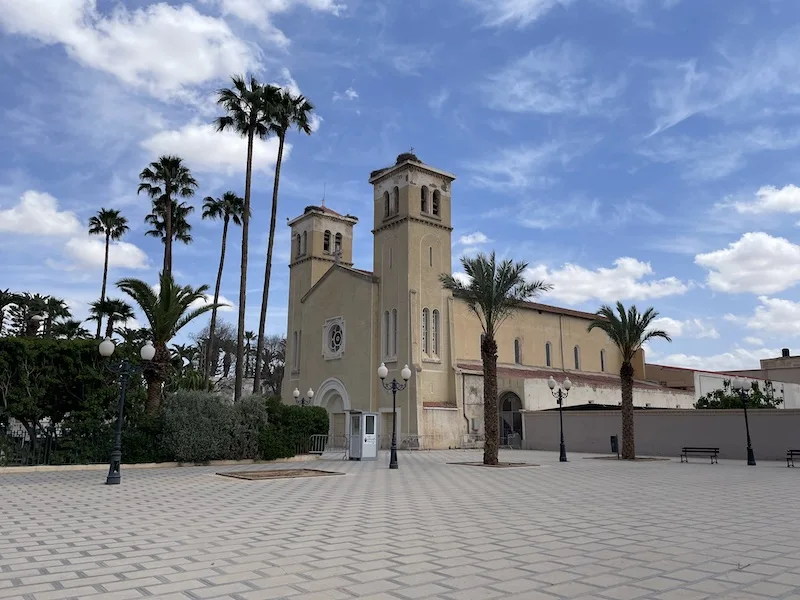 Where to Stay in Oujda
With few tourists here, it can be expected there are also limited options for where to stay.
Love them or hate them you're likely to find an Ibis near just about every train station in Morocco. Oujda is no exception. This is actually where we opted to stay as we arrived early and wanted something relatively inexpensive and easy to access. It was all of those things. It's no luxury stay but the rooms were decent and the staff was very helpful.
This is a newer hotel located across the parking lot from the Ibis. It's slightly more expensive and but has more amenities and options for travelers. With a spa and swimming pool this is a good choice if
For a locally owned bed and breakfast style stay this spot is highly recommended by travelers. Expect simple rooms with the feel of a family stay. This riad is in the medina area giving you centrally located access.