Morocco has music capable of taking you on a journey through time. From Grammy Award-winning rock bands to young trap music producers, the traditional rhythms and instruments are still present in modern Moroccan music. Celebrate and dance to some of the oldest music on earth!
If you love traveling in Morocco or you are planning an itinerary for your first trip, the Moroccan music mentioned below will help transport you to this incredible North African country.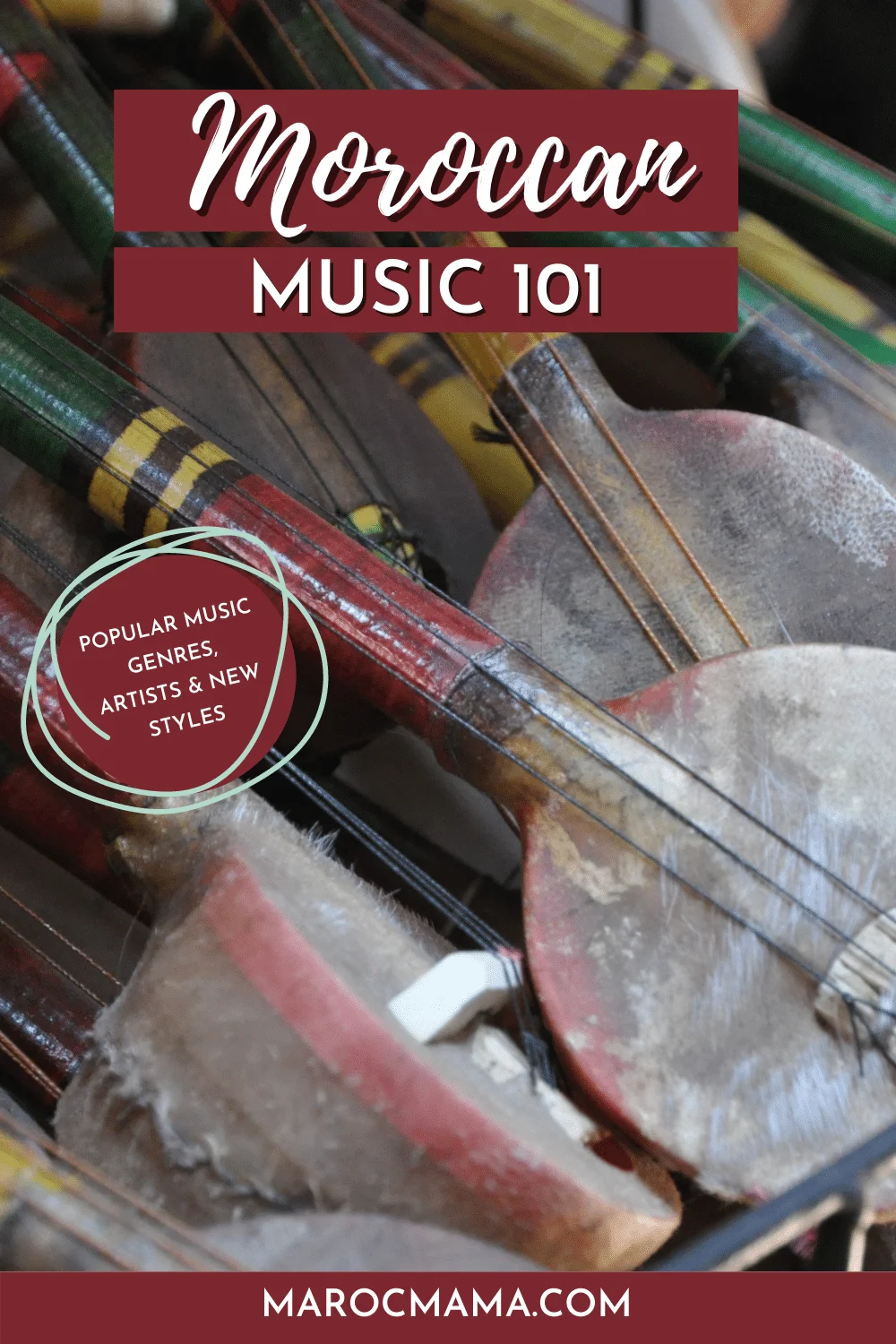 Popular Genres of Morocco Music
While Moroccan music is celebrated worldwide and has worldly influences, only a small portion of Moroccans listen to modern music. With 99% of Moroccans practicing Islam, many of the favored music styles are religious and traditional forms.
Traditional Arabic scales appear across most of the genres and include the Chiftitelli and the exciting Ayoub rhythms. Chiftitelli is a 4/4 time beat and has a phrase of two measures. Ayoub describes a 2/4 time beat with two strong Doums and two sharp Teks.
The development of modern Moroccan music styles discussed later in the article is favored by younger audiences with more liberal religious views. The contemporary styles are often similar in sound to the below genres while tackling non-traditional topics.
Andalusian Music: Al-Ala
As the name suggests, Andalusian music comes from Andalusia, in Spain. It sounds like a blend of Arab and Spanish music and is performed with classical instruments. The Moroccan cities of Fez, Tetouan, Tangier, and Chefchaouen are home to world-renowned Andalusian orchestras.
Moroccan singers and musicians typically wear traditional clothing, as the genre is most often played during religious ceremonies. Andalusian music is considered part of the longest traditions of art and music in the world.
The best display of this impressive tradition is in Morocco, where the style is known as Al-Ala. Songs typically start with a slow instrumental before several verses are sung in free time and end in a rhythm suited to dance.
Amazigh Music
The Imazighen people, known as Berbers, are from Morocco, Algeria, Tunisia, Libya, Western Sahara, Mauritania, the Canary Islands, and Egypt. Berber music differs depending on the area of origin.
Ahwash is an Amazigh community in southern Morocco whose music typically includes dancing alongside poetry, singing, and percussion.
While Ahidus music is expressed through collective dance and song and originated among tribes in the Middle and Eastern High Atlas.
Guedra is a Berber music style named after a drum made from earthen cooking ware with a hide stretched over it. It is associated with the Tuareg people who live in the Moroccan Sahara.
Moroccan Chaabi Music
Chaabi is a popularized folk genre that often comments on social issues and non-traditional themes. One singer Najat Aatabou, has songs dealing with themes of being a woman in Morocco and involves non-traditional topics like infidelity amongst men.
The oldest form of Chaabi is al' Aita. It is sung in Darija, the spoken version of Arabic in Morocco.
Gnawa Music
Gnawa is mystical music originating from West African origin. Musicians are respected for their performances which have spiritual and cultural traditions. The rhythms of the Gnawa are distinctive triple and duple meters.
Songs are typically played using a three-string camel skin bass instrument (hajhouj), heavy castanets (krakebs), and religious chanting. The tracks consist of a few lines repeated over a long time, often creating a trance state in the musician.
Gnawa music is an integral part of the Moroccan Sufi spiritual traditions. The music brings a trance state, inspiring ecstasy, by using a variety of percussion rhythms and repetitive melodies.
Raï Music
Raï is a blend between traditional Islamic drum patterns, melodies, and instruments with Western electric instrumentation. It arose in Algeria as a popular form of music amongst a younger audience in the 1920s.
Raï music is most commonly found in Moroccan towns near the Algerian border. The songs address taboo topics, often making social and political commentary. Raï musicians switch between French and Arabic to add to the rhetorical and aesthetic effect of the lyrics.
Malhun
Malhun is a traditional music style often played in public spaces, markets, and in the streets. The spoken and sung poetry is typically interspersed with musical verses from a growing number of instruments as the song progresses.
It is very common to hear Malhun music in the Moroccan city streets.
Who are Notable Musicians from Morocco?
Well known Moroccan musicians like The Master Musicians of Joujouka needed to work with overseas producers before they could gain audiences outside of the country. While present day artists from more modern genres like 7liwa have leveraged the internet to access audiences from across Africa and the world.
Cheb Mimoun & Cheb Hanino
Raï music originated from Algeria but is just as popular in Morocco. Cheb Mimoun and Cheb Hanino are Moroccan Raï stars. Cheb for male and Chebba for female, meaning young, is a term of adoration used by music fans for Raï musicians.
Cheb Mimoun, born in Oujda in 1950, was a prolific Raï musician who released 17 albums. Cheb Hanino's style of Raï music is more modern and carries an upbeat rhythm. His song titled "Wach Eddak" is known to bring audiences to their feet.
Houine Toulali
Born in 1924, Houine Toulali was a Malhun musician who once worked in a market where the genre was popularly played. He played traditional styles of music and opened his own music school.
The Master Musicians of Joujouka
The Master Musicians of Joujouka are a collective of Sufi musicians from Northern Morocco. First documented in the 1950s, they received international attention by collaborating with English musician and composer Brian Jones in 1968. They played to their largest audience as the opening act of the Glastonbury music festival in 2011.
Donn Bigg, El Grande Toto, and 7liwa
Donn Bigg is considered a pioneer of rap music in Morocco and also has audiences in Europe and the Middle East. He was born in Casablanca in 1983 and started performing rap music at the age of 20.
Casablanca musician El Grande Toto's songs feature an eclectic mix of styles and languages. The artist's melancholic auto-tuned vocals are delivered in Darija, Arabic, French, and English.
7liwa is a young trap musician who has seen incredible growth in popularity online. He was born in Casablanca in 1996 and is signed to Sony Music Middle East.
What are Modern Moroccan Music styles?
The introduction of modern recording equipment, electric keyboards, and synthetic beat making has helped transform Moroccan music over the last 40 years. North African influences of poetic vocals, trance-inducing rhythm, and percussion have remained.
The combination of the modern and the old can be explored through the lens of the following three genres.
Funk
Musician Abdelakabir Faradjallah pioneered the genre of funk music in Morocco with a multi-generational family band called Attarazat Addahabia. Listen to the band's blend between traditional and funk music in the album titled El Hadaoui.
Jil Jilala is another Moroccan star music group that rose to prominence in the 1970s. Primarily influenced by Gnawa music, they sing in an old form of Moroccan Arabic. The music aimed to rejuvenate traditional Moroccan music played by Sufi people, while their most recent album contains digital elements.
Rock
Larbi Batma, a Moroccan singer, musician, poet, author, actor, was the frontman of the band Nass El Ghiwane. Formed in Casablanca in the 1970s, the band played an influential role in Chaabi music. They were the first Moroccan band to introduce western instruments like the modern banjo.
Tinariwen, a band formed in 1979, was the first North African band to mix Berber music with modern electric guitars. The founding band member, Ag Alhabib, found influence to break away from traditional sounds in the music of Nass el Ghiwane and Jil Jilala.
The band won a Grammy Award for the Best World Music Album 'Tassili' in 2011. Tinariwen's music is primarily guitar-driven and features traditional instruments such as the shepherd's flute, one-stringed fiddle (imzad), lute (teherdent), and tende drum.
Hip-Hop
Hip-hop is often characterized by repetitive beats overlaid with lyrical raps. The same can be said about traditional Moroccan music's trance-like percussion and poetry in the form of the spoken word.
Issam Harris has, more recently, created a Moroccan form of trap music by combining influences from American rapper Travis Scott with melodic lines from North African. The music appeals to an international Arab-speaking audience while receiving criticism from established rappers like Don Bigg.
The new styles of hip-hop music produced in Morocco often feature auto-tuned vocals. These are laid over beats produced digitally to mimic the sound of the famous Roland rhythm composer. Combined, the vocals and beats have a distinct American Hip-hop influence.
Plug in, Press Play, and Travel to Morocco with Music
Moroccan music comes in a variety of traditional and modern styles and continues to evolve. The modern music styles are popular and are more likely to have new releases online. However, the traditional trance-like music still has a special place in Moroccan culture.
So when you decide to travel to Marrakech, remember to keep an ear out for the Mulhun music in the marketplace or the Al-Ala music played during religious ceremonies!