If you want to travel between the cities of Morocco, there are many different options. Some cities can be reached by train, others only by local bus or shared taxi. If you want comfort and are willing to pay a little bit more than the locals, then going by bus might be your best course of action.
Morocco's public bus system, CTM, is a safe and reliable way to get around the country. Tickets can be bought at any CTM office or on the CTM website. The buses are comfortable and air-conditioned, and there is usually a snack and drink service on board. WiFi is also available on some buses.
CTM buses are a great option for visitors to Morocco who want to see the country without having to rent a car. The bus network covers most of the country, and CTM also offers some international routes to neighboring countries.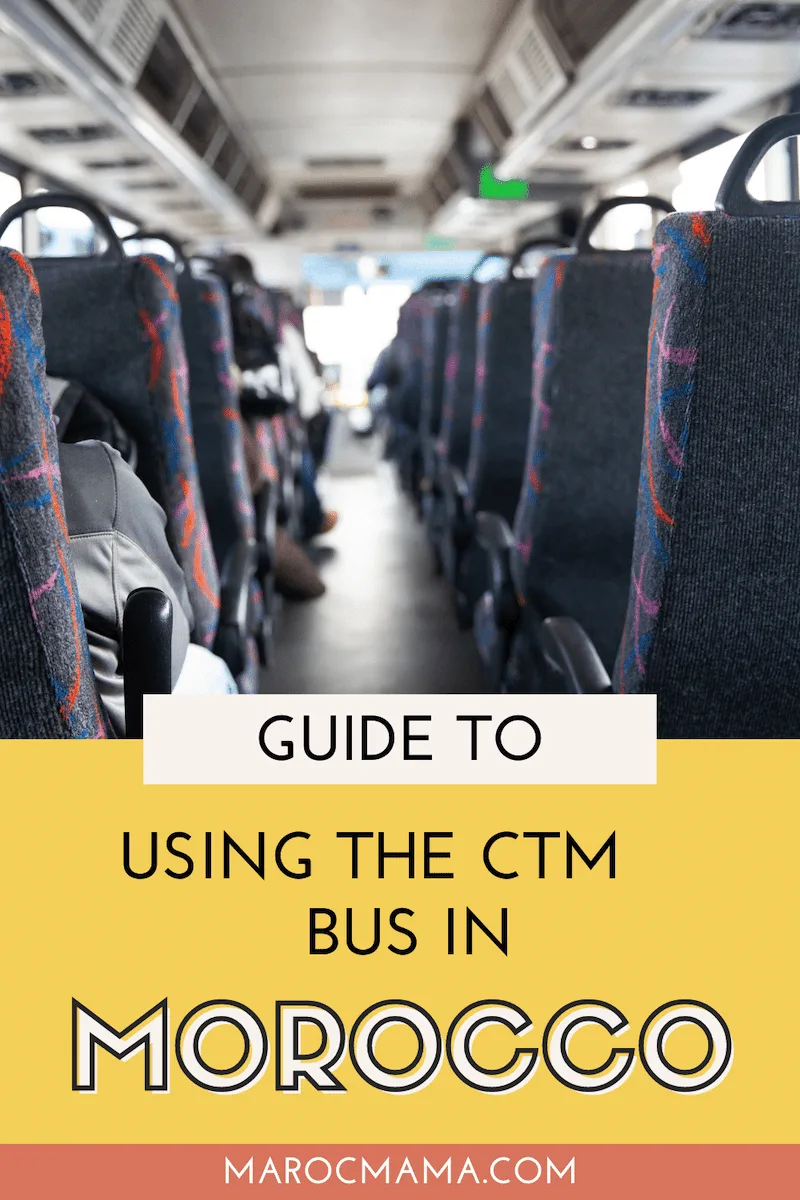 Using Buses in Morocco
There are local buses, old, without air conditioning, breaking down often and sometimes dirty. They are the cheapest buses in Morocco, but not the ones I recommend you take.
There are two Morocco bus companies you should travel with if you want reliable service and comfort: Supratours and CTM. They are a great way to explore Morocco by bus and are recommended in forums and Facebook groups, and everyone who uses them has good experiences.
Supratours Bus Morocco
If you want to find out more about Supratours have a look at their website (they do have an English one) which also has the bus routes and other information. Or you can head over to the Supratours bus station in Marrakech or anywhere else to find out more and buy your tickets.
CTM Bus Stations in Major Cities
CTM FES BUS STATION
The CTM bus station in Fes is located in the new part of the city, not the Medina. From the Medina, you have to take a taxi to get there. It will take about 20 minutes, and they might ask for 20 dirhams per person. If you find a taxi with a meter in Fes, you are fortunate, even though taxi drivers are compelled by law to turn their meters on.
You are advised to arrive at your station at least 30 minutes before your bus departure. In Fes, the CTM bus station is very modern, and they will not give you a printed ticket if you have the ticket on your phone. Thirty minutes before departure it is possible to check in your big luggage. You will have to pay about 5 to 10 dirhams (I paid a different amount each time I rode and feel like they are very random about this).
I remember at the CTM station in Fes there was a toilet but you had to pay for it (this is fairly common in Morocco – always have small change on you!) and there was no toilet paper. Be prepared.
Chefchaouen is a small city, and it doesn't have a separate CTM bus station. All buses arrive and leave from the central bus station, a little bit outside the beautiful Chefchaouen Medina. To get from the station to the Medina, it is best to take a taxi because the way is quite steep. I was lazy and also took a taxi back down.
As you enter the central bus station the building on the left side has a CTM office, where you can buy your tickets and check in your luggage. After you checked in your luggage, it gets a tag, but you will keep it with you and are responsible for placing it and yourself on the correct bus.
CTM TANGIER BUS STATION
The CTM bus station in Tangier is in the new part of town. But it is easy to access all other areas of Tangier with a petit taxi or by walking. There are hills so you may want to check where you're staying and distances before deciding to go by foot.
For general ideas of pricing, the bus from Tangier to Rabat costs 75 dirhams and takes between 3.5 and 4.5 hours.
CTM RABAT BUS STATION
Rabat is the capital of Morocco and a real hub. But the old parts of the city are beautiful and worth a visit. The buses that connect here go all over the country but may be a bit more limited as you are now on the train line as well.
The bus from Rabat to Marrakech costs between 135 and 190 dirhams. This is a more expensive route. The price difference is due to the different comfort level of the buses making this route. There are CONFORT, PREMIUM and CONFORT PLUS buses. I think you can look up the exact differences between the buses online (but only in Arabic or French).
It takes between 3 hours and 45 minutes and 6 hours to get to Marrakech.
The CTM Bus Station in Marrakech is right next to the imposing train station. Very convenient if you want to transfer from one to the other. You can walk to the medina however if you're carrying luggage it's not advisable. There are plenty of taxis nearby.
The bus from Marrakech to Casablanca runs multiple times a day and costs between 90 and 130 dirhams. The fastest bus takes 3 hours. If you are thinking about going the other direction from Casablanca to Marrakech, the time and cost are the same in both directions.
The CTM bus station in Casablanca is located within walking distance of Casa Port train station, which is the first Casablanca stop going south towards the airport.
This is a centrally located bus station and you can access taxis as well as the Casablanca tram system.
BUY CTM TICKETS YOURSELF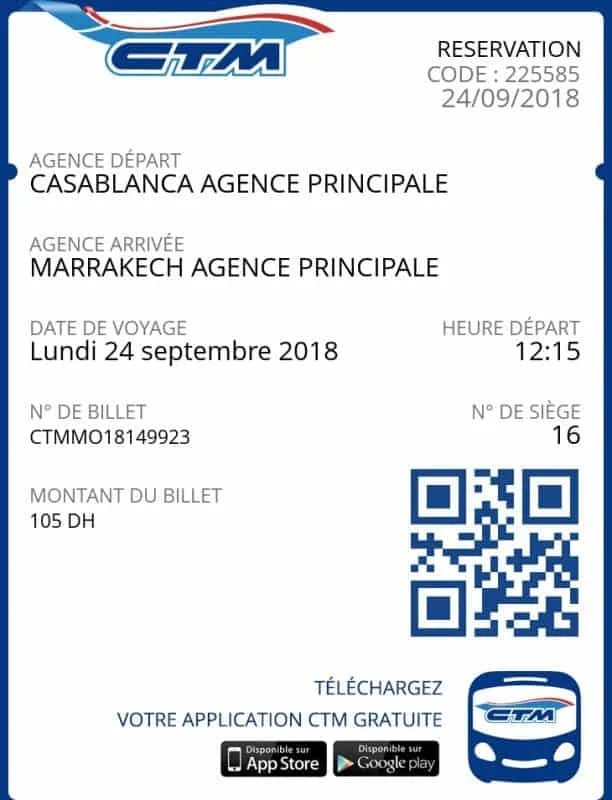 There is one slight problem if you want to take a CTM bus, if possible you should book your ticket at least 2 or 3 days in advance because even though on most routes there are multiple daily departures they are often booked to capacity. If you are already in the city, you want to ride from, great, just head over to the CTM bus station and purchase your ticket there.
But if you aren't you have a problem. Now you might ask, can't I buy a ticket online? You can, some agencies will support you in purchasing your ticket. However, they can charge quite a bit.
Unfortunately, the CTM website, as well as the CTM App, are only in Arabic or French. If you don't speak either of these languages, you might simply give up buying a ticket in advance and just hope for the best on your chosen travel day.
What if I told you, you don't have to be able to speak Arabic or French to buy a ticket online? To make it easier for you, I put together step by step instructions on how to buy CTM tickets yourself using the CTM App.
STEP 1: DOWNLOAD THE CTM APP
Here are the links to the App Store and the Play Store. Download the CTM App to your phone to get started.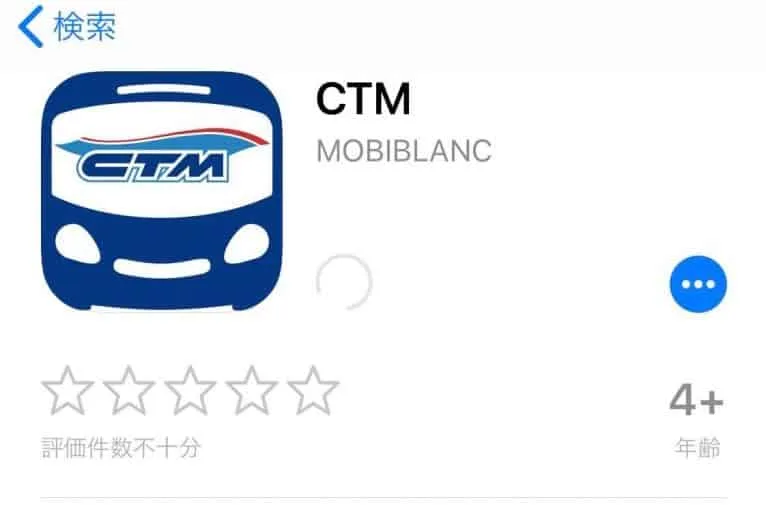 STEP 2: OPEN THE CTM APP
This is the easiest step.
STEP 3: CHOOSE YOUR LANGUAGE
You only have options between French and Arabic. I chose French, even though I don't know any French, but it is still easier to look up than Arabic words.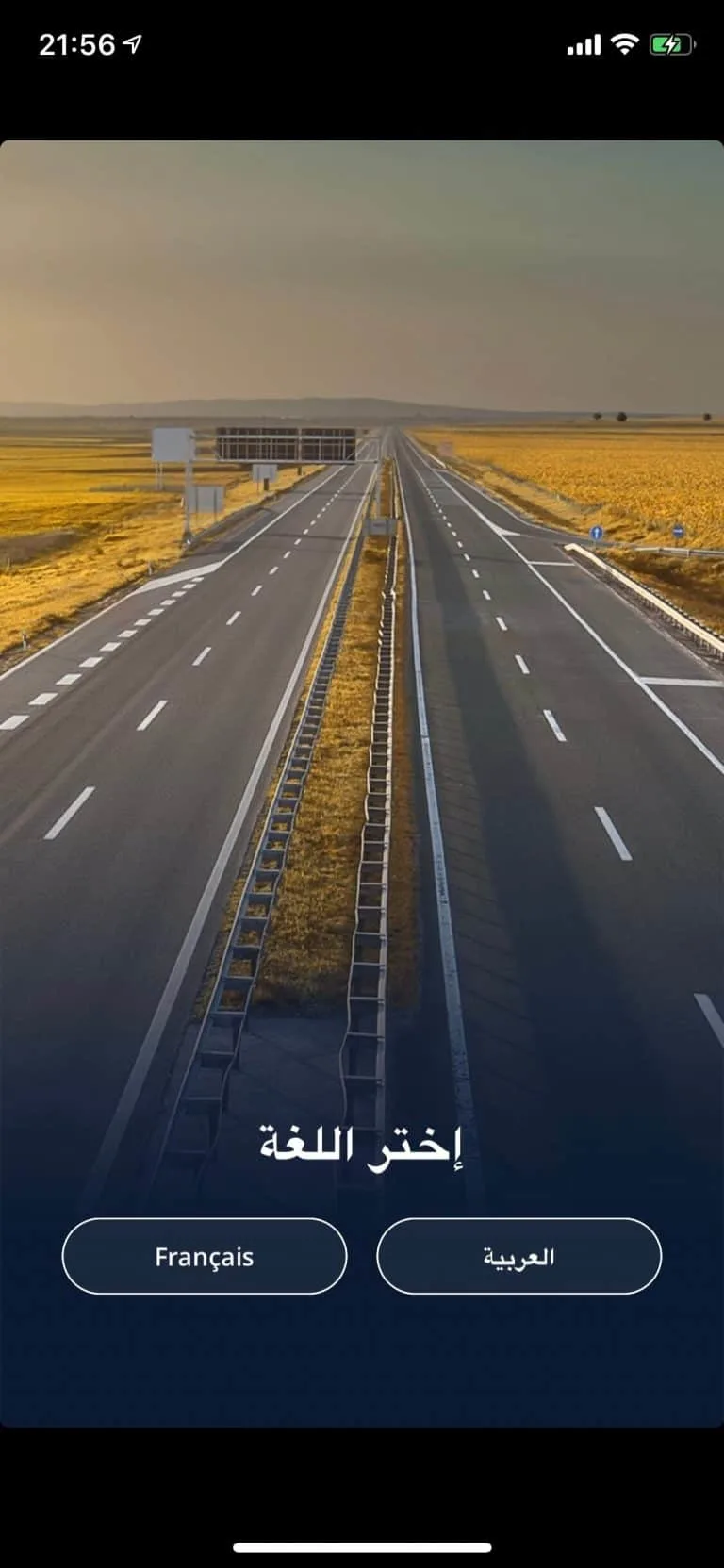 STEP 4: INPUT YOUR PERSONAL INFORMATION
You can either use Facebook to login or input your name and other information in manually. You only need to do this once and the app will remember you.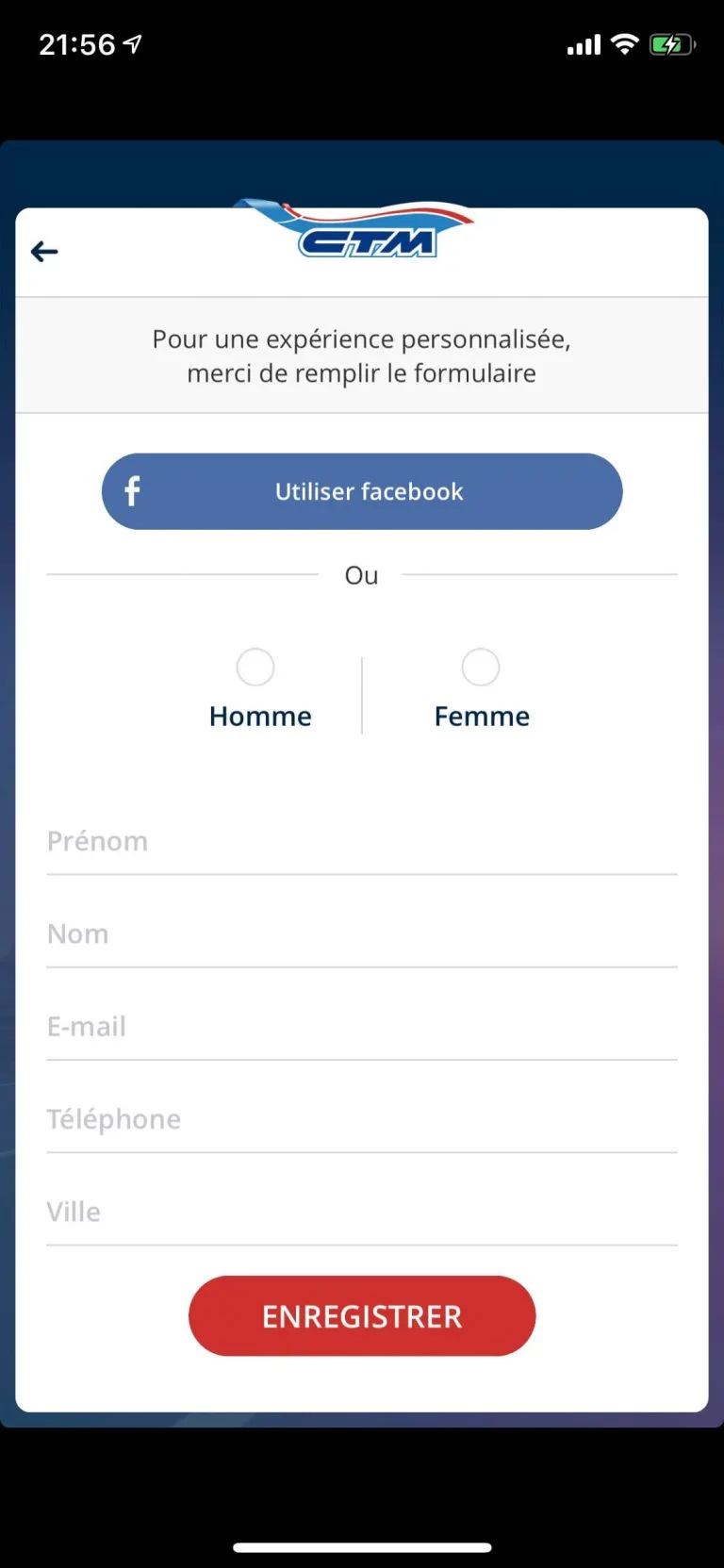 STEP 5: CHOOSE TO BUY A CTM TICKET
Now you want to click the big red button on the left-hand side saying 'Acheter un billet' which means 'buy a ticket'.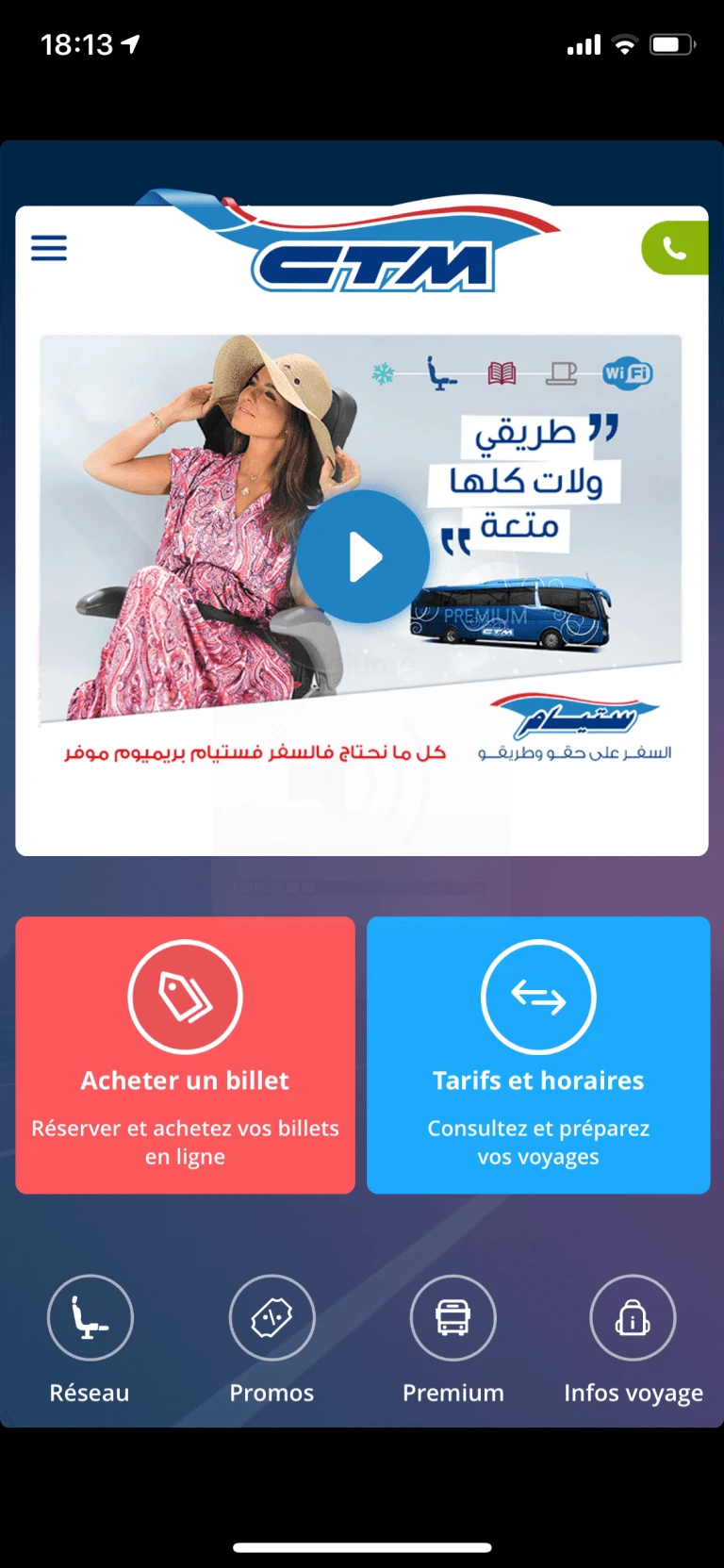 STEP 6: CHOOSE YOUR JOURNEY
On the next screen input the following information to book your CTM ticket.
If you plan on traveling within Morocco, choose 'Voyage national'.
If you want to go one way only choose 'Aller simple' or return then 'Aller + Retour'.
You are looking for a bus, so you want to choose 'Tous les bus' which means 'all buses', I don't know what will come up if you choose 'Autres catégories' which means 'other categories'.
Choose your DÉPART (departure destination) and ARRIVÉE (arrival destination). In my case, I want to go from Fes to Chefchauen, a very popular destination.
Enter the DATE ALLER (the date you want to go) and DATE RETOUR (date to go back) if you want to return.
At 'Nombre de places' you enter the 'number of places' meaning the number of passengers you want to reserve for.
And lastly, choose 'Carte Internationale' meaning you don't have a Moroccan credit card.
Now you can click the big red RECHERCHER button.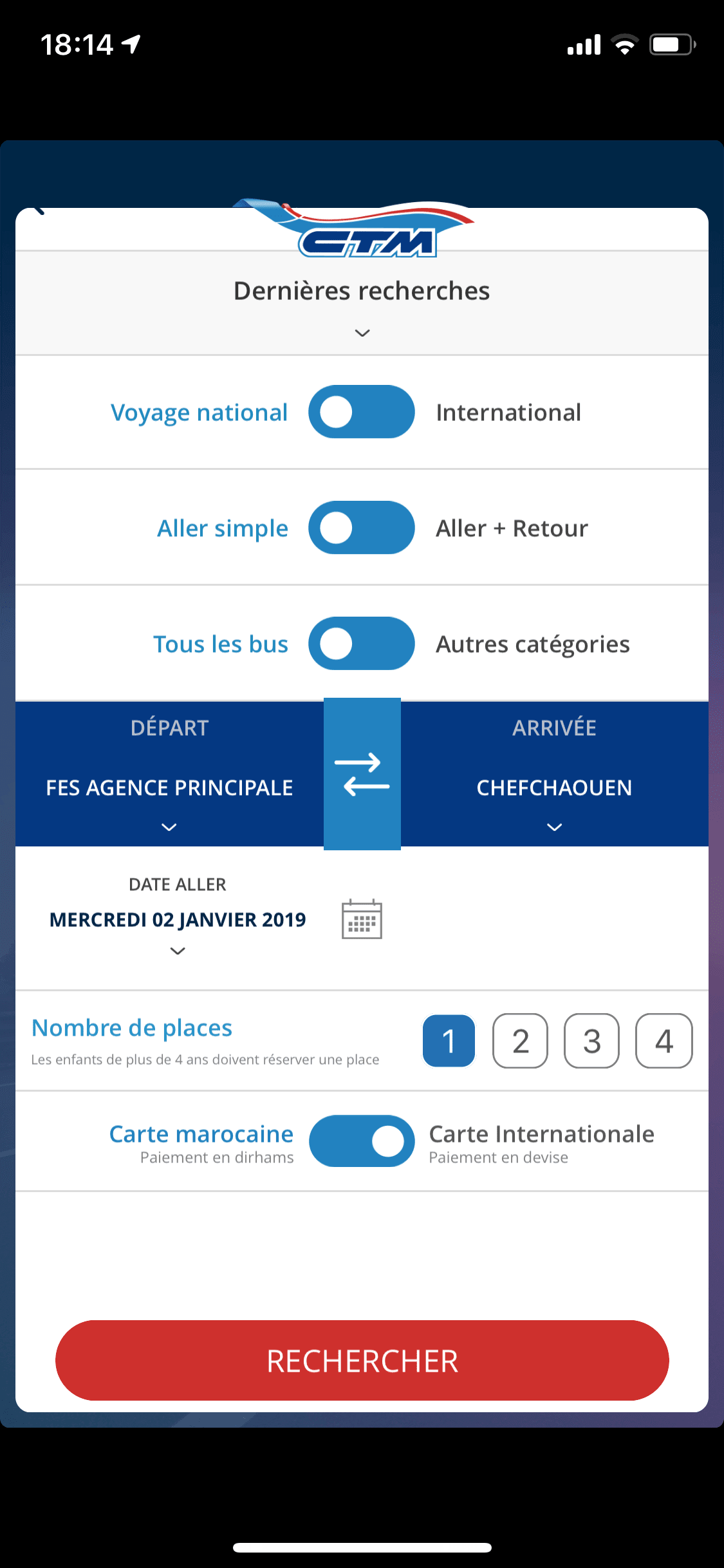 STEP 7: CHOOSE A BUS FROM THE LIST
On this screen all possible departuring buses are listed. From earliest to latest.
Note how they have different durations as indicated below the arrow and prices as you can see above the arrow.
If instead of a price the word COMPLET is displayed it means the bus is already fully booked.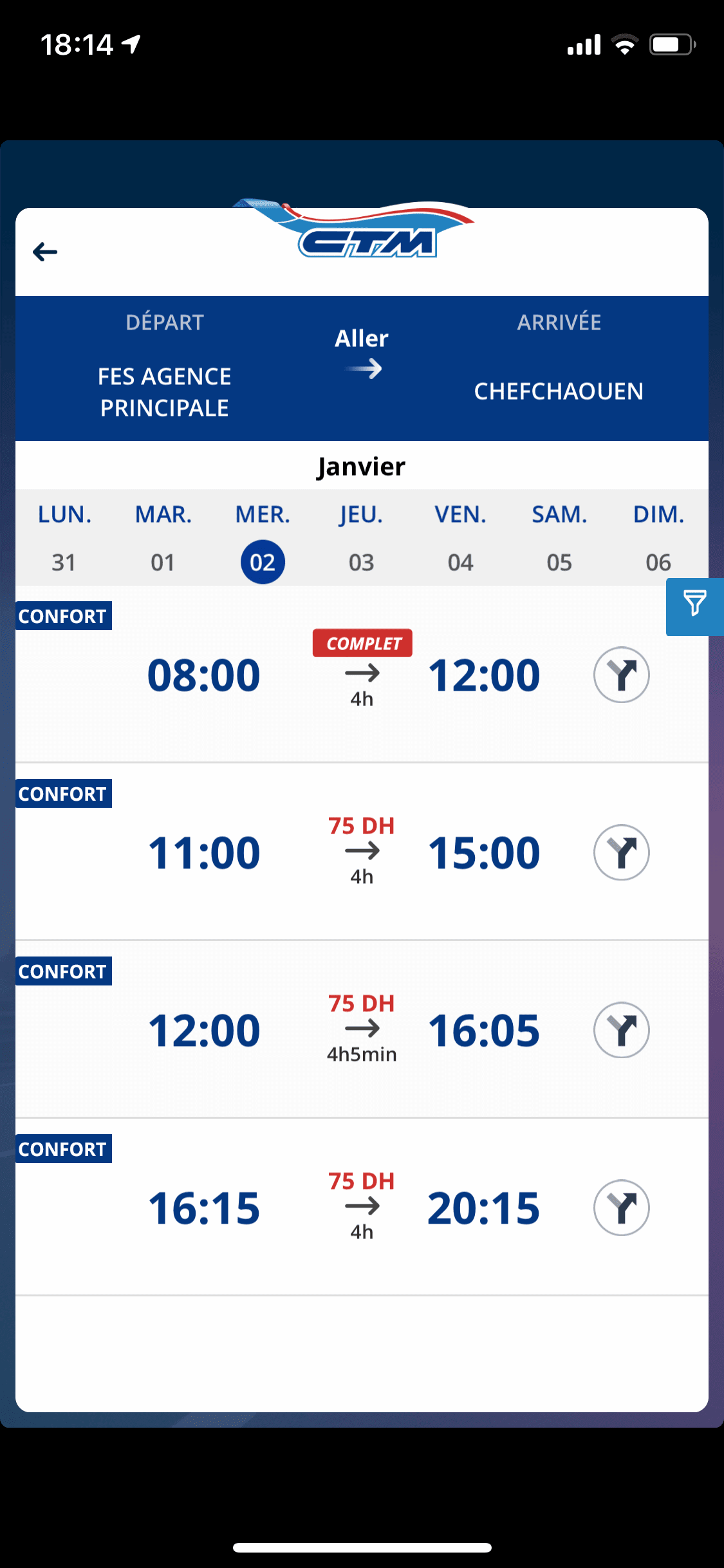 STEP 8: CONFIRM THE CONDITIONS OF SERVICE
Since you already input your personal information in step 4, all the fields on the next screen should be filled in already.
You have to click the green dot to accept the conditions of service. This will take you to a new site.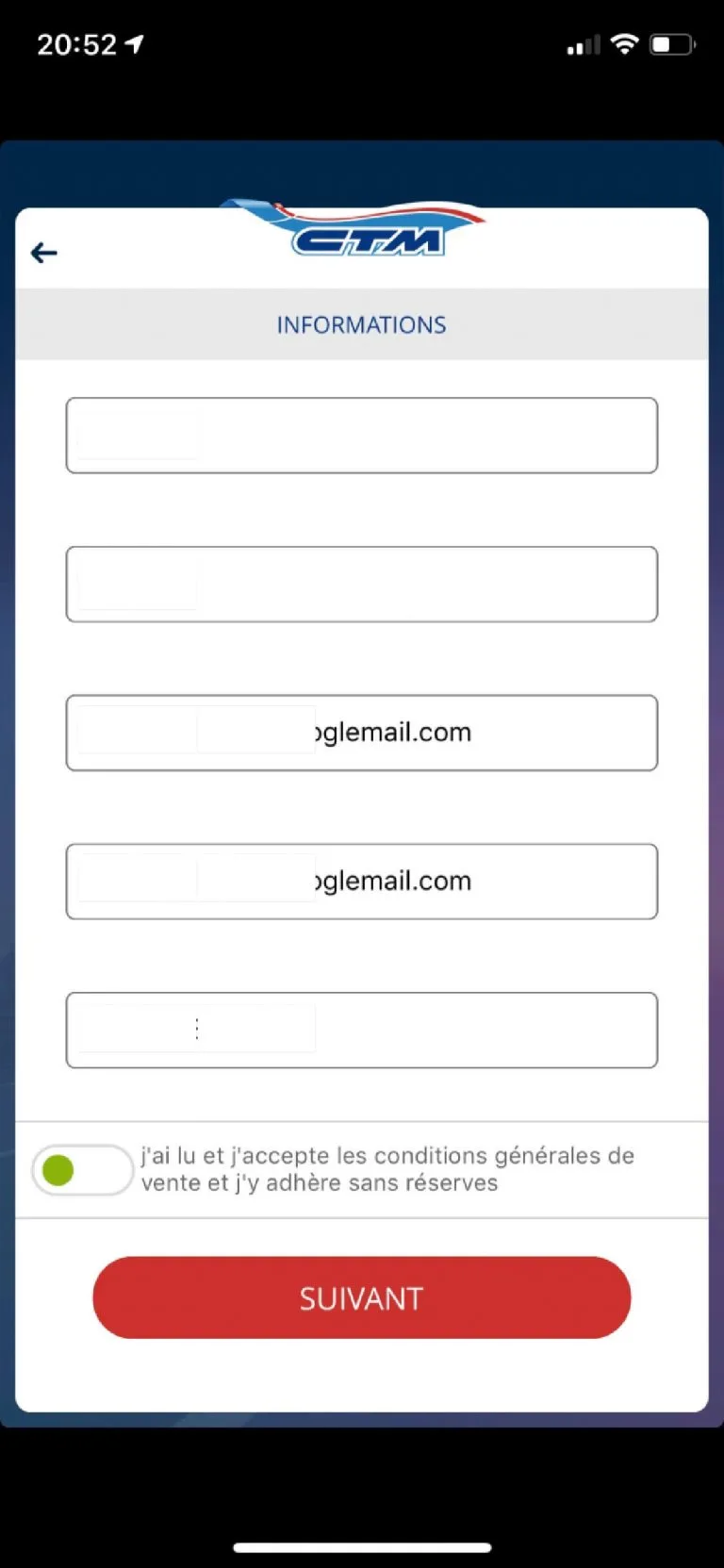 STEP 9: ACCEPT THE CONDITIONS DISPLAYED
Click the red button saying ACCEPTER.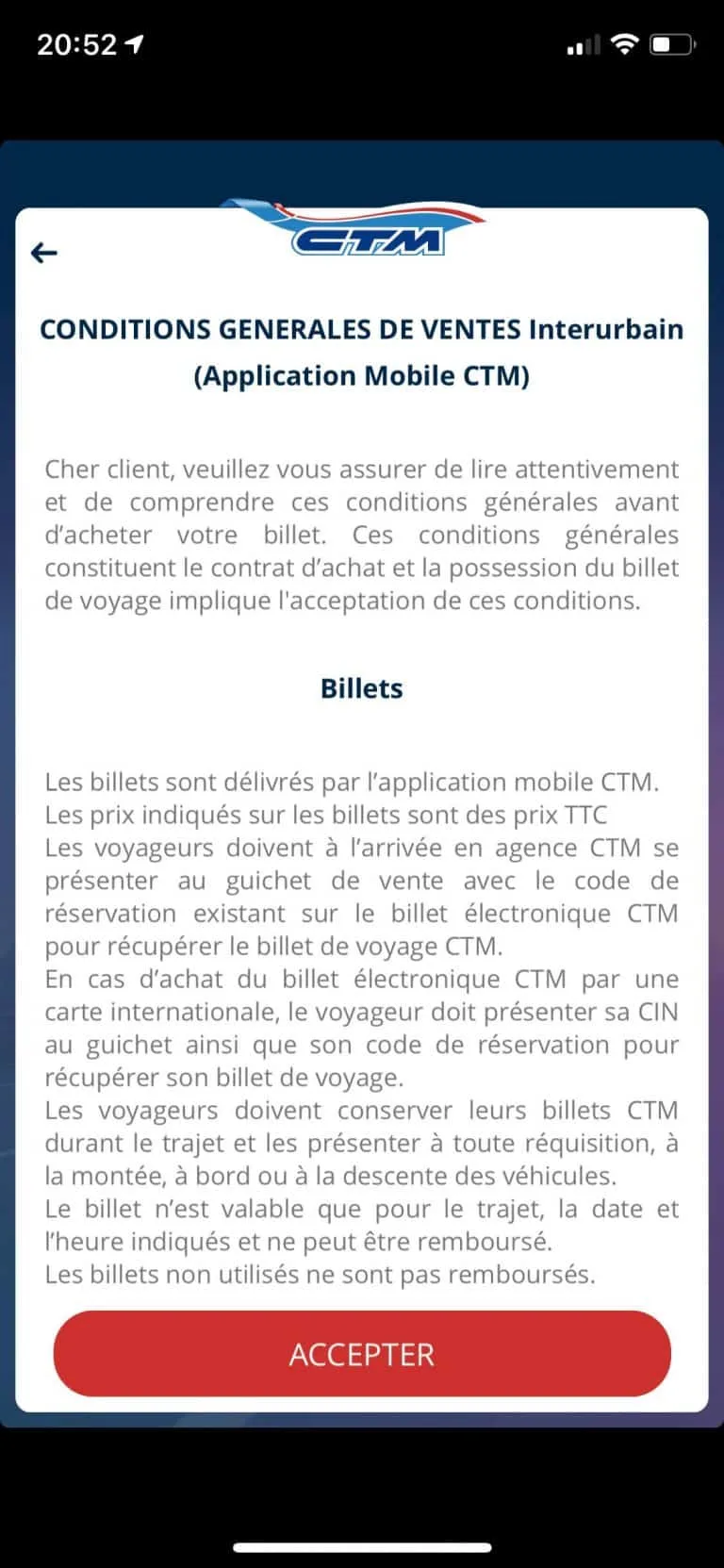 STEP 10: CONTINUE WITH YOUR BOOKING
When you are back on the previous screen press the red button saying SUIVANT.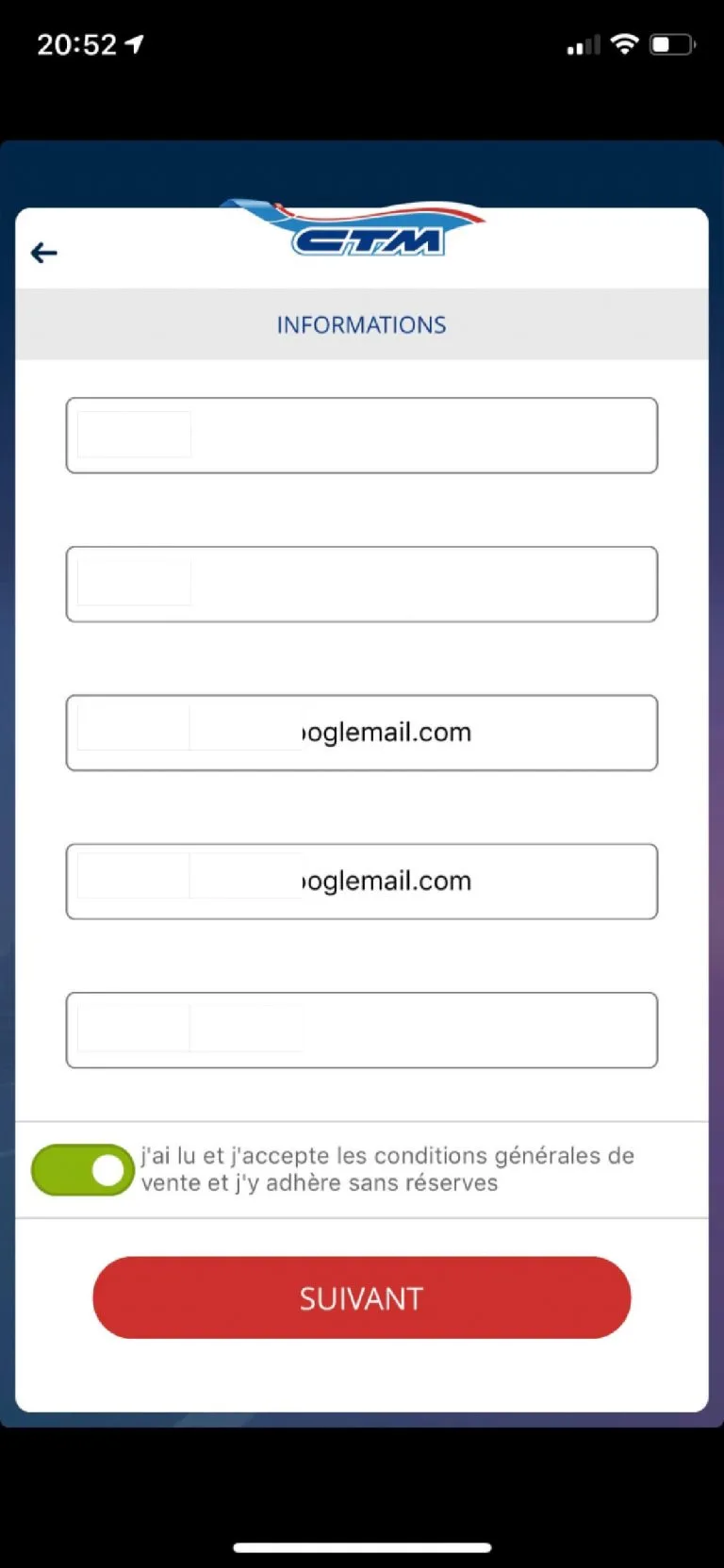 STEP 11: CHOOSE YOUR SEAT OR SEATS
The seats marked in red are already reserved, the green ones are free for you to choose.
Click on the seat or seats you want; they will turn orange meaning you have selected them.
To continue your booking click the red SUIVANT button at the bottom.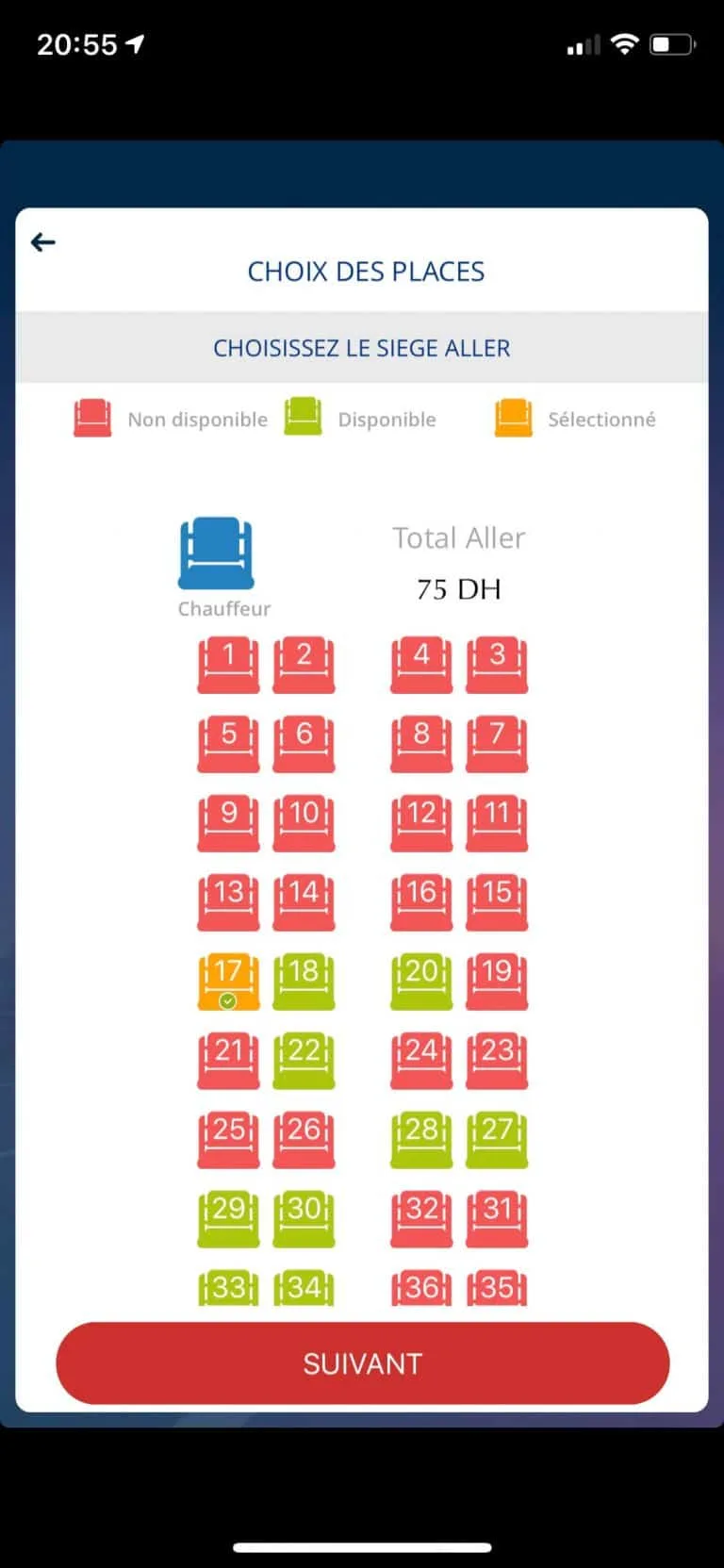 STEP 12: CHECK DETAILS AND PROCEED TO PAY
Re-check your booking information. Departure and destination, date, time and price.
If you are satisfied press the red PAYER button.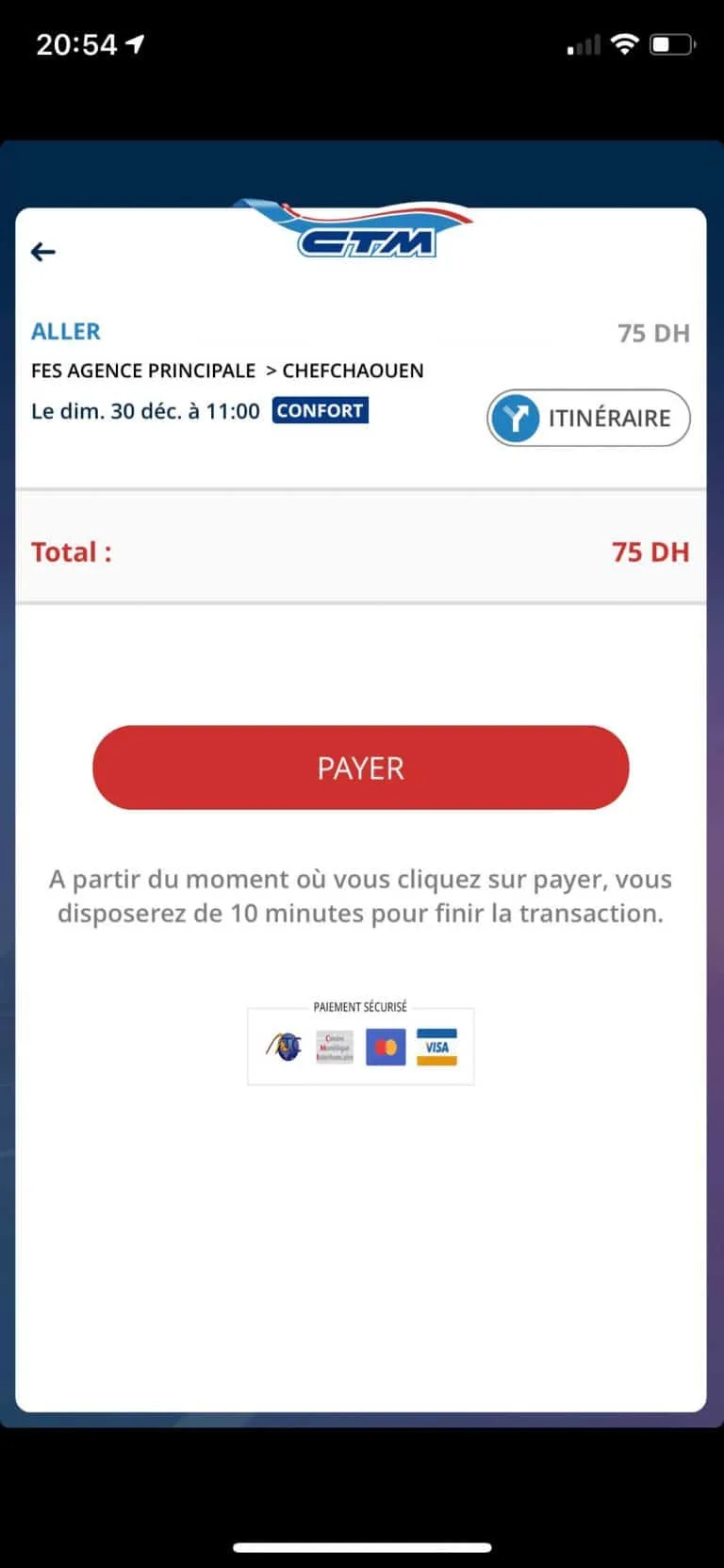 STEP 13: INPUT YOUR PAYMENT DETAILS
You have to pay for your ticket right away using a credit card (only Visa, Maestro, Master Card or cmi are accepted).
At 'Nom de votre banque' choose the very last option called 'AUTRES' meaning others.
For 'Méthode de paiement' choose between 'Visa', 'Maestro', 'Master Card' or 'cmi'.
For 'Numéro de la carte' enter your credit card number.
'Date de validité' is your month and year the card will expire.
For 'Code de vérification' is your code on the back of your credit card.
Check the box to accept the terms of service
Click 'Payer' meaning 'pay'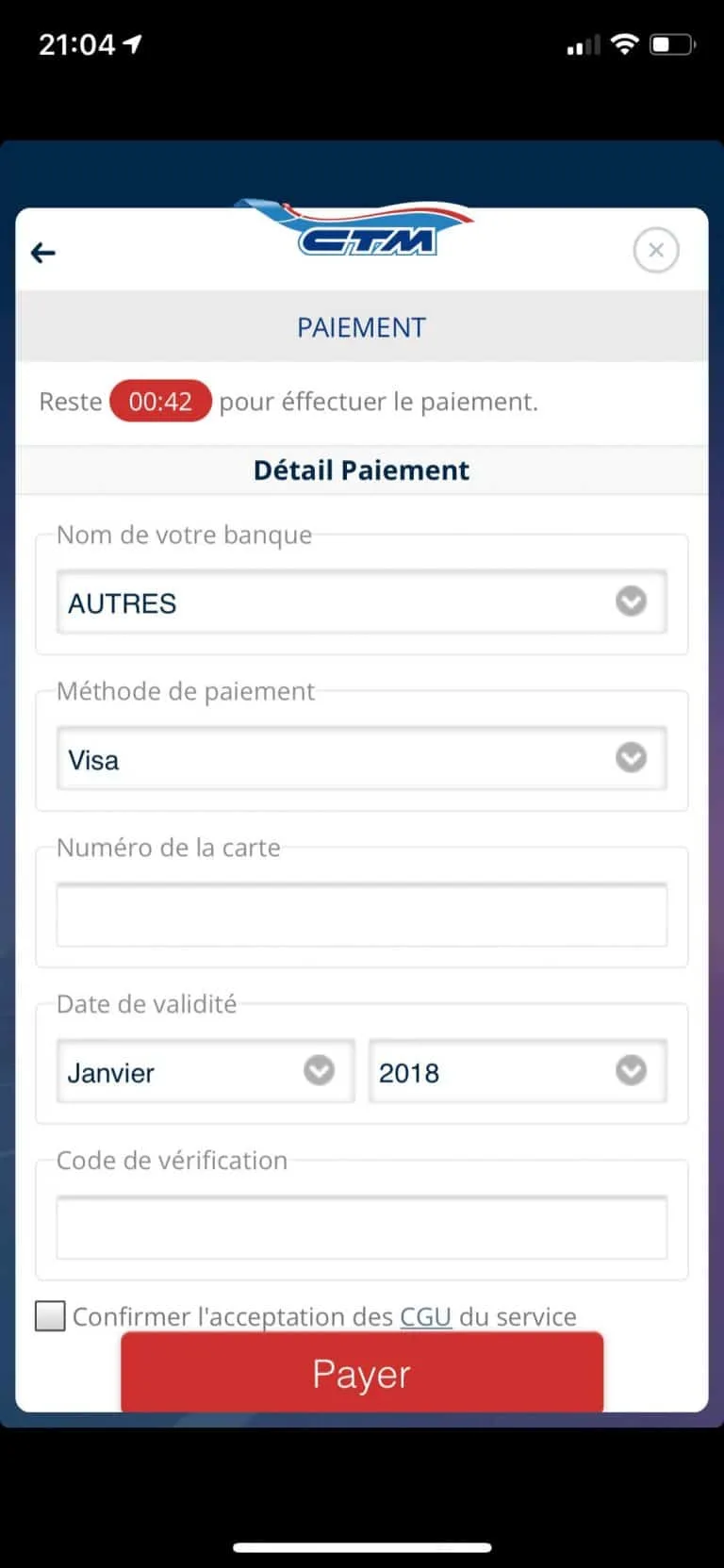 STEP 14: YOU ARE DONE
After you are done, you will get an email with your boarding passes. You can also save them directly in the app to your photos.
Below you can see the confirmation that is displayed after payment was successful. If it wasn't the message looks different.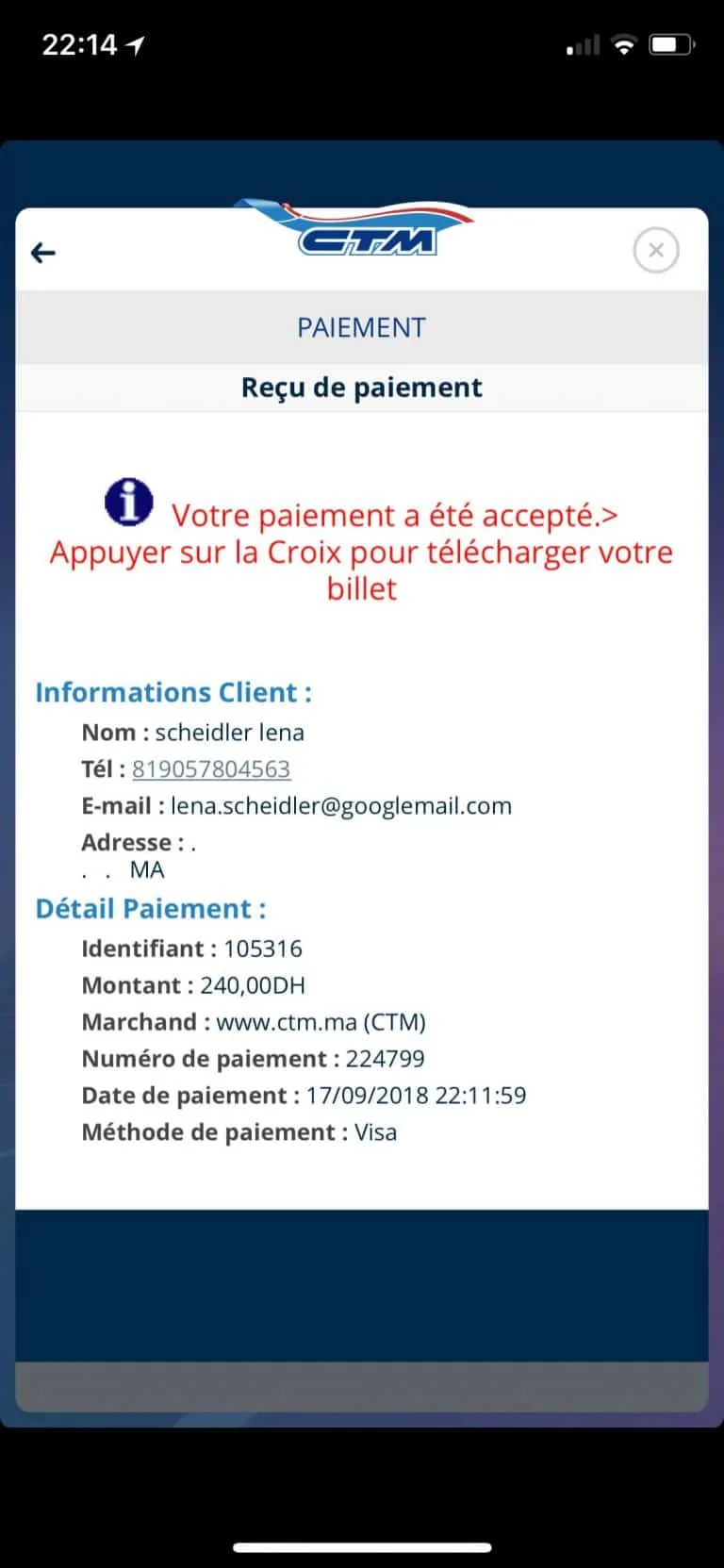 IN CONCLUSION
That is all you need to know about buses in Morocco and the CTM bus company in particular. I hope you have a pleasant trip around Morocco. It is such a colorful and fascinating country with so many beautiful things to discover.