It's possible in Morocco to buy food items for very cheap. Snacks can be bought on the street to keep you going. But, what about when it's time to eat? I hear people complain about over priced, mediocre restaurant food that fails on every front. It's bland expensive, and repetitive. But, it doesn't have to be! You can eat on the cheap, and eat well.
I'm going to give you ten ideas for cheap meals (full meals) that you can find and order when you're visiting. The prices will vary depending on which city you're in and not all of the suggestions will be available in every city but I'm going to try and give a mixture of options. I'll also give approximate prices for each in both dirhams and US dollars.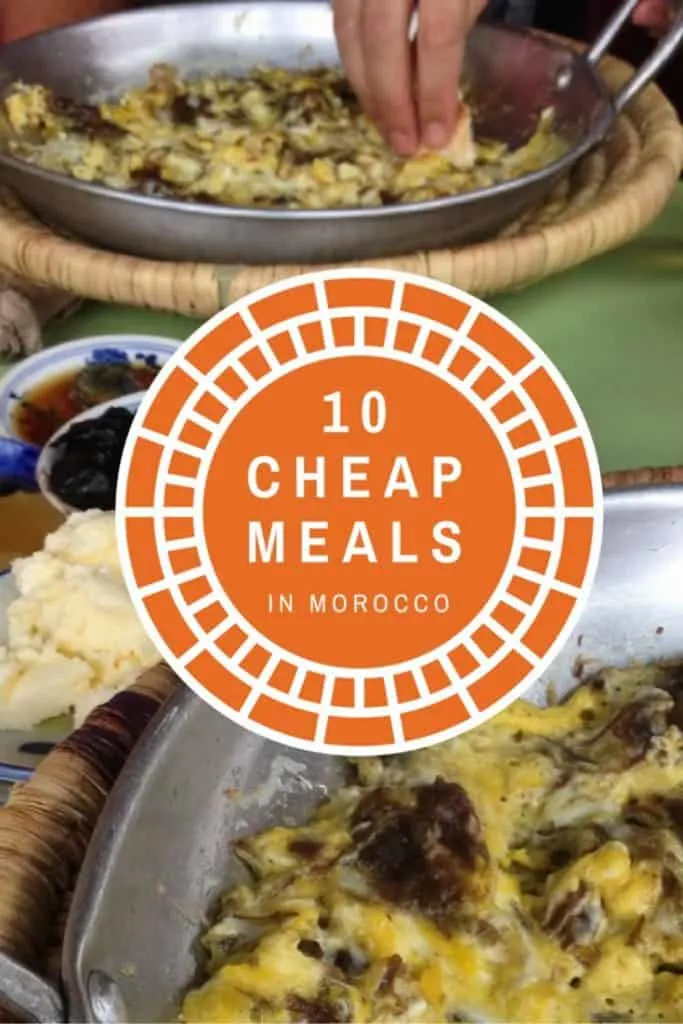 Khlii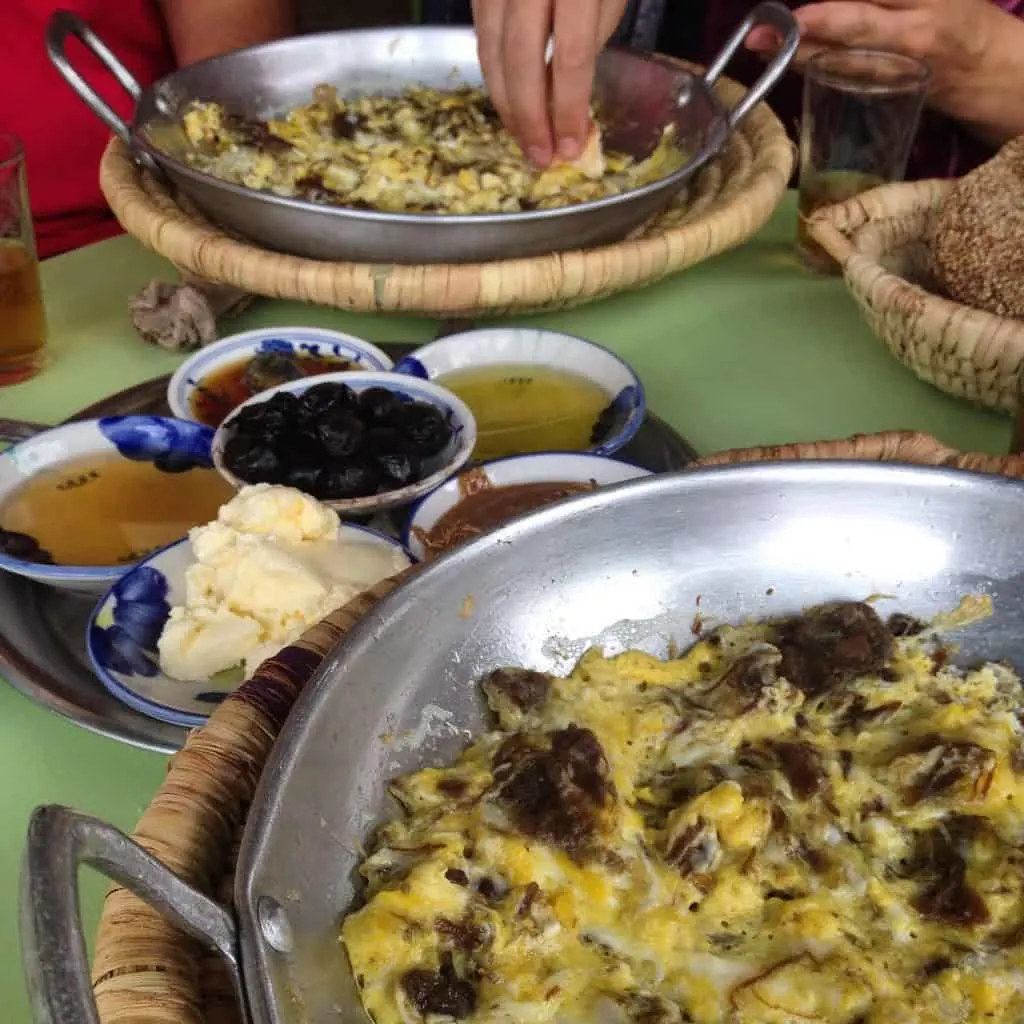 If you want to eat breakfast, then you have to try khlii. It's "home" is in the city of Fez but people across Morocco know and love khlii. Lamb or beef is dried and preserved in the clarified fat of the meat. When it's ready to be eaten, a bit of meat and fat is added to a skillet and heated, then eggs are added to make an omelette of sorts. It may seem strange but once you try it, you'll be hooked.
Price: 20 dirham or $2
Raib with Coffee/Tea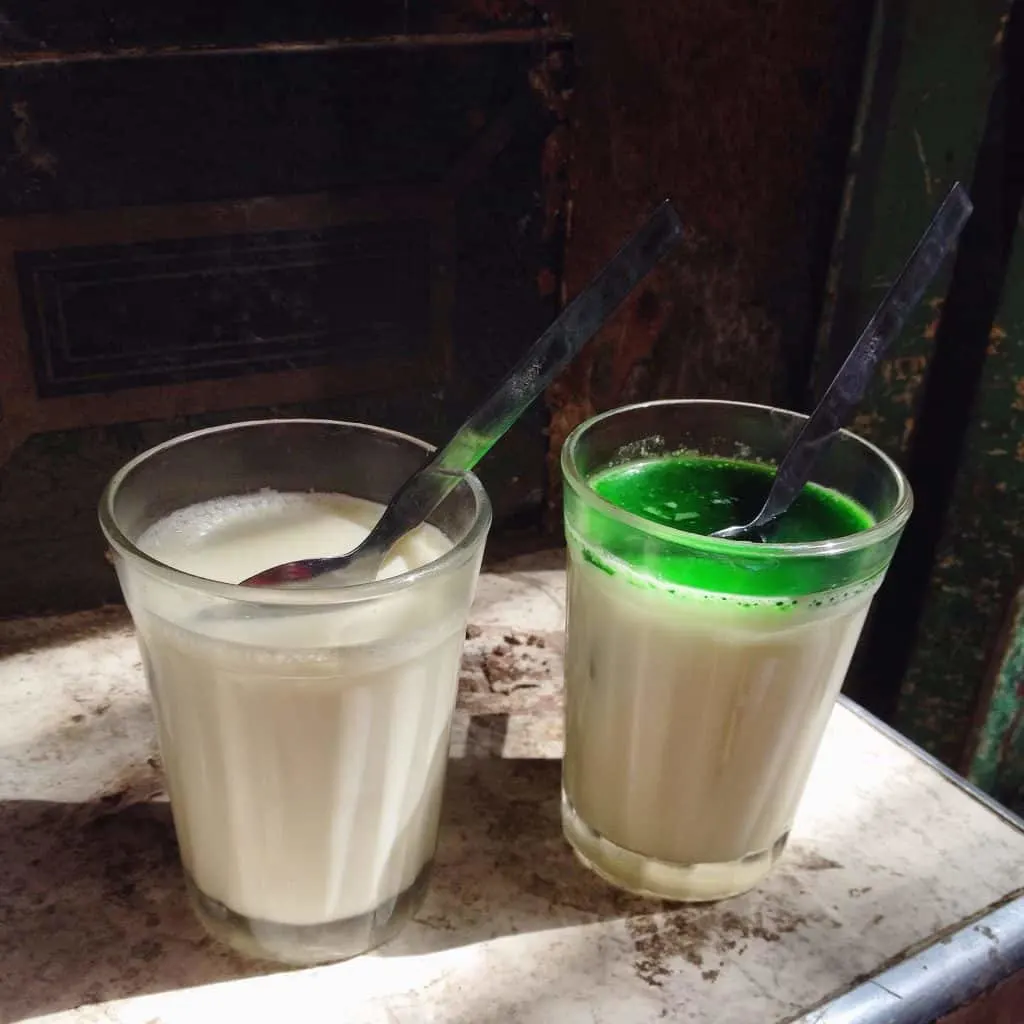 Moroccans don't really eat yogurt for breakfast (it's usually a snack) but that doesn't mean you can't. Patisseries and laiterries always have containers of raib available. This is a very traditional yogurt that is made with a wild thistle. It's thick like Greek yogurt but not the texture is not as thick. It's available plain or sweetened. It's typical to have pomegranate or mint syrup poured on top. Take it with a coffee or fresh juice.
Price: 5-10 dirham or $0.50 – $1 (depending on size)
Harira with Boiled Eggs and Dates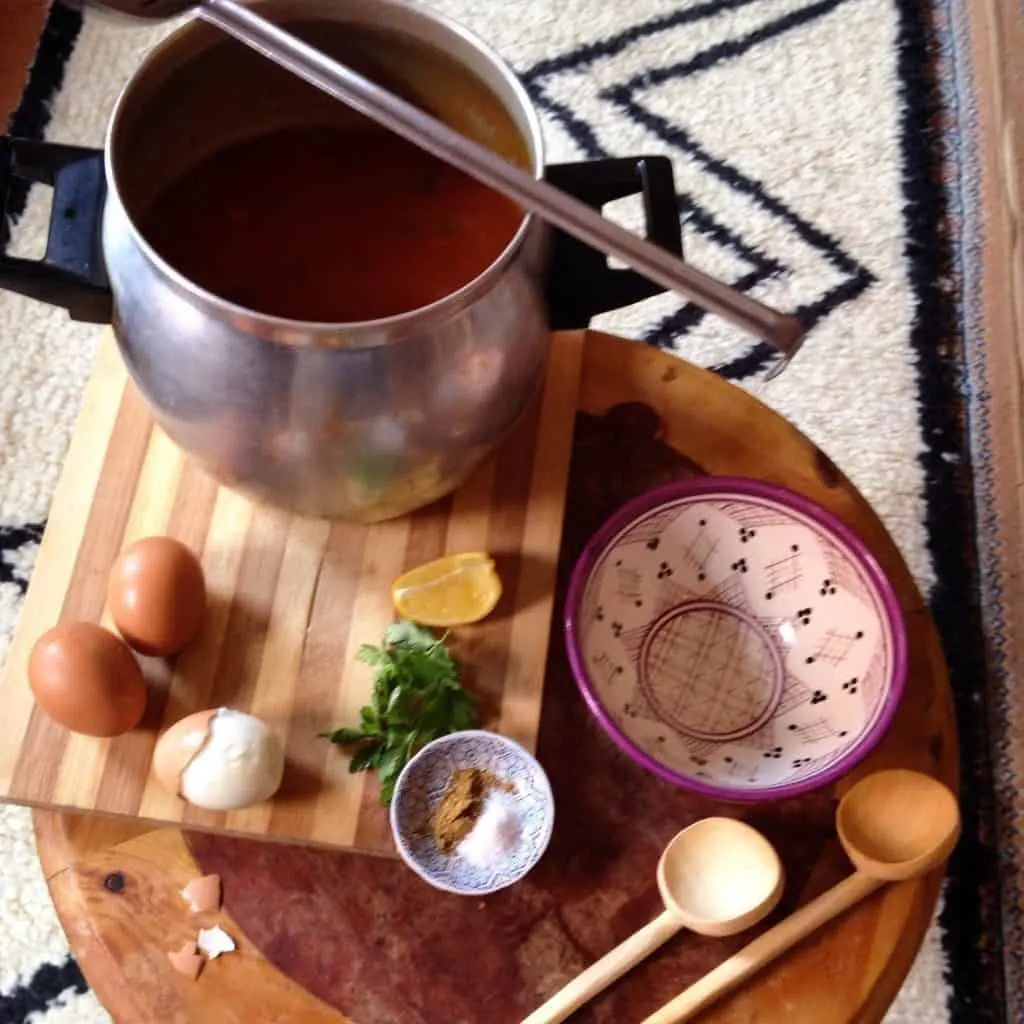 In summer months harira is harder to find, unless it's Ramadan, but in the winter it's everywhere. This soup is made by mixing a tomato base with lentils, vermicelli noodles or rice, chickpeas, onions, and plenty of Moroccan spices to create a flavorful dish.
The soup is thickened at the end with either flour or eggs – depending on the region and cook. Dates are always served on the side and boiled eggs are also common. Dust the eggs with cumin for a smoky flavor and balance here and there with a bite of sweet dates.
Price: 20 dirham – $2
Hout Quari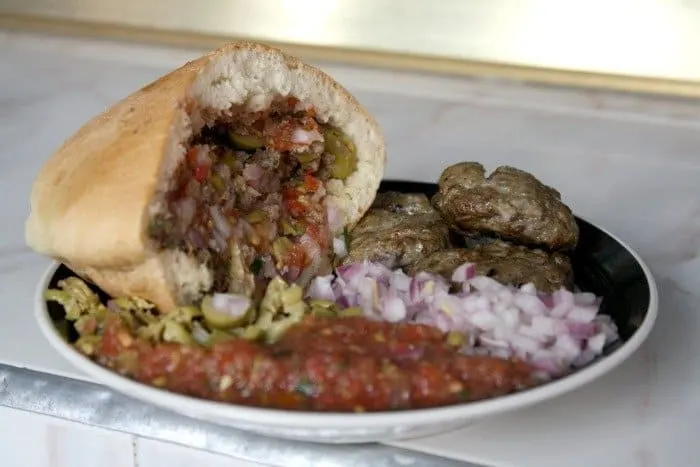 The farther you get from the ocean the less likely you are to find this sandwich. The meat from sardines is removed and is then mixed with spices and butter. The meat is shaped into small balls and grilled over charcoal. To eat, the fishballs are added to a half a round of Moroccan flat bread and then garnishes are added.
You can choose from smen (Moroccan preserved, salty butter), tomato sauce, harissa, olives, and raw onions. Order by the half (nus) or full (omyra). Special shops typically sell this sandwich along with grilled sardines, along with Coke or water to drink. Simple, good food.
Price: 5 dirham for a half and 10 dirham for a whole – $0.50 – $1
Merguez Sandwich
People always ask me, so where's the merguez? It's rarely found on restaurant menus and yet what most foreign people know about Moroccan cuisine is limited to tajine, couscous, and merguez. This spicy sausage is delicious but you'll have to look a little to find it. Don't be scared away by small shops in the alleys and streets, those are going to be the best spots to find Moroccan food. You might even ask a local shopkeeper for their recommendation for a spot nearby for merguez – specifically where he would go. The meat is grilled and tucked into a sandwich, sometimes with grilled onions or topped with additional harissa sauce.
Price: 15 dirham depending on size of the sandwich – $1.50
Vegetable Tajine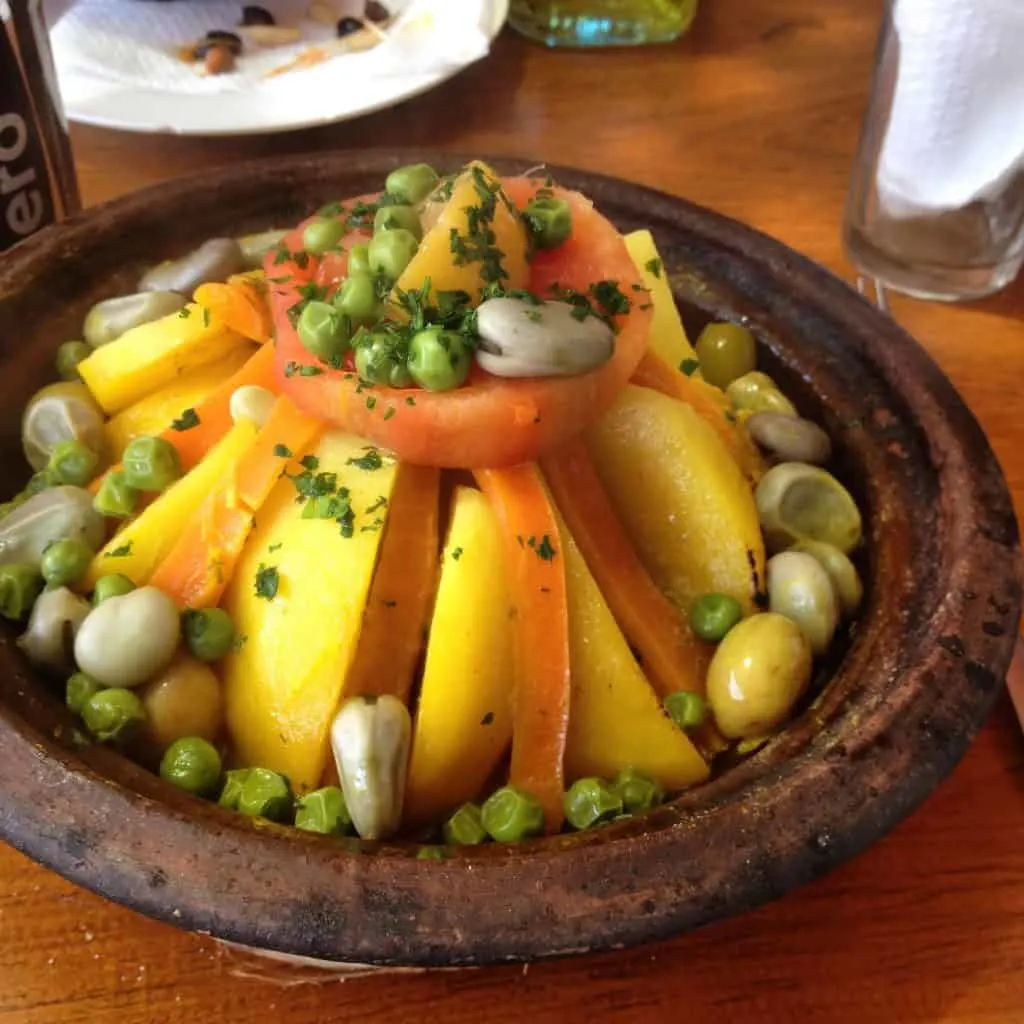 You've seen tajines have been left off this list. It doesn't mean you can't find affordable tajines, you can. But, I'm always just a little let down by restaurant tajines. If you want to find one, look for places that are cooking their tajines over charcoal. It will be the best flavor and typically the most authentic. For an inexpensive option go for a vegetable tajine. What's in it will depend on the season but potatos, carrots, and olives are almost year round standards.
Price: 35 dirham – $3.50
Shawarma and Fries
Arguably this is not Moroccan. But it's made and served here. It's an easy meal that most people love. Chicken or lamb is roasted on a spit and sliced off and tucked into a flat bread wrap with lettuce, tomatoes and onions added. Fries are always twisted up in a paper cone on the side. I love the chicken variety with the peppery mustard served in the shops.
Price: 20 dirham – $2
Salad Plate with Grilled Meat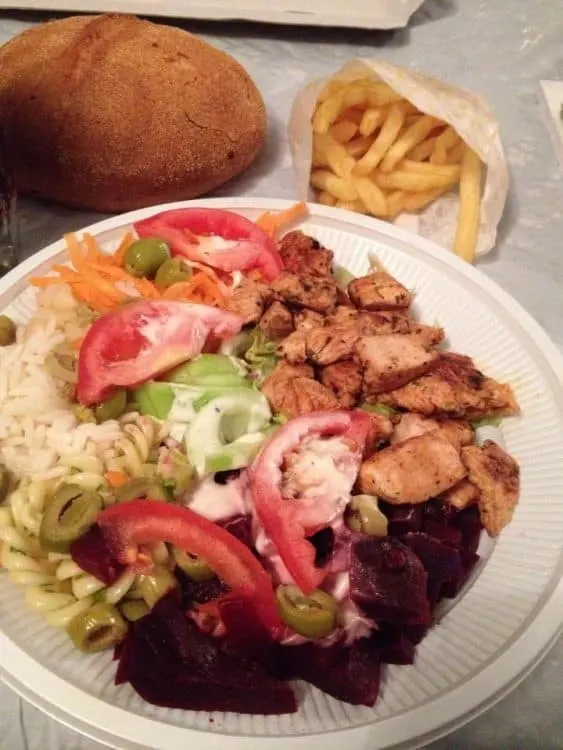 When we first moved to Morocco and I was learning the places in our neighborhood my kids found a shop that sold panini's and also had these big salad plates with grilled turkey on the side. There was rice, carrots, beet salad, cucumber and tomatoes, olives, and potato salad as well as a few skewers of seasoned meat. It was my go to meal, especially when I started having gallbladder issues and only wanted simple things.
Price: 25 dirham – $2.50
Grilled Sardines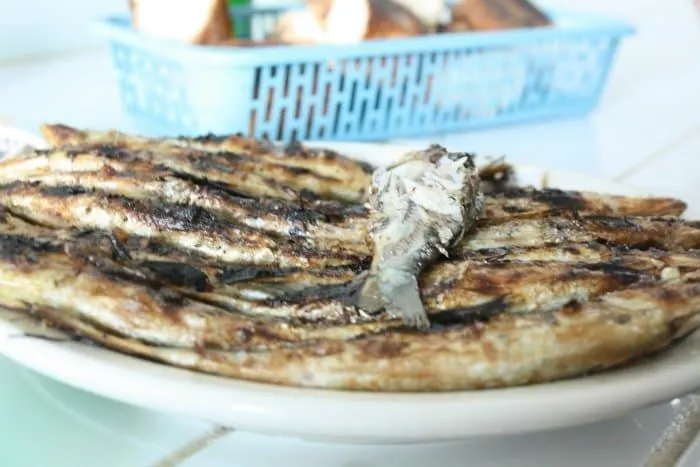 This is another meal that will be harder to find the farther you get from the ocean. The price also will go up with distance. Moroccans love sardines and they're one of the world's largest exporters of this fish. But don't think of the slimy variety found in the tin. These are large fish that really taste nothing like their preserved cousins. They are scaled and salted and then grilled over charcoal until done. Eat by pulling apart with your fingers.
Price: Typically sardines are either sold by the weight or by the number of fish. Expect to pay about 20 dirham for 6 ($2)
Stewed White Beans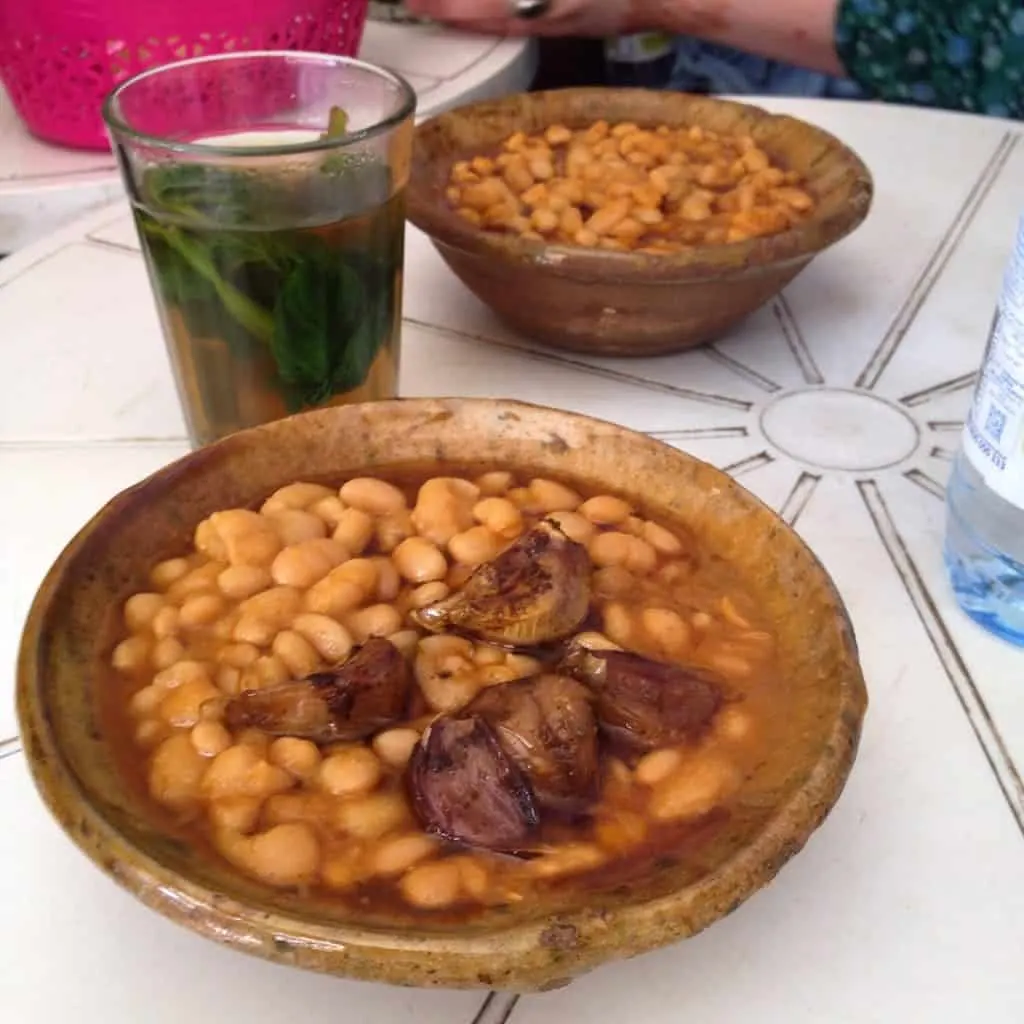 Moroccan bean dishes are the true hidden secret of the culinary world. Rarely served to guests because the food is considered too humble it's very common in homes and eaten on the streets. You'll never find it on a restaurant menu or even if you've gotten an invite to dinner. BUT, look for shops with large clay urns out front.
They'll be dipped slightly horizontally and may even have a fire going underneath. Inside is where the magic happens. White beans (cannellini) are soaked and cooked overnight with cumin, salt, olive oil and garlic. The cooking temperature is low which makes the beans tender and poaches the garlic cloves (the best part). Honestly, it's one of my favorite secret foods!
Price: 5 dirham for a bowl ($.50)
General Tips for Find Good, Affordable Food
Get away from highly touristic areas. If all you see is tourists eating, the price is going to be inflated. Period. Keep in mind Moroccans rarely eat foods like tajine, couscous, etc outside of home so finding good and authentic foods of this variety will be difficult.
Every Moroccan city has a souk. In every souk are people working. Those people need to eat and you can rest assured they're not eating overpriced tourist food. Head to the actual craftsmenship areas and you'll find lots of small restaurants that pop up to feed these men (and sometimes women).
To eat traditional Moroccan foods that you don't find in restaurants riads are a wonderful choice. The women cooking in these kitchens prepare food as they would in their own homes.
Hole in the wall "snack" shops typically specialize in one or two things. Maybe it's fish sandwiches, maybe grilled chicken. Don't let a limited menu scare you away. Go for it.
Have a favorite cheap food from your own experiences in Marrakech? Share in the comments!