Marrakech is great but even true lovers of the city look for other things to do after a few days. The good news is you can use the city as your base while spending time exploring the surrounding areas. Taking a day trip from Marrakech is a great way to escape the crush (and heat!) while experiencing a completely different side of Morocco. When planning your trip to Marrakech, Morocco, I suggest staying for 2-3 days in the city and then planning at least one day trip.
It's almost important to note where you can't take a day trip. Most notably you can not take a day trip from Marrakech to Chefchaouan. So many people have asked me how to do this and it simply isn't possible – the distance is too far. You also can't take a day trip to the Sahara Desert, again it's simply too far.
Choosing the best Marrakech excursion will depend on several factors. Ask yourself these questions;
Do you want a relaxing trip or an active adventure?
Would you prefer to be alone on your experience or with a group?
How long do you want to travel in a vehicle vs being at your activity?
Do you get motion sickness in the car (see point above)?
Do you want to explore on your own or do you want the help of a guide?
What is your budget for your Marrakech day tour?
Considering these questions can help you choose the best experience for you and your family. Below I've listed nine different destinations you can consider for an excursion from Marrakech. They are listed in order of distance from the city.
Trip 1: The Ourika Valley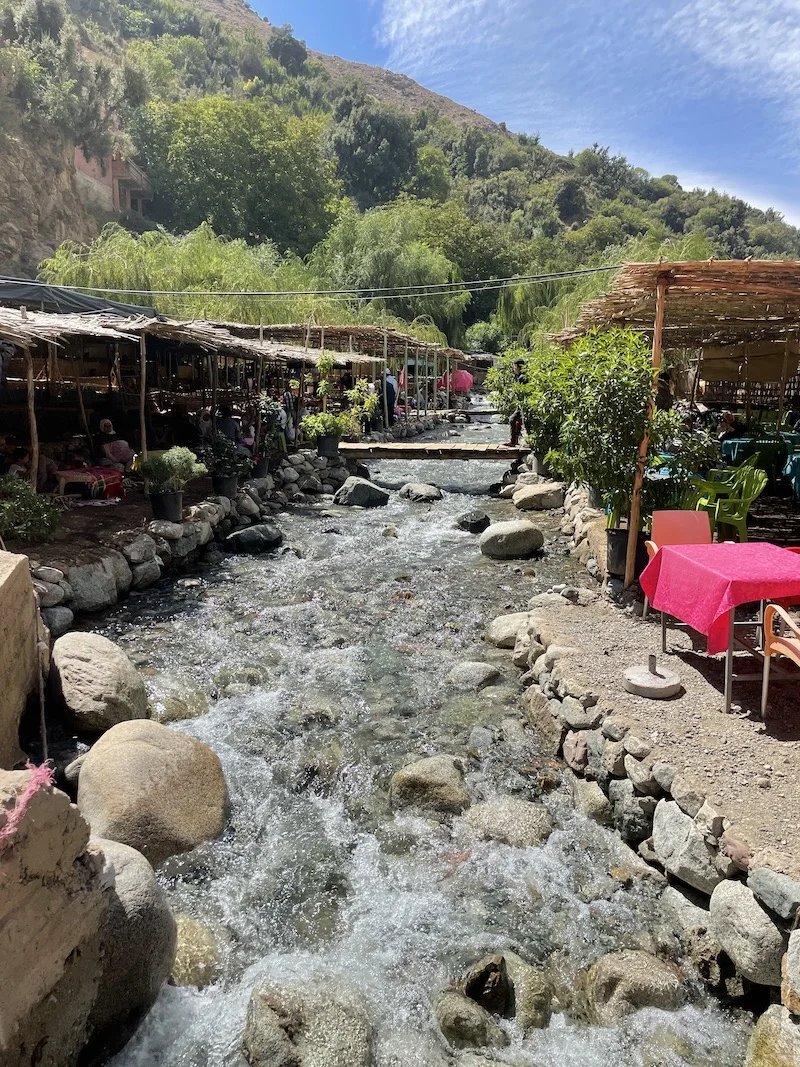 This is one of our favorite places to go when we want to escape Marrakech. It's under an hours drive and we love taking guests here. The drive is very scenic, you'll get to see the Atlas mountains as you drive out and then the winding roads and villages of the mountain communities, until you reach the end of the line in Siti Fatima. Really, the road goes no further!
Be sure to eat lunch at one of the roadside and/or riverside stands. The specialty is a lamb and vegetable tajine and I refuse to order anything else when we go. These tajines are cooked in the tajine pot (instead of a pressure cooker like many restaurants do) over charcoal and you'll be able to easily taste the difference.
If you wear good shoes you can climb up to the infamous waterfalls. There are (supposedly) seven waterfalls as you ascend the mountain – I've only ever made it to the first one. There is a path, it does not have handrails and in some places may seem a bit risky but plenty of people climb it every day. I've seen 2-year-olds and 70-year-olds making the climb! In the summer you'll see lots of kids and young men swimming in the water and you can too. Just come prepared!
This tour includes not just the Ourika Valley but other stops in the High Atlas Mountains. The tour leaves from Marrakech, stops for a tea break and then heads to the Ourika Valley where you'll take a hike to see the waterfalls. Enjoy a traditional local lunch and includes stops in Oukaimden, Ait Fares, Asni, and Tahanout. If you book Tuesday or Saturday it includes a stop at a local weekly market too. Be prepared with good shoes and clothes for the hike!
Trip 2: Lake Lalla Takerkoust

This lake (and dam) was artificially built in the 1920's under the French protectorate to provide Marrakech with hydro-electric power. The lake is fed by water runoff from the Atlas Mountains. It then served as a recreation site for Marrakechi families looking to get away for a day and enjoy the water.
There are several different things to do at Lalla Takerkoust. You'll see families who come with picnic blankets to spend the day eating and swimming.
There are also a few resorts along the lake that have restaurants and swimming pools. Water sports like paddle boating and power boating that take place in the water. Horseback riding and quad biking are also popular activities. If you want to get in the lake, it's advisable to double check on activities as it will depend on water levels.
Day Trip For Foodies
This excursion is ideal for foodies and especially cheese-lovers! Full disclosure, this is my company! We offer a day trip experience to the area where you'll visit a cheese co-op, have a cheese tasting, visit the goats that make the cheese and there may be more surprises thrown in. I spent 5 years looking for a great cheese tasting experience and this is it!
Book the Cheese Tasting Experience
Trip 3: The Agafay Desert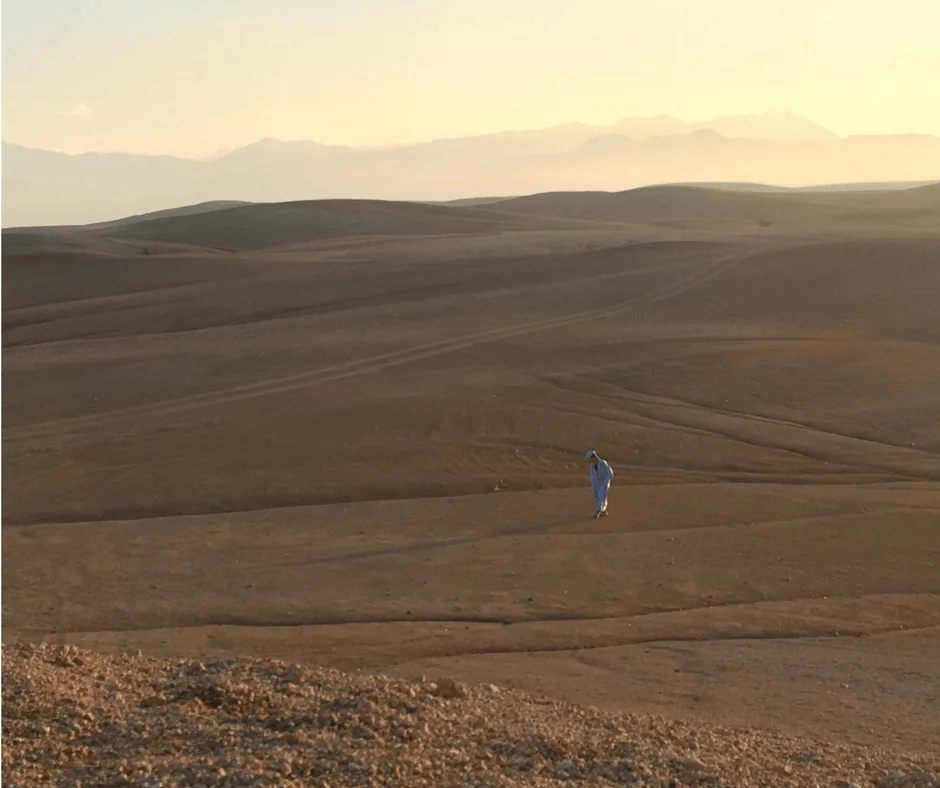 The Sahara Desert is a solid 8-10 hour drive from Marrakech and takes a minimum of 3 days (sure some do it in two but that's crazy!) Not everyone has this much time but would still like to have the desert experience. If you're seeking a desert day trip from Marrakech, the Agafay Desert is the ideal solution.
You won't have to go far and can still sleep in a tent, go for a camel trek and have the desert experience – minus the long drive!
Never heard of the Agafay? Read more before you decide.
Trip 4: Ourigane and the Ijoukak Valley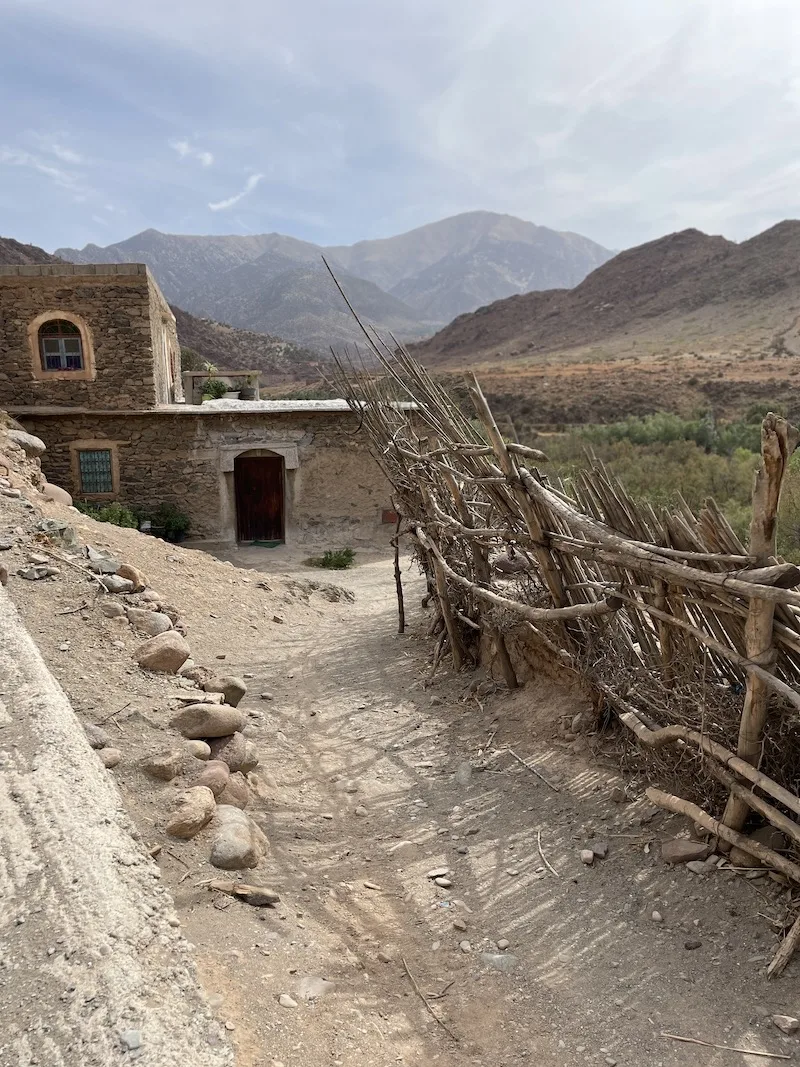 This little village isn't on many tourist radars but that makes it a great option of a Marrakech day trip for visitors who want to see a part of Moroccan life that few experience. One of the most interesting things about this area are the traditional salt mines in operation (during spring and summer months) where salt is harvested from the naturally saline water.
Not far from the village is the Tinmel Mosque, a UNESCO world heritage site and one of only two mosques in Morocco that non-Muslims can enter. The famous Koutoubia is modeled after this 11th century building.
If you're ready to explore some of the villages this way, as well as visit the Tin Mal mosque one of two mosques open to non-Muslims, consider this option. There is quite a bit of mountain driving so if you get carsick this might not be the best trip for you to take. But, if you want a full day in rural Morocco, it's a good option!
Trip 5: Atlas Mountains Day Trip from Marrakech
(including villages like Imlil, Amzmiz and Tahanaout)
Surrounding Marrakech in the High Atlas are many small Amazigh (Berber) villages. Set into the hillsides and valleys the people who call them home have lived this way for generations. Traditional clay structures are mixed with modern built homes. Surrounding the villages you'll often find fields and orchards; life here is largely subsistent with excess being sold in Marrakech and beyond.
There are more and more Atlas mountains day trips being offered to visit these communities and experience local life. While you can go alone, it's often better to go with a local as you may discover not only do people not speak French, many also have limited Arabic as they use the local Amazigh language to converse.
Another added benefit of visiting this area is that the temperatures are cooler – often much cooler – than in Marrakech; making it ideal for day trips during warmer months.
Trip 6: Ouzoud Waterfalls Day Trip from Marrakech
Head north instead of south to the Middle Atlas Mountains on a day trip to Ouzoud waterfall. It's one of the biggest in the country. There are lots of small restaurants overlooking the falls where you can enjoy lunch or bring your own for a picnic by the water. Barbary macques call this area home and there are several hiking trails nearby to add to the activities.
If you're wondering how far is Ouzoud waterfalls from Marrakech, know it's quite far; at least a three hour drive. However, you'll be able to witness some of the rural beauty of Morocco along the way.
Book a Day Trip from Marrakech to Ouzoud Waterfalls
Trip 7: Oukaimden
One of the biggest surprises people have when learning about Morocco is the variety of climates. Whenever I tell someone that we can go skiing in winter months they automatically assume that I mean sand skiing but no, it's snow skiing!
Oukaimden is under two hours drive from Marrakech and reaches to one of the highest points in the country – Mount Toubkal. This is a great winter day trip to the Atlas Mountains from Marrakech. You can very easily go for the day, rent skis and enjoy the hill. There is also sledding for younger kids and newer skiers. This hill is not suitable for those with limited skiing experience.
When the snow melts this area is a good place to hike and many people challenge themselves to summit this peak. There is also the possibility to summit Mt. Toubkal in winter though you'd want to be a bit more advanced. Hiking to the top is typically done in two or three days
Book a Day Trip from Marrakech to Oukaimden
*There is typically snow coverage from mid-December through March, if you're planning to visit around the beginning or end of these dates you may want to book closer to the time to make sure you can ski/snowboard/sled*
Trip 8: Essaouira
We love Essaouira!
Love, love, love!
This seaside village can be visited as a day trip to Essaouira from Marrakech in a single (albeit long) day. Winter months can be cold and rainy with a constant breeze but in the summer, spring, and fall you'll really fall in love. There's very little hassle or pressure in the markets and souks. The food is lovely and people really laid back.
The drive from Marrakech to Essaouira is approximately 3 hours. You could rent a car and do the drive yourself but for the price and hassle it may not be worth it. You also could take the Supratour bus from Marrakech though especially in high season seats may be very limited.
I've listed two Essaouira tours below that you may want to consider; one that is transportation only and another that includes a guided tour.
Book a Day Trip from Marrakech to Essaouira
You can use my handy complete guide to Essaouira or weekend in Essaouira guide to plan your time!
Day Trip to Essaouira for Foodies
My company offers an awesome day trip to Essaouira that is perfect for foodies! If this is you, then this is the ultimate experience!
Essaouira Day Trip for Foodies
Trip 9: Marrakech to Ouarzazate and Ait ben Haddou
Ouarzazate is the furthest day trip from Marrakech to really consider. It's approximately a 4 hour drive each way completely up and over the High Atlas Mountains. Many people stop here en route to the Sahara but if you don't have time for that trip than this desert day trip from Marrakech is one you can consider.
The most common reason people want to visit is to the see the impressive Ait ben Haddou fortified village. This is key to any visit. There are several other kasbahs as well as beautiful desert scenery surrounding the area. Don't miss out on Telout kasbah which is also very impressive.
Book a Day Trip from Marrakech to Ouarzazate