Congratulations! You and company (or just you if you're an independent traveler) have decided to book a flight and hop on a plane to visit this magical land I call home: Morocco! But aside from deciding what to pack and what kind of activities you want to do while you're on vacation, you should consider where you will be staying throughout your time here. So let's review the different kinds of accommodations in Morocco available and the pros and cons of each one.
There are three major types of accommodations that are widely found out throughout the country. They are riads, hostels, and hotels.
RIADS
Riads are typical Moroccan homes normally with two or more stories around an Andalusian-style courtyard that contained a fountain and/or orange trees. Historically, riads were homes of wealthy merchants and courtiers which feature walls with tadelakt plaster and zellige tiles often times with Arabic calligraphy written in the design.
The architectural style is reflective of how Arabs value privacy and modesty. The exterior of most riads don't call for too much attention for a passerby but when you walk in – it's almost as if you've been brought into a little oasis in the Medina.
Pros: Most traditional and cultural way to stay in Morocco. Come in all prices ranges to fit your lifestyle. Amenities. Often meal options are available and/or breakfast is included in the price. The colors. The zellige. The carpets. The peacefulness. Need I say more?
Cons: Sometimes rooms are small in size. They also can often be difficult to find in the maze of a medina.
We Suggest; Numerous! Check out our Marrakech Accommodations page for ideas in Marrakech!
HOSTELS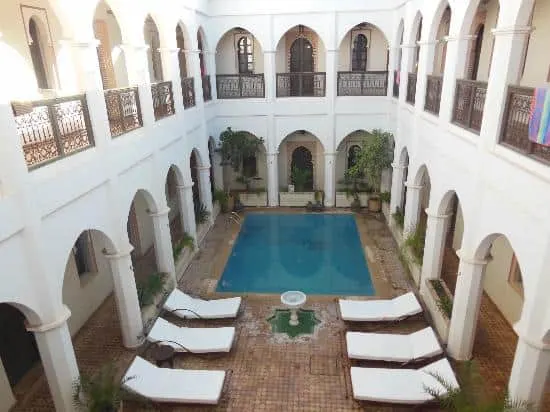 Hostels are quite popular for travelers in general around the world. They're quite affordable as well in Morocco but if you're traveling with your family, a friends' getaway or a romantic weekend we wouldn't recommend this option. Its best suited for young travelers that are either traveling solo or with another backpacking partner. Usually you'll find hostels in major cities.
Pros: The price tag is pretty low, good for meeting new people, great for travelers in their 20's.
Cons: Often times not very hygienic as travelers coming from visiting the countryside or farms stay and you'll find bed bugs bites, you might feel a bit out of place if you're older than your 20's, not a very authentic Moroccan travel experience.
We suggest: Equity Point Hostel in Marrakech
HOTELS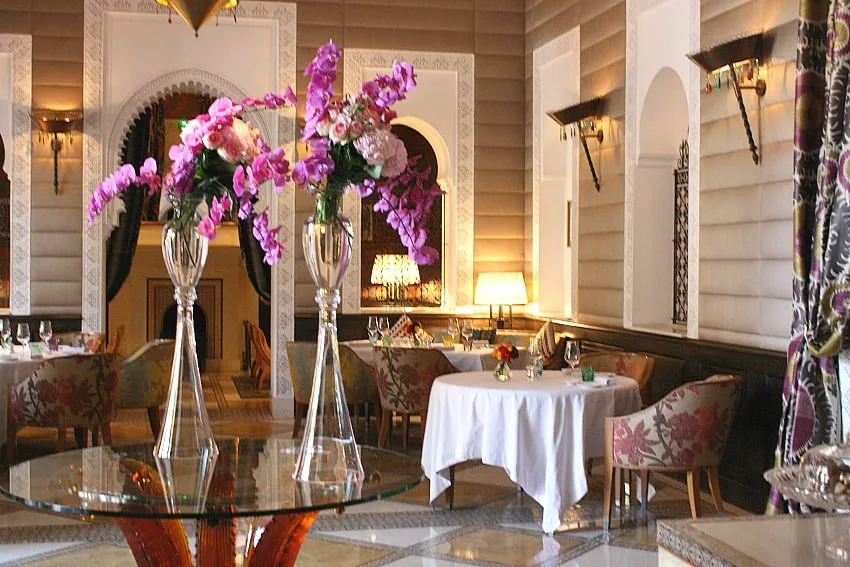 As anywhere else in the world you can find hotels everywhere in Morocco. Some are super luxurious such as Sofitel and La Mamounia in Marrakech. Others don't even have 2 stars on Trip Advisor.
Then there are others that fit that sweet spot right in the middle where luxury and price make sense for the sensible traveler. If you're traveling for work or on vacation with friends or family, hotels are a great option for individual travelers as well as people traveling in groups.
Pros: Good reliability when booking online with a credit card, standard amenities and services you're used to in other countries like room service, often breakfast is included, some hotels have clubs, casinos or bars on their property, great for groups
Cons: Can be often be the most expensive option. Rooms are usually decorated the way one would be used to in the states or Europe. Typically the least cultural way to explore Morocco.
We Suggest; The Mandarin Oriental or Domaine Royal Palm in Marrakech.
So now that we have compared and contrasted riads, hostels, and hotels, can you guess which one is my favorite? It should be a no brainer that I'm partial to riads. I think they're a fantastic way to come to Morocco and feel like you're on a 5 star vacation and experience something cultural and beautiful without paying hotel prices.
Give it a thought and share which is your favorite option in the comments below. I'd love to know where you would or have stayed while you've visited Morocco and your recommendations.