January is the coldest month of the year in Morocco. However compared to much of the rest of the Northern Hemisphere, Morocco's weather in January is downright balmy. If your home is buried in snow and ice this time of year, visiting Morocco in January may be a much-needed welcome.
There are also some significant advantages to planning a January vacation in Morocco. The cooler temperatures make it more comfortable for those who wish to explore the warmer areas of the country. If you've always wanted to see the Sahara Desert, January is the time to do it.
If you want to spend hours losing yourself in the sights and sounds of the Marrakech medina, you'll do it more comfortably in January.
Mid to late January is also a time of year when tourist-traffic is lower. This means that things are a bit less crowded, and many travel-related expenses are reduced. You'll find it easier to book that hotel room or riad you have been dreaming about, and you might pay a lot less to visit Morocco in January.
If you take one of the many tours available around the country, you may find yourself one of only a few people in your tour, which often leads to a more interesting and informative experience.
So if you've been dreaming about a Moroccan vacation, January might just be the perfect time of year for your great escape!

Weather in Morocco in January
On average, January is the coldest and wettest month in Morocco. During the day, temperatures can range from 10°C to 20°C or more. When the sun is out, days can feel quite warm, even in winter.
However, temperatures can get cold once the sun goes down. January is also the wettest month of the year, with around 5 rainy days bringing up to two inches in precipitation in some regions.
Temperatures along the Mediterranean coast tend to be warmer than temperatures along the Atlantic coastline. Desert locations may be 20°C or higher, while mountain temperatures may fall to less than 8°C. Snowfall is common in the mountains in January and February.
What to Wear in Morocco in January
When visiting this time of year, the first thing to remember is that the temperature in Morocco in January can vary a LOT. When the sun is out during the day, it can feel quite warm at times. But at night, temperatures can drop very low. Add to that, the varying landscape of the country.
Desert areas are significantly warmer than mountain locales, and the coastline is another world of temperature ranges. But all areas will get cold after the sun goes down. When deciding what to pack for Morocco in January, think LAYERS.
Dressing in layers gives you the invaluable ability to add or subtract clothing as your needs change throughout the day. In addition, although you may not need them every day, it is a good thing to pack warmer items such as thermals, gloves, and hats.
Some items to consider when packing are: light and heavy sweaters, lightweight jackets, hoodies, fleece, long johns and thermals, t-shirts, jeans, trousers, long skirts, hats, gloves, scarves (heavy and light), and lots of socks! If you can fit an extra blanket into your luggage, you may find that helpful at night or when traveling.
Festivals and Celebrations in Morocco in January

January 1st – New Year's Day – As in most of the world, January 1st is New Year's Day in Morocco. However, it isn't so much a holiday as a day of rest and recovery after the previous night of fun celebrations.
January 11th – Proclamation of Independence – On January 11, 1944, Morocco declared its independence from French colonial power. While they didn't actually receive it until 1957, the Proclamation of Independence is celebrated as a national holiday. You will find public festivals in many Moroccan cities, along with wonderful street decorations in some cities.
January 12 and 13 – Yennayer, the Amazigh New Year – Yennayer is a holiday celebrated by the Amazigh (Berber) community to honor the beginning of the crop year. You may find celebrations of Yennayer held in Agadir and many other locations in Morocco. But in the Middle and High Atlas areas, you will find more traditional festivals. Tribes gather together to sing, dance and celebrate their hopes for a prosperous growing season.
What to Do in Morocco in January
January is a great time of year to explore the country of Morocco. Although it is the coldest month of the year, daytime temperatures are very comfortable most days, allowing for great flexibility in your activities.
Outdoor adventurers will find January to be a great time to experience the beautiful land of Morocco. From the gorgeous Mediterranean and Atlantic coastlines to the breathtaking, snowy Atlas mountains, to the vast and stunning Sahara desert, Morocco is a country filled with rich geographical diversity.
Book a tour, take a camel ride, spend a day skiing in the Atlas mountains, or head to Dakhla to learn all about kite-board surfing. There is so much to explore for the true adventurer.
If you're looking to explore art and history while drinking in the local culture, there are museums, galleries, medinas, and marketplaces to enjoy. Local artists love to share their work with you, giving you great opportunities to purchase unique souvenirs and keepsakes.
When the evening is cold, head inside to one of the many restaurants and enjoy some local cuisine. Or head back to your hotel or riad and take advantage of some of the amenities they offer their guests. Just make sure you get a good night of sleep so you have plenty of energy for new adventures when morning comes.
Best Places to Visit in Morocco in January

Casablanca
Casablanca weather in January is a mixed bag. As Morocco's largest city you may start your travels here. Upbeat and modern, there is always something to see or do, even when the weather is cold or wet.
Art lovers will enjoy a visit to the Villa des Arts de Casablanca. This lovely gallery is operated by a nonprofit organization called Fondation ONA, and features exhibitions of beautiful contemporary art from Morocco and around the world.
Looking for a delicious meal to warm your tummy on a chilly day? Fans of the movie Casablanca may be thrilled to know that you can actually eat at Rick's Cafe – of course it's just a replica as the movie wasn't filmed in Morocco. Located on Boulavard Sour Jdid, the 1930's decor is a feast for the eyes while you dine on seafood, steak, or a great burger.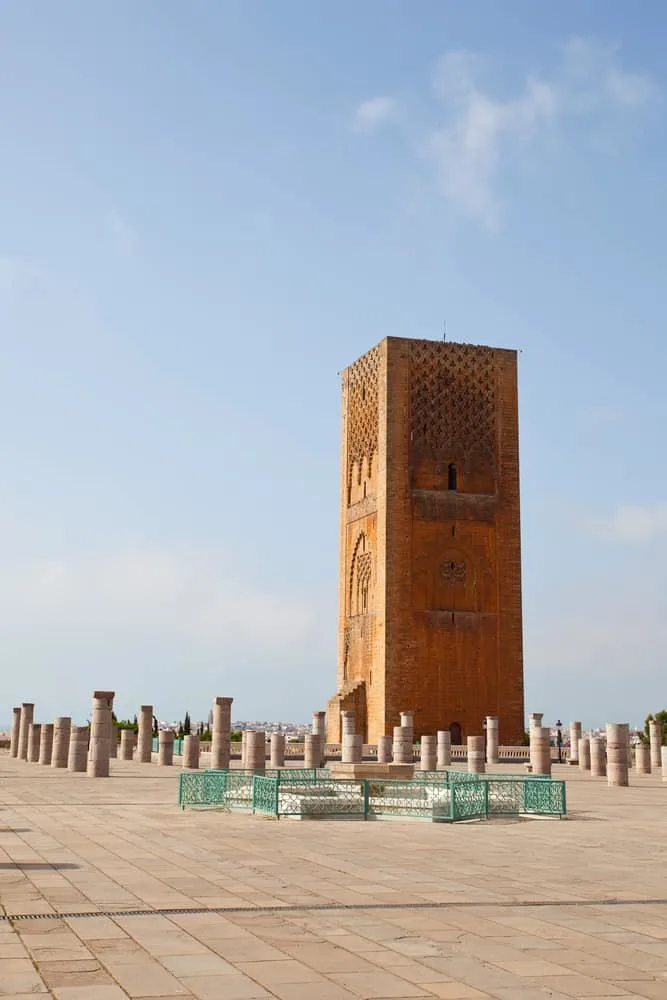 Rabat
Rabat is Morocco's capital city, busy and modern, with a European feel. There is much to see and do in Rabat, even when the weather is cold.
In inclement weather, be sure to head to the Natural Science Museum in Rabat. It's a great place to visit for families with kids and lovers of archaeology. The star of the show is the replica of a Sauropod dinosaur which was found in the Atlas mountains in 1979. The Mohamed V Museum for Contemporary Art is another excellent indoor option.
If you're looking for traditional souvenirs, a visit to the Old Medina is not to be missed. Enjoy the sounds, smells, and chaotic energy of Morocco in a traditional setting while searching for beautiful gifts for your loved ones back home.
Marrakech
Marrakech is known world-wide as being the ultimate Moroccan experience. Shopping, nightlife, and amazing dining adventures abound, combined with traditional Moroccan life.
Typically Marrakech in January has good weather, although expect some rain especially in the mornings and later evenings. Don't miss the amazing Jemaa el Fna Square. During the day, you'll find vendors selling souvenirs and food. At night, it comes alive with music and drumming and even more food.
On a cold day, head to the Musee de Photographie to look through an amazing collection of photographs from across Morocco and dating from the late 1800's.
Read: Marrakech Destination Guide (with tips on what to wear in Marrakech in January too!)
Dakhla
In January the weather in Dakhla is usually great. Warm ocean temperatures and dependable winds make Dakhla a popular destination for kite-board surfers, as well as for people who are looking to get off the beaten path for a while.
Even if you don't surf, the beach is a popular place to be. The sun is friendly and even at night, the beach fills up with fires surrounded by people singing and drumming, dancing, and telling stories.
If you aren't into the beach scene, you can find plenty to see and do in the medina. Filled with tradesmen selling beautiful crafts, leather goods, food, jewelry and more, you may find yourself wandering happily for hours in the bustling, yet relaxing, atmosphere.
As in most places in the Northern Hemisphere, the weather in January in Morocco can be a bit unpredictable. But if you pack in layers and have contingency plans for days with inclement weather, January is an excellent time to enjoy a fun-filled Moroccan vacation.