Agadir is a major city in Morocco and a gorgeous resort town on the coast of the Atlantic Ocean. Renowned for its beautiful beach strip, Agadir's tranquility provides the perfect setting for a vacation.
If you're looking for a day trip outside of the city, Paradise Valley is perfection. Hiking through this idyllic gorge is a fantastic way to get to know Morocco's unexpectedly tropical landscape.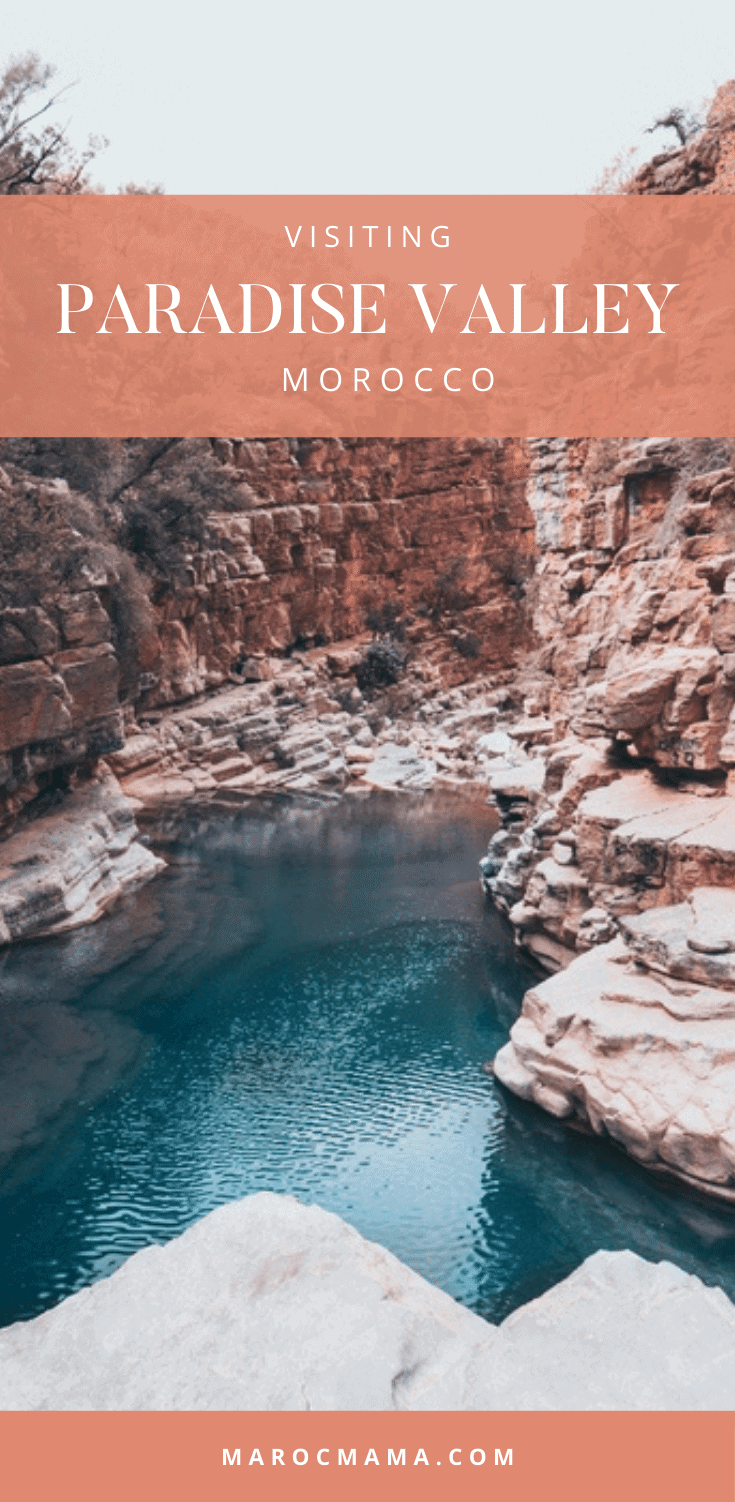 Hiking Through Paradise Valley
About 20km north of Agadir, Paradise Valley is comprised of a collection of valleys, rock formations, and natural pools deep in the High Atlas Mountains of Morocco. To traverse the entire rocky terrain could take you up to four or five hours, depending on your route. But, you can reach the first waterfall and rock pools within an hour and relax there if the area is to your liking.
It's best to hike accompanied by your pick of local tour guides; they know where all of the best spots are, particularly in the dry season when water is scarce. Make sure you've got good running or climbing shoes – something with grip – as the valley paths can be treacherous and slippery.
The limestone ravines and valleys are surrounded by palm trees and greenery, with waterfalls flowing down from the height of the mountainous landscape. You'll find hidden swimming holes throughout your hike, as well as some cliffs to dive off of if you're feeling courageous.
Paradise Valley sits at an altitude of 1600 meters above sea level, so the air in this tropical oasis is light, crisp, and fresh, offering a delightful experience that puts you in the heart of the natural world. The canyons are lined with palm trees, giving visitors the most picturesque views of the Moroccan countryside.
The hillsides are abundant with argan trees and lavender in the summer, and you'll come across natural slides eroded into the valley near the rock pools. The cool, clear water is a wonderful respite during the summer, especially after a tough hike along the narrow footpaths. There are numerous mountain trails you can follow, each offering scenic views of the valley.
How do I Get to Paradise Valley?
You can rent a car for your trip from Agadir to the Atlas Mountains, where you'll find the start of the Paradise Valley trails. If you know some locals or speak Arabic, however, you may be able to navigate the public transport in Agadir. There also guided tours that will organize transportation on your behalf from whichever hotel you are staying in.
The route from Agadir to Paradise Valley will take you about 60 minutes by car.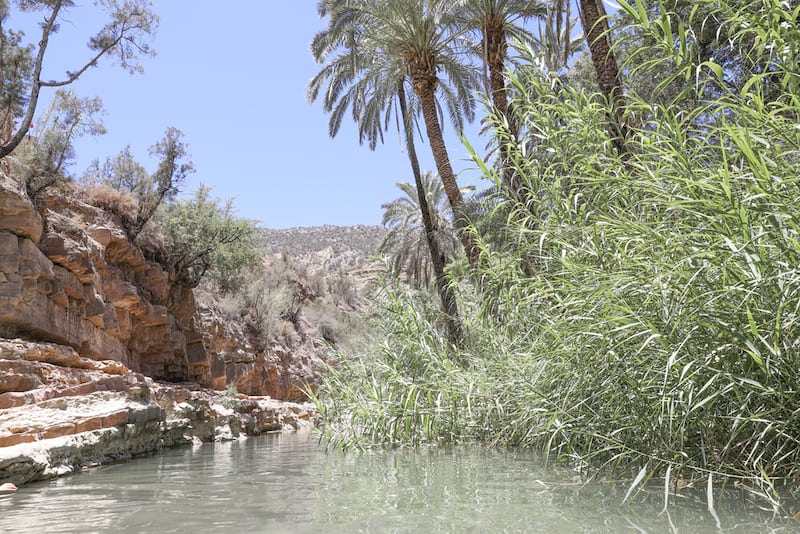 When is the Best Time to Visit Agadir and Paradise Valley?
Agadir is at its prime during the summer months, when the sun is shining and you can enjoy the best beach weather possible. If you've got your heart set on Paradise Valley, however, visiting in summer isn't ideal for you.
The first thing you need to know about Paradise Valley is that the weather has a significant impact on the landscape. Morocco has seen minimal rainfall in the last few years, so the water level in the valley is quite low. Before you embark on your day trip from Agadir, you'll want to ask one of the locals if it has rained in the valley recently.
You don't want to get stuck in the rain when you head out for your hike. But, recent rainfall is a good sign for your adventure into the mountains. Summer in Morocco is increasingly dry year on year. So, try to avoid visiting Paradise Valley during June, July, and August. You'll want to plan your trip around the end of the rainy season; this way, you'll get the right weather for hiking, and the valley will be flowing with the recent rain waters.
The rainy season is in winter until mid-spring, around April. Your best bet to see a lush valley landscape is during the end of April or the month of May – before summer begins.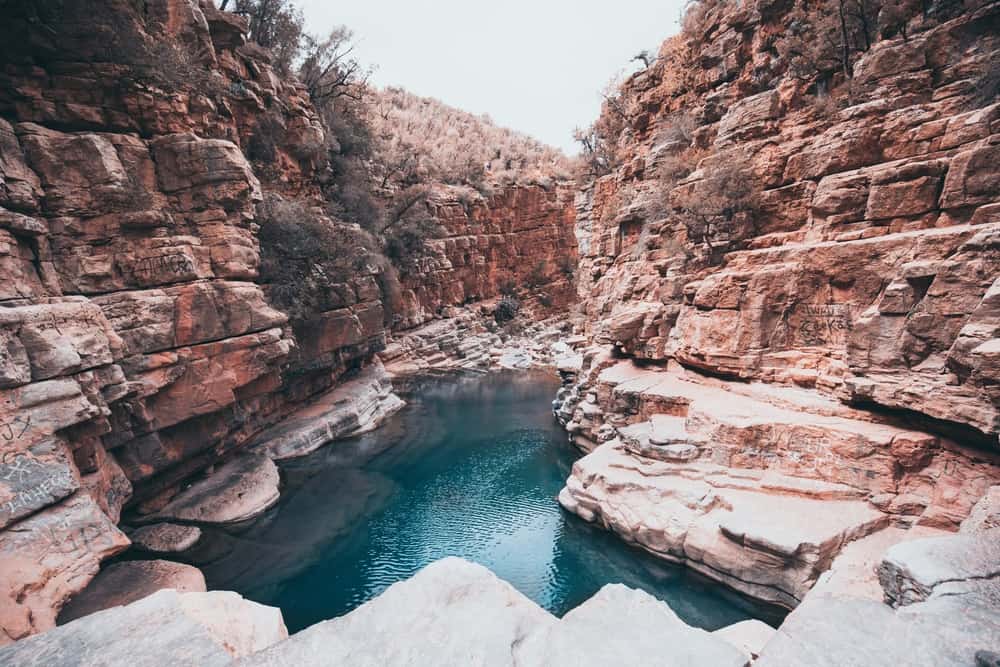 More on Paradise Valley, Morocco
Besides the clear rock pools and valley trails, there are also plenty of local food stalls throughout Paradise Valley. At the start of the trails, some makeshift stalls are waiting to serve you delicious Moroccan delicacies like chicken tagine. Further along the route, there are tons of stands offering fresh orange juice, bottled drinks, and snacks to enjoy as you lounge by the pools.
Some areas have plastic chairs shaded by umbrellas sitting right on the water's edge, where you can take a load off and bask in the steamy Moroccan sunshine. Hammocks are also scattered around the valley's chill spots, where you can relax and even take a cat nap if you can secure one all to yourself.
The haphazard amenities like these certainly contribute to Paradise Valley's eclectic atmosphere. The landscape is by no means luxurious but feels more like a hidden paradise created by those in the know. If you consider the valley's history, this hippie-era feel is no surprise. Legend has it that Jimmi Hendrix and his legendary entourage gave the valley its name and hung out at this vibrant spot frequently back in the '60s.
Where to Stay in Paradise Valley
After a long, hot day in the mountains, you may want to stay at a nearby hotel rather than driving back to Agadir city. About a five-minute drive from the valley route, you'll find the popular Gîte Village.
This quaint group bungalow complex is one of the best options if you're looking for something near Paradise Valley. Previous guests have raved about the mountain views, exceptional service, and hospitality here.
Nearby you can also look at some of these places to stay in Agadir or places to stay in Taghazout.
Enjoy Your Paradise Valley Adventure!
Whether you're heading to Paradise Valley for a swim, a cliff-jump, or a scenic hike through the mountains, the breathtaking landscape is sure to wow you. Thanks to local food, magnificent views, and the refreshing rock pool waters under the Moroccan sun, Paradise Valley is one of the most popular day trips for those staying in Agadir.
Be a part of the MarocMama family!
Do you want access to all things MarocMama? Join our community of readers to get updates on new posts, inside information that won't go on the blog and so much more!
Sound good? Pop your email below and you're in!