Casablanca is Morocco's largest city and while many people visit thinking it's similar to the movie by the same name, they're sometimes abruptly surprised it's not.
A large, modern city with all of the conveniences of any international destination but with a few characteristics that are Moroccan; it can take time to get under the skin here. You might not find all the normal things to do in Morocco you'd expect but you'll be pleasantly surprised by what is here.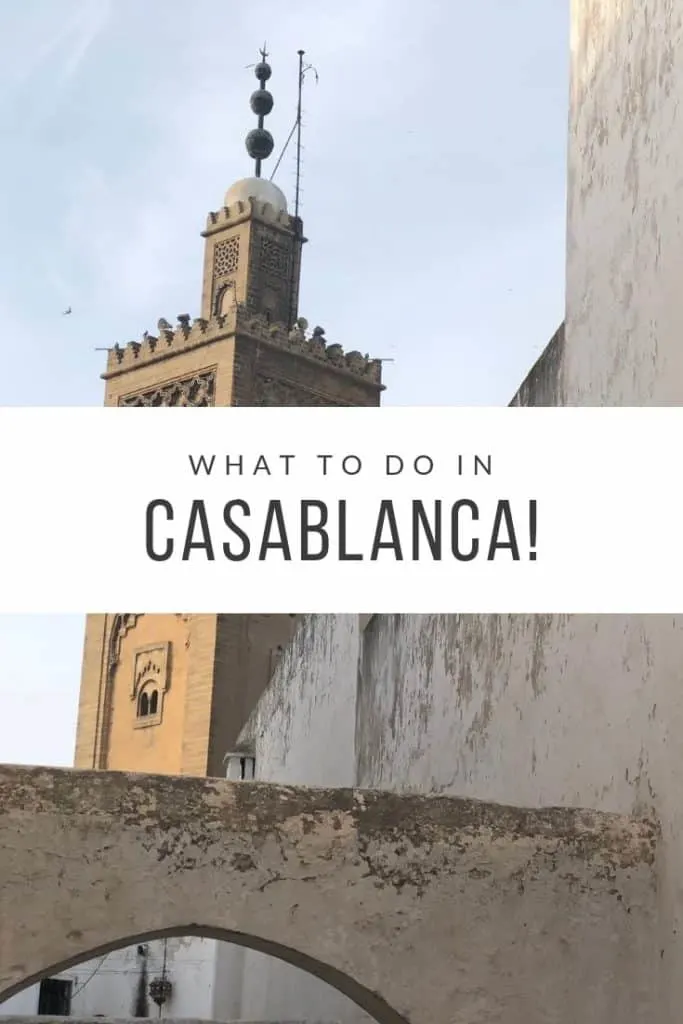 13+ Things to do in Casablanca
Walk on the corniche at Ain Diab
You'll feel like a local as this is one popular "casaoui" activity, strolling up and down the corniche, people watching, taking in the smell of the sea, stopping for mint tea, juices, fresh donuts, little bags of popcorn – or stop for a meal at any of the many seafood restaurants located here
Visit Habous
The new medina of Casablanca – built by French colonial rulers in 1923. It is a charming maze of souks full of artisanal products, textiles, and cafes. It's fun to shop here and there are some good photo opportunities as well. Wander off the shopping streets to some of the back streets – you will feel like you're anywhere but Casablanca!
Being in Habous will also position you perfectly to visit one of the best pastry shops in Casablanca, Patisserie Benis Habous It is one of the oldest in the city, with walls covered in brightly colored zelige (Moroccan tiles) and display cases showing off the full range of traditional sweets made with such delicate flavors as almond paste, crushed pistachios, orange flower water and flakey pastry dough. Moroccans take their sweets seriously so think of this stop as a cultural education.
Marche Central
A large food market in the center of Casablanca, it is rich with a variety of fresh local food. Vibrant fruits and vegetables as well as freshly caught fish, along with all the action of the market make great photos.
Visiting the Marche Central is a bold and intimate view of Morocco, seeing all the food that is locally available, experiencing the French colonial architecture of downtown Casablanca. The contrasts, rich colors, and varieties show Casablanca's history, its natural resources – and its original roots as an agricultural center, the Berber city of Anfa.
Shop & Cafe Hop in Ma'arif / Gauthier
These two neighborhoods are framed by the Blvds Anfa, Zarktouni and Roudani, marked by the twin towers shopping center. This is where western fashion and large chain stores and brand name boutiques can be found. There are also cheaper local shops and kiosks selling undergarments, socks, make up, and the like.
Also in these neighborhoods, you find a range of cafes from the simpler, older style places full of men and boys drinking mint tea and black coffee, watching soccer matches on a big screen to more lavish looking gourmet ice cream cafes or funky western cafes with gluten free desserts and almond milk lattes.
In the afternoon you can buy fresh seafood, chicken or sometimes even vegetarian briouats, stuffed and deep fried pastry triangles.
Hassan II Mosque
The tallest minaret in the world, and debated to be somewhere between the 3rd-5th largest mosque in the world, this mosque was built by the late King Hassan II from 1986-1993. It can accommodate over 100,000 worshippers assembled for prayers (25,000 inside and 80,000 in the outdoor courtyard).
The mosque has a retractable ceiling and a glass floor so that the ocean is visible through the floor of the prayer room.
It is possible for non Muslims to enter this Mosque with a guided tour. According to the mosque's website, the tours are available from 9am-4pm 7 days a week. It's best to contact the mosque to be sure of the exact tour times.
Taste of Casablanca Food Tour or Cooking Class
Taste of Casablanca offers a variety of food related experiences for visitors to Casablanca. From food tours to cooking classes and even a Moroccan tea experience in a Casablanca riad, you'll have no shortage of options. We like the evening food tour if you'll be spending the night.
Museum of Moroccan Judaism
This is the only museum dedicated to Judaism in the Arabic-speaking world. It traces the 2000-year history of Jews in Morocco, focusing heavily on Casablanca's Jewish community. There are temporary exhibits that are rotated out and many different artifacts that chronicle Jewish life in the country. Visits should be arranged in advance as there is some security protocol to follow.
Villa des Arts
A cultural center and art gallery showing contemporary exhibitions in an Art Deco villa from 1934. The villa is owned by the ONA foundations, promoting culture and creativity in Morocco.
Sacre Coeur Cathedral
This cathedral held religious congregations from 1930 to 1956 – just after the end of French colonial rule. Now it is used for cultural events and art exhibitions. Check it out to see what's happening. The cathedral is undergoing renovations on and off so you may not be able to visit the interior depending on the status.
American Arts and Cultural Center
Opening in Spring/Summer 2020, this multistory arts complex is set to hold an art gallery, a bookstore, a performance theater and spaces for yoga, classes, workshops and trainings. The American Cultural Association is sponsoring this project.
Tours in Casablanca to Consider
Would you rather join a tour or have a guide you show you around the city? That can be arranged! There are regular guided tours of the Hassan II mosque that you can book in advance. If you want to see more of Casablanca beyond that iconic site consider one of these options.
Want to Know More About Planning a Casablanca Visit?
Cooking Classes and Food Tours in Casablanca