No one wants to get sick on vacation and there's a lot of fear around getting a stomach illness. While this is a real concern it's not the only illness you should be prepared for. Allergies are another major factor many people don't consider but you'll be surrounded by lots of environmental elements that you aren't used to. For those adventurous spirits who have Morocco in their travel plans, read on for our best tips to stay healthy while visiting this beautiful country.
1. Check The Vaccine Box
Make sure you are vaccinated. The CDC (Centers for Disease Control) recommends for Morocco, that you have the following shots for travel. It's also a good rule of thumb to check that your vaccinations are up-to-date and this is the perfect opportunity to do so. It's always best to check with your own care provider but some of the generally recommended vaccines include;
• DTP
• Hepatitis A
• Hepatitis B
• MMR
• Rabies
• Schistosomiasis
• Tuberculosis (especially if you'll be in rural areas)
• Typhoid fever
2. Tummy Time
It never hurts to be prepared. If you are prone to a weak stomach, talk to your doctor about taking some probiotics before your trip. On that note, yogurt is readily available all over Morocco (often homemade at the higher-standard riads) and yogurt contains healthy bacteria that helps to maintain a healthy gut. A general rule of thumb is that the homemade choices are the healthiest as store-bought options can be ladened with sugar and additives.
It's also a good idea to bring some antacids and anti diarrheal medication should you fall ill. While these are available in pharmacies, chances are when you're sick the last thing you'll want to do is wander the city trying to find relief.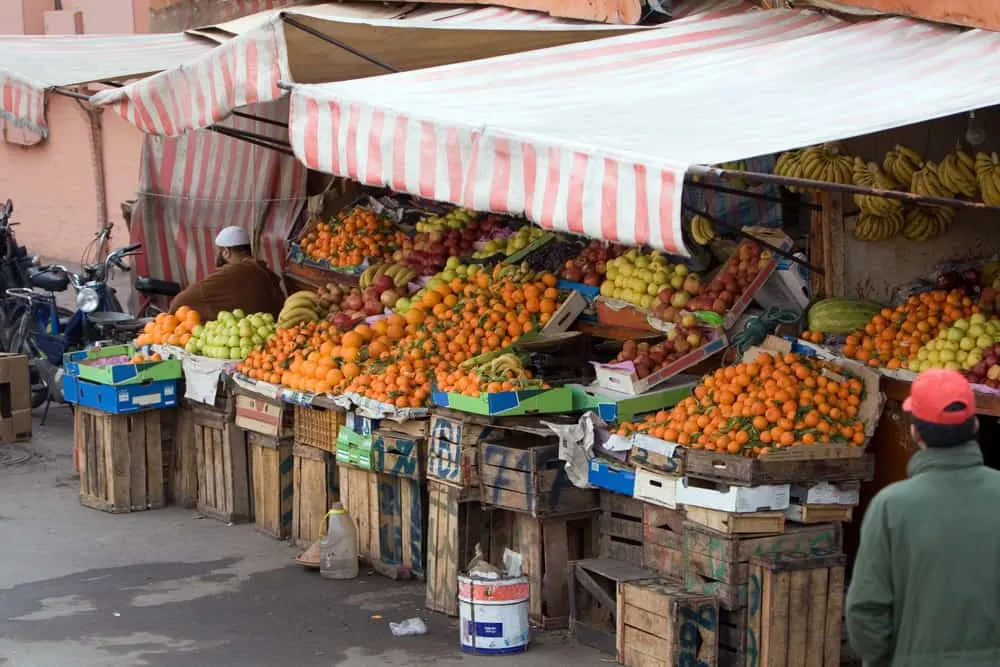 3. C Me
If you are sensitive to colds and coughs, take Vitamin C before your travel. Luckily, Morocco is a mecca of sorts for fresh produce, so it is likely that you will have juices and fruits often. Just make sure that they are washed and if all else fails, peel or cut off the skin before eating.
You'll likely always get orange juice with your breakfast and that's a fantastic way to increase your intake – plus it's delicious!
4. Water Wonder
It's a good rule in general to stick to bottled water. In many parts of the country water is safe to drink (it's not contaminated) but it does contain different bacterias that your body may not be used to. Don't forget to use it when you are brushing your teeth as well! Remind your children (or any traveling companions), as it's easy to turn on the tap water automatically. Even better, put a large bottle of water next to the bathroom sink as a reminder.
5. Rehydration Elation
Whether you've gotten ill from food-borne illness or you get dehydrated from the high temperatures staying hydrated is critical. Bring oral rehydration fluids (available in packets in pharmacies) for emergencies. If you do feel queasy, stick to basic foods-bananas, bread, yogurt, plain rice or plain couscous. Sip water or fluids slowly and stay hydrated.
6. Pharmacy Fancy
Moroccan pharmacies are generally top quality and similar to European pharmacies. Many things you think you might need a prescription for, you won't. You should be able to find anti-nausea meds, Immodium (or the equivalent), and prices tend to be reasonable. Ask to speak to the pharmacist who can further advise you if you have questions. Do be aware that antibiotics are widely handed out so you may want to evaluate whether or not you really need them.

7. The Windy Road
If you are inclined to motion sickness, bring Dramamine with you to Morocco. Morocco has decent, even excellent autoroutes; however, the roads in and around the mountain ranges and Sahara Desert tend to be bumpy and occasionally unpaved or under construction. If you take Dramamine the night before, you won't feel the fatigue side effects and you still get the benefits. If you worry about motion sickness make sure you're prepared with all the additional things you may need.
8. Work Those Wipes
One of the easiest and most helpful items you can toss into your bag before leaving are wet wipes. These are fantastic not only for wiping down surfaces that may have germs but to clean your hands when a sink isn't in sight. As a bonus they can act double as stain-remover for clothes!
9. Scrub A Dub
Avoid eating unwashed vegetables and fruits and undercooked meats. A great rule of thumb is eat where you can see the food being cooked; particularly if you are going to try street food. Overall Moroccans do not eat meat that is cooked rare or medium rare so it's unlikely you'll encounter this unless you're eating at an international restaurant. On that note, stick to meats that are grilled right in front of you and dishes, particularly meats, that are piping hot, tagines included.
10. Sing Happy Birthday
Wash your hands thoroughly with soap and water, especially after handling money and most certainly before you eat. This is the quickest and most efficient way to not get sick. Make sure your kids do the same.
But, don't just take it from me!
Creating A Travel Medicine Bag for Morocco
While you're packing for your trip to Morocco don't forget to put together a small kit with over the counter medications you may want or need.
Following the wise advice of Dr. Clare Minejem, General Practitioner, who has lived in Marrakech for years,
"In general, I tell short-term visitors and/or people with sensitive stomachs to stick with bottled water (including for teeth brushing) and avoid salads, etc. that have been washed in tap water (or maybe not even washed). If you plan to eat street food, the safest bet is to eat where you can see the food being cooked. Also, choose busy places where they will have a daily delivery of new ingredients and less likely to have food sitting in unhygienic conditions."
Dr. Minejem continues,
"At the first sign of diarrhea, get as much isotonic fluid in as possible-rehydration fluids available at the pharmacy or isotonic drinks. Particularly important for summer months when you can get very dehydrated very quickly. Don't rush to get anti-diarrhea meds. If you have 24 hours or so, rest, to let it work it's way through your system. If you are vomiting and can't keep rehydration fluids down, if you are spiking high temperatures, if you have severe abdominal pain and/or if you have other chronic illnesses, make sure you see a local doctor. We are well-experienced in managing these symptoms here and will tell you what needs to be done."
Lastly, perhaps consider travel insurance if you are someone who tends to easily get sick or you have a pre-existing condition. Particularly if you are visiting with elderly guests, travel insurance is a good option for extra reassurance.
If you follow these general rules of advice, your trip to Morocco should be one filled with fun, fascination and adventure and hopefully not a trip to the doctor!