What is the capital of Morocco? Many people believe it's Casablanca but in fact Rabat is the capital. In 1912 with the beginning of the French protectorate of Morocco the capital was moved from Fez to Rabat. In 1956 when independence was regained it was decided that the capital would stay put. Rabat isn't on the tourist radar but there are many reasons to include it on your list.
When it comes to seeing Morocco, Rabat is a bit of an unsung hero. The administrative capital is often left off the popular tourist circuit and folks tend to flock to Marrakech in the south and Fes, as well as Tangier and Chefchaouen in the central and northern parts of the country. Even Casablanca likely gets more traction than Rabat as it's the location of the busiest international airport in Morocco as well as the largest mosque in North Africa, Hassan II.
However, Rabat is a fabulous destination and can arguably be called the most 'chill' city in Morocco. Read on to discover our favorite spots in Rabat and start planning your trip to this relaxed, beautiful historical city. Bonus is the small-but-mighty Salé/Rabat airport, where you can find many flights coming in from all over Europe. A definite plus as it's quiet and quick!
Reader's tip-Rabat is where you will find lovely, quality handicrafts without the hassle of vendors continually pushing you to buy from their shops. We are sharing some of our best spots for fab Moroccan treats-
We recently went to explore the best of Rabat to help you plan your visit!
Getting to Rabat | Getting Around Rabat
Getting to Rabat
Morocco's major airport is in Casablanca however there is a Rabat airport. Most flights that arrive here are either domestic or limited flights from Europe. Chances are you'll arrive in Rabat from a land entry; train, bus, or car. Which you choose may depend on your budget and how you plan to travel in Morocco.
To get from Rabat to Casablanca (or vice versa) the easiest option is likely the train. There are three train stations in Casablanca that can be your starting point to reach Rabat. Casa Oasis, Casa Voyageur, and Casa Port. Casa Oasis is the first train station arrival point if you're taking the train from Casablanca airport to the city. From here you would change trains, reaching Casa Voyageur as the second station and onward to Rabat. You will want to buy a ticket that takes you to Rabat Ville, the main train station in Rabat. If you are departing from the city of Casablanca head to Casa Port station where there are regular commuter trains to Rabat leaving twice an hour. (Find full time tables on the ONCF website).
You can reach Rabat from other cities as well. Simply check the timetable and purchase your ticket to the appropriate station.
A second option to reach Rabat is to use the bus system. I recommend Supratours buses as they are reliable, comfortable and have few mechanical issues. Not all cities will have buses to Rabat, as they try to reach places where there is limited train service to give another option. You may need to use the public bus system. These buses depart from the main depot in each city. The schedules can be erratic, and buses overcrowded, however they are very inexpensive.
A third option to reach Rabat is by car. You can buy a seat in a shared grand taxi or you can hire a driver to take you privately. If you would like to navigate the taxi system, take a read of this post on getting around Morocco. Private drivers can be arranged through your accommodation. The usually have direct contact with drivers or taxis that can be hired to take you to your destination. This is often the fastest way to travel however it is also the most expensive.
Getting Around Rabat
The Rabat tram (Rabat-Sale tramway) makes getting around the city very easy now. The system is not only well maintained, used by a lot of people, but also clean and will get you to almost all the major attractions. There are ticket kiosks at most stops with attendants who speak some level of English and can help. Tickets are reloadable and are 6dh.
There are only two lines; Line 1 and Line 2 making it easy to navigate. Service runs every 20 minutes.
If you're staying in nearby Sale, on the other side of the Bou Regreg river or just want to visit you can also take a dhow boat. Before the bridges this was the way to get across. The ride is fairly quick and costs 2.5dh each way. Even if it's more of an adventure than a transportation option you can pretend you're a pirate for a little while!
Rabat and Sale are two different cities, however over time they have almost become one. Sale lies on the right bank of the Bou Regreg river while Rabat is on the left. Sale was an independent republic and home to the famous Sale Rovers (pirates) until the 17th century when it became part of Morocco. This side of the river is often overlooked and while they may be two different cities, they are historically and now geographically linked.
What to do in Rabat
If you've decided to visit Rabat then you're probably wondering what is there to see and do . I wondered the same thing but after our long visit, I realized we hadn't spent enough time to see it all! I've chosen just twelve must see Rabat attractions here to consider but there are many others that I had to leave off for space!
Hassan Tower
The first time Rabat became the capital of Morocco was in the 12th century. Then ruler Yaqub al-Mansour undertook a project to build what would be the largest mosque in the entire world. However, he died before the building was completed and work was abandoned. In 2012 these ruins were granted UNESCO world heritage status. Visitors can easily walk around them today. Nearby is the tomb of Mohamed V, Morocco's first post-independence king. Hassan II and his brother Prince Abdallah are also entombed here. It is possible to to visit the interior of the mausoleum. Visitors are reminded this is a tomb and solemn place.
The Chellah, Rabat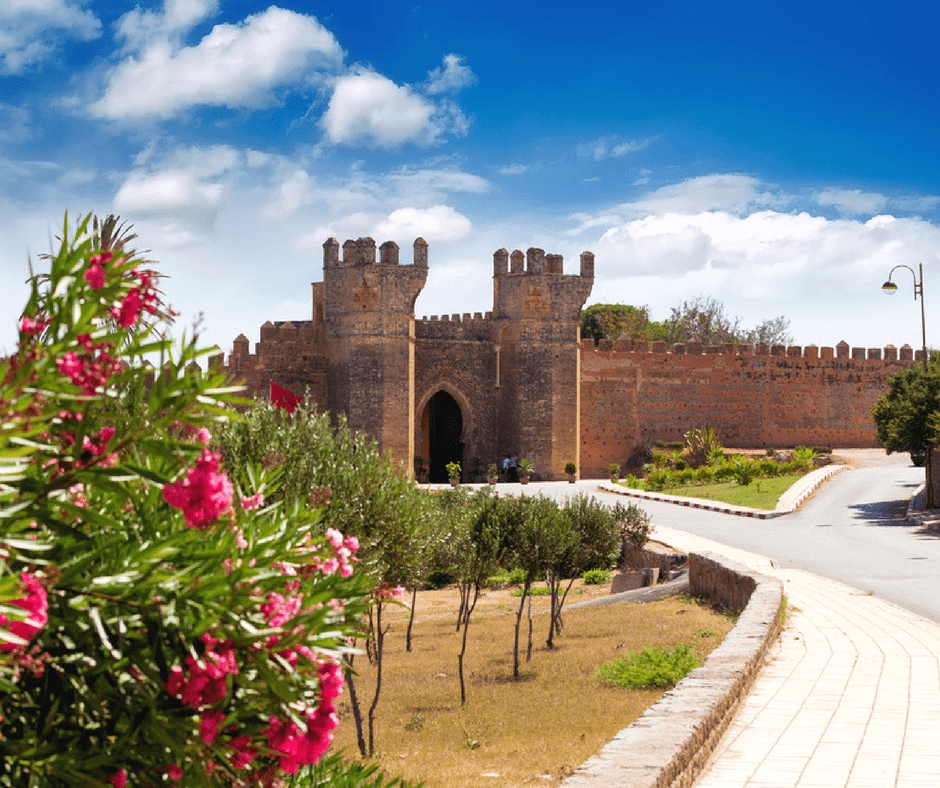 Outside the city center you will find the Chellah and it is here that early explorers made their base in Morocco. The Phoenicians and Romans were here and the ruins tell this story. Later the Berber rulers the Almohads used the complex as a royal burial ground. A mosque was later added as well as other architectural details of the middle ages. In 1755, the earthquake that shook Lisbon made its impact here as well causing a lot of damage. Today, it's very easy to visit the ruins and walk around. Every year the Chellah Jazz Festival is held in the ruins which make for a really unique concert event.
Medina of Rabat
The medina and kasbah of Rabat are two different areas but connected. While much of Rabat is extremely modern, home to embassies and important government business, the medina still has reminders of a different kind of life. The medina here isn't like the medinas of Marrakech or Fez, it's much smaller and you'll likely see very few tourists. One special item to consider seeking out is a Rabati rug. The most typical style is a red rug, with a rectangle pattern. The red is inlaid in the middle with a geometric design. There is also a border of another color(s). These rugs look much more like a Turkish or Persian rug than the more abstract rugs of the mountain tribes. My guide to rug buying in Marrakech, while a different city, may prove useful.
Kasbah of the Udayas
You've likely heard of Morocco's famous blue city at this point (if you haven't you can in this post), but did you know Rabat has it's own mini-blue city? The kasbah of the Udayas was built in the 11th century and has been consistently inhabited since then. Wander the streets or sit in one of the cafes on the edge of the walls and watch the ocean stretch out in front of you. You'll also find Kasbah Mosque (interior access not permitted to non-Muslims), the Andalusian Gardens, and Oudaias Museum in this area all worth a peek.
Rue De Consuls, The Medina
Smaller and more intimate than most other cities but much more relaxed and stress-free is the Rabat medina. Starting at the Rue De Consuls across from the impressive 14th century Portuguese-built Kasbah and the lovely Oudeyas, you will find anything and everything from rugs to poufs to ceramics to wooden delights. The street is named in honor of the 19th-century diplomats who lived above and it's a perfect spot for a photo with colorful doors peppered along the small pathway.
One of our favorite shops is Iazra Leather, which is more or less hidden at the top of the Impasse du Consulat de France-look out for the black wrought-iron door and ring the bell if the door is closed. Saiid, who speaks English, will happily help you. It's also right at the corner where there is a lovely (dry) mosaic fountain; a lovely photo possibility. This is the place for excellent quality leather and suede goods-particularly brightly colored, whimsical handbags and wallets. And no smell!
Prices are very reasonable for the excellent quality of the merchandise. Or pop into Ayoub's family shop, Boutique Japonais, just around the corner to the left. Although it has an odd name (there is nothing Japanese in the shop!) it's an institution, so to speak, in the medina, that Ayoub and his brother Rachid's father opened years ago. The family still works there today. You can't miss Ayoub as he's always wearing a black fedora. He also speaks English.
At the top of Rue de Consuls next to the police station and across from the lovely kasbah, you will find Coopéerative Artisanale des Tisserands de Rabat; a colorful co-op that sells blankets, towels and bed covers in various materials. Certainly worth a trip inside as the quality of selection and prices are excellent.
All the way at the end of the Rue De Consuls where the main street branches off to the right and the newly covered 'Rue de Babouches' (shoe alley), you will find Maison D'Argent, where you can find nice Moroccan silver jewelry for decent prices. The shop is somewhat easy to find as there are two brass lion statues sitting in front. Do ask take a peek in the typically closed room off to the right of the Maison D'Argent as it's filled with antique Moroccan jewelry and resembles a fascinating museum.
Lastly, we love the business of Dar D'Art Ceramics, run by friendly brothers Mohammed and Jawad. The shop has a large supply of everything from ceramics (from all over Morocco) to Moroccan teapots, platters, and teacups. Their shop is nestled on the little side street near the old 'Pharmacie', awning, which is a good landmark and meeting place if you want to have a wander and perhaps your family or friends want to go somewhere else on the Rue De Consuls.
Complexe des Oulja
This might not be for everyone but for art lovers or anyone that is seeking out authentic craftsmanship you must visit. This was originally just potters however now there are many different types of workshops in the complex – and it is big! You'll need a car (taxi) to reach this point even though it's not far from Rabat and make sure the taxi waits for you because it's very hard to find any going back.
Rabat Beaches
Yes, Rabat is on the Atlantic Ocean and it does have beaches! Temara and Skirat are two popular beach spots. If you're a surfer and want waves that are a bit more of a challenge Plage des Nations is the place to go. Don't expect spotless white sand beaches and know that most Moroccans wouldn't think of touching the water until the warmer months of summer. This is also when the beaches are more well kept and maintained.
I have had visiting this museum on my list since the museum opened and was only a little apprehensive as other museums in Morocco are a bit of a let down. Not here. I would say visiting here is a must because it puts a completely different light on Morocco and Moroccan art. The building itself is beautiful and the entire exhibit on par with art museums in the rest of the world. The one downside is that the placards are all in Arabic or French so it may be difficult to get the background of the pieces. They also have rotating visiting exhibits that have include Picasso and Goya most recently.
National Zoo of Morocco – Rabat
If visiting with children you may want to visit the Rabat zoo. It isn't as fancy or as well put together as larger zoos throughout the world but it will give you the chance to see animals native to Morocco and the greater African continent.
Great Mosque of Sale
This impressive mosque was built in the 12th century and is the third-largest in Morocco. It has been destroyed and rebuilt many times since its original construction. One of the most recent times was in 1851 when Sale was bombarded by French forces causing great damage to the mosque. Not only was and is it a religious monument but it was a gathering point for the Moroccan nationalist movement in the 1930's in their plans to remove the French protectorate from power. Non-Muslim visitors are not permitted interior access but can view it externally.
Sale Medina
This medina isn't as fancy as Marrakech or even Rabat but it's a very authentic medina experience. This is a medina of the working class, it's not glossed up for tourists and most people you'll see are those going about their daily chores. If you do want to do some shopping you'll find prices in Sale more reasonable than most cities, even nearby Rabat.
Salé
Just across the Bou Regreg River from Rabat lies Salé; another interesting and often forgotten place. Salé's fascinating history is deeply linked to a past with dreaded pirating over the span of five centuries since the early 1600s. The city was a haven for the famous pirates known as 'Salée Rovers' who ruled the Mediterranean Sea and the Atlantic Ocean.
In Salé, you will find your a true Moroccan experience, from the working class medina to the tiny blue boats that ferry people across the river from Rabat (close to the kasbah in Rabat and in front of the marina in Salé) for just a few dirhams per person. Speaking of the marina, this newly constructed project is a delight for meandering along the water and grabbing lunch at one of the many choices of restaurants and cafés dotted along the picturesque wharf. We recommend calling the Association Rabat Salé at 0530303030 for a walking tour of Salé.
Oulja Poterie, Salé (Oulja Pottery Center)
This spot, also called Salé Pottery Center, might seem a bit blah from the main road, but trust us, you will love what you find inside the center. You will not likely see any tourists there, however, this is where locals shop for the best that Morocco has to offer: ceramics, hammered silver and brass lamps, bamboo, wooden furniture, rugs, colorful baskets, and of course, tagines. Plus more!
The center is just off the main road and is divided into two complexes that look quite unappealing from a distance, but again, drive inside and prepare to be delighted. The first complex has the best shopping to offer, it's the furthest one away from Rabat center.
We love Saiid's gorgeous, well-known pottery shop on the corner that sells unique non-glossy finished pottery in beautiful pastel colors. The tagine shop right next door to Saiid's shop is also excellent and all of the tagines in the pottery center are certified non-lead. They sell decorative as well as cooking tagines.
Do note that the cooking ones are rust-colored, non-glazed. Pottery Slawi, closer to the large pots on the other side, is also a fabulous stop for ceramic gifts and the prices are incredibly reasonable here. And not to forget rugs and lamps Dar Al Assala, the massive shop run by Najib, has a gorgeous selection of hand-metaled lamps and upstairs, the rugs!
Don't miss out on this carpet mecca and again, prices are much less than in the touristy areas of any medina in Morocco. And Najib speaks English if your French or Moroccan Arabic (Darija) is rusty.
The Pirate Slave Prison
I had no idea this even existed until our hosts at Repose Riad pointed it out on a map of Sale. On Avenue Sidi Ben Achir against the city walls are the remains. Rumor is that they are currently undergoing renovations and it's a bit of a needle in a haystack to find. There is a guardian who will give you a tour if you catch him nearby for about 20 dirham.
The Mawazine Festival
Every year the government of Morocco hosts Mawazine, a giant music festival bringing some of the biggest names in national and international music to Rabat to preform. Millions of people attend and it is one of the largest music festivals in the world. Mariah Carey, Whitney Houston, Kanye West, and Jennifer Lopez are just a few of the major names that have appeared on Mawazine stages. There are both free and ticketed concerts; the hope in doing this is to provide entertainment to those of all economic backgrounds especially those who wouldn't be able to afford normal high-priced tickets to such events.
Kasbah, Oudeyas + Botanical Gardens
Dating back to the 12th century, Rabat's lovely kasbah (fort), perched at the mouth of the Bou ReGreg River is an impressive and unique structure and most certainly worth a stroll. Originally built to proudly ward off invaders and pirates, the kasbah is now the symbol of the uniquely Moroccan Oudeyas neighborhood.
Wander around the corner of the kasbah and you will see the massive, beautiful ancient door of the Oudeyas; this city within a city that is a must-see for true Moroccan flair. Spend the afternoon meandering around its cobblestone walkways, gaze at hundreds of picturesque blue doors, peek into the lovely Jardin Des Oudeyas (garden), or check out the artwork at the Musée Des Oudeyas (museum). Either way, don't miss out on seeing this hip, authentic gem.
There is even a popular tea spot called Café Maure that has been essentially the same for centuries. Café Maure specializes in delicious Moroccan pastries, mint tea, and coffee; the famous spot is adjacent to the gardens and it has a lovely overlook to the water. And speaking of the overlook, make sure you make it to the overlook of the Oudeyas, as it's a sight to see in the summertime with all its hundreds of colored umbrellas onto the beach below.
Apia
If you are looking for excellent quality organic essential oils and cosmetics, look no further than the lovely co-op of Apia. With two locations in Rabat; one in Agdal and a newly opened second boutique in Soussi, Apia is your one-stop-shop for lovely gifts. The shops have everything from jams, olive oils, and honey to anything and everything cosmetic.
They even have jars of preserved lemons for making tagines at 25 dh a pot. We absolutely love their clay facial mask with rose water in particular. Prices are reasonable for the quality products that Apia offers. Gift wrapping available. Parking at Apia Agdal is a bit complicated, but Apia Soussi has parking in front along the road. A perfect spot also to take your visitors who want treats to take home!
Musée Mohammed VI d'Art Moderne et Contemporain
This gem of a museum, built in 2014, is located downtown in Hassan, in a beautifully constructed pristine white structure; inspired by unique Moroccan architecture. The museum has a relaxed feel and the exhibits are lovely; the current temporary exhibit of Impressionist Art, in collaboration with the famed Musée D'Orsay, Paris, is a must-see and runs through August 31, 2019.
The pleasant museum café is also a nice respite from the hustle and bustle of the busy Hassan neighborhood. Don't miss the newly painted Jidar Street Festival 'Toiles De Rue' two murals on the outside walls of the museum, just finished in April of this year.
10 am-6 pm, closed Tuesdays, entry 10-40 dh
Unique Things to Do in Rabat
Tour Hassan + Mohammed V Mausoleum
At the time in the 12th century, the 'Tour Hassan' Or 'Tower of Hassan' was intended to be finished as the tallest minaret and mosque in the world, ordered by the Great Sultan of Mansour. Unfortunately, the Sultan died suddenly in 1199 and all construction was immediately halted.
The two structures remain the most popular sites for visiting tourists in Rabat. Guarded by elaborately dressed guards on horses, the spectacular minaret on one side is a beautiful, peaceful spot for a quiet picnic or a tranquil meditation. Across the open space is the mausoleum; built after the death of Mohammed V in 1961. The building is a magnificent homage to the 17th century Alaouite Dynasty architecture.
This is a treat for Westerns as typically, holy sites are closed to non-Muslims. However, the mausoleum welcomes all visitors inside and even into the small mosque next door, except on Fridays from 12-2 pm when the mosque is closed for midday prayers. Free entry to sites. Do bring your sunblock, sunglasses and a hat, though, as there is very little shade in the area between the tower and the mausoleum.
Chellah
Nestled overlooking the lush Bou Regreg River on the Rabat city side is Chellah, an incredibly picturesque fort that dates back to the Phoenician times in the third century B.C. The Romans came next around 40 CE and finally the Arabs in the 12th century.
The site has impressive columns and marble statues, albeit some of them in ruins, from the Roman era as well as all three empires. It is also the best spot for spotting the famous storks that nest above the tallest structures and trees and migrate to Morocco in the winter. Be sure to listen for their famous 'clapping noise'! Chellah is an ideal spot for a picnic on the grass and a stroll amongst history.
And it's also fabulous for all of the photo opps; including the lovely (shaded) Andalucian-inspired garden. Grab an English-speaking guide (you will have to haggle) for 100-150 dh; they hang out at the front entrance. Chellah is also the site of many music and cultural concerts and presentations throughout the year, including the famed International Chellah Jazz Festival every September. Bring sunblock as the ruins have little shade. Entry fee is 70 dh.
Jidar 'Toiles De Rue' Street Art Festival
Following the global street mural phenomenon, this unique festival, (which name means 'canvas of the street') takes place yearly for about 10 days during the month of April. Driving or walking around Rabat, you will see massive murals from the past few years on display; an eclectic, colorful showcase of modern and contemporary art.
The artists come from all over the world and this past April, the youngest was a Moroccan artist of just 23 years old. During the festival itself, the organizers create a map with a circuit of all the current murals being painted and you can drive around the city and meet the artists while they are painting. It's a fabulous initiative for kids to be inspired by the art that they see on the buildings and structures daily. It's also the perfect change from the normal boring concrete buildings that are often found in major cities around the world, and particularly in more disadvantaged neighborhoods.
MegaMall
Grab a bite to eat at MegaMall and then lace up your skates as the mall has a decent ice skating rink that is popular with families and kids. And if your children aren't tired after a round on the ice, there is a 'fun park' as well as a children's play area for additional energetic little ones. The mall also has a bowling alley, a food court, and of course, shopping. Although it's not as big as the Morocco Mall in Casablanca, MegaMall certainly has its charm. We do recommend that you book earlier in the day for ice skating as well as bowling as both venues can get very busy in the afternoons and evenings.
Agdal Train Station
This might seem like an odd spot to highlight but the newly open Rabat Agdal train station is truly a sight to see. A massive, three-level state of the art structure with a bevy of food and shopping choices, this beautiful station is also where you can grab the equally-new TGV or 'train à grande vitesse' (bullet train) either south to Casablanca or north to Tangier. And for those who need a taste of America, there is a McDonald's and a Starbucks.
Kids will love the MiniSo Shop; a trendy Japanese boutique filled with quirky merchandise. There is even a Léonidas Belgian chocolate stand. FYI-there are two train stations in Rabat: Agdal and Centre Ville; so be sure to go to the right one.
Where To Eat in Rabat
Le Dhow Restaurant
This ideal spot, designed in the form of a traditional dhow boat, is located just in front of the medina on the Bou ReGreg River, adjacent to the Atlantic Bay. The menu has choices of European, Moroccan and Mediterranean cuisine. Enjoy the lovely view of the port and water beyond with a glass of wine or beer.
El Tropic/Bee On 6th
If you are passing through Rabat, do save time for lunch at one of the city's best spots; El Tropic. ET is owned by the fabulous Pepe, who is also the owner of the long-established Spanish tapas restaurant and bar, Sa Caleta. ET has a lovely little outside seating area as well as a charming interior.
Pepe uses locally sourced produce and his menu is top-notch; from the choices of foods to the flavors and presentation of his dishes. The 'Budda Bowls' are delightfully delicious and colorful and kids will love the pancakes with caramel sauce + bananas. There is a nice selection of eggs for breakfast, making El Tropic a fab spot for Sunday brunch. We love their homemade carrot cake with a generous helping of cream cheese icing. Prices are also very reasonable. Do try their famous juices and smoothies as well! Above El Tropic is Bee On 6th Concept Store; a hot spot for trendy, quirky gifts with a Moroccan flair.
Ty Pots
Ty Pots is the perfect location for a sunny lunch in their adorable little garden amidst the buzzing neighborhood of Hassan, downtown Rabat. Their salads and toasty sandwiches are delicious.
Ty Pots also has an amazing deli with fresh cheeses, meats, and sausages from Europe; a bit pricey but just in case you want to splurge for a special occasion. The staff is lovely as well; the only downside is the parking as Hassan is such a busy area. There are plenty of little side streets around the restaurant, however, so be patient and you will likely find a spot. And here's a bonus-yummy Sunday brunch!
Sa Caleta
A well-known Spanish tapas + bar in Rabat, Sa Caleta is the place to go if you are seeking deliciously unique Spanish fare. Take our advice and try the beef with figs and blue cheese (it comes with a small serving of delicious fries). Servings are small (tapas-sized) and the full bar is well stocked with Spanish wines. The only downside to Sa Caleta is the fact that it can get quite smoky; so we advise you to go for lunch or dinner right when they open. Sa Caleta also caters events.
Il Giardino
Next door to the Italian Cultural Center of Rabat, you will find the delightful Il Giardino Restaurant, owned by the charming Giovanni Insolda. His son, co-owner of Il Giardino is Chef Guiseppe, creating authentically Italian dishes in a warm atmosphere. The friendly staff is part of the charm of the restaurant. Giovanni and Guiseppe have a fabulous range of Italian fare as well as Italian + Moroccan wines.
The pizzas are delicious and do not miss out on trying the eggplant starter, 'aubergine' with homemade tomato sauce + melted mozzarella, as well as the burrata; a melt-in-your-mouth mozzarella-style cheese with tomatoes. The restaurant is quite small, however, there is a quaint garden in front of the enclosed part of the restaurant where you can sit when it's warm outside.
Brush up on your French, Moroccan Arabic (Darija) or Italian, though, as the welcoming staff speaks only a smattering of English. In our opinion, though, Italian food appreciation is universal and it's very much worth the effort!
Greenwich Deli + Kitchen
This quaint spot is Rabat's newest addition to the café circuit and it's a really nice one. Owned (and also decorated) by the lovely Ghita, whose mission is to bring New York-style bagels to Rabat. The café is delightfully bright and welcoming and the weekend menu is perfect for families. Ghita also focuses on vegetarian options, bringing fresh, unique dishes to her menu.
Where to Stay in Rabat
When you plan to visit, know there are many options for where to stay. As Rabat is the capital of the country many hotels appeal to business travelers – and this will be reflected in their rates. Smaller hotels and riads are also available and may prove to be a more affordable and authentic way to experience the city.
This is our preferred place to stay in Rabat-Sale. The riad is actually in the medina of Sale but with access to taxi's and the tram that goes to Rabat. From the moment we walked in we felt like family and were treated as such for our entire stay. Each room of the riad has a different theme. I also loved that their dinner menu (available at an extra charge) was completely vegetarian – what a nice change! You can request something special ahead of time as well. Breakfast was MORE than filling and they went out of their way to accommodate MarocBaba's celiac needs. Look to book here first, and then consider other options if they're full.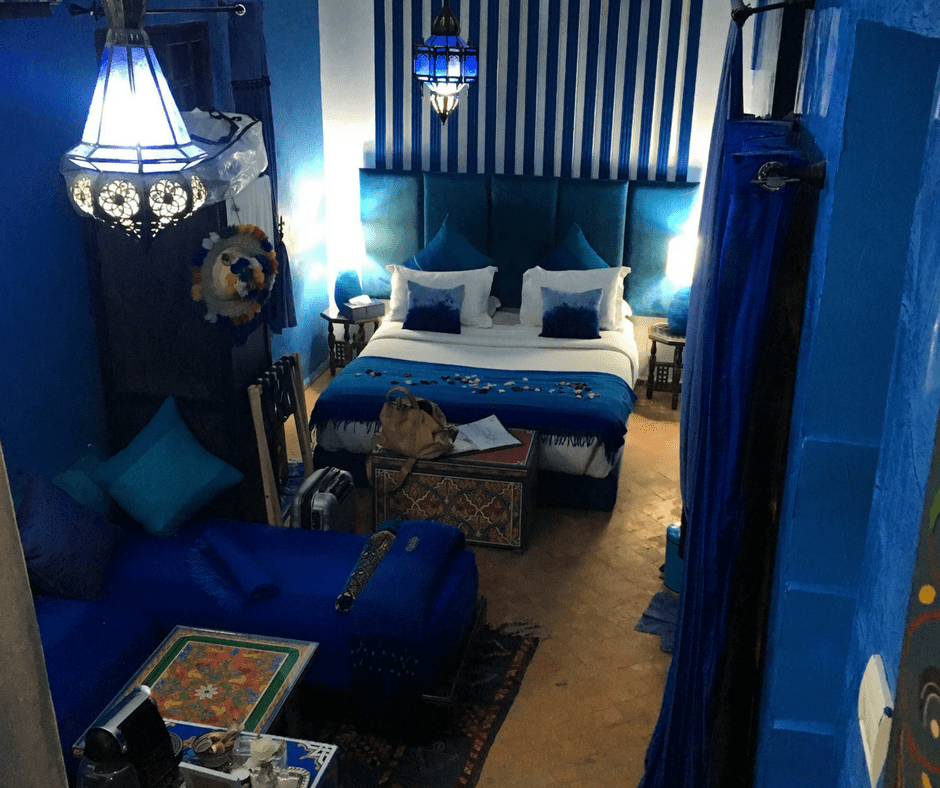 As far as hotels in Rabat go, this is one of the nicest – and most expensive. But, if you're seeking a luxury stay then you can't go wrong with this. Near the Royal Palace with more than 17 acres of gardens and 3000 roses the wafting scent of roses will make your stay all that more sweet. You'll be within a short distance of Rabat's major attractions or spend your day lounging by the pool.
No roses here, instead Villa Mandarine is surrounded by an orange grove. There are only 31 rooms and 5 suites creating a mix between a riad and boutique hotel. All rooms have their own terrace and all bungalows have their own private gardens so you can have as much or as little contact with other guests as you would like. They also have an excellent restaurant mixing Moroccan ingredients and flavor with French and Mediterranean influences.
Yam al Sham
If you're in Rabat just make yourself a reservation here first thing. The later you show up the less chance you'll have of getting in, and you'll more than likely have a wait for a seat. Not only is it very popular, the food is exceptional. This isn't Moroccan and you won't find a tajine on the menu – it's Syrian and very authentic. There's really nothing bad you can order but make sure to start off the meal with the mezze, get a mint lemonade, and save room for some of the pastries for dessert.
Le Dhow
This restaurant may not have the very best food but it's a unique experience to eat on the boat. If you don't end up eating here, you can easily just come for a drink or dessert on the ship.
Cosmopolitan
For very French cuisine in a nice atmosphere head here. There are several fish and seafood dishes on the menu. The price is on the higher end so be aware. Reservations are a good idea. Also open for lunch.
Sa Caleta
For something a little different try this spot for tapas and Spanish Basque cuisine. The one negative is that they do allow smoking inside so if this is something that bothers you avoid. You should have a reservation ahead especially on the weekends.
Al Marsa
If you're looking for local seafood this is a good place to start. It's on the water and the views add to the meal. Don't however expect five star refined dishes, instead expect Moroccan dishes. There are non-seafood dishes and the restaurant also serves wine.
Restaurant el Bahia
This spot is recommended by one of my good friends that lives in Rabat. She says this medina spot looks like a coffee shop on the outside but inside you'll find a great, local menu. Order the grilled kabobs and briouats.
There you have it! I hope that this information helps you plan your visit to include Rabat when you're in Morocco!
Want to know more about Morocco's Pirate Past? Here are a few books that tell the story of this period.