What is the capital of Morocco? Many people believe it's Casablanca but in fact Rabat is the capital. In 1912 with the beginning of the French protectorate of Morocco the capital was moved from Fez to Rabat. In 1956 when independence was regained it was decided that the capital would stay put. Rabat isn't on the tourist radar but there are many reasons to include it on your list. We recently went to explore the best of Rabat to help you plan your visit!
Getting to Rabat | Getting Around Rabat
Getting to Rabat
Morocco's major airport is in Casablanca however there is a Rabat airport. Most flights that arrive here are either domestic or limited flights from Europe. Chances are you'll arrive in Rabat from a land entry; train, bus, or car. Which you choose may depend on your budget and how you plan to travel in Morocco.
To get from Rabat to Casablanca (or vice versa) the easiest option is likely the train. There are three train stations in Casablanca that can be your starting point to reach Rabat. Casa Oasis, Casa Voyageur, and Casa Port. Casa Oasis is the first train station arrival point if you're taking the train from Casablanca airport to the city. From here you would change trains, reaching Casa Voyageur as the second station and onward to Rabat. You will want to buy a ticket that takes you to Rabat Ville, the main train station in Rabat. If you are departing from the city of Casablanca head to Casa Port station where there are regular commuter trains to Rabat leaving twice an hour. (Find full time tables on the ONCF website).
You can reach Rabat from other cities as well. Simply check the timetable and purchase your ticket to the appropriate station.
A second option to reach Rabat is to use the bus system. I recommend Supratours buses as they are reliable, comfortable and have few mechanical issues. Not all cities will have buses to Rabat, as they try to reach places where there is limited train service to give another option. You may need to use the public bus system. These buses depart from the main depot in each city. The schedules can be erratic, and buses overcrowded, however they are very inexpensive.
A third option to reach Rabat is by car. You can buy a seat in a shared grand taxi or you can hire a driver to take you privately. If you would like to navigate the taxi system, take a read of this post on getting around Morocco. Private drivers can be arranged through your accommodation. The usually have direct contact with drivers or taxis that can be hired to take you to your destination. This is often the fastest way to travel however it is also the most expensive.
Getting Around Rabat
The Rabat tram (Rabat-Sale tramway) makes getting around the city very easy now. The system is not only well maintained, used by a lot of people, but also clean and will get you to almost all the major attractions. There are ticket kiosks at most stops with attendants who speak some level of English and can help. Tickets are reloadable and are 6dh.
There are only two lines; Line 1 and Line 2 making it easy to navigate. Service runs every 20 minutes.
If you're staying in nearby Sale, on the other side of the Bou Regreg river or just want to visit you can also take a dhow boat. Before the bridges this was the way to get across. The ride is fairly quick and costs 2.5dh each way. Even if it's more of an adventure than a transportation option you can pretend you're a pirate for a little while!
Rabat and Sale are two different cities, however over time they have almost become one. Sale lies on the right bank of the Bou Regreg river while Rabat is on the left. Sale was an independent republic and home to the famous Sale Rovers (pirates) until the 17th century when it became part of Morocco. This side of the river is often overlooked and while they may be two different cities, they are historically and now geographically linked.
What to do in Rabat
If you've decided to visit Rabat then you're probably wondering what is there to see and do . I wondered the same thing but after our long visit, I realized we hadn't spent enough time to see it all! I've chosen just twelve must see Rabat attractions here to consider but there are many others that I had to leave off for space!
Hassan Tower
The first time Rabat became the capital of Morocco was in the 12th century. Then ruler Yaqub al-Mansour undertook a project to build what would be the largest mosque in the entire world. However, he died before the building was completed and work was abandoned. In 2012 these ruins were granted UNESCO world heritage status. Visitors can easily walk around them today. Nearby is the tomb of Mohamed V, Morocco's first post-independence king. Hassan II and his brother Prince Abdallah are also entombed here. It is possible to to visit the interior of the mausoleum. Visitors are reminded this is a tomb and solemn place.
The Chellah, Rabat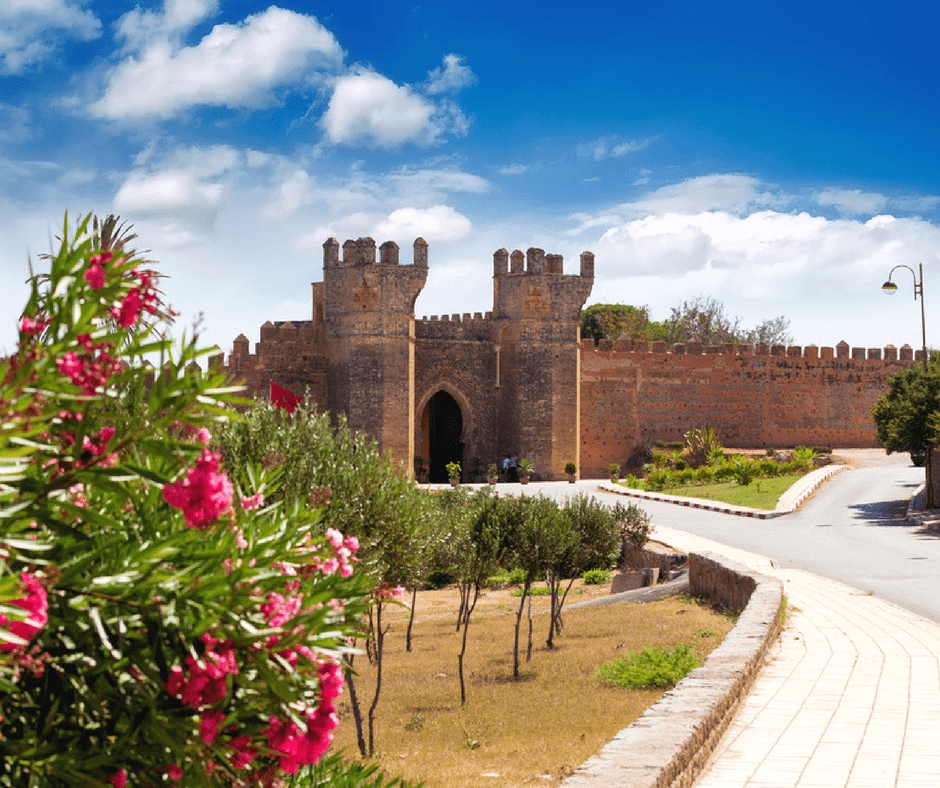 Outside the city center you will find the Chellah and it is here that early explorers made their base in Morocco. The Phoenicians and Romans were here and the ruins tell this story. Later the Berber rulers the Almohads used the complex as a royal burial ground. A mosque was later added as well as other architectural details of the middle ages. In 1755, the earthquake that shook Lisbon made its impact here as well causing a lot of damage. Today, it's very easy to visit the ruins and walk around. Every year the Chellah Jazz Festival is held in the ruins which make for a really unique concert event.
Medina of Rabat
The medina and kasbah of Rabat are two different areas but connected. While much of Rabat is extremely modern, home to embassies and important government business, the medina still has reminders of a different kind of life. The medina here isn't like the medinas of Marrakech or Fez, it's much smaller and you'll likely see very few tourists. One special item to consider seeking out is a Rabati rug. The most typical style is a red rug, with a rectangle pattern. The red is inlaid in the middle with a geometric design. There is also a border of another color(s). These rugs look much more like a Turkish or Persian rug than the more abstract rugs of the mountain tribes. My guide to rug buying in Marrakech, while a different city, may prove useful.
Kasbah of the Udayas
You've likely heard of Morocco's famous blue city at this point (if you haven't you can in this post), but did you know Rabat has it's own mini-blue city? The kasbah of the Udayas was built in the 11th century and has been consistently inhabited since then. Wander the streets or sit in one of the cafes on the edge of the walls and watch the ocean stretch out in front of you. You'll also find Kasbah Mosque (interior access not permitted to non-Muslims), the Andalusian Gardens, and Oudaias Museum in this area all worth a peek.
Complexe des Oulja
This might not be for everyone but for art lovers or anyone that is seeking out authentic craftsmanship you must visit. This was originally just potters however now there are many different types of workshops in the complex – and it is big! You'll need a car (taxi) to reach this point even though it's not far from Rabat and make sure the taxi waits for you because it's very hard to find any going back.
Rabat Beaches
Yes, Rabat is on the Atlantic Ocean and it does have beaches! Temara and Skirat are two popular beach spots. If you're a surfer and want waves that are a bit more of a challenge Plage des Nations is the place to go. Don't expect spotless white sand beaches and know that most Moroccans wouldn't think of touching the water until the warmer months of summer. This is also when the beaches are more well kept and maintained.
I have had visiting this museum on my list since the museum opened and was only a little apprehensive as other museums in Morocco are a bit of a let down. Not here. I would say visiting here is a must because it puts a completely different light on Morocco and Moroccan art. The building itself is beautiful and the entire exhibit on par with art museums in the rest of the world. The one downside is that the placards are all in Arabic or French so it may be difficult to get the background of the pieces. They also have rotating visiting exhibits that have include Picasso and Goya most recently.
National Zoo of Morocco – Rabat
If visiting with children you may want to visit the Rabat zoo. It isn't as fancy or as well put together as larger zoos throughout the world but it will give you the chance to see animals native to Morocco and the greater African continent.
Great Mosque of Sale
This impressive mosque was built in the 12th century and is the third-largest in Morocco. It has been destroyed and rebuilt many times since its original construction. One of the most recent times was in 1851 when Sale was bombarded by French forces causing great damage to the mosque. Not only was and is it a religious monument but it was a gathering point for the Moroccan nationalist movement in the 1930's in their plans to remove the French protectorate from power. Non-Muslim visitors are not permitted interior access but can view it externally.
Sale Medina
This medina isn't as fancy as Marrakech or even Rabat but it's a very authentic medina experience. This is a medina of the working class, it's not glossed up for tourists and most people you'll see are those going about their daily chores. If you do want to do some shopping you'll find prices in Sale more reasonable than most cities, even nearby Rabat.
The Pirate Slave Prison
I had no idea this even existed until our hosts at Repose Riad pointed it out on a map of Sale. On Avenue Sidi Ben Achir against the city walls are the remains. Rumor is that they are currently undergoing renovations and it's a bit of a needle in a haystack to find. There is a guardian who will give you a tour if you catch him nearby for about 20 dirham.
The Mawazine Festival
Every year the government of Morocco hosts Mawazine, a giant music festival bringing some of the biggest names in national and international music to Rabat to preform. Millions of people attend and it is one of the largest music festivals in the world. Mariah Carey, Whitney Houston, Kanye West, and Jennifer Lopez are just a few of the major names that have appeared on Mawazine stages. There are both free and ticketed concerts; the hope in doing this is to provide entertainment to those of all economic backgrounds especially those who wouldn't be able to afford normal high-priced tickets to such events.
Where to Stay in Rabat
When you plan to visit, know there are many options for where to stay. As Rabat is the capital of the country many hotels appeal to business travelers – and this will be reflected in their rates. Smaller hotels and riads are also available and may prove to be a more affordable and authentic way to experience the city.
This is our preferred place to stay in Rabat-Sale. The riad is actually in the medina of Sale but with access to taxi's and the tram that goes to Rabat. From the moment we walked in we felt like family and were treated as such for our entire stay. Each room of the riad has a different theme. I also loved that their dinner menu (available at an extra charge) was completely vegetarian – what a nice change! You can request something special ahead of time as well. Breakfast was MORE than filling and they went out of their way to accommodate MarocBaba's celiac needs. Look to book here first, and then consider other options if they're full.
As far as hotels in Rabat go, this is one of the nicest – and most expensive. But, if you're seeking a luxury stay then you can't go wrong with this. Near the Royal Palace with more than 17 acres of gardens and 3000 roses the wafting scent of roses will make your stay all that more sweet. You'll be within a short distance of Rabat's major attractions or spend your day lounging by the pool.
No roses here, instead Villa Mandarine is surrounded by an orange grove. There are only 31 rooms and 5 suites creating a mix between a riad and boutique hotel. All rooms have their own terrace and all bungalows have their own private gardens so you can have as much or as little contact with other guests as you would like. They also have an excellent restaurant mixing Moroccan ingredients and flavor with French and Mediterranean influences.
Yam al Sham
If you're in Rabat just make yourself a reservation here first thing. The later you show up the less chance you'll have of getting in, and you'll more than likely have a wait for a seat. Not only is it very popular, the food is exceptional. This isn't Moroccan and you won't find a tajine on the menu – it's Syrian and very authentic. There's really nothing bad you can order but make sure to start off the meal with the mezze, get a mint lemonade, and save room for some of the pastries for dessert.
Le Dhow
This restaurant may not have the very best food but it's a unique experience to eat on the boat. If you don't end up eating here, you can easily just come for a drink or dessert on the ship.
Cosmopolitan
For very French cuisine in a nice atmosphere head here. There are several fish and seafood dishes on the menu. The price is on the higher end so be aware. Reservations are a good idea. Also open for lunch.
Sa Caleta
For something a little different try this spot for tapas and Spanish Basque cuisine. The one negative is that they do allow smoking inside so if this is something that bothers you avoid. You should have a reservation ahead especially on the weekends.
Al Marsa
If you're looking for local seafood this is a good place to start. It's on the water and the views add to the meal. Don't however expect five star refined dishes, instead expect Moroccan dishes. There are non-seafood dishes and the restaurant also serves wine.
Restaurant el Bahia
This spot is recommended by one of my good friends that lives in Rabat. She says this medina spot looks like a coffee shop on the outside but inside you'll find a great, local menu. Order the grilled kabobs and briouats.
There you have it! I hope that this information helps you plan your visit to include Rabat when you're in Morocco!
Want to know more about Morocco's Pirate Past? Here are a few books that tell the story of this period.
Be a part of the MarocMama family!
Do you want access to all things MarocMama? Join our community of readers to get updates on new posts, inside information that won't go on the blog and so much more!
Sound good? Pop your email below and you're in!