So many travelers have a Sahara desert tour on their Morocco wish list. But, quickly the questions start to pop up.
Planning your Morocco Sahara desert tour it can be somewhat daunting. How do you know where to begin when every tour claims its one of the best Morocco desert tours?
If you're in the early stages of planning your Morocco desert adventures and wondering how best to arrange your Morocco desert travel, then you're going to find this Sahara Desert vacation guide very helpful. In this article I'm going to cover off on all the essentials that you need to know about Morocco desert trips including:
The best place to start your Sahara Desert Morocco tour;
Where in the Sahara to visit;
What is the best time of year to join one of the Sahara tours;
How many days to spend on your Sahara trip;
What to expect in terms of Morocco desert tour prices and what to expect at different price points;
What to pack for your Morocco desert vacation; and lastly
Some tips on Sahara tours and travels with kids.
Hopefully after reading this guide which covers everything there is to know about the Sahara Desert tours Morocco offers, you'll be in a much better position to book one of the best Morocco desert excursions that's just perfect for you.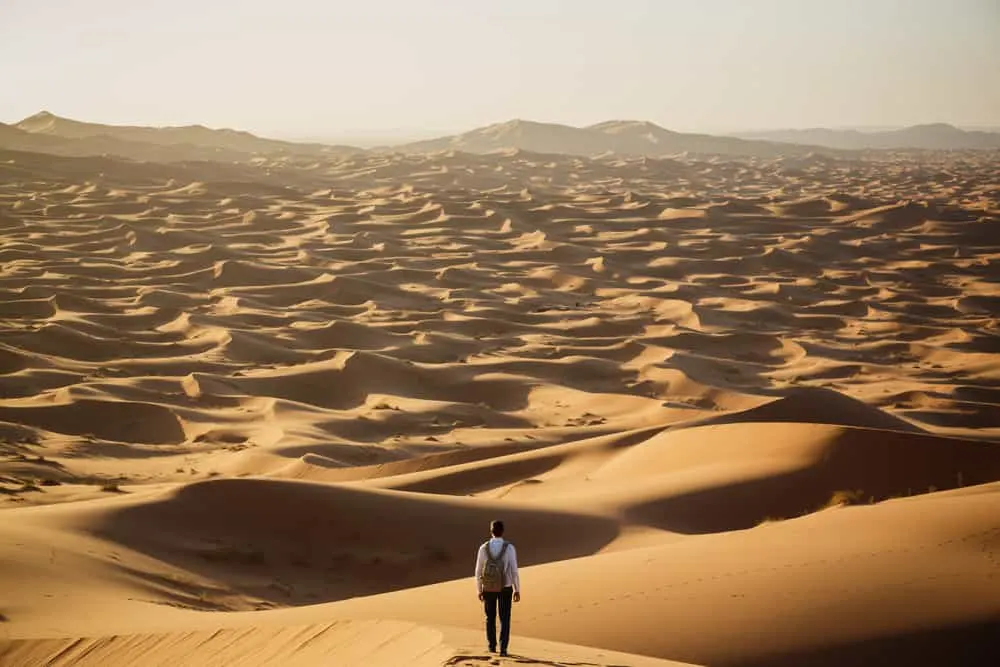 Morocco Desert Tours: Where to Start and Where to go?
One of the first things you need to decide for your Sahara Desert travel is which area of the Sahara will you visit and where will you commence your trip to Sahara.
There are two main deserts which tourists visit in Morocco for their Sahara Desert holiday – either the Merzouga Desert or the Zagora Desert and usually tourists commence their tour from either Marrakech or Fez. We will discuss both these points further below.
Sahara Desert near Merzouga
Merzouga tours are the most popular Sahara tours, with Merzouga being located close to the popular Erg Chebbi sand dunes. The dunes at Erg Chebbi are taller and richer in color then the dunes found near Zagora making them a much more sought after destination.
Perhaps the biggest advantage of Merzouga desert tours, are that the town is right on the edge of the impressive Erg Chebbi sand dunes. Moreover, the town is full of modern hotels and you can easily reach the sand dunes with a short 30 minute camel ride. This makes a Merzouga desert trip relatively easy and convenient and ideal for people short on time or not wanting to get too far off the beaten track.
However, it's closeness to the sand dunes, can also be its down fall. Being more popular, it tends to be more expensive and it certainly can get busy with lots of tourists.
Merzouga is located around 9 hours drive from Marrakech or 7 hours' drive from Fez. If you are joining one of the Marrakech desert tours, you will need to allow at least two nights and three days as you will stop overnight on the way there.
Zagora
Zagora is located in the southern part of Morocco and is located close to the Erg Chigaga sand dunes. These sand dunes are located some 60 km from the nearest road and so the trek to see them takes quite a lot longer then to see the sand dunes from Merzouga.
To reach Zagora, you must first reach the small town of M'hamid. From here it's a rather long trek through rugged desert terrain before arriving at the Erg Chigaga sand dunes.
It's also important to note that the Zagora desert is not the orange like desert you might imagine – this is a stone desert, which has a more moon like appearance. So for this reason (as well as taking longer to reach) it does tend to be less popular than Merzouga and tends to be for the budget traveller or for those that prefer to get off the beaten track.
Zagora is located around 6 hours drive from Marrakech or 9.5 hours' drive from Fez (without stops).
Where to Commence?
The most popular location to commence Sahara Desert trips is from Marrakech. Mainly this is because Marrakech is the capital of Morocco and where many people commence their trip. However, you can visit Sahara Desert from Fes. Just note that given the Marrakech Desert trips are more popular, there are many more options from here.
A very popular route is to do a Marrakech to Fes desert tour. So start your trip in Marrakech and after your Sahara desert safari move onto Fez – or vica versa.
How Many Days to Allow for a Morocco Sahara Tour?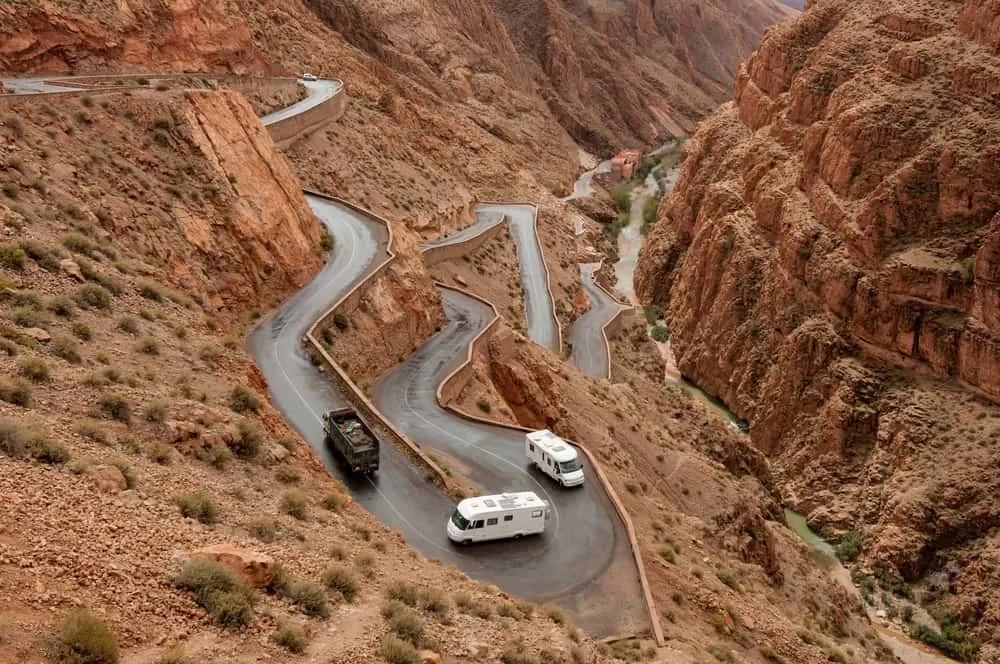 Given the huge amount of driving required to visit either Merzouga or Zagora and regardless of whether you visit from Marrakech or Fez, expect a very full day of driving there and back. For this reason, it's not possible to do a Fez or Marrakech desert day trip.
At a bare minimum you can do overnight Sahara trips from Marrakech or Fez, but for a Sahara Desert camp trip to be worthwhile you really need to allow two to three nights. Even doing a two or three night Sahara camping trip, a good portion of your tour will still just be driving.
If you're starting your Sahara Desert experience in Marrakech and only have the one night available, your best bet is to visit the closer Zagora Desert. If however you have two or three nights you can easily visit the stunning orange sand dunes of the Merzouga Desert.
If you do book a 2 or 3 night tour, just double check that at least two of the nights are in fact spent in the desert. Some of the more budget tours will spend just the one night in the desert, whilst any additional nights will be spent in a hotel. Staying two to three nights in the desert you will be able to explore the desert at a much more relaxed pace and participate in various activities such as visiting local tribes, sand boarding, camel trekking and just relaxing among the stunning sand dunes.
Visiting the Agafay Desert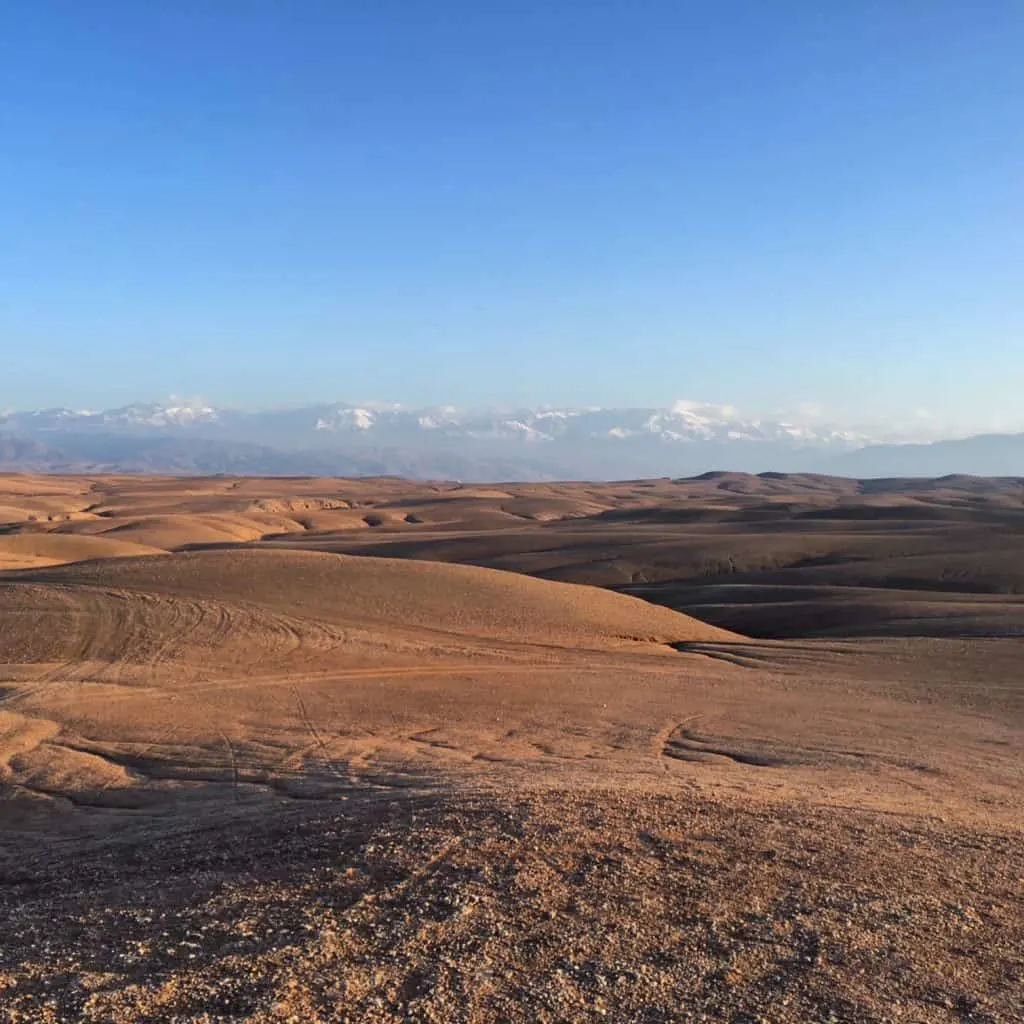 For those short on time, Marrakech day excursions to the Agafay Desert is a good alternative. The Agafay Desert is located 40km southwest of Marrakesh and has a rough dry moon like landscape.
You won't find the amazing sand dunes like you do in Merzouga or Zagora, on this Marrakech day trip to the desert you'll still get the opportunity to ride a camel across the desert – I just want to reiterate however that the Agafay Desert is not the Sahara Desert.
The Agafay Desert is also a good option if you are visiting Morocco in the summer months. Many Morocco desert camp options close down for a month or two due to the extreme temperatures and risk involved with bringing people to the desert during these months.
So if you're planning a Sahara Morocco tour in summer, consider visiting an Agafay desert camp just outside Marrakech instead where it will still be hot but camps remain open.
Should I DIY or Book a Guided Sahara Trip?
It's entirely possible to take a DIY Sahara excursion. You can either hire a car and drive yourself to the sand dunes, or even take a bus. On arrival you can arrange all your own activities and do exactly what you like in the Sahara.
However, when it comes to camping in the Sahara, there are so many advantages with joining one of the desert Morocco tours, that it far outweighs doing it on your own. Here are some reasons you should book one of the Morocco Sahara Desert tours:
The best Morocco desert trips are all inclusive and include your transportation from either Marrakech or Fez, activities, lodging and generally most if not all meals;
There is less chance of getting lost;
On a guided desert Morocco tour, your guide will know all the best places to stop for those amazing photographs;
You will have less issues with any language barriers;
You can reasonably certain of your safety; and
Overall you have more chances of the entire trip going to plan.
What type of Sahara Desert Camp to Book – Budget, Mid-Range or Luxury?
Now you have an idea of where you'd like to visit on your desert safari in Morocco and how many days you have available, it's time to start working out whether you'd like to book a budget, mid-range or luxury tour.
But before booking any tour, ask the Morocco desert tour company the following questions:
What is included in the quoted Sahara desert tour price? What is not included?
Do you actually have tours during the time you'll be there and how hot is it? This is something you will want to know for summer months. Many operators do not provide services in the summer months. There is no air conditioning and it can easily reach between 100-110F during the day and mid 70's at night.
Where will you be stopping including the name of any hotels or riads?
If it is not one of the Morocco private desert tours, how many other people will be traveling together?
Are there any stops that have additional tours or tips that you should expect to pay?
What meals will be paid out of pocket and what's the average cost?
If you don't want to eat at the locations stopped for meals, are there other options?
What are the sleeping arrangements in the desert camp?
What is the full schedule of the tour, including stops, and times to arrive and leave the desert camp?
If you have any health issues, like a bad back (me!) ask if they have a back rest for the camel for added support.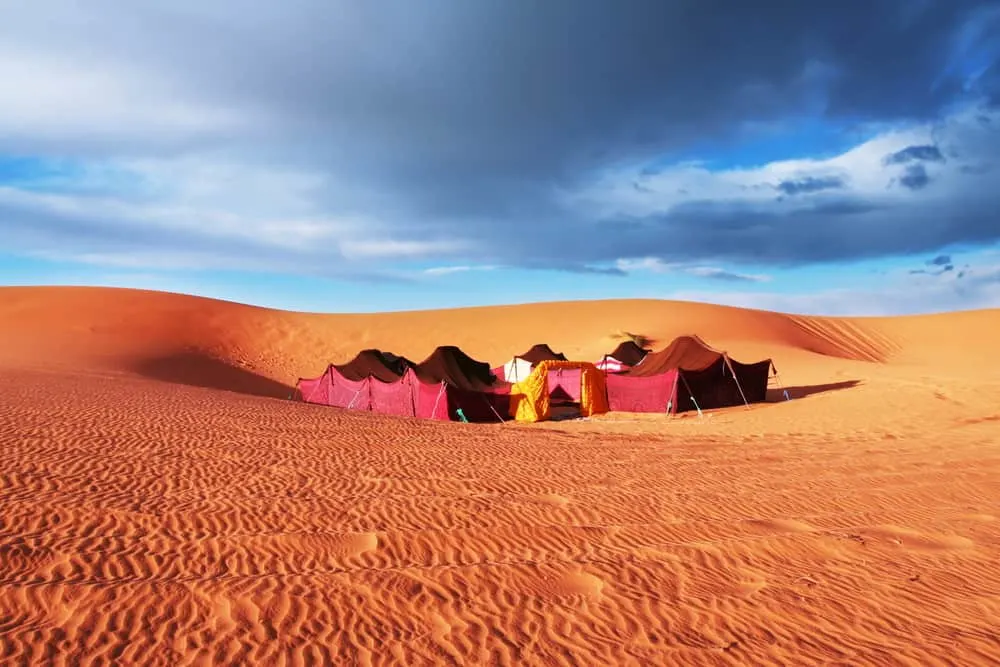 Budget
Just Google "budget Sahara Desert tours" and you will be inundated with terrible reviews from unhappy customers. Whilst many seemed to have been promised luxury and peaceful tents in the middle of stunning sand dunes, the reality is a sea of tents, poor facilities and a lot of disappointment.
That's not to say there aren't good budget tours out there, because I'm sure there are, it's just that quality budget tours don't appear to be the norm. Unfortunately, that's also my own personal experience as well.
Here are a few things you can expect on a budget tour:
Transportation;
Lodging;
Camel trek;
Often mediocre meals – at best – included in the desert, all other meals are paid at your own expense;
Lots of people on your tour;
No toilets – you are expected to relieve yourself on the sand or possibly in a very basic toilet;
No showers;
Uncomfortable bedding or possibly sleeping on the sand;
Communication / Language issues.
For some people, this is a non-issue. You might want to have a more rustic experience. That's awesome! However, if you're looking for a cheap desert trip but are expecting something more it's a long drive with no way out once you get there.
Mid-Range
A mid-range camp will have some of the amenities of a luxury camp but may have fewer frills like a budget camp. This option might also have private transportation vs. a shared ride. To determine if something is mid-range compare what is being offered to budget and luxury options.
Luxury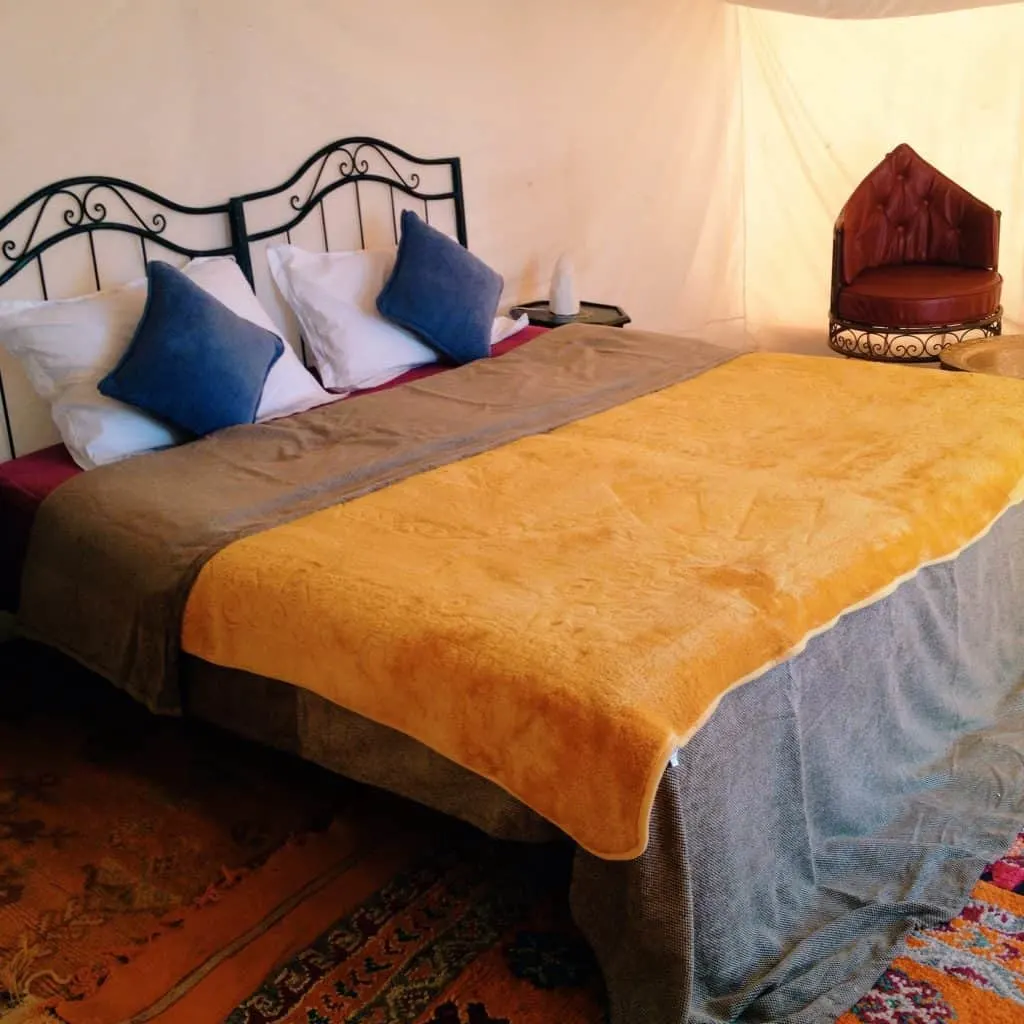 The luxury Sahara tours are so luxurious that you won't even realize you're camping!! In fact, the luxury tour I went on was so amazing that the bed was even more comfortable than my own bed at home!
Here are a few things you can expect on a luxury tour:
Camp sites and individual tents with running water;
Private bathrooms;
Tents with heating;
Large, comfortable beds;
Private sitting areas;
Delicious Moroccan meals
For more about luxury tours, you can read about my experience in this post.
Other Tips About Booking a Tour
My most important tip to you is to book your tour in advance before arriving in Morocco. While it's possible to book on arrival, by booking in advance you will have time to do your research and ensure you a booking with a well reputable tour group and know exactly what you can expect on your tour.
Too many times I have read reviews where people have been disappointed with their tour, this could easily have been avoided if they had done their research.
When you arrive in either Marrakech or Fez you will find numerous tour touts in the medina hustling tourists with their Morocco Sahara trips. If you have not already booked in advance you may well end up booking a tour that you know nothing about or being influenced to book a tour because it sounds relatively cheap.
The Sahara Desert trips Morocco offers are for many a once-in-a-lifetime opportunity, so it's very important that you are not disappointed. Believe me when it comes to a Sahara trip – you really do get what you paid for.
Morocco – Sahara Desert Tour: What time of the year to visit?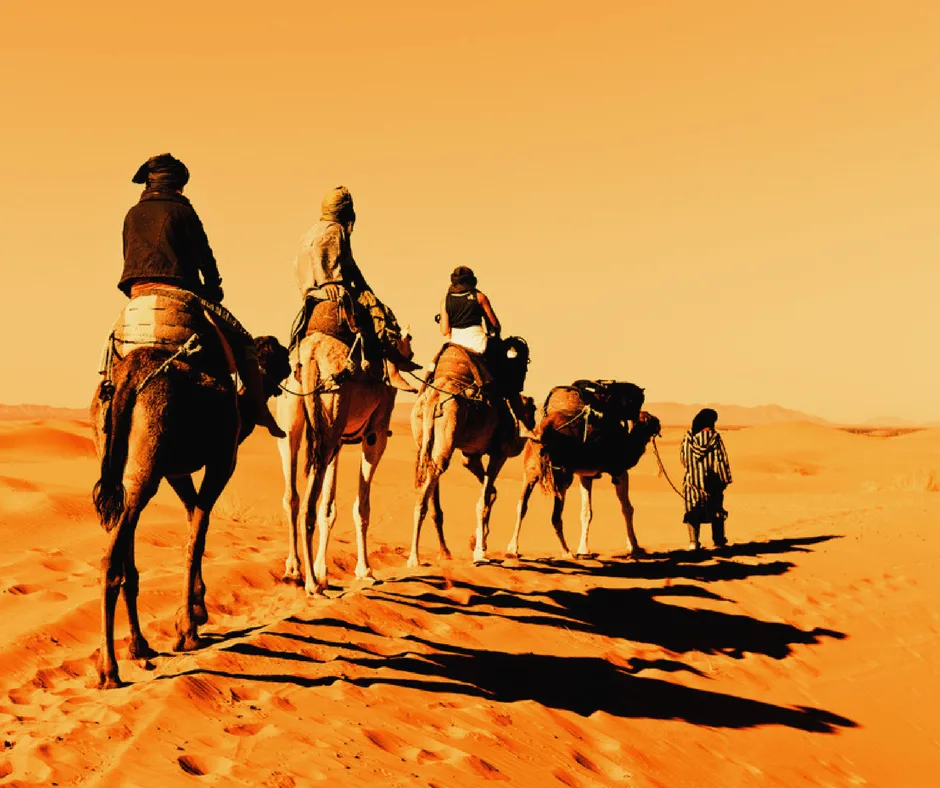 Like any destination, certain times of the year are more ideal than others when it comes to Sahara desert excursions.
Most would say that the best time of year for holidays in the Sahara desert is between April and October as the day and nighttime temperatures are milder.
If you choose to visit during the winter months (December to March), you may find the nighttime temperate below freezing, while during the summer months (June to September) the days can be unbearably hot.
It's also worth noting that many desert tours close during the summer months (specifically in August).
What should you pack for your Sahara desert trips?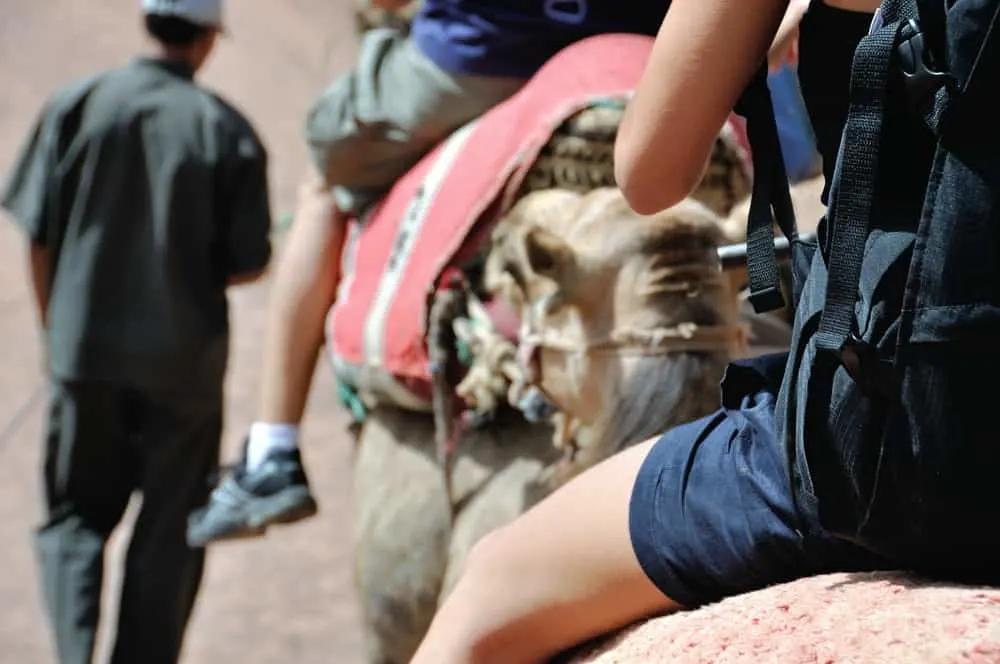 First up – leave your large suitcase or backpack behind. You're not going to be able to take a big bulky suitcase on your Sahara camel trek. Anything you do bring needs to be able to fit into a small backpack.
In order to appropriately pack for your Morocco Sahara desert trip, you will need to know a few things about the type of camp you'll be staying in. Before you begin packing, find out the following about your camp:
What are the sleeping arrangements? Will you have a bed with covers, or do you need to bring your own? Will you have a bed or will you be sleeping on the ground? Is there heat in the tents?
What are the bathroom facilities; this is important for you to know what clothes will make bathroom-ing easiest and if you need to bring toiletries.
What food(s) and drinks are provided, or will you need to bring your own both en route and at the camp?
Once you have the answers to the above questions, you'll be in a better position to pack appropriately. However, regardless of your camp type, the following items are things everyone should pack:
Loose fitting comfortable pants/trousers OR jeans ( for women | for men) to ensure your legs are protected from the camel;
Underwear that are briefs not a thong. If you are riding a camel, you DO NOT want to wear a thong.
A long scarf that you can wrap around your face to protect from sun/sand.
Sunglasses
A hat, again for the shade
Socks
Tennis shoes or hiking boots, not a good idea to wear sandals on the camels but you might want sandals for when you're at the camp.
Ibuprofen or paracetamol. If you've never ridden a camel you will discover your body may hurt the next day.
Your camera with a sand proof bag
A power bank to charge anything you may need to overnight as the camp may or may not have electricity
Any toiletries you may need
Visiting the Sahara in the Winter
As mentioned above it can get very cold at night in the Sahara during the winter months. So if you plan on visiting the Sahara in winter you'll also need to bring along the following items:
a pair of wool socks or extra insulated socks to sleep in at night
a heavier jacket for the evenings
a sweater or extra layer of clothing to wear
long underwear to wear in the evening
a shawl or wrap to cover with and double as a lap blanket if needed.
hand warmers (these are so good!)
Visiting the Sahara in the Spring/Fall
Spring is the most common time of year to experience sandstorms in the Sahara. This doesn't mean you shouldn't go. In fact seeing an actual sandstorm in person can be a really unique experience. But you should prepare for this possibility. In addition to the main list above some things you might consider include;
Visiting the Sahara in the Summer
You can wear short sleeve shirts in the summer but keep in mind the sun will be brutal on your skin and blowing sand can also take a toll. It is sometimes better to just opt for loose weight long sleeves (like this one for women or this one for men) to protect yourself. I would advise against wearing shorts camel trekking as it's just uncomfortable. In addition to the main list some things you might consider for a summer visit include;
Additional Items Required for a Budget Camp
Many low cost Sahara tours Morocco are very basic desert camps. You need to be a little more prepared in this case. Just showing up with a change of clothes may not be sufficient.
First, as mentioned above get as many details as possible about what is available both on the way to the Sahara as well as what you will experience at the camp. A few additional things you may need to bring include;
a sleeping bag or blankets. If the idea of shared blankets that haven't been washed in who knows how long puts you off, I'd bring my own sleeping bag. If you aren't traveling with one, buy a blanket OR choose a different camp.
toilet paper and hand sanitizer
flip flop sandals
plenty of bottled water and snacks. You can probably buy this on the road as well but make sure you have it before getting into the camp.
if you have any food allergies or simply eat a different diet you should come prepared with the things you will need.
Sahara with Kids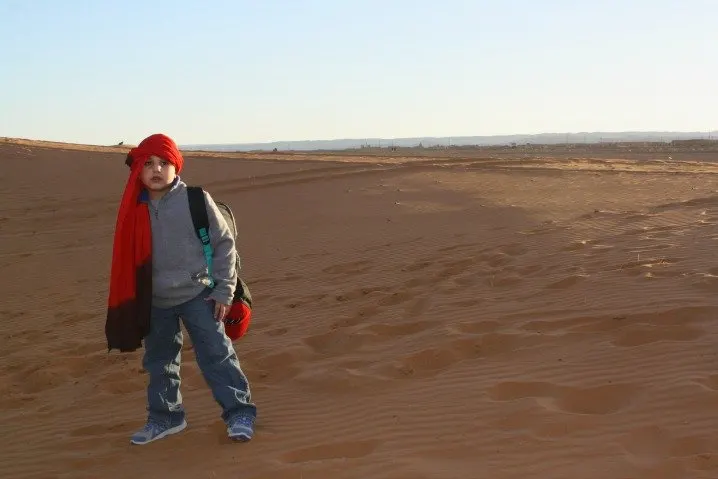 Many people often ask whether they should take their kids on a Sahara tour and at the end of the day only you know the answer as to whether your kids are up for it. Before booking a Sahara desert tour with your kids, consider the following:
Remember that you will be driving for extended periods of time. If your kids aren't used to spending hours in the car, consider booking a private tour that allows you to make quick stops any time your kids need it.
Will your kids be ok riding a camel alone? Or does the tour have the option for kids to ride with a parent?
Will your children eat traditional Moroccan food? If not bring sure to bring some other options for them.
Booking a Sahara Desert Tour
I've put together some of the options I recommend for booking. I have worked with many of these companies in the past. If you do decide to choose one of these options, please mention MarocMama where and when applicable. It helps people know where people find their information.
Marrakech to Fez via the Sahara Desert – 4 day tour with Gateway2Morocco
2 Day Trip Marrakech to Zagora via GetYourGuide – I don't usually recommend this short of a trip but if you have limited time and want to visit the Sahara here's your chance.
4 Day 4WD Sahara Desert Tour to Erg Chebbi via GetYourGuide – This tour is in a 4×4 instead of the larger mini buses that transport larger group trips.
Roaming Camels Morocco – To book a fully private experience to the Sahara or to include it on a longer trip (like our MarocMama custom 10 day or 12 day foodie tours of Morocco) we highly recommend this company!
Xaluca Erfoud – Not everyone has their heart set on sleeping in the sand dunes. There are several hotels that you can find near the dunes and in desert towns. This is one of them!