So you've booked a flight and have one week in Morocco. Where do you go and what do you see? If you need some Morocco itinerary ideas you're in the right spot.
Deciding where to go in the limited time you have can be the most difficult thing. The reality is one week isn't enough time to see the entire country. I know many travelers who try and pack multiple cities into a single week. They often leave grumpy, tired, and let down. Morocco is a big country and getting from point to point often takes much more time than the map lets on.
I put together three different one-week Morocco itineraries that you could easily do. Travel to Marrakech, the south of Morocco or Fez in the north to make the most of your time and have a good experience.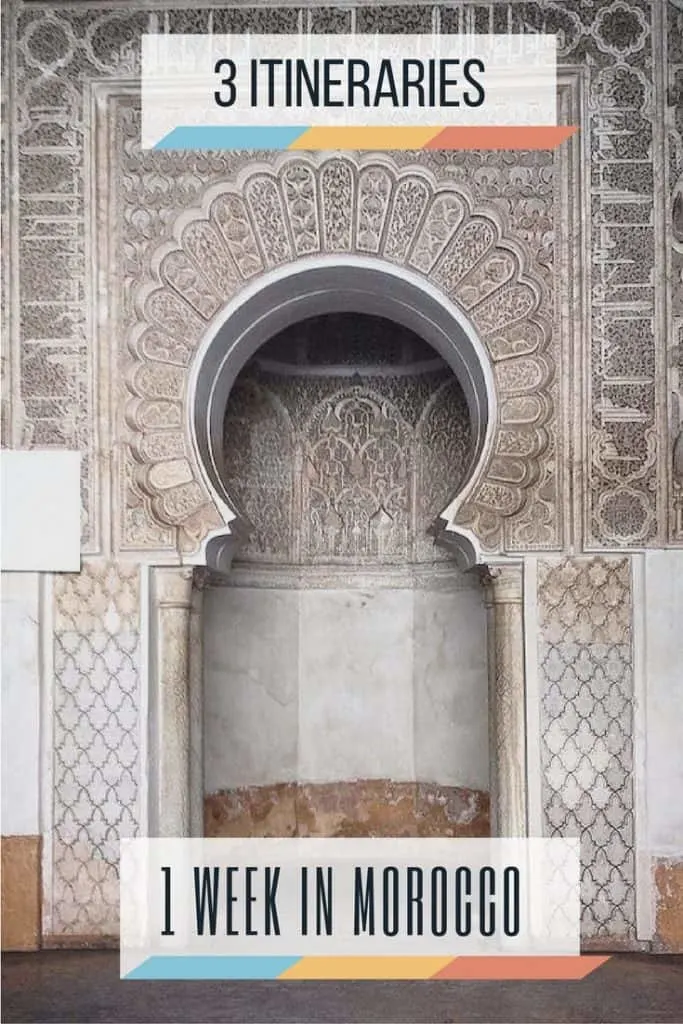 These 1 week in Morocco itineraries will give you enough time to explore without feeling exhausted and beaten down. If you've got a little more time there's a bonus idea at the end of each where you could add on some more time.
You also might want to take a peek at my post on Morocco for first time visitors before you go.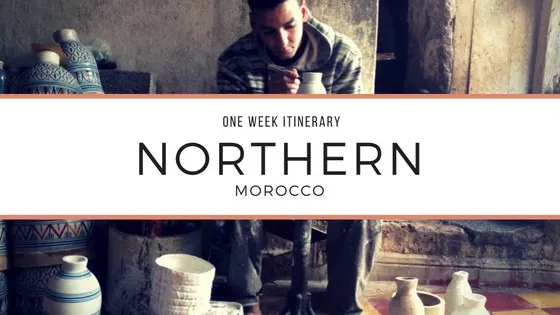 Morocco Itinerary One Week: The North
Arrival: Casablanca/Fez/Tangier
Fez has a small airport and you can get a flight from Europe directly to Fez or a connecting flight from Casablanca to Fez. Chances are you'll arrive in Casablanca as it's the largest airport in the country. From here getting to Fez is between a 3-4 hour drive depending on traffic.
Have dinner waiting at your riad/hotel for the first night to save you some hassle. If you have time on your first afternoon/evening get to know the immediate area near your accommodation. Try to go to sleep at the time you would at home (if you go to sleep at 10pm in New York, try to sleep by 10pm in Morocco – no later or earlier) this will help you stave off jet lag.
You could also adjust this itinerary for an arrival to Tangier via the ferry from Spain.
Day 2 Fez
With just one full day in the city, make the most of it. Book a guide to show you around the windy streets or spend the day by yourself getting lost! Either is fine depending on the type of traveler you are. A few places that you should try to include in your Fez stay;
The al Quaraouiyine Mosque. Unfortunately this is not open to non-Muslims. While they are not permitted entry to the mosque itself it is possible to view part of the interior from the entrance. This is mosque and university complex is the oldest university in the world. Recently the adjoining library was rehabilitated and visitors can enter the newly (it was built in the 7th century) refurbished library with an appointment.
The Ibn Danan Synagogue is another relic of Fez history that has been restored of late. This synagogue sits in the Jewish Quarter (also worth visiting) and is privately owned but open to the public – you may need to track down the guardian if no one is present.
When you're in the mellah area also visit the Jewish cemetery. If you're with a guide they can help add a lot of history and background to the area. Fez once had one of the largest Jewish populations in Morocco and were part of the original founders of the city. After 1492 and their expulsion from Spain many again chose to settle in Morocco.
The Tanneries. Yes, you've seen the pictures and you really should go see it, at least once. Bring some mint sprigs to stave off the smell! Most of the viewing platforms are in the back of leather shops and the owners likely will at least try to get you to purchase something. Feel free to browse if you'd like but don't feel bad not purchasing any leather goods from the shops if you're not interested.
Souk Seffarine – This is the metalworking area of the souk where you can see craftsmen making metal goods the same way they have for generations. It's a small area but really interesting to see the men working to make new pieces and repair old, worn and broken pieces that locals have brought to them.
R'cin – This is a neighborhood near the seffarine souk. You'll mostly find Moroccans in this area, but there are lots of food stalls and small shops selling all kinds of things. It's also a great lower vantage point to take pictures of the hillside of the Fez medina. If you're staying higher up in the medina you can easily catch a cab from here to take you back up instead of walking.
Nur – for dinner check out my friend Chef Najat Kaanache's new restaurant in the former Numero Seven building. You won't be let down!
Day 3 Fez – depart Chefchaouan in afternoon
Merinid Tombs – These mystery tombs are ruins overlooking the Fez medina. Someone was/is buried here but there's no records left to know who they were. There isn't a lot to see besides the ruins but they're completely open and you can even walk in them. From here you're also likely to see men drying skins on the side of the hill and you have a good vantage point of the medina and surrounding mountain ranges.
Jnan Sbil – This is a large park/garden in Fez. It's really nice if you want to do some early morning exercise or just get out of the city atmosphere for a little green space.
Bab Boujoloud – If you didn't see this on your tour of Fez yesterday and you're close by stop and see. It's considered an iconic landmark. Inside the door you can find several different restaurants. Many of them cater to tourists and are just ok.
Chefchaouan is a 3-4 hour drive from Fez depending on whether you have a private car and driver or will take a bus. a mid-afternoon departure should get you there with time to still have dinner.
Would you rather book a tour in Fez to see the sites? Here are a few to consider;

Fez Cooking Class at Palais Amani – Learn some of the Fassi food traditions in this class.

Volubilis, Moulay Idriss and Meknes – Day trip from Fez to explore these nearby cities.

Wine Tasting Day Trip – Yes, there is wine in Morocco. For those who imbibe this makes for a full day trip to learn more and taste different Moroccan wines.
Day 4 Chefchaouan
There isn't a lot to see in Chefchaouan aside from the dazzling blue color that everyone comes to see. It's a relatively small city so spend your time wandering around and taking as many pictures as you can stand! If you're more active and the weather is right you can go for a hike to the waterfall, Cascade d'Akchour. There are a few other hiking trails around the area too. Worth keeping in mind this part of Morocco is in the heart of the kif growing region so don't be too surprised if you're offered drugs.
You likely will see people openly and discreetly smoking hashish. It is tolerated to some extent but it is technically illegal. This is something to keep in mind if you decide to take up any sellers on their offer.
Looking for more info on Chefchaouan; Weekend in Morocco: Beautiful, Blue Chefchaouan?
Day 5 Chefchaouan depart Tangier early evening
For this day decide if you'd rather spend another day in Chefchaouan relaxing, add a day to Tangier or to Fez. You can't go wrong with any option, it's just a matter of what you would choose to do!
A third option is to travel to Tangier via Tetouan. Stop in Tetouan for a day of exploring before continuing to Tangier to continue your your tour.
If you opt for Tetouan this guide can help you plan your visit. Tetouan, Morocco is for Art Lovers
Day 6 Tangier
Liars, and swindlers, and spies – oh my! It's true Tangier has quite the reputation from it's seedy past. It's also one of the few cities in Morocco that doesn't quite feel "Moroccan enough" but if you're in this area, and want to see it – go! Many famous literary expats called Tangier home over the years; Paul Bowles, William Burroughs, and Jack Kerouac to name a few and that literary history remains today.
The Kasbah – This was the original fortified city of Tangier. Inside you can visit the kasbah museum which houses relics of those who resided in the region beginning centuries ago. It's also a great place to wander the streets which have glimpses of all the peoples that called Tangier home; English churches, Spanish doors, art deco metalwork, and of course plenty of Moroccan elements as well. There's also a great rainbow staircase for some fun pictures!
The American Legation Museum – Morocco was the first country to recognize American independence in 1776. This building was the first American public property outside of the USA. Today it's a cultural center, museum and library. During WWII it served as the headquarters for US intelligence agents in the region.
Zoco Chico – Is the name of the main square in the medina. It's basically the heart of the medina and a prime people watching spot.
Cinema Rif – A non-profit theatre screening the latest films produced in Morocco and the region and North Africa's first cinema cultural center. All screenings are posted on their website. There's also a cafe that is located right next door with lots of outdoor tables.
Librarie des Colonnes – this is a small independent bookshop that has books in many languages and regularly holds events like author readings. Ideal for a book lover or if the weather isn't too great, a good place to spend some time.
Cafe Culture – Tangier has a really great cafe culture. In the medina and kasbah you won't be let down if you simply slip into one, order a tea or nus nus and spend sometime reading or people watching.
TANGIER TOURS TO CONSIDER

4 Hour Tangier Sightseeing Tour — See the highlights when you have limited time.

Tangier Cooking Class — Love food? Spend your day in Tangier cooking!

Tangier Shore Excursion – Arriving to Tangier via ferry? This tour picks you up at the port to explore.
Day 7 Tangier – depart afternoon
Cap Spartel and Cave of Hercules – On your way out of Tangier schedule in a stop to these spots. It's only a 15 minute ride out of town. It's claimed this cave is where Hercules rested while completing his 12 labors. The cave opens up in the shape of the African continent and that in itself is quite remarkable! Avoid those passing themselves off as guides, you don't need one. Admission to the cave is 5 dirham.
The Beach and Corniche – go for an early morning run or walk on the beach or corniche. Watching the sunrise over the Mediterranean has it's perks!
BONUS: Asilah
Have a little more time? Head to Asilah the little pearl on the coast. If you're visiting in July/early August this is a must stop for the Asilah Arts Festival. But if it's any other time of year it's a great visit too. The laid back vibe in this town and a very Spanish feel is what sets it apart. Contrast the whitewashed city to Chefchaouans' blue and you've got a holiday in color!
Morocco in a Week: Central Morocco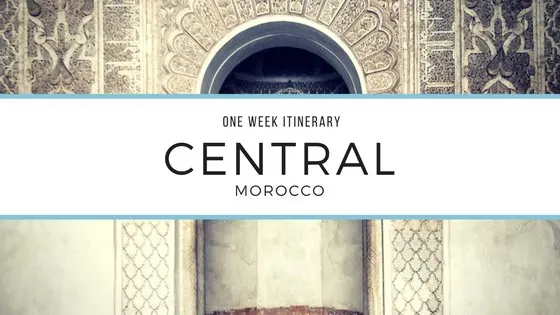 Arrival Marrakech
This Morocco 7 day itinerary starts from Marrakech. More and more international flights landing in Marrakech and adding this leg onto your ticket is well worth the cost. It can save you half a day or more of transit time. When you book your accommodation do request a transfer from the airport. It will help start your vacation right. It also could be helpful to have your riad prepare dinner for your first evening.
A week in Marrakech might be too long so I've added on some additional trips you can include.
Where to stay in Marrakech: 15 Gorgeous Marrakech Riads for Your Visit or 10 Family-Friendly Hotels in Marrakech
Day 2 Marrakech
Crazy and chaotic Marrakech is full of things to do and see. I suggest hiring a licensed city guide if you're unsure of yourself. But if you're a confident traveler and not put off by getting lost you could go it alone! A few of my suggestions include;
The Badi Palace – this palace is essentially ruins as its contents were stripped and moved to the palace in Meknes in the 1700's. But it's interest to walk among them and makes for great pictures. Be sure to walk all the way through the back, past the sunken orange trees. Also climb the building steps for a great view out over the city to the High Atlas and across the medina.
Madrassa Ben Youssef – This building was once a coveted Quranic school and education center in Marrakech. It's now a monument with beautiful tilework and carving. The upstairs rooms are bare but it's easy to imagine what it would have been like to board here as a child. (Closed for renovation until late 2019 or 2020)
Maison de Photographie – I love this little photography museum because it brings Marrakech of old to life. You might be surprised by the contrasts and similarities.
A Food Tour. It only makes sense to suggest you consider taking a food tour with us. Our tours go where the locals are to help you discover authentic Moroccan food. Choose from our evening tour or medina mix food tour.
Day 3 Marrakech
Sometimes the best thing to do in Marrakech is nothing, aside from absorbing the place. That's why I don't think checking things off a list is the best way to experience the city. Make sure you take time to sip tea, sit on a terrace and read a good book too!
Book a Hammam treatment – Moroccans still use the hammam religiously. These traditional baths are a unique experience though you may prefer the more spa atmosphere to the neighborhood version! It's worth noting most people prefer a good nap after the hammam so plan accordingly.
Lunch in a Garden – Le Jardin and La Famille are two beautiful restaurants to enjoy lunch while being surrounded by a gorgeous garden atmosphere. You'll feel like you've found a secret hideaway.
Wander the Souks – You can't make it to Marrakech and not spend some time wandering, watching and maybe choosing a few things to go home with you. You'll be talked to non-stop by vendors but do your best to let it go and enjoy the experience.
Multi course Moroccan dinner – to get a real feel for a Moroccan feast plan a dinner at Dar Moha or Libzar where the kitchens are headed by Moroccans who take pride in presenting their national dishes to guests just as they would to family. You won't leave disappointed – or hungry!
Day 4 High Atlas day trip or overnight
If you're ready to get out of the city, head to the mountains. There's no shortage of places to go but a few of my favorites are below.
Ourika Valley – this is the closest to Marrakech but prepare for crowds on weekends as lots of Marrakechi's also leave the city for this valley. Go all the way to Seti Fatima, enjoy tajine cooked over charcoal along the river and walk up to the first waterfall if you're a confident hiker and the weather is good.
Ourigane – A small Berber village that boasts a natural salt mine and gorgeous vistas in the country. You won't find tourists here but go with someone who knows the area and can also help arrange lunch with a local family. So good!
Imlil – I love, love, love this village. It's high up in the mountains, almost to the Mount Toubkal so in winter you should prepare for cold and snow. It is completely possible to do this as a day trip. You also could arrange to visit on a day trip and have lunch with a Berber family and try your hand at bread baking or weaving!
Oukaimden – if you visit in winter and you are a decent downhill skiier then you need to go to Oukaimden just to say you've skiied in Morocco. There are rentals, it's mountain skiing, and there is a lift up. If however you're a novice stick to lower hills or a sled.
You might also want to read this post on day trips from Marrakech worth taking.
Day 5 Essaouira
If we didn't live in Marrakech, we'd live in Essaouira. It's a like a little sister to Marrakech, with plenty of things happening, a laid back vibe, and lots of art and culture. True, there's not a lot to check off and see but it is a great place to explore if you're more interested in getting to know a place.
Visit the port and buy your lunch – the port itself is worth seeing, but come around 10am any earlier and it will be mostly empty. The iconic bobbing blue boats, fishermen hawking whatever they've brought in, and the old Portuguese walls make for some great pictures. You can choose whatever fish you'd like and then take them to be cooked in grills or kitchens. If you ask the vendors they'll point you in the right direction.
Coffee and people watch – Yes you really must. Saddle up in a seat, order something to drink and chill! There are a lot of cafes right on Place Hassan II (the main square area of Essaouira). Many also offer food but it's up to you whether you choose something basic there or opt for something a little more special.
Wander the medina streets – it's much smaller and more compact than Marrakech with half the hustle. You won't get lost here! You'll also discover there's a lot less hustling to buy things so take your time and look around.
Dinner at Umia – this might be my favorite restaurant in the entire country and if you can make it for dinner here you'll really be in for a treat! The prices are reasonable but it books up, make reservations ahead.
Day 6 Essaouira
Go for an early morning walk or horse ride on the beach. There is a main beach right in the city that many people take advantage of but there are also other beaches nearby. You can book a horseback ride to go a little further away from people and discover some of this areas' beautiful coastline.
Take a cooking class with a local. I adore Khadija and her kitchen cooking school and think you would too. She loves meeting new people and has an infectious smile that will leave you happy too! After cooking you get to enjoy the fruits of your labor.
Visit the mellah and skala – The mellah is the old Jewish quarter of Essaouira, since mostly abandoned. Much has been done in recent years to restore some of the synagogues and the general area. The skala is the ramparts that make up the walls of the Portuguese fortifications. It's also where scenes from Game of Thrones were filmed. It too has just completed having renovation works done.
Overnight or return to Marrakech – choose to spend another night here or return in the evening to Marrakech.
Day 7 Marrakech
Last minute shopping! Don't lug everything around with you, get it before you leave. Make one last souk tour to pick up any last minute items you might have missed.
Visit Majorelle Jardin – This is the most photographed and iconic site in Marrakech. If the weather is nice it's an ideal stop. If you'd rather avoid people head to Koutoubia Garden or the Harti Jardin, both are free!
High tea at the Royal Mansour – You need to just see the Royal Mansour because of it's gorgeous architecture and design! Book a high tea in the afternoon and be ushered into this fantasy world!
BONUS Safi
With a little more time why not take another day trip. You could add on one of the trips in the High Atlas section above or head up the coast to the little village of Safi. It's the pottery headquarters of Morocco. It's a small city making it very possible to visit in a half day. Along with pottery they are well known for seafood so make sure to enjoy a fish tajine or some Atlantic shrimp.
Morocco in One Week: The South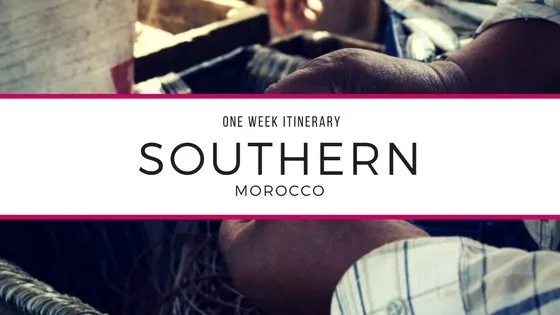 With just a week in Morocco this itinerary will really be pushing it. I'm giving you these options because a lot of people really want to see this part of Morocco. You should feel free to delete out portions of the itinerary that don't appeal to you in favor of staying longer in one place or another.
Arrival in Marrakech
You'll want to start from Marrakech if at all possible for this Morocco vacation idea. A Casablanca start will add on a lot of travel time and make it potentially not possible to do in a week. This itinerary does include a trip to the Sahara desert. It's worth noting that you can not take a day trip from Marrakech to the Sahara, you can do an overnight trip (2 days and 1 night) but I wouldn't recommend it. A 4 day, 3 night trip is ideal.
You could depart immediately on the day you arrive if it's an earlier arrival or spend the night, get your bearings and leave in the morning.
Day 2 Ouarzazate or Skoura or Todra Gorge Area
Start your trip with a four hour drive over the High Atlas Mountains to the city of Ouarzazate. You also could go a bit further and spend the night in a smaller city closer to the desert. There is a lot to see between the mountains and the Sahara and villages after the Atlas Mountains but before the Sahara are some of the most beautiful and interesting to visit. Lush oasis, valleys and amazing rock formations are all worth a stop and some time.
Plan a stop at Ait ben Haddou or Telouet to see fortified kasbahs in their authentic state. Spend the night en route to the desert.
Day 3 Sahara
There is more to do in the Sahara than you might think! Today you'll make the final push to the Sahara and then jump on your camels for a ride to camp. You don't always have to take a camel to reach the camp, some are more remote and require a 4×4 but there are always camel rides as an activity. We've gone sandboarding, visiting a nomad school, made bread in the sand and more during our stays in the Sahara!
Different camps have different activities and programs so make sure to find one that fits what you enjoy.
Why Luxury Camping in the Sahara is the Only Way To Go
Day 4 Sahara
See above! Spend your second night under the stars.
Day 5 Agadir/Taghazout
Leaving the Sahara you have the option of going to Marrakech or Agadir (some people go to Fez as well but I only recommend this if your return trip departs from Fez). The city of Agadir is known as a beach destination and doesn't have the historical charm of other cities due to an earthquake in the 1960's that demolished most of the town. Head north to the surfing village of Taghazout about 25 kilometers north. It's great for people who want to enjoy the beach, small town coastal life and especially surf.
Day 6 Taghazout
Relax! You could visit Tamri or "the banana village" a bit further north from Taghazout where banana fields and the yellow fruit fill the streets! Walk to the small port where small fishing boats come in and can be purchased right off the boats. There is also horseback riding and day trips to Paradise Valley that can be organized.
Read More: Discovering the Agadir to Essaouira Coastline
Day 7 Marrakech
From Taghazout you can drive north to Essaouira and east to Marrakech or back to Agadir and take the tollroad to Marrakech. The first option might be one of the most beautiful drives in Morocco, along the ocean and through the argan biosphere.
The second will get you there much faster. Spend the night in Marrakech before your flight leaves in the morning and consider one of the suggestions in the Central Morocco section if you have some time to spend in Marrakech.
BONUS: Taroudant
With a few more days in this region you could add on a trip to Taroudant. This small city is a reminder of how Marrakech used to be. You can walk through the medina and see craftsmen at work. This is a Berber city and has a different feel to other large cities. The walls themselves are a site to behold! If you want authentic shopping this is really a great place to go. From November to March it's also the warmest city in Morocco!