This post may contain affiliate links for suggested items you can purchase. You are not charged any additional cost for purchasing via these links, however by utilizing them you help keep this site running!
Winter comes slow and late to Marrakech. One day we're sweating, wondering when the heat will finally break and then suddenly there's a rain storm one day that snaps the weather awake to realize it's time to change seasons. Reluctantly the weather wavers for a few weeks. Alternating between those scorching hot days and dreary, rainy ones. A sandstorm might blow through and then we're lurched into winter.
But this too is beautiful. 
The haze in front of the High Atlas lifts, giving way to the beautiful mountain backdrop that makes my heart sing. It's a sight I wait for all year. Rarely do the mountains appear until they're capped with snow, leaving many people to believe they have snow all the time (they don't). The clear, sunny winter days are what I love waking up to. I just really hate leaving my bed!
Few people, including us, have indoor heating. We really don't need it. Winter will only last two or maybe three months and it will never get to freezing – even though some days feel like it. An extra blanket on the bed, a space heater tucked under the desk, and taking advantage of every chance to warm up the house when the sun shines make it possible. You see Morocco is a cold country with a warm sun. The sun changes everything and even in the middle of winter is warm.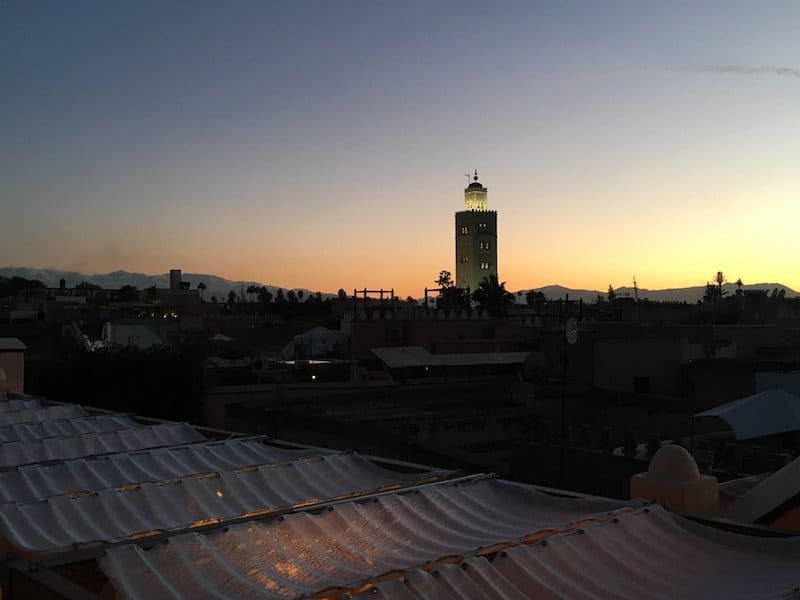 Our morning start a little later now but it's still just barely light when the kids get up for school. I love a warm bowl of oatmeal in the morning with nuts and brown sugar. But, I also love the Moroccan version of oatmeal – that's not made with oats at all – called hrbil. Normally it's only made for special occasions. It's always on the table the morning of Eid al Adha and Eid al Fitr. But, I've also made it and saved it in the refrigerator to heat up the next day. It's always better right after it's made.
Moroccan Oatmeal: Hrbil
A delicious breakfast dish served during Eid and other special occasions in Morocco.
Ingredients
1 cup of dry wheat grains (wheat berries)
1 Tbsp olive oil
1/2 cup whole milk
water
For the Top
melted butter
olive oil
honey
Instructions
Soak the wheat in water overnight. The longer you soak this the faster it will cook.
When you're ready to cook, add the olive oil to a pressure cooker and drain the water from the wheat.
Add the wheat to the pressure cooker and stir to coat with olive oil.
Add enough water to fill pressure cooker about 1/2 full.
Cover and cook on medium temperature for about 45 minutes – 1 hour. You will need to check the water level of this often. The goal is to cook out all the water so that the wheat plumps to it's maximum.
You can test the water level by holding the pressure cooker off the heat and swirling around.
When you feel most the water has been cooked out, release the steam and remove the cover.
If there is some water left, continue to cook on low – medium heat until it has been mostly removed.
Stir in the milk, until the consistency is a little more liquid than porridge.
Fill a bowl or large rimmed plate with the grains.
In the middle create a small well and add olive oil, butter, and honey.