Argan oil. It's taken the world by storm but Moroccans have known about and used this liquid gold for generations. The argania spinosa, the tree on which argan grows, is only found in one region of southwestern Morocco. Some have recorded that the Phoenicians in 1550 BC recorded the use of argan oil. In the 16th century, it first made its way to Europe in earnest as an "exotic" oil. Today it is sold for cosmetic and culinary purposes but it all originates from the same source.
What is Argan Oil?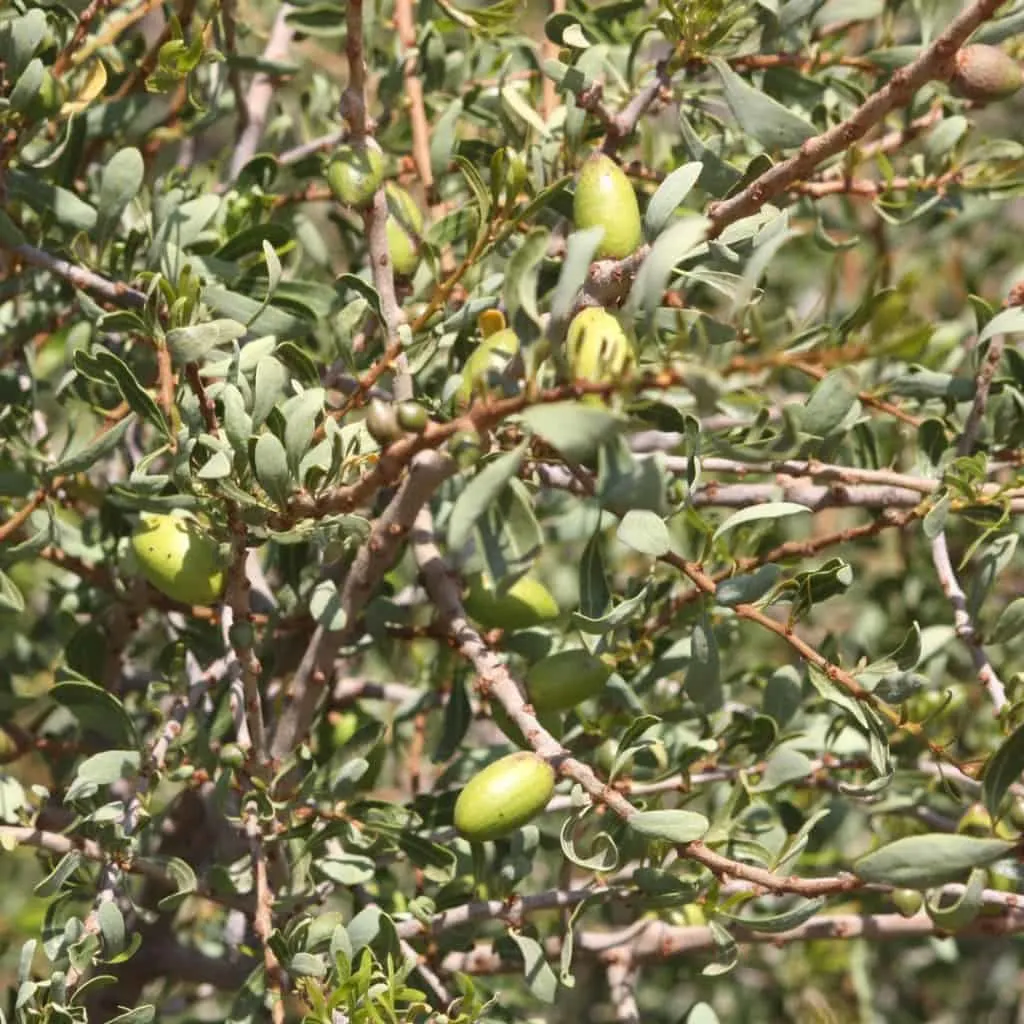 As mentioned above argan oil comes from the argan tree. The tree produces a fruit that looks a lot like an olive. When the fruit is ready, it falls from the tree and it is then gathered up. The exterior kernel becomes dry and shriveled. It needs to be removed to access the interior nut that holds the oil.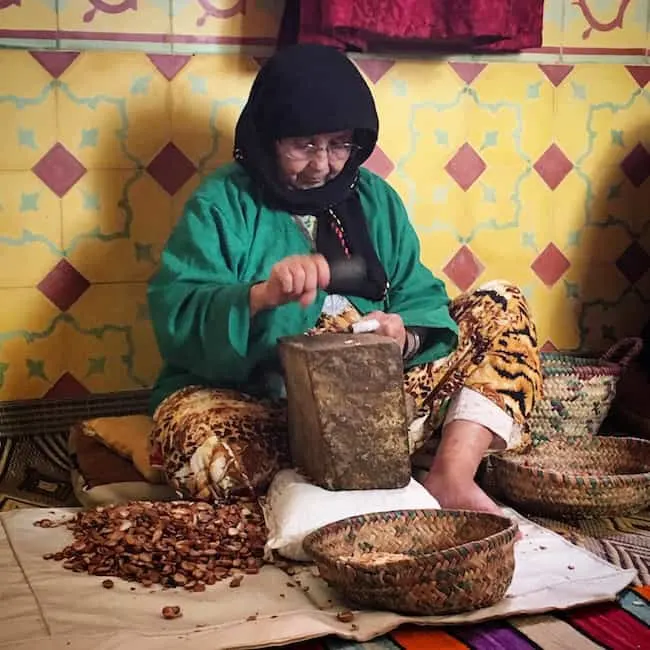 How is Argan Made?
The process can be quite rustic like in this picture where each shell is cracked with a rock to remove the interior pit. But this is just the beginning of the process! It will take 35 kilograms of argan fruit to make 1 liter of oil! That's a lot of cracking that needs to happen. when I tried my hand at this, it was a disaster. I would be lucky to walk away with all my fingers in tact!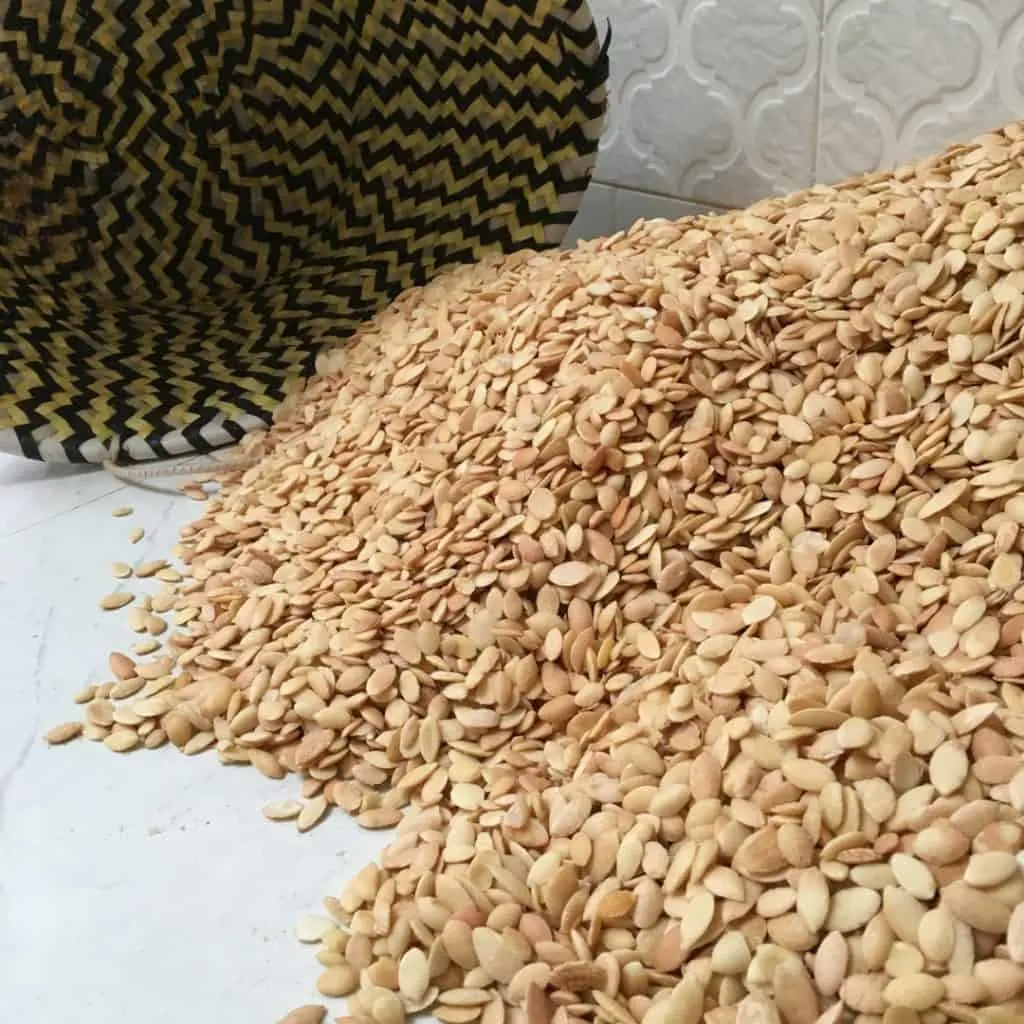 In the next step the nuts are roasted – or not. This is where the big difference between cosmetic and culinary argan comes in. Cosmetic argan is not roasted. Culinary argan is. The smell of roasting argan nuts smells an awful lot like movie theatre popcorn! The taste of the nuts however is bitter, even after roasting.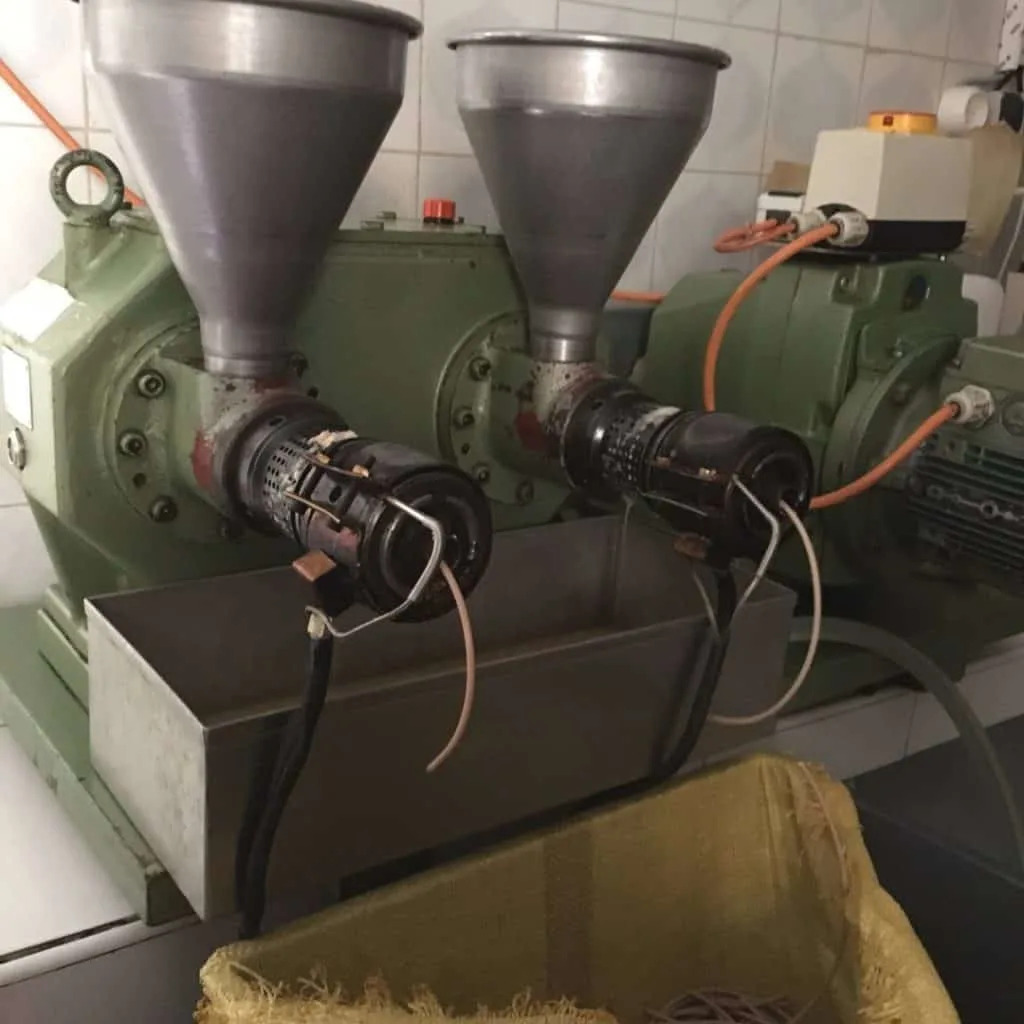 There are two ways to extract the oil; the traditional way and the modern way. The first picture above shows a new machine that is used to extract oil. It separates the oil from the remaining waste product.
The pieces you can see being extruded are sold to farmers to feed their donkeys or other livestock. Every part of the process has a use, nothing goes to waste. The second picture shows a traditional rock press. The nuts are put in the top and then the press is spun to squeeze the oil from the nut. It drips out the front into a waiting container.
What are some argan oil benefits?
So, what's all the fuss about argan? It has some really great benefits including;
loads of Vitamin E making it a great natural moisturizer. It also isn't greasy when rubbed onto the skin.
hair conditioning, the natural properties of argan tame frizzy ends and leave the hair sleek but not oily
anti-aging properties
repairing damaged and itchy skin. It doesn't irritate dry or cracked skin and can help repair affected areas.
moisturizing nails, skin, stretch marks, lips and more
If you're more inclined to eat argan there are plenty of health benefits too!
80% unsaturated fat
stabilizes insulin and blood sugar levels
facilitates digestion
high in Omega-6 fatty acids
rich in Vitamins A and E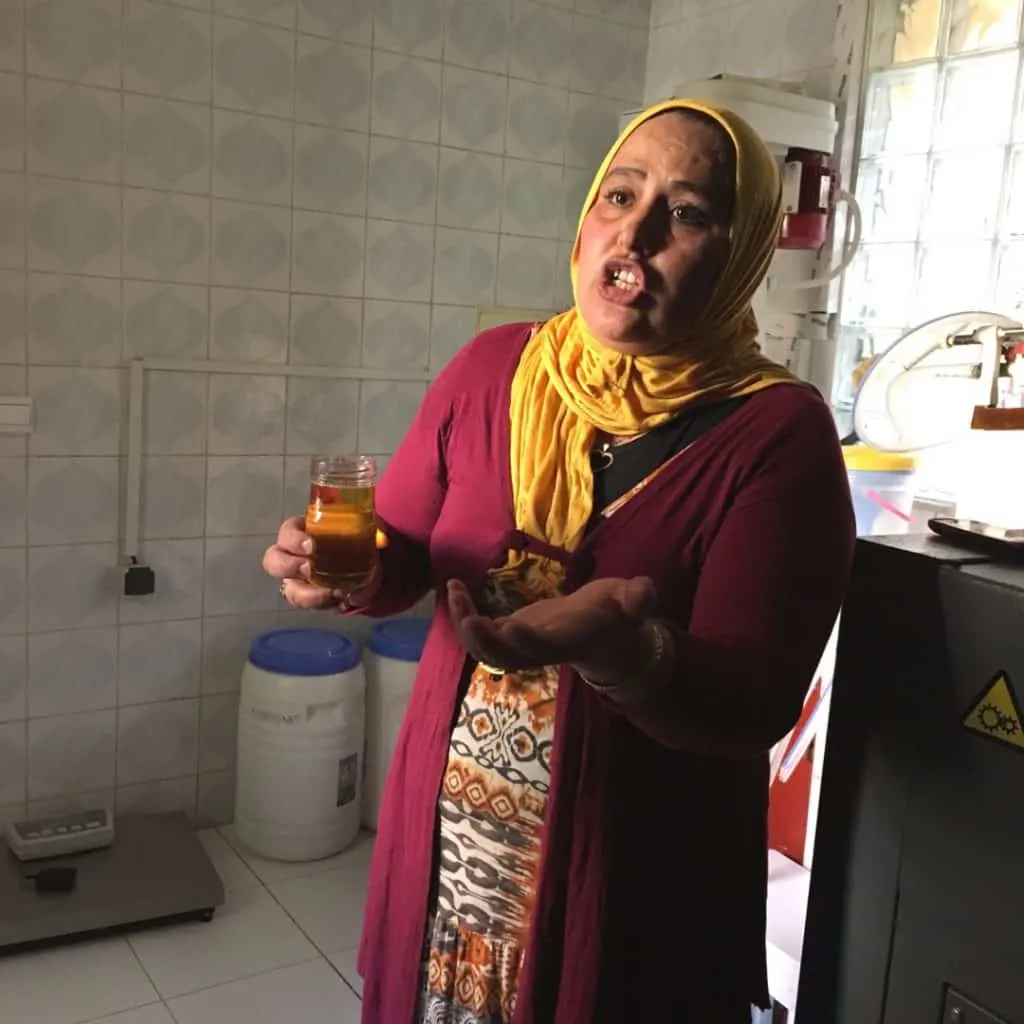 What are some argan oil uses?
Everything! Ok maybe I exaggerate but there are really loads of uses for argan oil. The most common are as a moisturizer and also as an oil to be eaten. Cosmetic argan oil can be used just as it is. You will often see products like shampoo, conditioners, hand creams etc with argan included. These are fine but know there is usually a very minimal amount of argan actually in the product. You can instead use a drop or two of pure argan oil for similar results.
For culinary purposes argan should be eaten without heating it. You can still get the taste of the oil when it's heated but the health benefits decline. Use it on raw foods as a dressing or condiment. It's also mixed into ground almonds and honey to make amalou, my very favorite bread topping and something you MUST try in Morocco.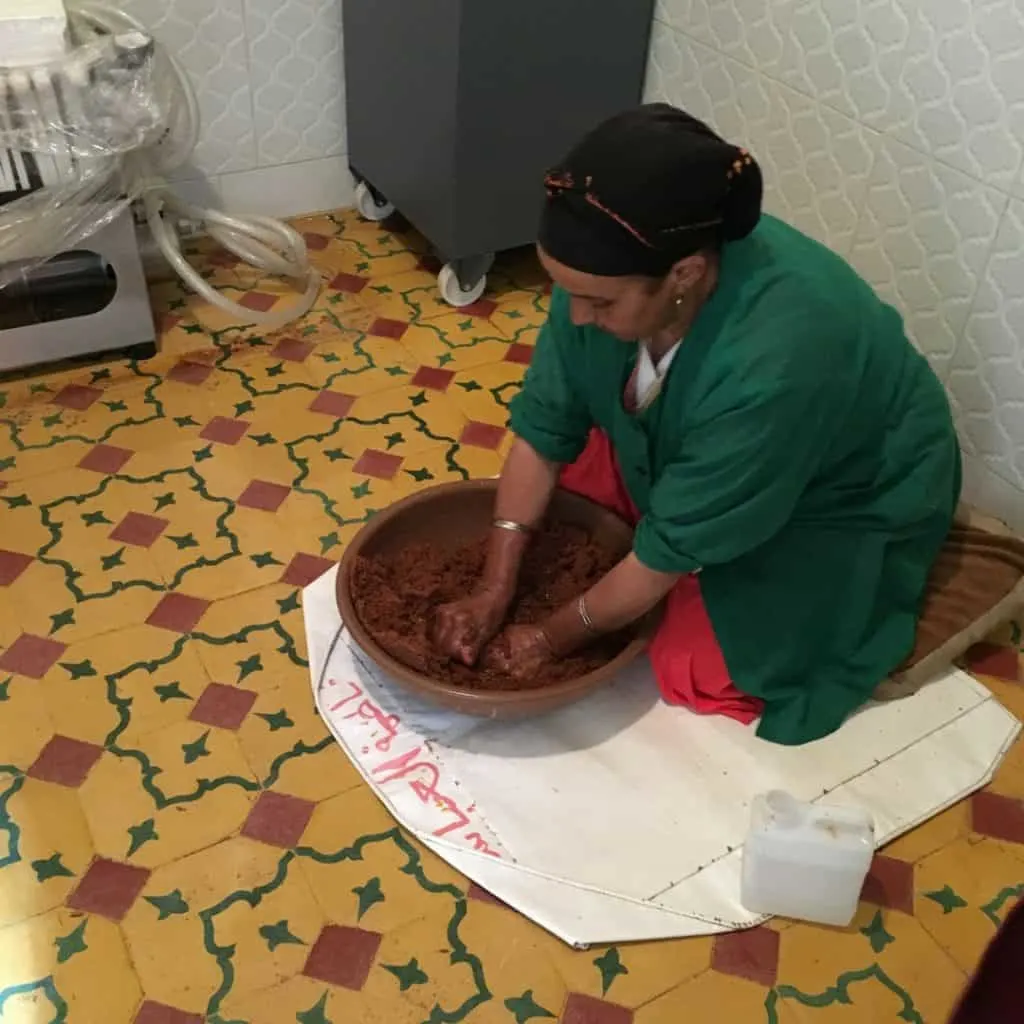 Some families also make a paste out of ground argan nuts, oil and water. The three things are combined and kneaded for up to 40 minutes to make this paste. It's then eaten just as it is. I've never personally tasted this but it apparently is common in some Amazigh households who live in argan regions.
Threats to argan oil and trees in Morocco
The beauty industry has made argan oil popular around the world. This is both good and bad. It's good because producers are able to get a better value for this highly labor-intensive work. It's bad because it's tapping a limited resource.
Overharvesting and early harvesting can harm trees and produce a subpar product. Greed and corruption also mean that the money earned from products isn't reaching the people who are doing the work. Finally because of increased demand the price has been driven up making it hard for everyday Moroccans to afford what once was a staple in many areas.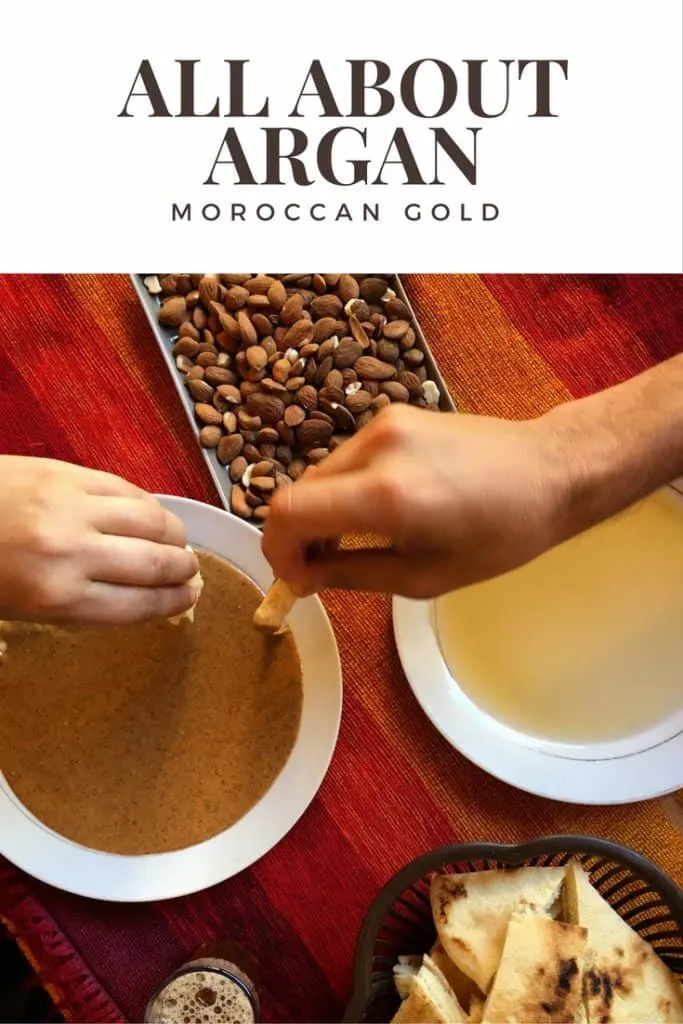 Argan Oil for Cosmetic Use
What is the Best Argan Oil for your Hair?
Argan Oil Specialty Hair Treatments
Moroccan Argan Oil Benefits for Your Face
8 Organic Argan Oils For Your Hair and Skin
Amazing Argan Oil Face Moisturizers
Using Argan Oil for Special Conditions
Benefits of Using Prickly Pear Oil vs Argan Oil for Skin and Health
Argan Oil Recipes
Moroccan Orange and Black Olive Salad with Argan Dressing
Where can I buy argan oil?
This is a question so many people ask. So I will share all that I know with you. You should be prepared to pay a bit more than you might think for argan oil. It is very expensive, even for Moroccans.
In Morocco
You'll see argan everywhere but that doesn't mean it's all created equal. It's actually quite hard to find good, authentic argan oil. A simple test you can do is to shake the argan bottle and see if it bubbles. Bubbles mean the oil is cut with something else (usually vegetable oil).
You also might be coerced into thinking anything sold at a "co-op" is the real deal. Well, there are a lot of fake co-ops too. I visited the Tamounte Cooperative outside of Smimou, between Essaouira and Agadir; this was the real deal. I'd be hesitant of any so-called cooperative outside of the argan growing areas.
Outside Morocco
Saadia Organics – This is a brand I know and trust and would highly recommend if you want to order good quality, cosmetic argan.
Argania Gourmet Argan
– the culinary variety of argan.
Auzoud Organic Culinary Argan
– edible version.
I hope you know a little bit more about argan and are prepared for your trip to Morocco or purchase of this product.