Beginning in Ouarzazate, a windy city that has become an oasis for filmmakers from all over the world, further East and South, there is a land that has not changed for hundreds of years. The city itself, called "The Gate to the Desert" or "The Moroccan Hollywood" is an amazing base for the exploration of the South.
All About Ouarzazate
Many of Morocco's cities have difficult to pronounce names and this one is no different. In English it sounds like "where-za-zat" Ouarzazate itself is a small city, with a quiet modern architecture but always inspired by the tradition landmarks. But it is enough to drive 5 km outside of the city to be entirely emerged in the authentic, Moroccan countryside. The Sahara desert is still 300 km away but honestly, you can feel it in the air!
Getting to Ouarzazate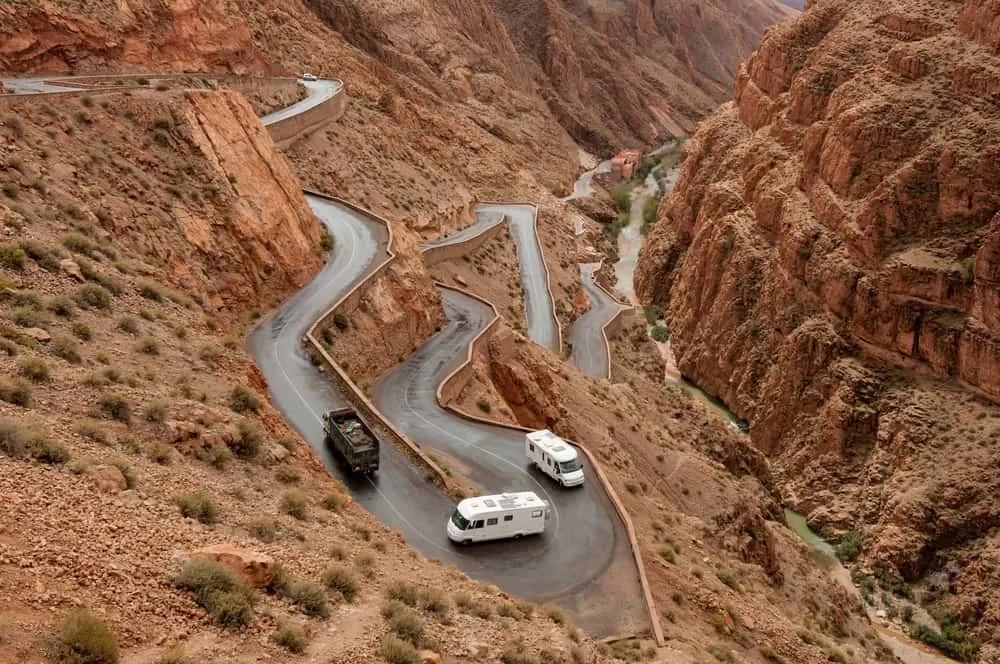 Tourists generally arrive there via Tizi-n-Tichka mountain passage, one of the most spectacular roads in the country. Almost 200 km of a beautiful, though somewhat dangerous road reaches 1300 m above sea level.
This road was built under the French Protectorate at the beginning of the 20th century but is constantly in a state of repair and advancement. The Tizi-n-Tichka passage made a strong link between Marrakech and the South. It remains one of the few ways for people and goods to go over the Atlas Mountain range. When you descend through the High Atlas to "the other side" it feels you've arrived in another planet.
Everything changes. The climate, the air, the smell, the colors, the landscape, the people.
If you'd rather not drive there are flights on Morocco's national carrier Royal Air Maroc from several cities in the kingdom including Casablanca and Marrakech. Ouarzazate airport is small but does the job.
Flights are typically price controlled around $60 one-way per person from Casablanca and $120 round trip per person from Marrakech. The time savings is huge, with a flight taking between 40-60 minutes while driving takes approximately 4 hours.
What to do in Ouarzazate
Most people only visit for a short time – while passing through on their way to the Sahara but if you're spending a little longer or simply are wondering what to do when you're here; check out my guide on things to do in Ouarzazate.
If you're a Game of Thrones fan than you may want to read up on the Morocco filming locations before you visit.
Ait ben Haddou in the movies
Arguably one of the most iconic spots in Morocco due to a lot of films set here; Ait ben Haddou has enjoyed a lot of fame due to the film industry. Find out more about this fortification and the movies filmed at Ait ben Haddou.
Where to Eat in Ouarzazate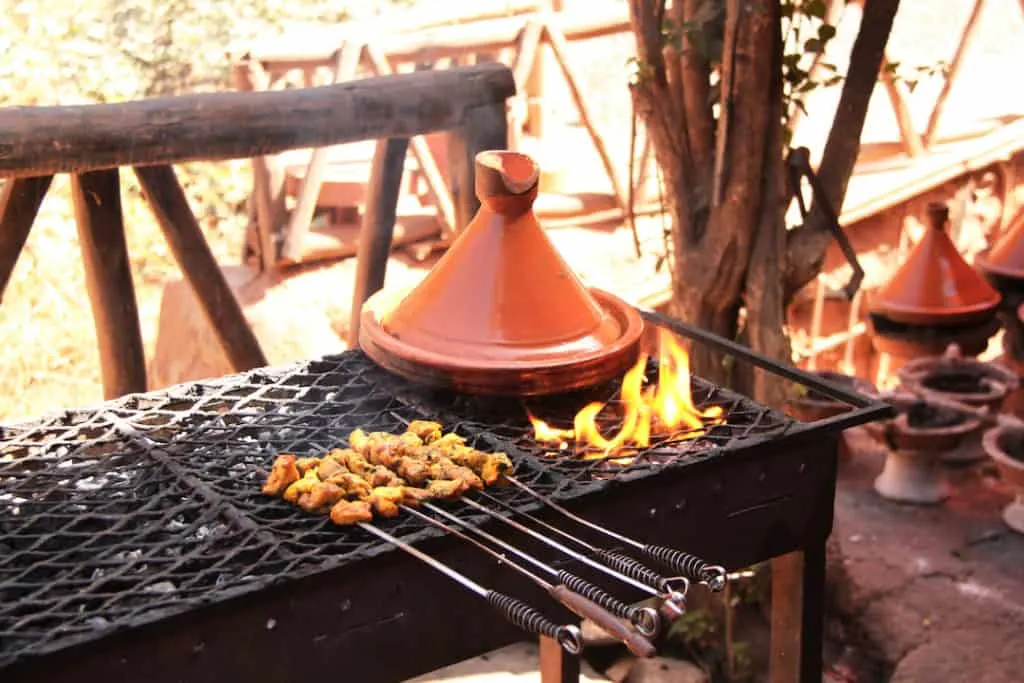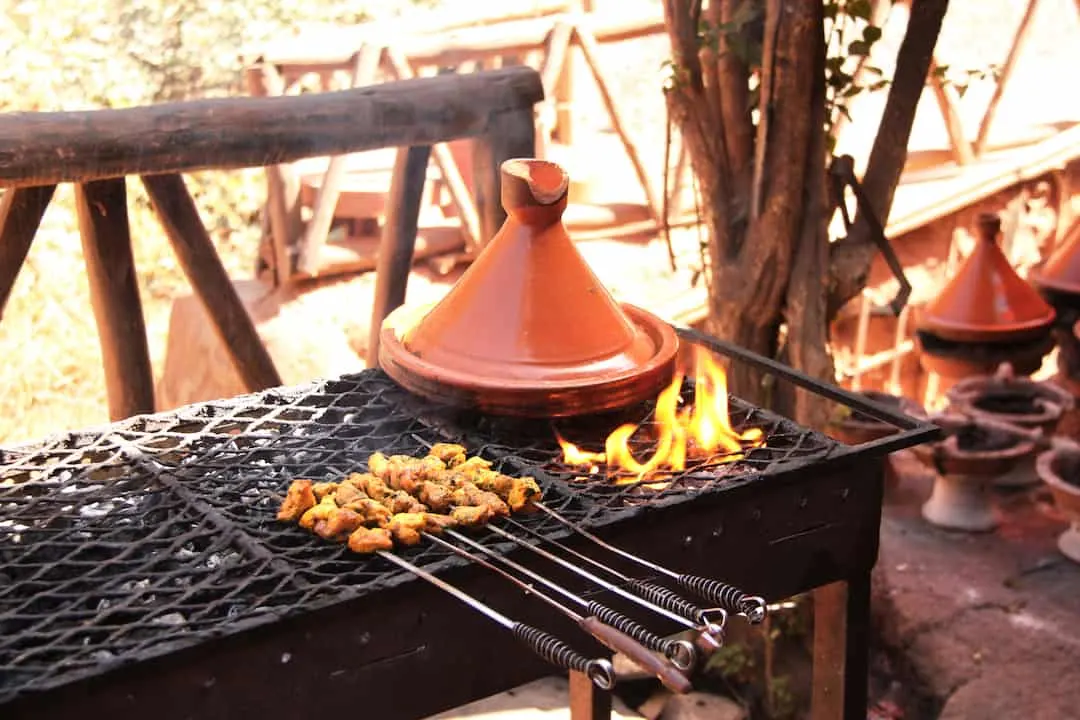 Don't expect a lot of fine dining in Ouarzazate. Most visitors end up eating in hotels and roadside cafes that are there for just that – feeding tourists. The food is suffice to say not very good. That being said there are a handful of places worth seeking out.
Douriya – if a rooftop, candle light terrace sounds appealing to you than you'll want to check out Douriya. Moroccan favorites like tajines and couscous are on the menu but there are also a few other specialty dishes worth trying.
La Kasbah des Sables – If you want somewhere to really kick back and relax for a few hours this is where you want to go. The menu is a mix of Moroccan and French dishes.
Le Relais Saint Exupery – this restaurant which may seem odd due to its close location to the airport in Ouarzazate offers up dishes made with local ingredients and some fusion flavors of neighboring African countries like Mali.
Pizzeria Veneziano – Sometimes you're just done with tajines. That's ok. Pop in here for pizzas and other international dishes.
Grill Stands – You'll see grill stands in the evenings in a lot of neighborhoods. This is a good place to pop in for super casual and inexpensive grilled meats.
Gas Stations – Afriquia gas stations (and a few others) are where Moroccans on the road stop to have lunch. They often have some of the best tajines you can get while traveling. Trust me I thought it was strange too but you'll be surprised!
Where to Stay in Ouarzazate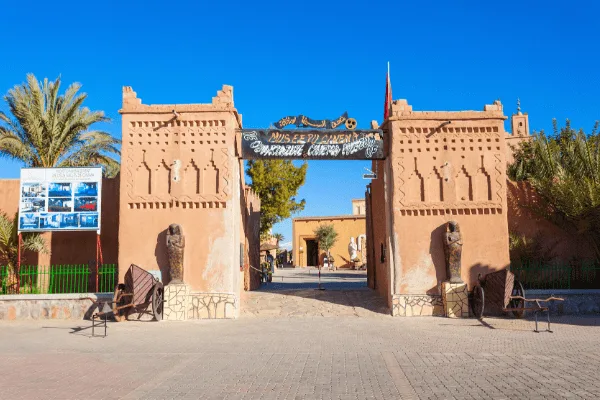 If you're planning to spend the night – or two in Ouarzazate there are quite a few different places to stay. Thanks to the movie industry there is quite an infrastructure built up. Do keep in mind if there is a film happening in town you may find it harder to book a room.
My guide on where to stay in Ouarzazate also has some suggestions for nearby Skoura in case options in town are all full.