The city of Agadir is often overlooked as a destination in Morocco, but it is definitely worth a visit. The city has a more modern, resort town sort of feel and is a great place to come to relax and spend time in the sun.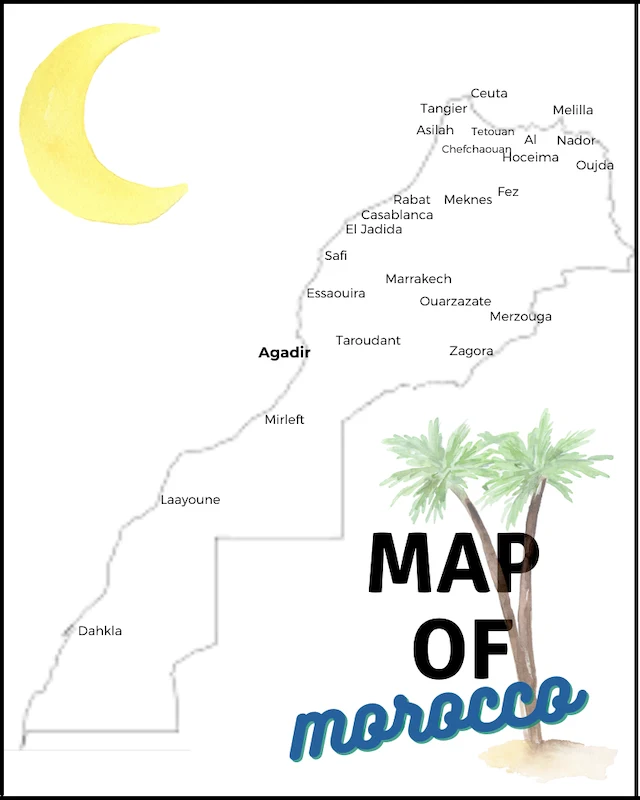 ALL ABOUT AGADIR
The city of Agadir is fairly new on the landscape of Morocco. It first started growing as a city in the 1960's after a major earthquake destroyed the old Kasbah, so it lacks the history of the other, older cities. But Agadir is a great place to relax, enjoy great food, and experience different activities than what you would see on a traditional Moroccan vacation itinerary.
Agadir is surrounded by many different terrains, making it the perfect place for adventure activities such as surfing along the beautiful beaches or perhaps hiking through mountain trails. With so many different cultural influences, you'll find a wide variety of different restaurants and cafes around the Marina and popular areas. French restaurants and cafes line the streets along the beachfront, as well as restaurants specializing in Spanish tapas, Italian dining, and even Asian cuisine such as Chinese, Japanese, and sushi restaurants.
Agadir feels more like a resort town than other cities around Morocco. The beachfront is lined with hotels and you can find boutique shops such as Zara, Mac, and Stradivarious within the Marina, a big change from haggling in the souk. Agadir is a friendly and welcoming city and the people are used to tourists from all over the world. It is common to find people who speak many different languages, including English, German, French and Spanish among others, which can make getting around a little easier.
Agadir is a laid-back, quiet city, with something for everyone, and is a destination any traveler to Morocco should consider.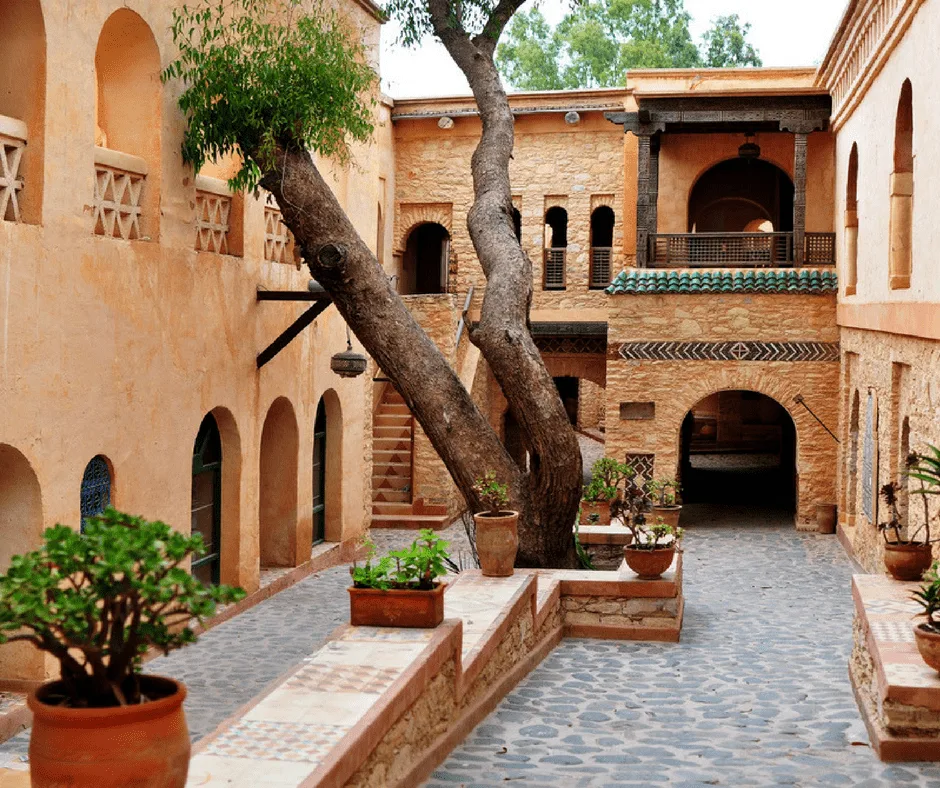 GETTING TO AGADIR
Agadir is located on the southwestern coast of Morocco but is easily accessible.
By Plane
There are regular flights to Agadir from several different airports and airlines including;
TUI from UK
easyJet from UK
Air Arabia from UK
Ryanair from UK
Brussels Airlines from Belgium
LUX air
Royal Air Maroc
By Bus
Within Morocco it's easy to use the bus to reach Agadir. There are connections from major Moroccan cities on Supratour and CTM buses. Marrakech and Casablanca are two popular starting points. This is an affordable option and these bus lines offer comfortable service.
By Private Car
Agadir is connected via the Moroccan National Tollway making travel faster than ever. It is possible to rent a car and self drive or hire a driver to bring you to Agadir.
**There is no train service to Agadir. The train line ends in Marrakech.**
WHAT TO DO IN AGADIR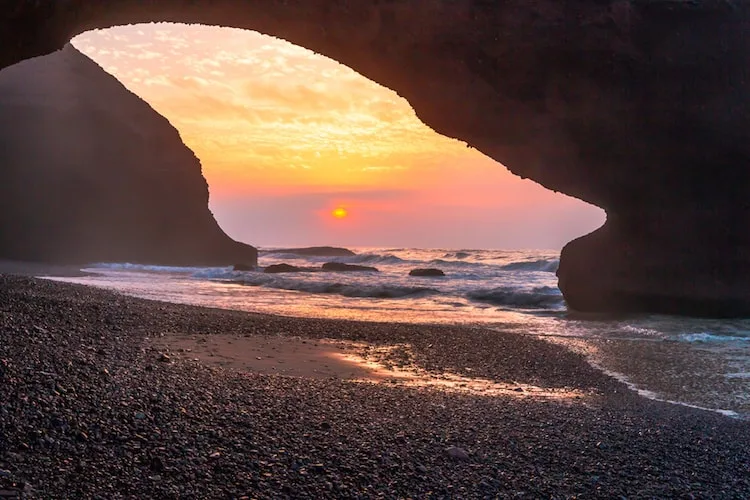 Without the same historic culture that can be found in other Moroccan cities, it can be difficult to know what to do if you came to Agadir, as it is definitely not the usual Moroccan experience. But this city has plenty to offer.
Agadir Marina is a great place to relax and do some shopping. There are many great shops and cafes, and you can spend your afternoon walking the beachfront and take a look at the works of local artists, shopping in the boutiques without the stress of bargaining in the souk or maybe be a little more adventurous and rent a Sea-doo or boat for the afternoon.
Outside of the Marina, there are a couple of adventure parks perfect for children and anyone looking for a little excitement. Animal lovers might like Croco Park, located on Route National just outside of the city. This park offers an afternoon of seeing and learning about the Nile crocodile. There are 300 crocodiles within the park setting, and visitors will also find picnic areas and cafes.
Other parks worth a visit are the go-karts at Karting Agadir Circuit located next to the Stadium, as well as the zip lines at Accrobranche Souss which is not far from the beach and is close to the city center.
Of course, the Agadir beach is where many people spend time in warmer months and the Corniche is a popular street to walk and enjoy a bite to eat.
For those travelers looking for a little more adventure, Paradise Valley in the Tamraght River Valley just outside of Agadir is the perfect destination. Paradise Valley is hidden between the gorgeous mountain ranges and offers visitors the opportunity to experience the beautiful mountain vistas, hike through tree-lined mountain paths, bathe in crystal blue spring water, and for those who are brave enough, cliff diving into sparkling natural pools. Paradise Valley is a beautiful natural setting that everyone visiting Agadir should experience.
WHERE TO EAT IN AGADIR
With a view of the boats in the Marina, Pure Passion is a beautiful setting to have lunch or dinner. The menu is filled with fresh, local ingredients and their desserts are to die for, especially the chocolate lava cake. Pure Passion mainly serves French-style dishes, but there are plenty of seafood and Mediterranean dishes to choose from as well. This is higher-end restaurant, so if you are looking for fine dining with amazing food, this is a great place to go.
If seafood in a more casual setting is more your taste, then try Le Petit Pechure in Galerie Talborjt. This restaurant serves delicious fresh seafood caught daily and the atmosphere is relaxed and casual. Sit outside in the square surrounded by cafes and boutiques, or retreat inside out of the heat for a wonderful dining experience. On the menu, you will find grilled dishes, traditional seafood tagines as well as fish platters, salads and desserts.
For a very traditional dining experience, the best place is Bab Agadir on Avenue Hassan II. It is a small local restaurant where you will find a quiet atmosphere with delicious, authentic tagines and dishes from the south of Morocco, Middle East and Mediterranean. The service is friendly and the experience is as authentic as it gets. It is worth a visit while staying in Agadir.
WHERE TO STAY IN AGADIR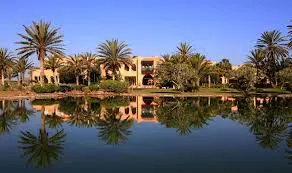 This is a luxury hotel. This eight floor hotel boasts amenities such as an on-site restaurant, guest gym and spa, pool, as well as a access to the golf course. This hotel is the ultimate relaxation getaway.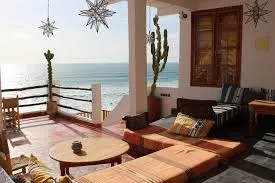 If its adventure you are looking for, then take a short ten minute drive up the coast to Taghazout. Stay in a breezy, relaxing surf house
while taking surfing lessons during the day and yoga classes at night. This mid-range adventure experience is perfect for those who have come to surf some of the best waves in the world, or for those who are interested in learning. It's a great place and a lot of fun.
Agadir is filled with budget and mid-range, family friendly resorts and hotels. This hotel is an all-inclusive option making it a good choice for families who want a laid back holiday. It's located just 800m from the beach as well as having swimming pools on-site. A sauna, hammam and massage treatments are also available.
TRIPS, TOURS, AND ACTIVITIES
If you just want to see the highlights of Agadir this might be a good option to consider. It also makes for a good Agadir shore excursion if you're arriving by ship. This is a small group tour that gives you an overview of the city and its history.
Agadir Paradise Valley Full-Day Trip with Lunch
If a visit to Paradise Valley is on your list but you'd rather book a tour than go it alone, consider this trip! You'll not only get a chance to take a hike and enjoy the water pools but lunch is included too.
Get the little ones involved with this fun experience just north of Agadir! All equipment and a qualified coach are provided with this experience so that parents can relax and enjoy the beach while kids have a great time learning how to sail.
Even though Agadir doesn't get as much recognition or attention as other major cities across Morocco, I think we can agree that it definitely shouldn't be left off the list of destinations to visit. With its cosmopolitan culture, southern traditions and diversity, Agadir deserves a top spot on any travelers list.
Visit Sidi R'bat Near Agadir
If you want to travel to the southern beaches but not up to the touristy atmosphere of Agadir, go a little further (about 1 ½ hour) to the very small village of Sidi R'bat where you'll find a nature reserve, a palm grove and an unspoiled empty beach.
Leaving the autoroute in Agadir (which makes coming from Rabat or Casablanca an easy pleasant trip) you'll have to drive for over an hour through city traffic and then on to the National highway headed south out of Agadir. Eventually you'll see signs for Sidi R'bat or you can find it on google maps to see directions.
Turning off of N 1 you'll pass through the edge of the town of Massa before you head back north to Sidi R'bat. If you're lucky, you might see a herd of camels who graze along the small road as you head toward the beach.
Your destination is either an Airbnb that you might find in Sidi R'bat or the delightful and inexpensive La Dune hotel just after you pass through the village and just before the beach. Nice, clean, friendly staff and most of the balconies or porches have nice views of the ocean even though the beach itself requires a little walk to reach.
La Dune is run by a friendly staff and can offer you not only home cooked delicious meals but also knowledgable guides to see the area. They were happy to bring our delicious breakfast to our private porch or you can eat in the tent or outside in the seating area with other guests.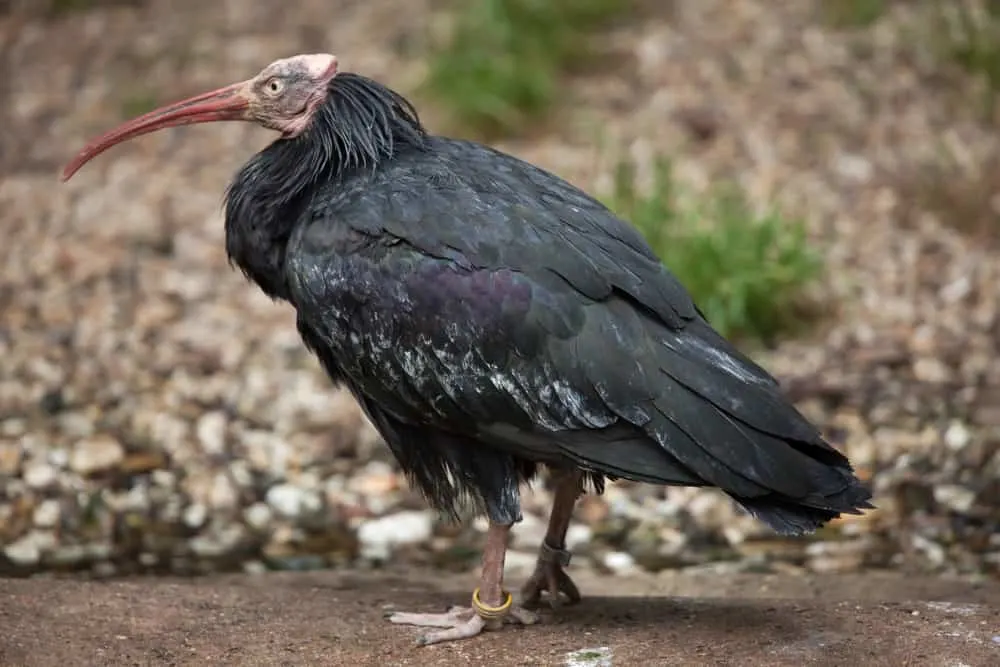 Oued Massa Nature Refuge
From the hotel or village, you can take a nice hike through the wildlife refuge stopping along the way to see the wildlife – mainly birds – and the the vegetation. The walk is along the river that empties into the ocean and if you choose to hire a guide, he'll point out all of the birds and plants along the way. He'll have some binoculars but take an extra pair along where everyone can look at the birds. Serious bird-watchers apparently come to see some rare birds in the reserve but you don't have to be a serious 'birder' to enjoy the peaceful nature reserve.
Fishermen's Cave Village
Walking down to the beach, you'll discover a tiny community of fishermen and seasonal surfers who live in caves that are now established 'homes' with doors and windows. It seems that a cave can be rented if you should choose to live on the beach for your time in Sidi R'bat.
The guide showed us the 'grottes' and the fishermen were friendly and let us look into their caves. This site is known to be both the place where Jonah landed upon coming out of the whale and also where the famous Arab general Uqbah ibn Nāfi (7th century) rode into the ocean exclaiming to God that only the sea could stop his conquest.
Palm Grove
Not in walking distance from La Dune, but not far by car, you can visit the palm grove and the surrounding villages. Park and hike around to see the daily life and take some great photos. You can also stay in the Palm Grove and rent bikes to ride around. La Palmeraie de Massa gets excellent reviews.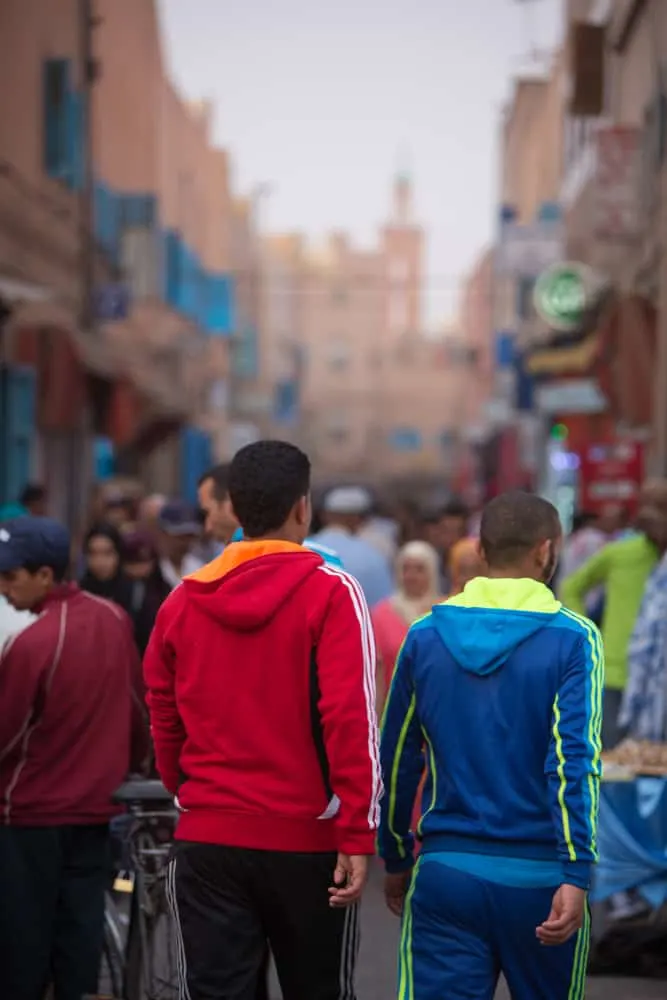 Day Trip from Sidi R'bat
If you want to explore the area more, you can take a day trip and drive through the palm grove and on south to the beach town of the somewhat faded beach town of Aglou and then east to Tiznit – the town known for its silver – and then head back to Sidi R'bat on N1.
Empty Beaches
Take a walk down to the beach with your towel, thermos, book and enjoy a fairly unspoiled beach. Once you've learned about some of the birds of the region, keep your eye out for the rare ones.
Souss-Massa National Park
The Souss-Massa National Park continues along the coastline heading north and can also be visited. Using a guide is recommended for a visit to the park and needs to be visited either on foot or in a 4×4 or vehicle suitable for sandy or muddy roads.