Day trips from Marrakech can be found on offer from dozens of vendors hawking their trips in Jemma al Fna or booked through riads and hotels. But, not all day trips are created equal. The most popular destination for people who travel to Marrakech is the Ourika Valley. It's a beautiful place, during all times of the year but it's also overrun by tourists during the warmer months (hint: go in winter!) A few months ago M and I went with Toubkal Peaks to the village of Ouirgane in the Atlas Mountains.
Why Ouirgane you ask?
I wondered the same thing. Truthfully I'd never heard of it and wasn't sure what we would discover. All I knew was that I love going to the mountains and there was the promise of a meal with a local family. When you love to travel, you never turn down the opportunity to eat with locals.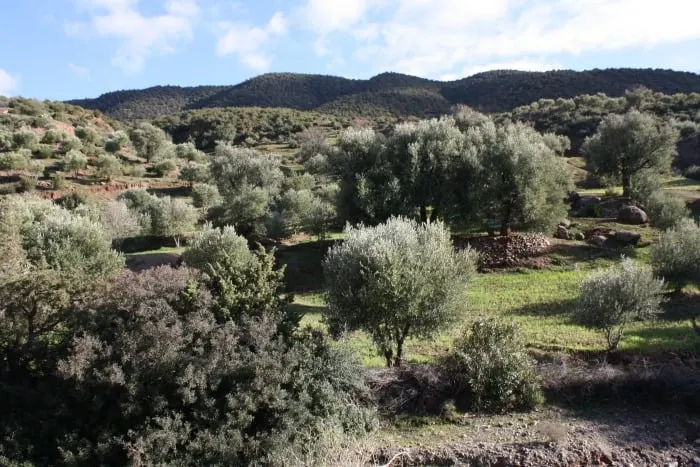 Best. Meals. Ever.
So we set out early one morning with Omar as our guide and driver. The ride was about one hour, and like many rural Moroccan roads, they aren't the greatest but I always felt completely safe and comfortable. The village itself is very small. You will feel like you've entered a different country, which is something I experience time and time again in rural Morocco.
After parking the van we walked through the dirt packed streets to the home of Omar's mother in law (bonus!). I saw that they had the traditional Berber tafernout oven, a way of making bread that is similar to tandoori bread. It's my very favorite variety of Moroccan bread. We washed our hands and sat around the outdoor table on cushions as we prepared to dig in. A vegetable and rice salad started us off and was followed by rfisa topped with an entire chicken. I might have died and gone to heaven because this is my favorite food, and it was one of the very best preparations.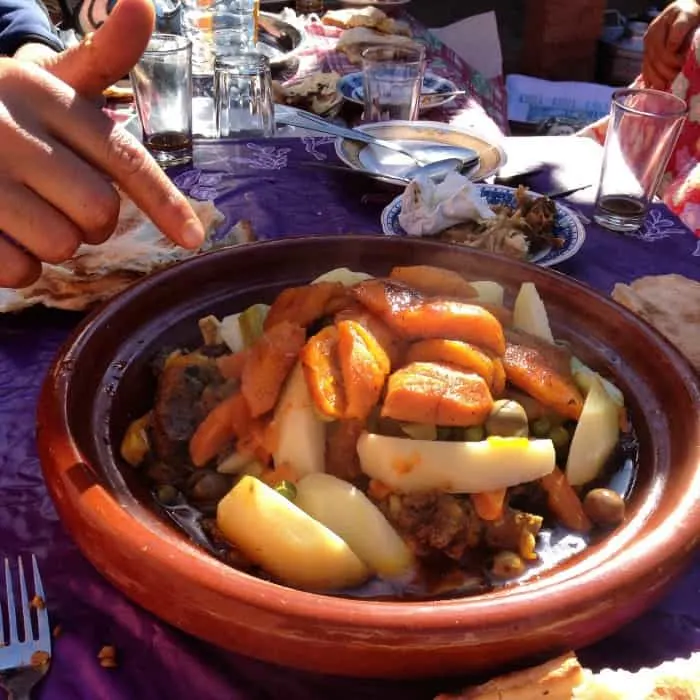 Just when I thought we were done, a tajine emerged. I wish I would have had some more room to eat more, but after seeing the rfisa my stomach had a one-track mind. When we all had our fill, we took a walk through the village to the traditional salt mines. People here have been mining salt – by hand – for generations. There is a stream of water that carries salt water. The village was built far enough away that they could drill wells and get fresh water. It's pretty amazing!
When we were there the mines weren't operating, winter isn't a great time as there needs to be lots of hot, constant sunlight to dry the pools of water to extract the salt. Just seeing the implements that are used it made me think what a difficult job the miners have. They should be making top dirham for their artisan, hand-mined salts but unfortunately they're not. This is the work they've done for generations. The work is hard and the pay is very, very low.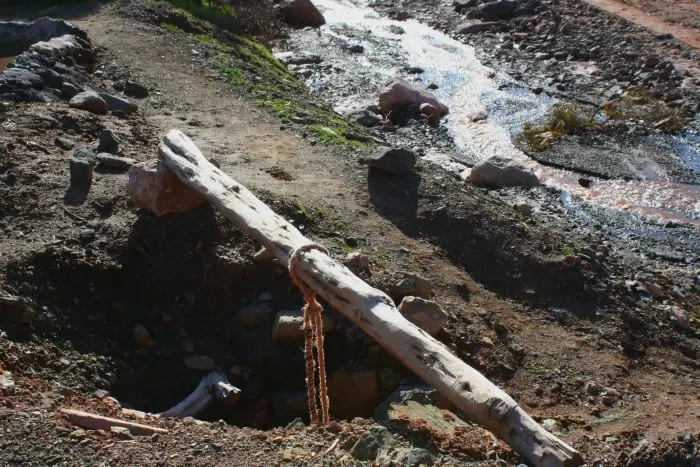 After our walk we made it back to the van for one more stop where M and I found lots of wild thyme growing. We picked a whole bag to bring back to Marrakech and score some points with my mother-in-law. It didn't take long for him to nod off during the drive back to Marrakech. This trip isn't jam packed full of things to do and see, it's a relaxing way to experience rural Morocco. You'll walk away seeing a completely different way of life and have a better understanding of life outside the big cities.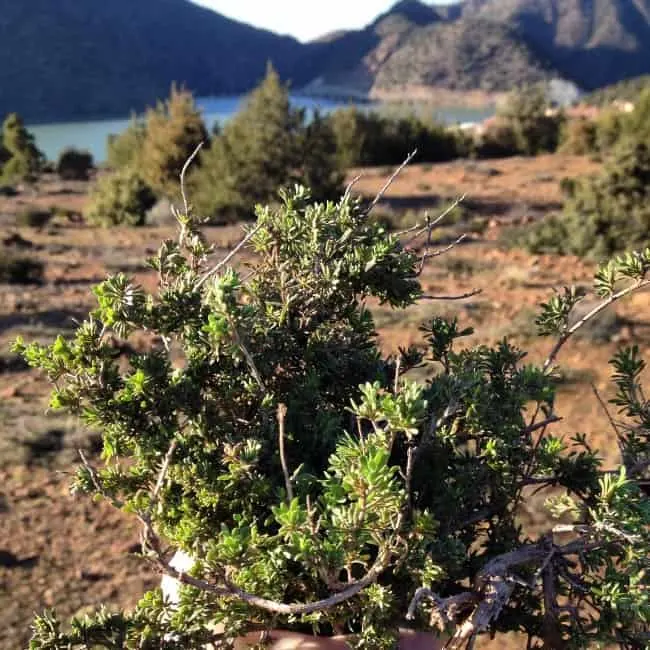 If you want to do this trip, get in touch with Toubkal Peaks who can help make it happen. They also offer lots of other trips from multi-day trekking, off the beaten path city tours, and much much more.
Want more ideas for day-trips from Marrakech? Be sure to read this post.
Some of our favorites?
Oukaimden – Snow Skiing in Morocco!
Essaouira – Our favorite Moroccan coastal getaway.
Ourika – Even though more and more tourists are going, we still like it for a short trip and lunch.