Bananas and surfing are the main attractions in the small villages dotting the Agadir to Essaouira coastline. For decades people have traveled to these beaches to experience some of the best surfing spots in the world.
In my opinion, this is one of the most beautiful drives in Morocco and well worth adding to your Morocco itinerary! If you are traveling along this stretch of coast, there are a couple of places that you should definitely stop in and explore along the way.

Where to Go
Taghazout
Taghazout is a small, laid back surfing village north of the main city of Agadir. The calm, quiet atmosphere plays host to surfers, both expert and beginner, who want to ride some of the best surfing waves in the world. Taghazout is also home to a community of fishermen. The small blue fishing boats can be seen in the early morning out in the sea making the days catch.
In the afternoon they line the beach being repaired, and waiting to set sail once again. You will also find some of the freshest seafood in these coastal villages, and Taghazout has been home to some of the best restaurants to get authentic, Moroccan seafood dishes.
The old village is getting a facelift. Surfers and tourists keep coming and the aging village has had to make improvements to keep up with the demand. There are many new accommodations available and the construction continues with new attractions and accommodations being developed for tourists to enjoy.
Within the village itself, is where you will find the most laid back and authentic experiences. Stay in a surf hostel, take surfing lessons at the surf school, and spend the evenings enjoying the culture and the food. Just south of the village, the more adventurous traveler will enjoy quad biking, and for a slower, more relaxing sport, visit the Golf Taghazout golf club. Here you will also find the 5 star, Hyatt hotel tucked in the hills with amazing ocean views.
Where to Stay
Hyatt Place Taghazout Bay – For the most luxury hotel in the area Hyatt Place is one of the best options to consider.
Paradis Plage – This is our favorite place to stay in the area. They offer great accommodation as well as private and group surf lessons for adults and kids. Onsite restaurants, wellness, and a full spa as well a kids club round out the offerings.
Taghazout Hotels – find more in your budget and amenity range by clicking the link.
Tamri
Further up the coast is the small village of Tamri. Best known for its lush organic Banana plantations as well as being a quieter but no less perfect surfing spot. The village itself sits about a meter below sea level, giving it a calm and peaceful atmosphere away from the winds and turbulence that is often created by the sea. The village is small but travelers will enjoy the local markets and restaurants.
To the south is where you will find a large national park where bird watchers and nature buffs can spend hours examining the many species of birds and plants that are found in this area. For those interested in witnessing for themselves the famous tree goats, there is a viewing post on the edge of the village where you can take pictures of the goats as they climb the argan trees to eat the fruits.
Tamri is a small village and is best experienced as a day trip, but it is home to a couple of small hotels. For those who want to spend some extra time surfing or exploring the national park, there are a few options for accommodation. To the north of Tamri you'll find Camping Imsouane, A camping ground complete with electricity that claims to have been home to Jimmy Hendrix in the 1960's.
Within the village is Auberge Imazighen which offers a variety of room options from single rooms for one traveller to adjoining rooms for larger groups, and views overlooking the lush banana groves. Within the hotel is a restaurant well known for their local dishes. Whether staying the night or passing through, make sure to stop in and taste the delicious tagines and seafood dishes on offer.
Tamri House and Dar Banana are two other spots to stay in this area.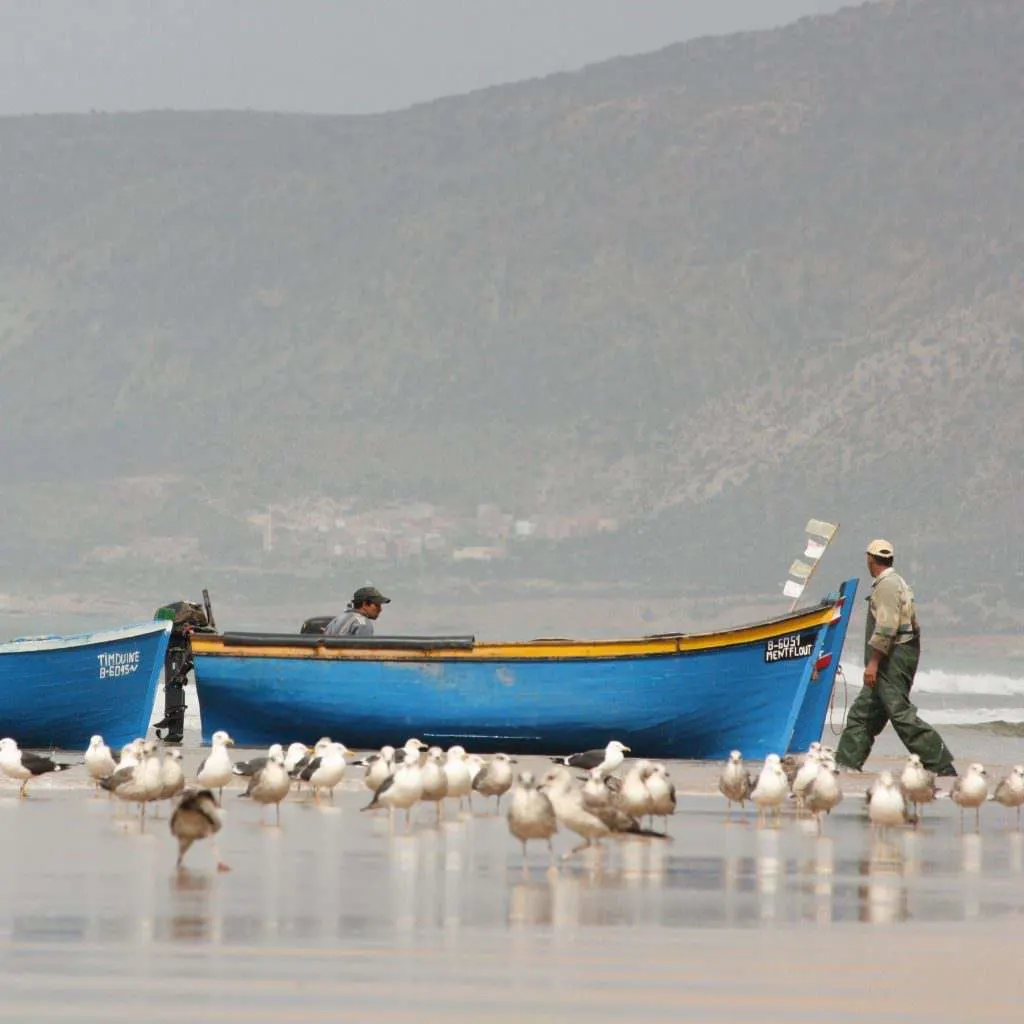 Imsouane
This is a small village, not surprisingly known for surfing and fishing – as most villages on this stretch are. If you're into surfing than this is the place you should go. It's slightly less crowded than Taghazout and the surf is considered really good – and it has some of the longest surf swells in the country. Of course there's plenty of beach to relax on and take a swim in the ocean as well!
There's also a market hall selling the daily catch. For seafood lovers this is a must. You will be able to purchase fish, really affordable I might add, that has been just caught. Outside the hall there are grills set up and everything can be prepared for you on the spot. Even if you decide not to eat, take a walk through this interesting spot.
Getting here is a little tricky. You'll need to get off the main road and head down the peninsula to reach the village but it's not too difficult. Having your own car is ideal but public transportation is also an option. You can take any bus heading to Agadir and get off at Tamanar and from here take a grand taxi the rest of the way. It's possible to take a grand taxi directly from Essaouira, Taghazout or Agadir – they just might be more difficult to hire as a shared ride, though a private transfer is easy to arrange.
Where to Stay
Imessouane Surf Lodge – For a more resort experience, this is where to book. They offer surfing, diving and fishing as well as a restaurant onsite.
BoardXhouse – This apartment rental is just minutes from the beach. It's clean and has a kitchen so you can prepare your own dishes!
Auberge Dar Naima – For those on a budget this auberge offers accommodations close to the beach with a variety of different room configurations available.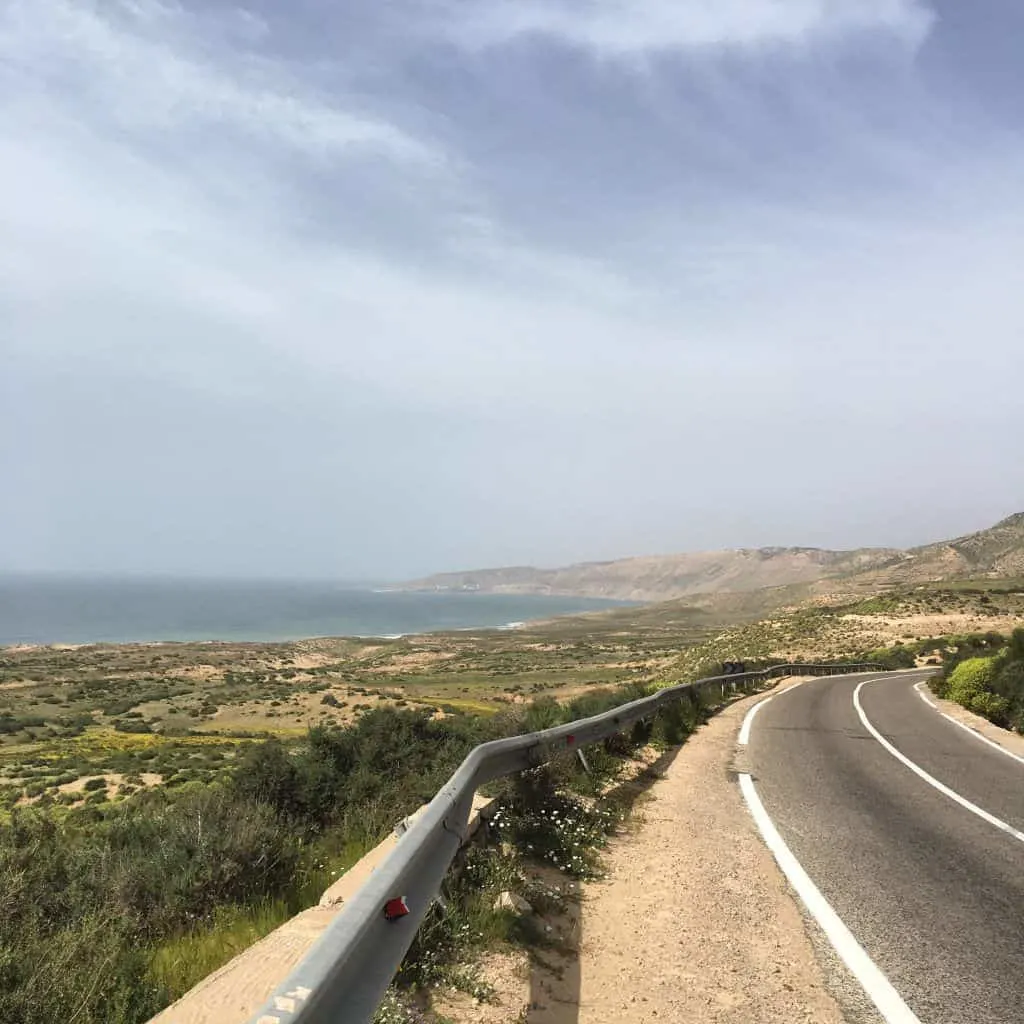 Sidi Kaouki
If Essaouira was once a sleepy hideaway, Sidi Kaouki might be what it once was. It's just 17 kilometers to the south and the name comes from a marabout, a type of hermetic holy man. On first glance it may seem like a village lost to time but today, surfers and people seeking a quieter destination than Essaouira come here. While some people stay here and visit Essaouira without our own vehicle this can be a bit cumbersome. Instead I'd suggest pulling up and spending a few days here.
You can take the local bus from Essaouira near the Bab Doukkala gate. Check for (approximate) times.
Where to Stay
Blue Kaouki – Just 50m from the beach, Blue Kaouki is set up to accommodate surfers. Rooms are affordable and they have a beautiful roof terrace to watch the sunrise or set.
Rebali Riads – There are five properties each well cared for and relaxing. Food is on offer and guests are consulted ahead of time to make sure it meets their needs. A good choice!
Sidi Kaouki Beach Hostel – Travelers on a budget, try this hostel. Surfing equipment can be arranged. Rate doesn't include meals but this also can be arranged.
Auberge de la Plage – A great value a short walk from the beach with breakfast included. It makes a great spot for couples or families wanting to get away in the village.
Getting Around
There are a few transportation options along the coast between Agadir and Essaouira. As always the best way to go is having the freedom of your own vehicle, but if that isn't an option you can take the #33 city bus for around 10 dirham, it will stop along the way in each town with the final stop in Tamri.
Another option is the intercity buses, which will make a more direct journey with fewer stops along the way. Finally the famous Grand Taxi, where you can either hire the entire car for the journey, or pay just for one place. For more general advice on getting around in Morocco check out our guide to transportation in Morocco.
Wondering what to wear? Check out my general advice as well as what to wear to the beach in Morocco.
No matter how you go, make sure to take advantage of the relaxed atmosphere, the amazing food and experiences. This unique stretch of coast certainly offers something unique for every traveller.