A great European winter tradition is the Christmas market. We went to Berlin a few years ago just to see what it was all about! While German Christmas markets may be the most well-known, Christmas markets stretch across the continent (and beyond!)
Traditionally they are held during the four weeks of Advent but some start a little earlier and can run later. We try to go somewhere in Europe every winter to enjoy at least one of these special markets. Here are 19 great European Christmas markets for kids to consider this season.
Austria
Vienna Christmas Market (Wiener Weihnachtsmarkt)
At the Vienna Christmas market they've got a whole playground next to the Christkindl Markt and activities on the ground floor of the town hall. At the Karlsplatz Market there are loads of straw bales that kids can jump in and build forts with. Who knew just a little hay could go such a long way to make memories? — from Just Go Places
Belgium
Antwerp Christmas Market (Kerstmarkt Antwerpen/Marché de Noël d'Anvers)
Take in the light show at the Grote Markt which is fun for kids of all ages. There's also the requisite ice skating rink that has special performances throughout the market season. In past years special sculptures and performances are also scheduled throughout the festivities. — from Wonderful Wanderings
Czech Republic
Prague Christmas Market (Pražský vánoční trh)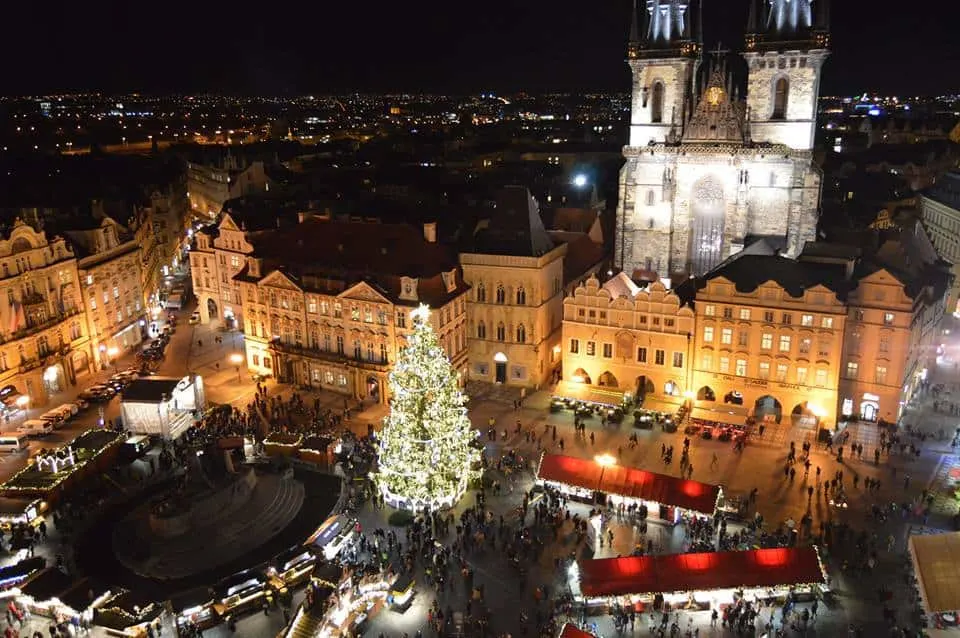 Unlike some European cities with dozens of Christmas markets, Prague has just four. The Old Square Christmas market is the largest and oldest with things like pony rides for children. The three others have a mixture of food stalls and shopping as well as various displays and activities. If you're trying to decide where to go to a market and your money is a little tight, Prague will be less expensive than most other Euopean cities. — from Just a Pack
Estonia
Tallinn Christmas Market (Tallinna Jõuluturg)
Tallinn, the capital of Estonia, is a fantastic winter destination for families.
The Old Town, in the centre of Tallinn, is a UNESCO World Heritage site and it hosts every year one of the cosiest Christmas markets in Europe!
The square in the Old Town is organized with many beautifully lit and decorated wooden huts where vendors sell a variety of products, from traditional food items to handcrafted gifts.
It is famous for its relaxing atmosphere, attracting thousands of visitors each year. It is the perfect place for getting into the holiday mood, enjoying delicious food and drinks and spending quality time with your family
There are special holiday activities that the little ones will particularly enjoy. The popular Christmas road train departures from the market and takes you on a festive trip around the whole town.
The kids will also enjoy the carrousel and fair stalls with plenty of games – guaranteed to keep the little entertained while the parents can enjoy the relaxing ambiance! You and your family won't regret visiting Tallinn in the winter months! — from Family Off Duty
France
Amiens Christmas Market (Marché de Noël Amiens)
There are quite a few Christmas Markets on throughout France but Amiens is a personal favorite because it's not quite as touristy and expensive as other more famous places such as Lille. The town is just as quaint and authentic as others, both during the festive period and the rest of the year. Hundreds of rustic huts fill the Main Street, each complete with their own delights.
Everything from roasted chestnuts, to craft gifts and mulled wine. Whilst the little tipple was keeping me warm, there was equally plenty for the kids to do with loads Christmas themed rides, an ice skating rinks and more. — from Travel Mad Mum
Lille Christmas Market (Marché de Noël Lille)
The annual month-long Christmas Market is one of the highlights of the Lille calendar and the biggest in Northern France. This city, the capital of the Hauts-de-France region, has held a Christmas market for centuries and is a wonderful place to soak up some Christmas cheer with the family.
The market is held in Place Rihour, in the centre of town, with stalls opening at the end of November and running until the final few days of December (this year the market will be open from November 22nd until December 29th). Some 90 chalets take part selling festive food, Christmas decorations, nativity figures, gift ideas and plenty of mulled wine.
There's a large fairground, concerts and the chance to have your photo taken with Father Christmas himself. If you visit on the Saturday before Christmas, you can see Santa "fall" from the neighbouring 80-metre-high Belfry – a spectacle that is both thrilling and heart-stopping in equal measure! Catch a glimpse of all the festivities from the 50m-high Ferris wheel in the nearby Grand Place. — from Globe Totting
Paris Christmas Market (Marché de Noël Paris)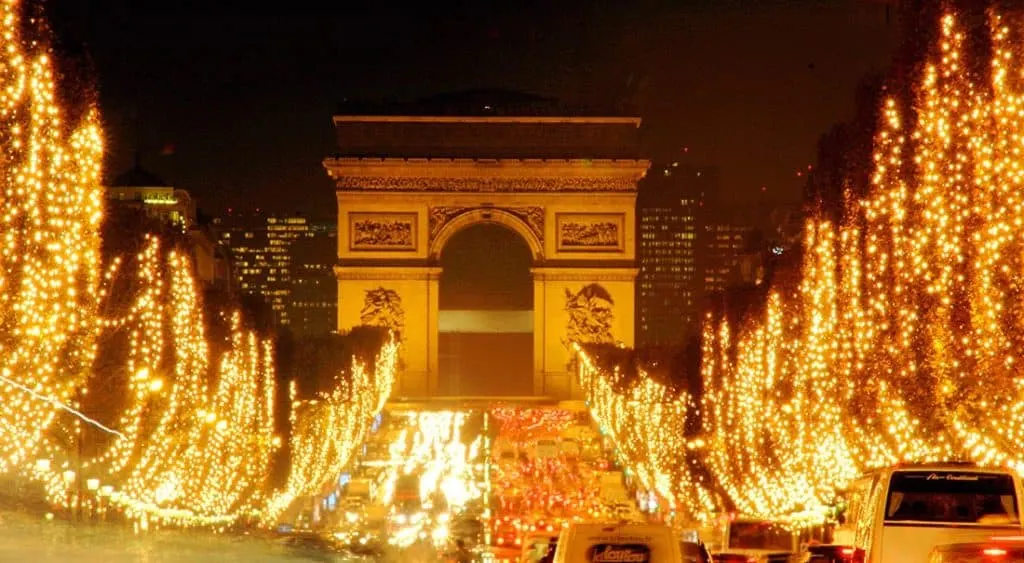 Christmas in Paris is magical! As if the Ville de Lumière isn't magical enough, the rest of the year, in the winter the city really shines. There are glittering lights illuminating the classic Hausman buildings, classy decor hanging from balconies, and festive storefronts line the streets. Kids will love riding on the many carousels dotting the city.
Possibly the best part of spending the holiday season in Paris is the bustling Christmas markets. Our old favorite is the Marche de Noel at Notre Dame, but I'm not sure they'll have it this year after the fire.
Another great option and the best fun for kids is a new market called Le Village de Noel at Les Halles, with over 50 chalets selling holiday crafts, toys, food, and decorations. There are also great activities for kids like writing letters to Père Noël and an enchanted forest where you can search for his house. It's a true wonderland for kids! — from I Heart France
Strasbourg Christmas Market (Marché de Noël Strasbourg)
With one of the oldest markets in Europe this one is sure to have something for everyone. While the markets may be contained Christmas is everywhere. There are ten diffeent markets in each square of the city. Place St. Thomas has hands -on activities for kids. At Place de la Cathedale is another great market to stop by with kids for the trains, santas, gingerbread and carousels. — from Family Traveller
Germany
Cologne Christmas Market (Kölner Weihnachtsmarkt)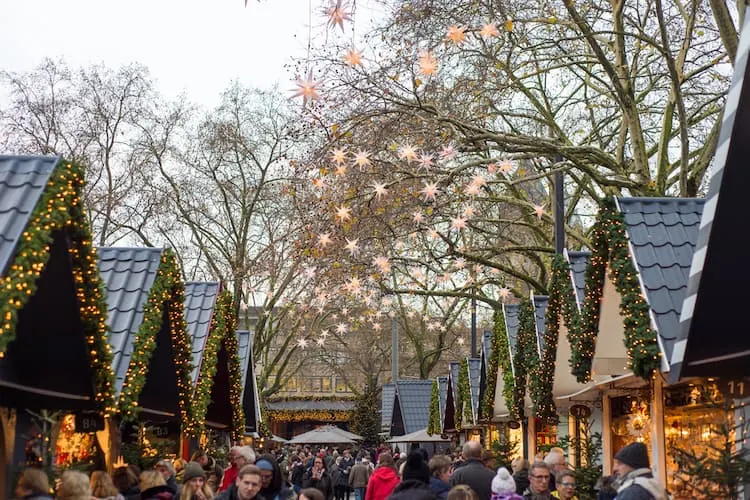 Families love Cologne's Christmas markets. There are many to wander
across in the center of the city, but I want to focus on two.
First up, the Cathedral's Market. This is centrally located right next
to the main train station. Hot tip: take the train into the city, it's
the country's most impressive train stop. Right next to it is the
gorgeous, gothic cathedral. Cologne's Cathedral is Germany's most
visited attraction and the back drop to the Cathedral Market. You'll
want to wander around the stalls and try the food. I recommend the
spätzle. Also, collect a mug from a glühwein vendor. If you haven't
before, check out the cathedral or take the 386 steps to the tower to
see Cologne from above.
The second market I recommend is the Old Market Christmas in front of
town hall. You can either walk there or take the Christmas Market
Express train trolley. I think you know which your kids will like.
Because of the area's affiliation with the Heinzelmännchen tale, this
market has an Elf and Santa-theme with amazing food and fun activities
for the kids. Try the Schupfnudeln and Dutch Poffertjes, then go on a
ferris wheel ride. — from Kids Travel Books

Frankfurt Christmas Market (Frankfurter Weihnachtsmarkt)

The Christmas market in Frankfurt (Frankfurter Weihnachtsmarkt) is one of the oldest ones in Germany and it offers all what a typical X-mas market should have: a huge Christmas tree, carols, roasted chestnuts, mulled wine, fresh gingerbread, saurkraut, and more winter delicacies to taste! Frankfurt Christmas market is great for kids as they can enjoy amazing merry-go-rounds, carousels, and get some sweets or hand-made wooden toys from numerous stalls. This year the market opens on the 23rd of November at 5 pm in front of the city hall. — from Nomad is Beautiful
Nuremberg Christmas Market (Nürnberger Weihnachtsmarkt)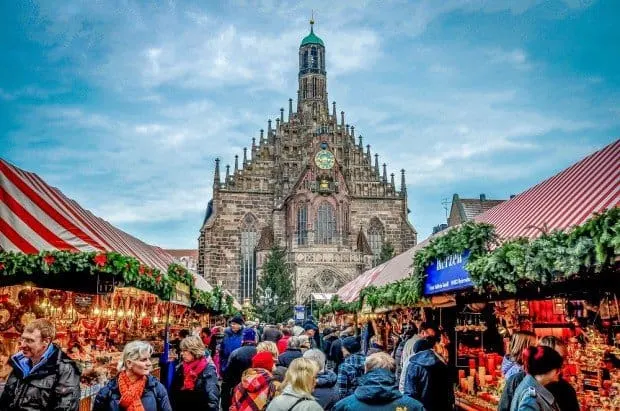 The granddaddy of all Christmas markets, and perhaps the most well known is here. They even have a specific market just for kids. Everything is built at child height so that they can see what's going on in the artisan stalls. Of course there's plenty to eat and drink – don't leave without at least one gingerbread! — from Travel Addicts
Stuttgart Christmas Market (Stuttgarter Weihnachtsmarkt)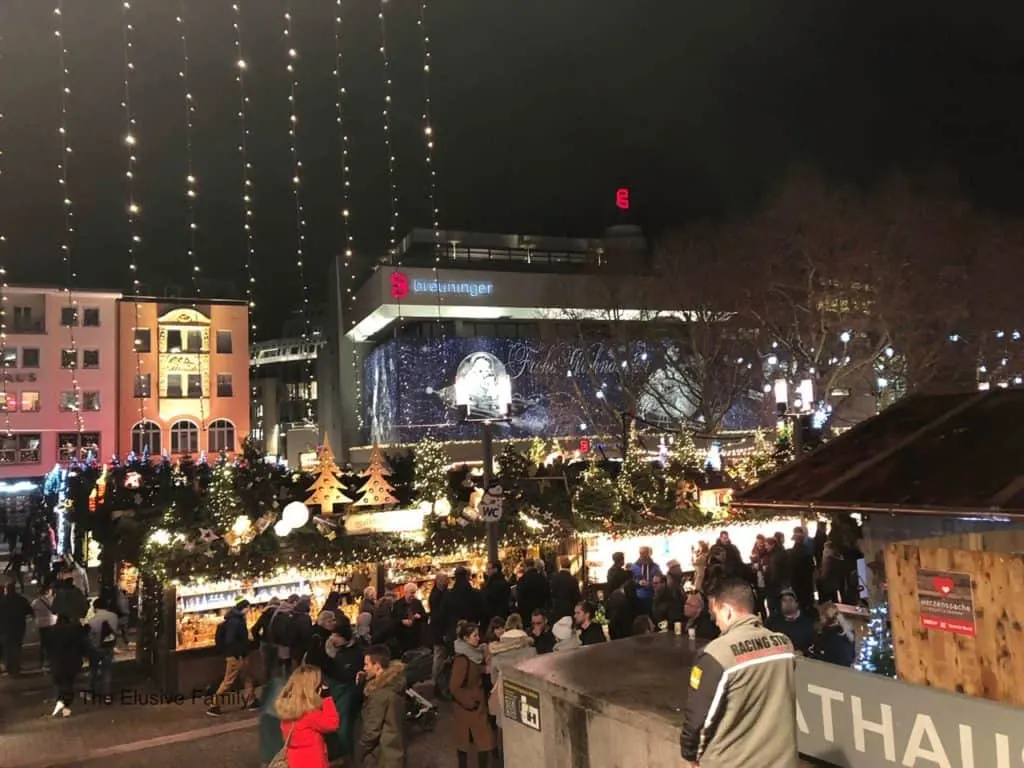 Stuttgart is a great Christmas market for families as the city itself has a lot to offer families visiting of the most beautiful regions of Germany. Located in southern Germany, Stuttgart is a major city directly west of Munich and a family friendly Christmas market in the winter
The Weihnachtsmarkt as known locally has a lot of family friendly carnival style rides such as a small Ferris wheel. There is a steam train with a train conductor that you can sit on that takes you through a beautiful display of small villages. An ice rink is located in the main square where skates and child friendly push skates are available for rent.
The market also has numerous shop and food vendors that cater specifically to children with children's toys and foods such as gingerbread and bratwursts, a popular food in Germany. — from The Elusive Family
Hungary
Budapest Christmas Market (Budapesti karácsonyi vásár)
We visited many markets while living in Germany, but the Budapest Christmas markets were one of our favorites, especially with kids. Not only are the markets filled with delectable delights, fun wooden toys (we are the proud owners of some cork shooters) and festive music.
Also located in Budapest is the Children's Railroad, which is run by children and has festive Santa Trains that run throughout December. In addition, kids will delight with multiple ice rinks to skate to their heart's content as well as the Nutcracker Puppet show at the Budapest Puppet Theater. So you can see why Budapest is one of our favorite family-friendly markets in all of Europe! — from Pack More Into Life
Italy
Milan Christmas Market (Mercatino di Natale di Milano)
The O'Bej O'Bej (which means "oh nice, oh nice" in the Milanese dialect) doesn't run all season long. Instead it starts on the 7 December and ends the following Sunday. It's located near the Sforza Castle and the celebrations are dedicated to Saint Ambrose (the patron saint of Milan) and the myth around this market is that a delegate of Pope Pius IV was visiting Milan in 1510 and so came with sweets and toys for the children. With a story like this you're sure to find plenty of sweets and toys to keep children happy.
— from Italiakids
Portugal
Lisbon Christmas Market (Mercado de Natal de Lisbona)
Have you considered a little sunshine and warmth with your mulled wine and Christmas shopping? Lisbon is perhaps not an obvious choice for Christmas markets, but the city is in full crimbo swing throughout December.
We visited Lisbon with kids (aged 3 and 5) in the second week of December and there were Christmas markets at seemingly every main square. Or your can head to Wonderland Lisboa at Parque Eduardo VII (which generally runs from the 1st December to 1st January) to go ice-skating, meet Father Christmas, ride the Ferris Wheel and peruse even more Christmas markets. Entry is free, but you pay individually for the attractions. Arrive early to avoid the queues.
You will also find the main shopping streets decorated with twinkling lights, and we absolutely loved the conical tree in the main square of Comércio Plaza, which you can sit inside and looks magical when lit up at night. — from TraveLynn Family
Switzerland
Geneva Christmas Market (Marché de Noël de Genève/ Genfer Weihnachtsmarkt)
Geneva has a small but beautiful Christmas market that is perfect for families with young kids.
Located in Parc des Bastions, a large green area in the centre of town, the market is in a convenient location and a great place to experience a jolly Christmas atmosphere mixed with free play in the outdoors.
Entering from its main gate, you first find a carousel, light displays and Christmas trees and immediately after you have the Christmas village.
This is a series of wooden cabins selling Christmas crafts and food of all types. For a traditional Swiss experience, you can head to the fondue chalet (melted cheese), but if you prefer to tap into the rich multicultural food of contemporary Geneva, you will be spoilt for choice with stalls selling from falafel to ramen!
The market caters for kids with a small ice rink and of course lots sweets and chocolate: the compact size of the market is a plus as it has the right amount of entertainment without ever getting overwhelming.
With the festive stalls and the backdrop of snowy Alpine peaks, it is a perfect winter activity in Geneva. — from Learning Escapes
United Kingdom
Bournemouth Christmas Market
There is so much for families in Bournemouth during the festive season. Bournemouth Christmas market runs from 15th November until 1st January with daily opening times from 10am with the exception of Christmas Day.
Focusing on the festivities for children, wrap up warm and enjoy the outdoor ice rink which is a very popular activity in the Gower Gardens. If you time your visit in the afternoon, the lights will start to twinkle from Christmas Tree Wonderland, a lovely Christmas tree trail that takes over
the gardens and lights up the town.

There really is no better way to finish off your visit with a wander through the market stall taking in the amazing festive aromas, and don't forget to stop off to visit Santa in his grotto. — from The Life of Spicers
Leeds Christmas Market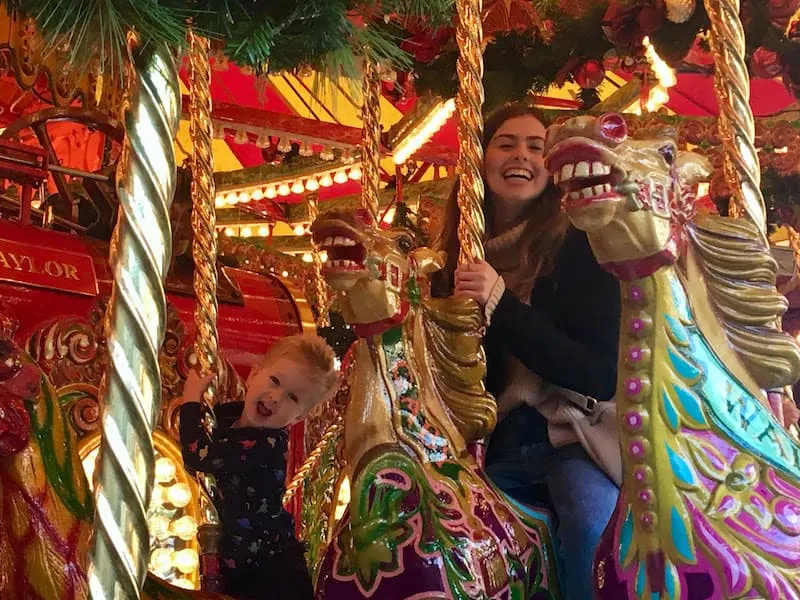 Leeds Christmas markets are on from the 8th November to 22nd December. Situated in Millennium Square in the city centre, you are greeted with a winter wonderland complete with twinkling lights, wooden chalets and traditional stalls full of delicious food and drinks.
There's plenty to buy if you want to pick up a souvenir or some gifts from jewellery, toys, decorations and Christmas cards. I visited with my 3 year old and my cousin. My son absolutely loved going into the snow globe with us to play with the 'snow' and have our photo taken. We rode on the traditional carousel before sitting down with our hot chocolates, laden with cream.
Whilst you are there, don't forget to go for a ride on the Leeds wheel where you can take in sights of the whole city. There's also the water taxi that takes you along the canal which is a great alternative way of travelling through the city. — from Chilling with Lucas
Lincoln Christmas Market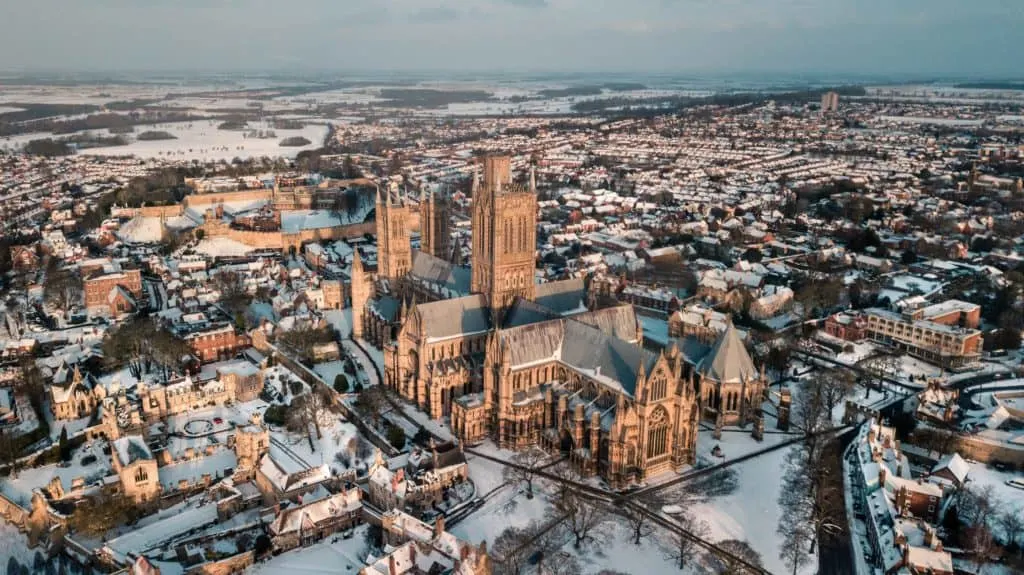 My favourite Christmas market is Lincoln Christmas Market in the UK. I grew up in Lincoln, and it was a family tradition to go along to the festive market every year.
Lincoln is a historic cathedral city and the market takes place in the Cathedral Quarter over four days. The market is at the top of the aptly named 'Steep Hill'. As a child, we'd spend our evening Christmas shopping in town and then we'd walk up the hill to the market and browse in the little shops on the way. We'd buy roast chestnuts from a stall halfway up the hill and enjoy them as we walked under the twinkling Christmas fairy lights.
The market is filled with delicious food and drink, craft stalls and entertainment – the food and smells are what stick in my mind the most. The stalls lead you around the Cathedral and Castle grounds so you get to see the iconic locations all lit up. It's such a beautiful atmosphere.

I live on the opposite side of the world now but I really want to take my kids back one year so they can experience the market as it's a place that childhood memories are made. — from Smart Steps to Australia
York Christmas Market
York is a family-friendly, historic city in the north of England. The city's popular six week Christmas market in the pedestrianised city centre was voted the 'Best Christmas Market in the UK' in 2018. The Scandinavian style market is part of a wider Christmas festival which includes festive window displays, giant Christmas trees and illuminations.
York is a compact city which is easily covered on foot making it a perfect destination to travel to with kids. The over 100 stall Christmas market is great to visit with kids as the individual wooden chalets sell interesting and unusual local and global crafts, food and drink. Our kids love all the free samples on offer!
Choirs, bands and festive themed buskers add to the Christmas atmosphere. Don't miss a visit to the cobbled Shambles shopping street, the inspiration for Diagon Alley in the Harry Potter novels. This medieval, lopsided street looks magical at Christmas time. — from Map Made Memories