Are you looking for some easy and delicious recipes to make during Ramadan? Well, look no further – we've compiled a list of simple and mouth-watering dishes that will have your family wanting more. From flavorful side dishes to scrumptious desserts, there's something here to satisfy every palate. So take a break from the hustle and bustle, grab your aprons, and start cooking up something special with these easy Ramadan recipes!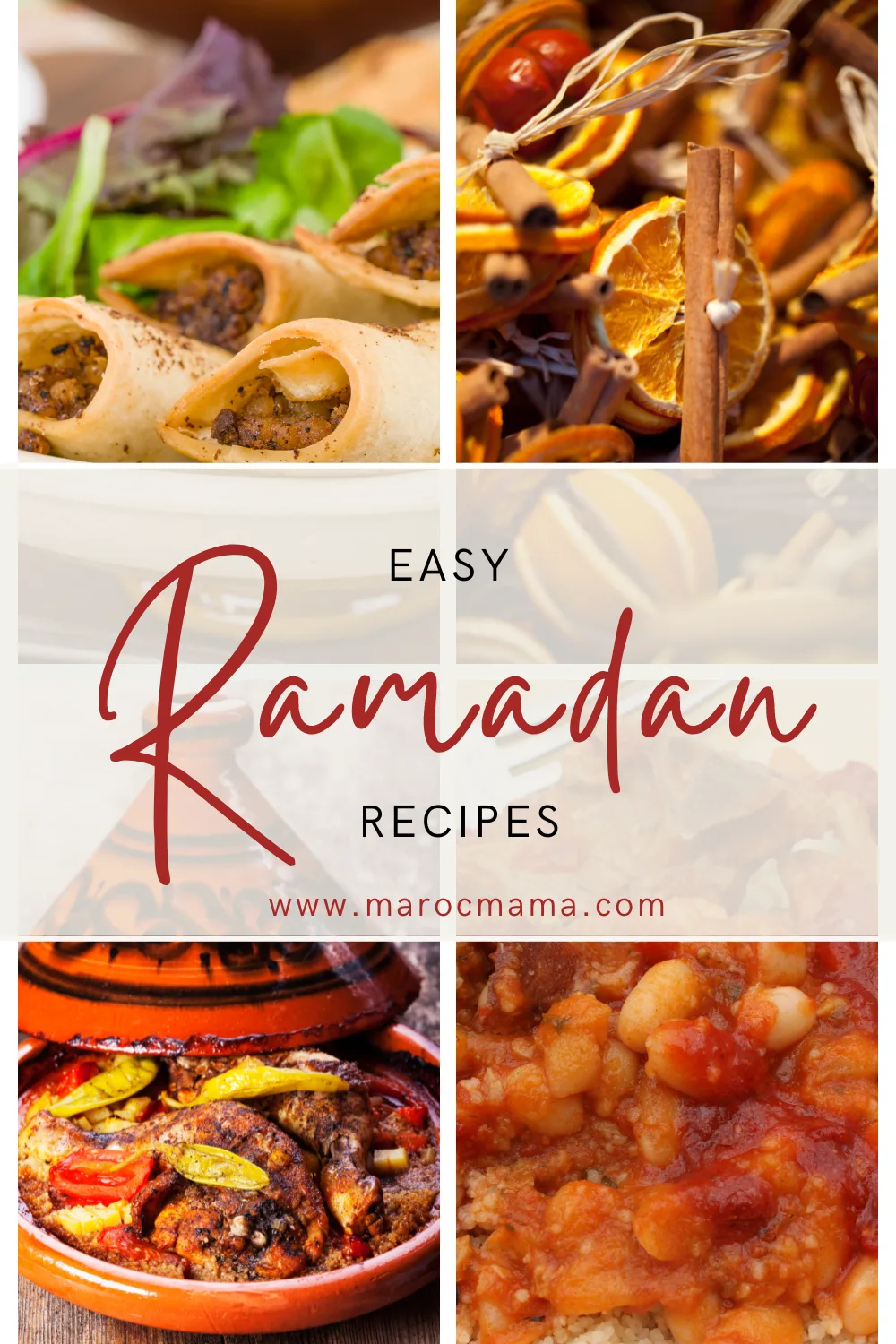 Whether you're an experienced chef or a cooking newbie, we've got you covered. With our simple instructions, anyone can have a memorable meal (or two) during this blessed month!
What are my favorite recipe shortcuts?
When I start planning meals for Ramadan, ease is definitely what I go for. I have a few favorite shortcuts that make my meals filling, delicious, and yet much faster to get on the table. Here are a few I recommend you try this holiday season:
Buy pita bread instead of baking it fresh.
Use store-bought hummus – it comes in so many varieties now that you are sure to find one to pair with your meal.
Stock up on freezer vegetables and fruits to use in soups and smoothies.
Pre-cook, shred & freeze chicken or use a rotisserie chicken from the grocery store to throw into recipes.
Use canned beans, tomatoes, and sauces.
Cook double batches of soup leading up to Ramadan so you can freeze half and serve them on busy nights during the holiday.
Use a rice cooker for cooking rice instead of on the stovetop – you can set it and forget it.
Utilize handy appliances like slow cookers, instant pots, and air fryers.
24 Super Easy Ramadan Recipes You Can Make
Hopefully, a few of these recipes will inspire you to make a time-saving holiday spread this Ramadan! Whether you're a kitchen novice or an experienced chef – there are plenty of easy and delicious meals that can be made with minimal ingredients and little time.
With these easy meals in your back pocket, you'll have more time to focus on friends and family this year!
What kitchen appliances are helpful for easy meals, and where can I buy them?
Many meals are made easier and faster with a few kitchen appliances, and many of the recipes shared above use my favorites – air fryer, rice cooker, slow cooker, and instant pot.
Air Fryer
This kitchen appliance uses high-temperature, circulating hot air to cook food without the need for oil. It can be used to achieve similar results to deep frying but with a fraction of the calories. Air fryers are perfect for those looking for healthy, tasty meals that don't take a long time to prepare.
Best Air Fryers
CHEFMAN Small Air Fryer – This model is a great budget option and perfect if you have a small kitchen. It's a great first-time user model to test whether Air-Frying is truly for you.
COSORI Air Fryer – This fryer has a larger capacity than the CHEFMAN and is a precise, easy-to-use model. It's more expensive but is a great option for those who know they will use an Air Fryer frequently.
Rice Cooker
This appliance uses steam heat to cook rice, trapping moisture and flavor for a delicious end result. You literally set it up to cook and walk away!
Best Rice Cookers
Hamilton Beach Programmable Rice Cooker – This model is great for rice-loving households, and it consistently makes tender white and brown rice, regardless of whether you pick long-grain, short-grain, or something in between. The speed at which it cooks the rice is also very competitive, with models at a much higher price point. The capacity is also great for families and get-togethers, with a basket that can hold 7 cups of uncooked, rice (14 cups cooked).
CUCKOO CR-0655F Rice Cooker & Warmer – If you want just a little more control over your rice cooking or if you like to cook more complicated rice varieties, such as those recently harvested or germinated brown rice, this Korean model is a great fit. It has a few more features than the Hamilton option, which is a tad more expensive. However, it's great if you are serious about your rice.
Slow Cooker
Slow cookers work by slowly cooking food at a low temperature, resulting in tender, flavorful dishes that require minimal preparation time. The slow cooker can be used to simmer soups, stews, and casseroles over several hours, or even overnight if necessary. It is an ideal appliance for busy people who still want to enjoy healthy, home-cooked meals without spending too much time in the kitchen.
Best Slow Cookers
Cook and Carry Slow Cooker, 6 Quart – This is a great option that's a little more budget-friendly, without the bells and whistles of the pricier models. That doesn't impact its ability to deliver a delicious meal! I love that the lid locks on for transport to parties and events, and the insert is dishwasher safe too.
Hamilton Beach Portable 6 Quart Set & Forget Digital Programmable Slow Cooker – This slow cooker consistently receives highly rated reviews. It's easy to program and uses smart technology with a temperature probe automatically turning itself to the warm setting when your meat hits the proper temperature. Truly an upgrade from the standard slow cooker!
Instant Pot
An Instant Pot is an electric pressure cooker that can help you speed up your cooking time while still creating delicious meals. It has many different functions, such as a slow cooker, steamer, and rice cooker all in one device. With the Instant Pot, you can easily whip up hearty soups, stews, and casseroles in minutes without any hassle. Additionally, it is great for cooking grains and beans as well as for making yogurt or even steaming vegetables. It is a versatile appliance that can save time and energy in the kitchen!
Best Instant Pots
Instant Pot Duo Plus 6-Quart 9-in-1 Pressure Cooker – At around $100, this is one of the better budget-friendly instant pots on the market. It's a classic model that's been around, and perfected, over the years. It's got a 6 qt capacity, which is great for families, and it can even remember previous settings you've used, which is great when you're in a rush.
Instant Pot Duo Plus 8-Quart Multi-Use Pressure Cooker V4 – This newer, quieter model put out by Instant Pot has extra features, including sous vide function. The appliance is incredibly consistent and precise, putting out tender meat, sauteed veggies, and more, time after time. The 8-quart cooking capacity is also a welcome upgrade for large families.
More Easy Ramadan Ideas
If you're looking for easy inspiration for Ramadan, look no further! Try some of these ideas!