Easy snacks and desserts are far more appealing to me than recipes that require a lot of work and cook time. These are not traditional cookies for Mimouna or any Moroccan holiday however they do make the perfect addition to any table as a mimouna cookie or Ramadan iftar snack.
What makes these ideal for those holidays? First, they are easy to make well in advance and keep in your freezer. Prepare them in advance of the holidays and pull them out as needed. There is no flour or nuts in this recipe so they're allergen-friendly (and also Passover safe). You can make them during Passover for Mimouna as the ingredients don't require any prohibited items. They really do tick all the boxes!
These cookies taste like raffaello candies thanks to a secret ingredient! You do want to use a brand new bag of shredded coconut if at all possible. That way the fruit is fresh, soft, and still a bit moist.
The secret ingredient in these balls is almond extract. You can omit it if you have a nut allergy or use an imitation flavor that is nut safe. I don't recommend omitting the flavor as it really does make a big difference. However, if there's no other option you can feel free to leave it out.
In search of more Mimouna recipes? Don't worry I've got more!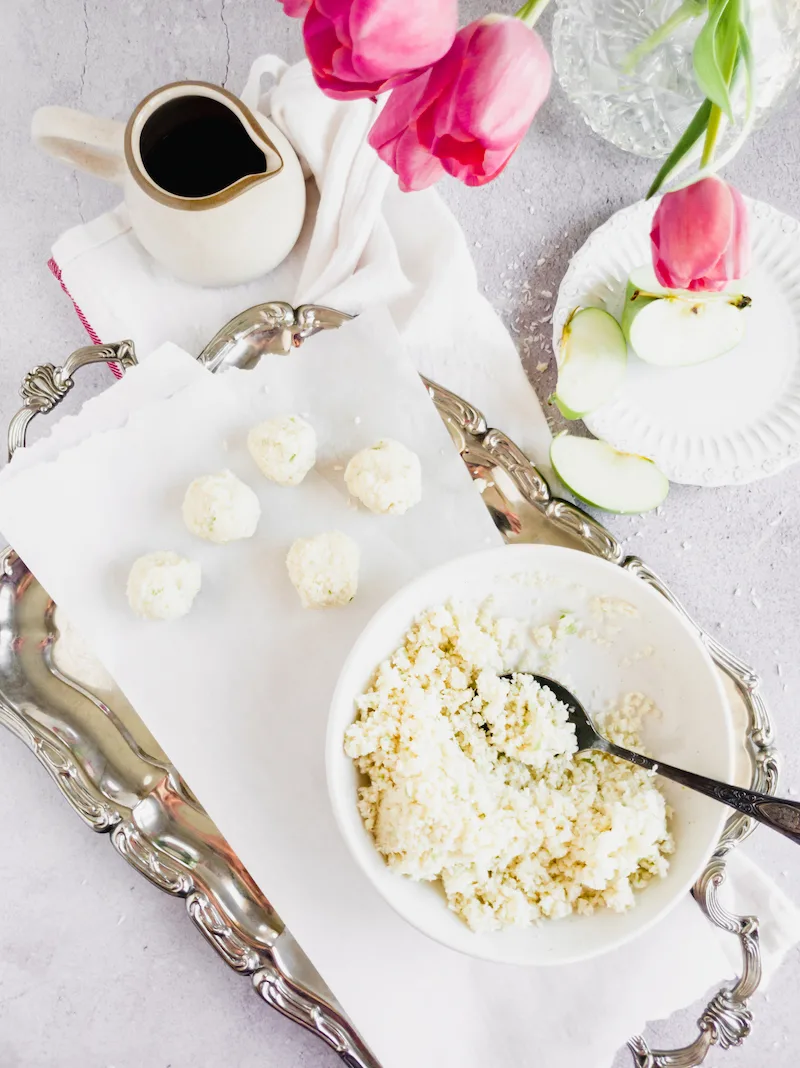 Yield:

12-14 balls
No Bake Coconut Mimouna Cookies
Additional Time:
15 minutes
These coconut cookies can be made several weeks in advance and stored in the freezer in an airtight container or freezer bag.
Ingredients
2 cups unsweetened shredded coconut (medium shredded is best, but a coarser or finer shred will do)
½ large green apple (or 1 small), peel on, cut into chunks
4-6 Tbsp maple syrup (add to taste)
3 Tbsp virgin coconut oil
⅛ tsp sea salt
1 tsp pure vanilla extract
¼ tsp pure almond extract
Instructions
Line a baking sheet or a large plate with parchment paper. It should be large enough to fit all of the rolled balls.
In a food processor add all of the ingredients.
Pulse everything together. You will need to pulse about 10-15 times until it starts to clump to the sides. You may need to open the food processor occasionally and use a spoon to push the contents down to ensure everything blends evenly.
Halfway through, test for sweetness and add more maple syrup if needed.
Stop pulsing as soon as you are able to easily press the mixture into clumps with your hands.
Use a tablespoon to scoop the mixture.
Press into balls of equal sizes with your hands. They may crumble a little bit.
Place the balls on the prepared lined plate or baking sheet. Place in your freezer for 15-20 minutes to set.
Transfer into an airtight freezer-safe container or freezer bag if you want to save them to use later.
Enjoy! They are best enjoyed frozen or slightly thawed so you get that melt in your mouth texture.