One sure fire way to create an easy Arabic recipe is to use your slow cooker. They aren't as popular in the Middle East as North America – in fact they can be hard to find at all. But, I love them!
I've been using my slow cooker a lot lately especially to create this easy chicken shawarma recipe. MarocBaba finally said to me at the end of last week, "Ok enough with that machine now!" It makes my life so much easier, and I am rarely disappointed. Not to mention the kids have not rejected a single meal. When I have combed the internet for new freezer and slow cooker meal ideas I found a few things that were troubling;
There's a lot of slow cooker soup recipes. If I served soup as a meal I'd get a lot of sad faces.
Lots of freezer meals include pasta, something we eat very little of.
Pork, lots and lots of pork.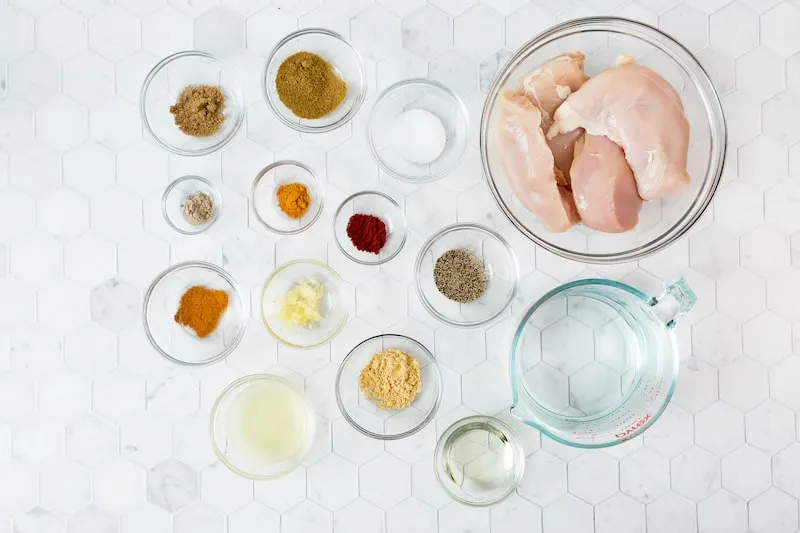 There are some Moroccan tajines that I've tried in the slow cooker and while the taste is ok, the sauce doesn't reduce and have the same flavor. I've always wanted to take Middle Eastern and Moroccan recipes and make them even easier.
Traditionally the chicken in a shwarma sandwich is spit roasted and shaved to fill a sandwich. I have neither a spit nor the patience to slow roast and shave it. Shwarma in the slow cooker is delicious and won't make you sweat all day tending the spit.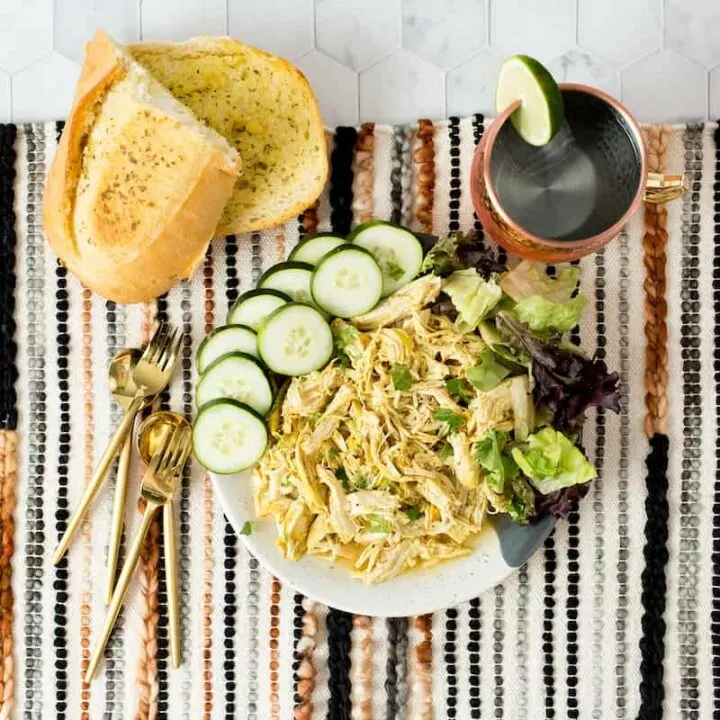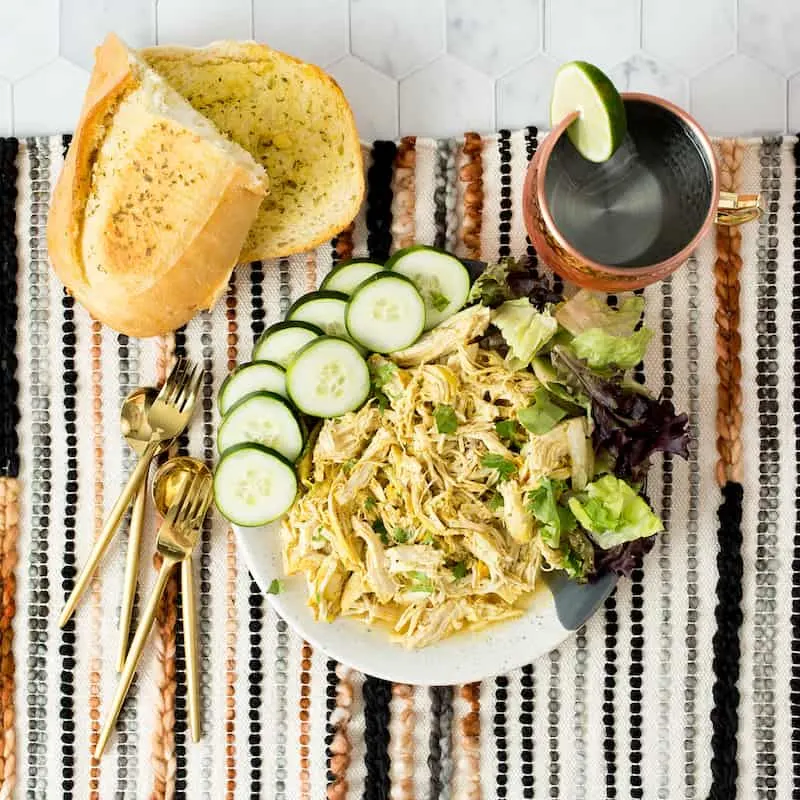 Yield:

8 servings
Slow Cooker Chicken Shwarma
Additional Time:
15 minutes
Total Time:
4 hours
30 minutes
The flavors of chicken shwarma without the need of a roasting spit. Make it in your slow cooker or instapot.
Ingredients
4 chicken breasts
1 tsp sumac
1 tsp each salt and pepper
1/2 tsp turmeric
1 1/2 Tbsp cumin
3 cloves garlic chopped finely
1 Tbsp ginger
1 tsp coriander
1/2 tsp cardamom
chili pepper (to taste, add more if you like heat, omit if you don't)
juice of 1 lemon
1 Tbsp vegetable oil
water
Instructions
1. Trim chicken breasts of any excess fat. Place in a bowl and add the sumac, salt and pepper garlic, turmeric, coriander, cumin, ginger, cardamom and chili pepper (optional).
2. In the bottom of your slow cooker add the vegetable oil and add the chicken.
3. Pour the lemon juice on top and add enough water to almost cover the chicken.
4. Cook on low heat for 4 hours, until the chicken is falling apart, keep on warm until just before serving
5. A few minutes before eating, transfer the chicken and liquid to a large pan. Shred the chicken with forks, and turn the heat to high.
6. Watch the chicken as the liquid reduces. You will want all of the liquid to be reduced, and the chicken to just slightly begin drying up. At this point it's done.
Notes
Serve the shwarma in warm pita bread. Condiments you may want to also include are Arabic garlic mayo, lettuce, tomatoes, pickles and other mezze style dips.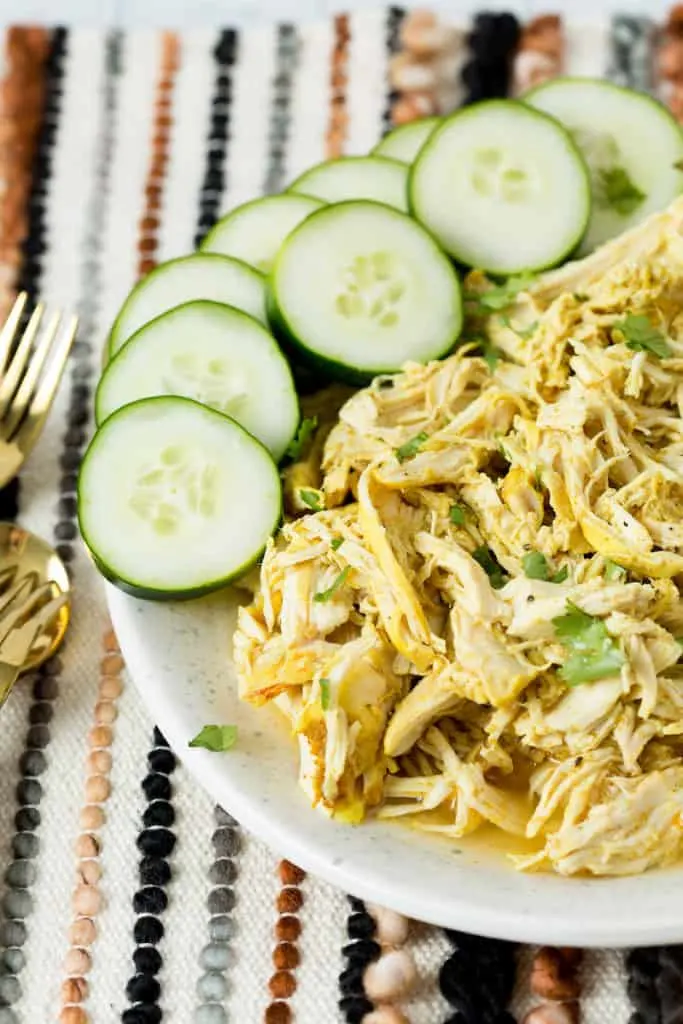 Bonus Recipe!
I made this for a get together over the summer and served it with my super fast version of Arabic garlic mayo. The traditional version is a slow process of emulsifying whole garlic cloves with olive oil. Not many of us have time for that. So instead make it this way.
2/3 cup sour cream or plain thick yogurt (like Greek yogurt)
1/3 cup mayo
2 tsp garlic powder
1/2 tsp salt
Whisk it all together. You can add more garlic if you'd like, or less but this should have a strong garlic taste. If you'd like it thinner use olive oil to get the consistency where you'd like it.
Want more Middle Eastern chicken recipes? I got you covered!
I hope you'll love this recipe as much as my family did! I have since made this for a few different times for events and gotten feedback from others who LOVE this recipe. Make it tonight!
PS if you're looking for a good machine I love this one that is a slow cooker and pressure cooker in one.
See some more of our favorite (inspired) Middle Eastern slow cooker recipes: