This guest post is a great example of an easy Arabic recipe. It uses a few great shortcuts that you should take advantage of.
I have this obsession with Middle Eastern food. My American friends can't understand where it comes from, since I'm Brazilian and they think that in Brazil all we eat is feijoada and pão de queijo while drinking caipirinhas at the beach. Oooh, but they're so wrong!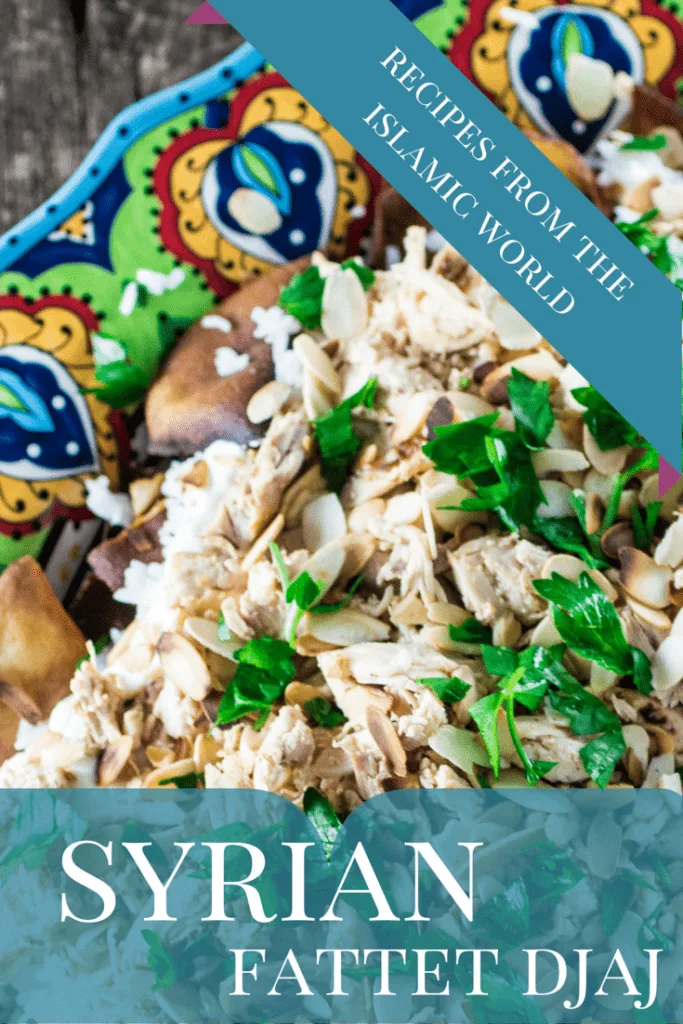 São Paulo, my hometown, has a huge Lebanese and Syrian community, so I grew up eating Middle Eastern food. Kibbeh, Sfihas (that's how we call those little meat pies), Baklava, Tabbouleh, Hummus, Baba Ghanoush, you name it, we have it! It is a huge part of our culture! We even have drive-thru Lebanese fast food restaurants! Shockers, I know!
So imagine my excitement when Amanda told me she was gathering bloggers to work on this Middle Eastern/Islamic food project for Ramadan! I immediately volunteered and chose Syria, as I am somewhat familiar with this country's cuisine. However, I decided to try my hand at a dish I had never made (or eaten) before and, after a little research, my mind was set on this delicious Fattet Djaj!
The Fattet Djaj (or Fatti Dajaj) is a layered chicken platter that consists of fried (or toasted) pita bread, rice and chicken with a delicious garlic-yogurt-lime sauce and topped with some toasted nuts. It's pretty much a medley of some of my favorite flavors and textures! Seriously, what could be better than that?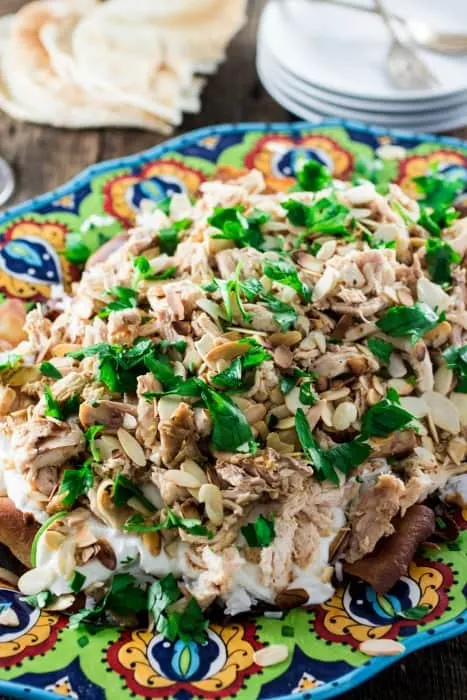 My experience making the dish:
The recipe is pretty simple and has a few shortcuts you could take. I highly recommend using a rotisserie chicken if you wanna make this in less than 30 minutes and skip the whole order of roasting a chicken! You could also use leftover rice and even store-bought pita chips. I did make fresh rice and fried my own pita chips, though, and they came out a-ma-zing and super crispy!
The secret here is to have your chicken and your rice warm when you start assembling the platter. The yogurt sauce should be cold or at room temperature, never hot. And once you assemble the platter, you cannot heat it up, so I recommend serving right away, unless you don't mind cold or room temperature food. I have this aversion to cold food (unless it's salad) and my dish was cold after I finished photographing it. However, I did eat it and it was delicious nevertheless.
I found many different ways to make this recipe, and ended up combining a few. Some recipes will ask you to bathe the pita chips with chicken broth and lemon juice. I didn't do that, as I like the idea of a crunchy texture to balance the softness of the other ingredients.
You can serve this dish as an appetizer, as it is usually served in Syria, or as a main dish! It serves 6 people comfortably, maybe more as an appetizer.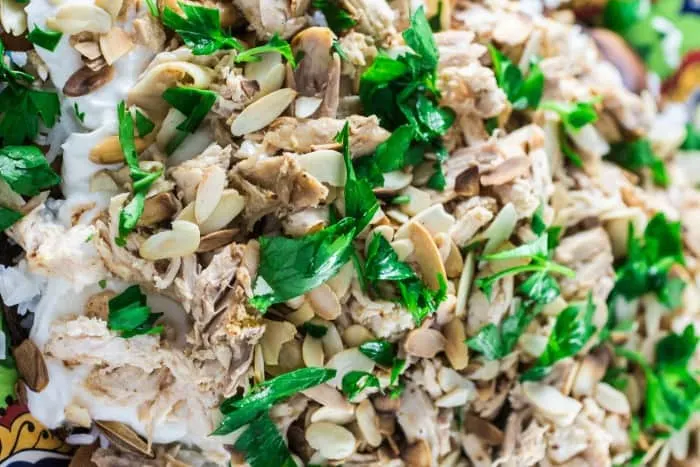 What I would do different next time:
– Loosen up the yogurt sauce with some chicken broth or use a non-Greek yogurt variety. I would like it to be more saucy and not too thick.
– Eat it right away (instead of photographing it for half an hour) so I can enjoy this dish warm. I did try to heat some leftovers in the microwave and it just doesn't taste the same. There's something about warm yogurt sauce that makes me wanna run for the hills!
– I might add the yogurt sauce after I add the chicken. Just for aesthetic purposes… Also, maybe I'll layer just half of the yogurt sauce and serve the rest on the side. But that's just me being picky and wanting everything to look as if they were made for the Saveur magazine!
Other than that, I wouldn't change a thing. The flavors in this Fatteh Djaj were amazing and me and my husband devoured the whole thing by ourselves (not all at once, obviously!).
I hope I have succeeded in inspiring you guys to explore a little of the Syrian cuisine! And Happy Ramadan!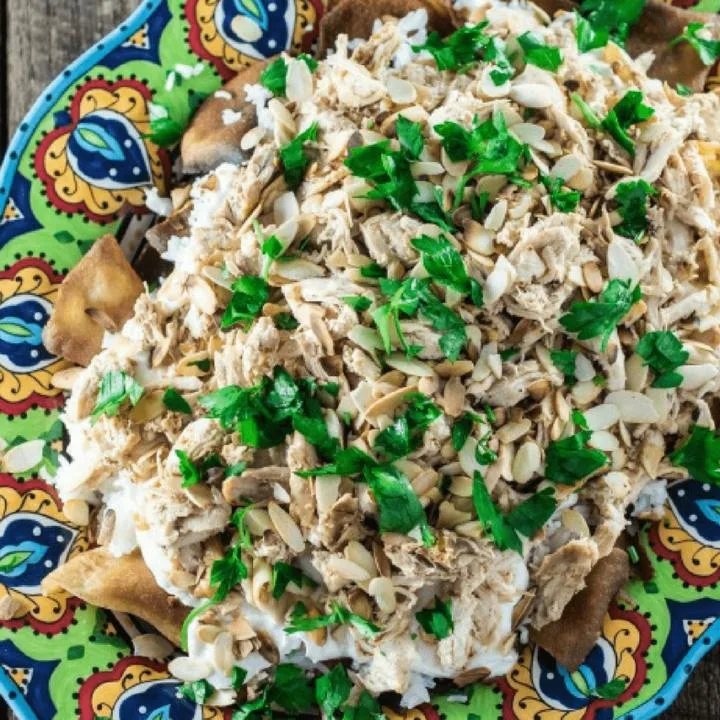 Yield:

6 servings
Syrian Fattet Djaj (Layered Chicken Platter)
A delicious (and easy!) main dish or appetizer to make using a rotisserie chicken.
Ingredients
1 rotisserie chicken
3 pita breads, cut into small squares
vegetable oil for frying
3 cups cooked rice
2 cloves of garlic, mashed
2 cups plain yogurt
1/4 cup tahini
juice of 1 lime
1/2 cup toasted sliced almonds to garnish (you can also substitute for pistachios or pine nuts or do a blend of all of those)
Salt and pepper
1/2 tsp cinnamon (optional)
Chopped parsley to garnish
Instructions
Start by heating the vegetable oil, over medium heat, and frying the pita squares (stale works better than fresh) until golden and crispy. Transfer to a plate lined with paper towel to soak the extra grease. Set aside
Prepare the sauce by combining the mashed garlic and the yogurt. Whisk until smooth. Add the tahini while whisking and, finally, the lime juice. Season with salt and pepper and reserve. (Refrigerate if not using right away!)
Make sure your shredded chicken and rice are warm before assembling the Fattet Djaj and work quickly so everything is still warm when you serve it.
In a big casserole or serving platter, start with the pita squares, evenly distributed in a single layer.
The next layer is the rice and finally 2/3 of the chicken mixture.
Top with the yogurt sauce and the remaining chicken and finish by sprinkling the toasted nuts, the chopped parsley and the cinnamon (if using). You can also sprinkle some freshly cracked black pepper on top of everything.
Serve warm.
More Chicken Main Dish Ideas
This post is from Olivia of Olivia's Cuisine. I was so glad when she wanted to participate and chose Syria as where to make a dish from. Syrian food is amazing! You can find more great recipes from Olivia on her blog and be sure to follow her on Facebook, Twitter and Instagram.