One-pot meals are always a good idea. Always. This means that you can cook everything in one pot, which is great for making an easy weeknight meal, and great for making cleanup a breeze.
And to be honest, there's nothing like the texture and taste of perfectly cooked shrimp. It's tender, it's juicy, and it's plump – and so filling!
Instant Pot Shrimp Biryani
Can you believe that a dish like this takes less than an hour to make? It's a fun recipe that delivers HUGE flavors right off the bat!
There are a lot of various spices and flavors in this dish, so make sure that you give them the time they deserve to taste them all. Add turmeric and cumin is a must, and these are just a few flavors that really balance out the rest of the dish.
I like to save prep time and buy shrimp that is prepped, deveined, and ready to go. All I want to do is dump in the ingredients – and enjoy it once it's ready!
Why you'll love this Instant Pot Shrimp Biryani
It's a flavorful dish that is great for kids and adults
You can make it quickly and feed quite a crowd!
Adding shrimp to your daily diet offers good health benefits
Instant Pot Shrimp Biryani Ingredients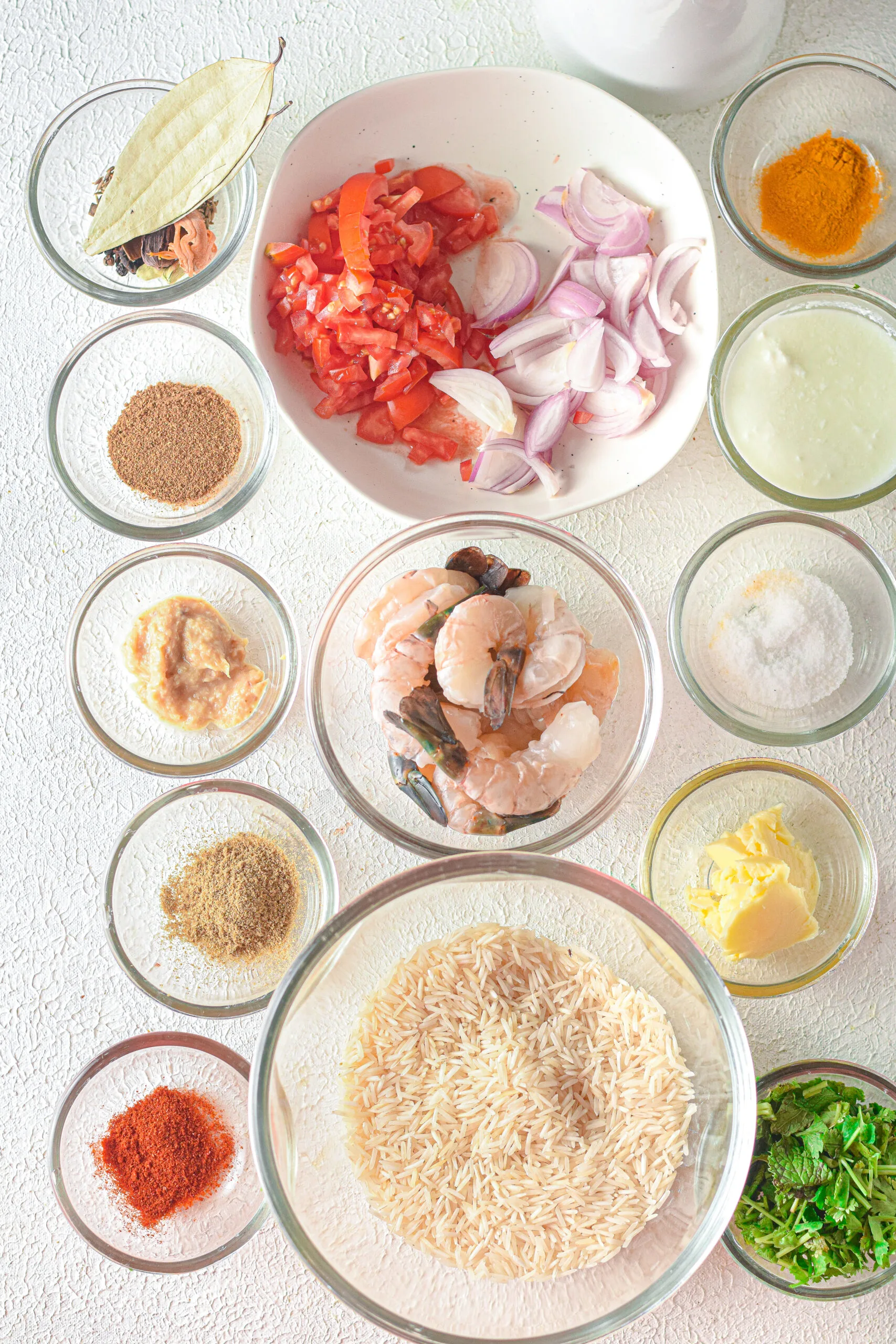 Once you gather up all the spices and ingredients, you're well on your way to making this delicious Instant Pot meal. The flavor and taste are insane!
Be sure to scroll down to the recipe card for the total measurements needed.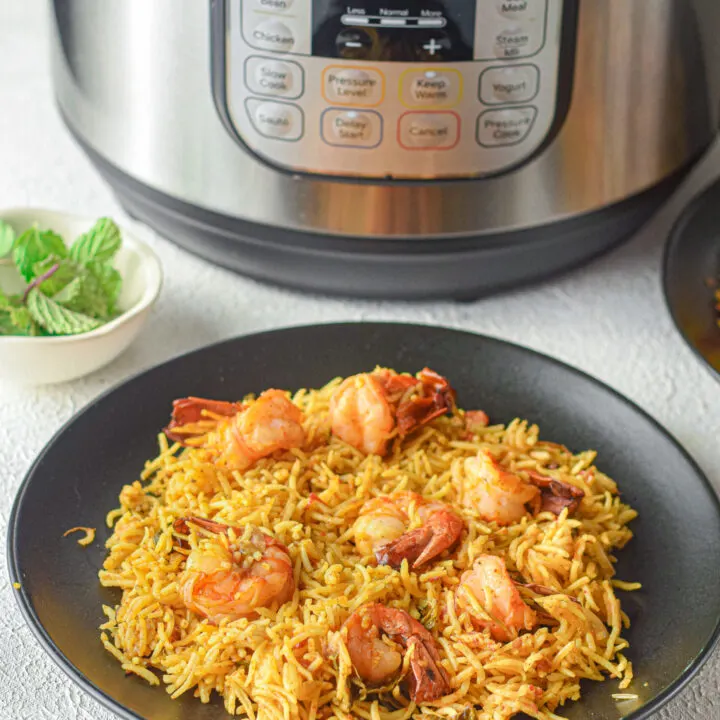 Yield:

3 Servings
Instant Pot Shrimp Biryani
A hearty and comforting BIRYANI made with fresh tender shrimp, aromatic basmati rice, and selected spices and herbs. It's spicy and full of flavors. With INSTANT POT you can make this one-pot dish in less than 30 minutes; a delicious meal, perfect for lunch and dinner.
Ingredients
2 cups basmati rice
2 tablespoons unsalted butter
1 teaspoon cumin seeds
2 bay leaf
1 black cardamom
2 green cardamom
2 cloves
1-inch cinnamon stick
1 star anise
1 teaspoon of peppercorns
1 large onion sliced
1 tablespoon ginger garlic paste
1 large tomato chopped
1 ½ teaspoon salt
1 tablespoon chili powder
1/4 teaspoon turmeric powder
1 teaspoon garam masala
½ teaspoon coriander powder
¼ cup plain yogurt
1/3 cup mint leaves
1/3 cup coriander leaves
1 lb large shrimps cleaned and deveined
2 cups of water
Instructions
Rinse the rice 3-4 times or until the water runs clear. Soak with enough water for 15 minutes; drain and set aside after 15 minutes.
Set the instant pot on the SAUTE function. Add butter, and let it melt. Add cumin seeds, bay leaves, black and green cardamom, cinnamon, black peppercorns, cloves, and star anise.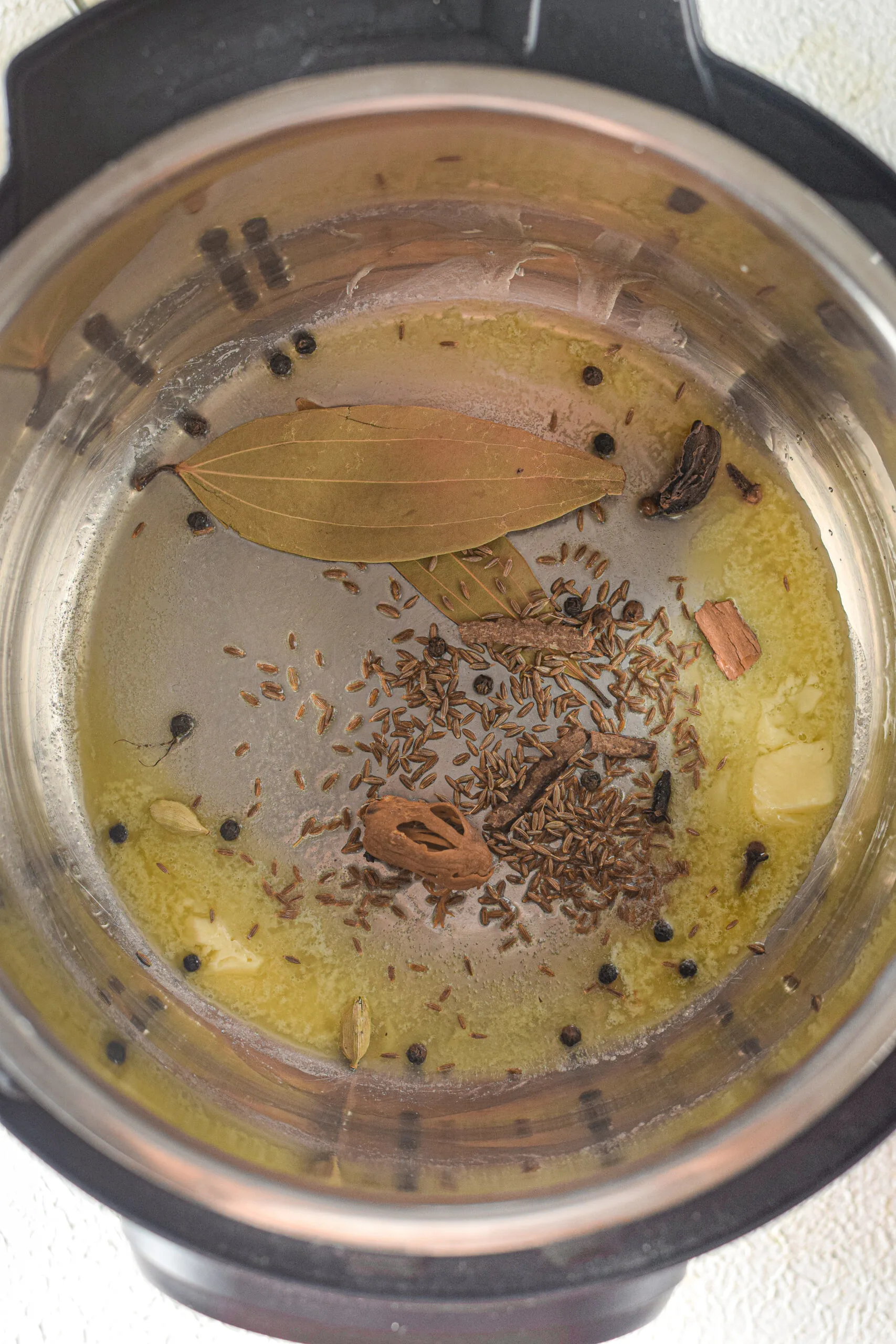 Next, add sliced onions and sauté them for 5-6 minutes until they are caramelized.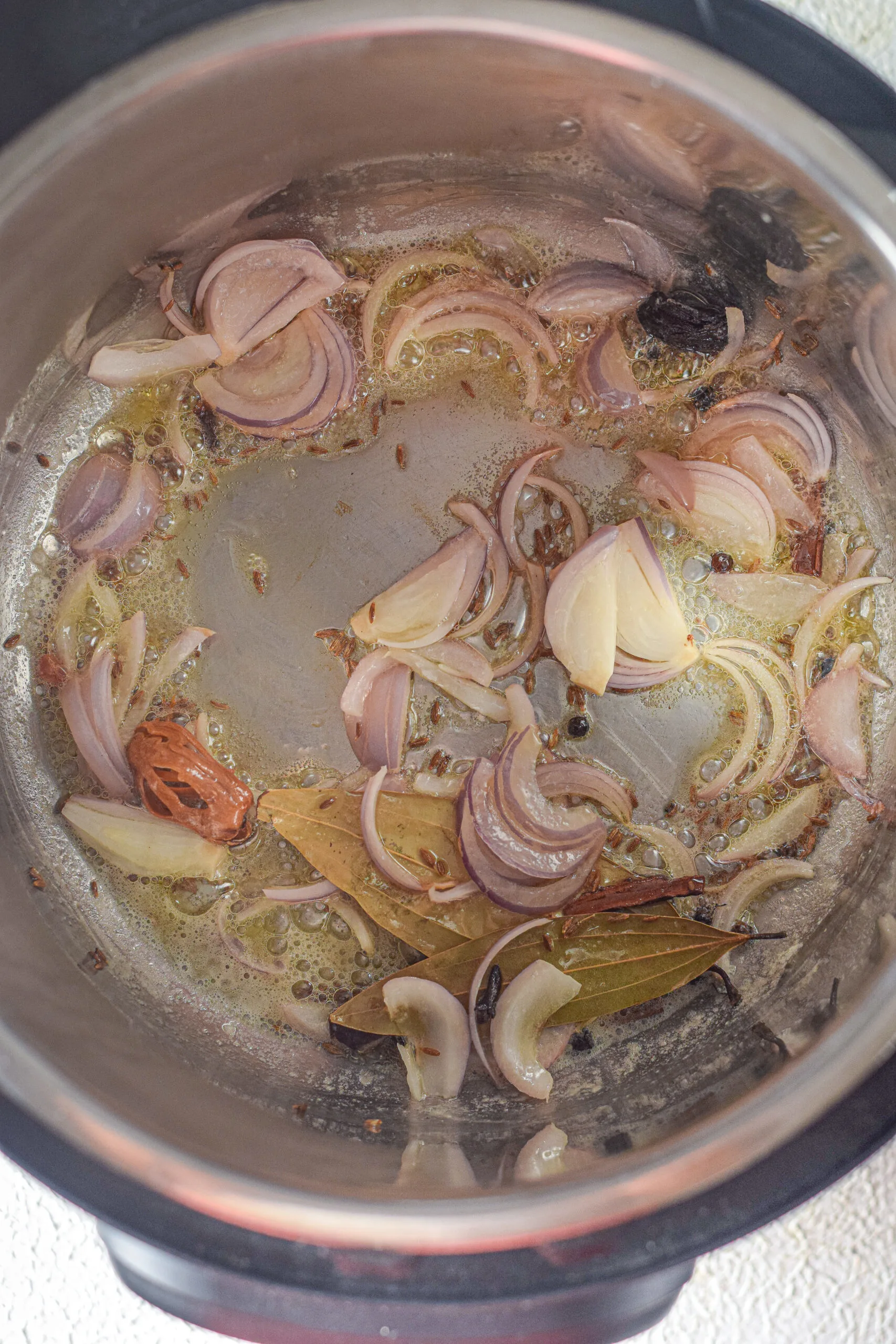 Add in ginger garlic paste and sauté until fragrant. Next, add chopped tomato and salt. Mix and cook it for a few seconds until the tomatoes soften.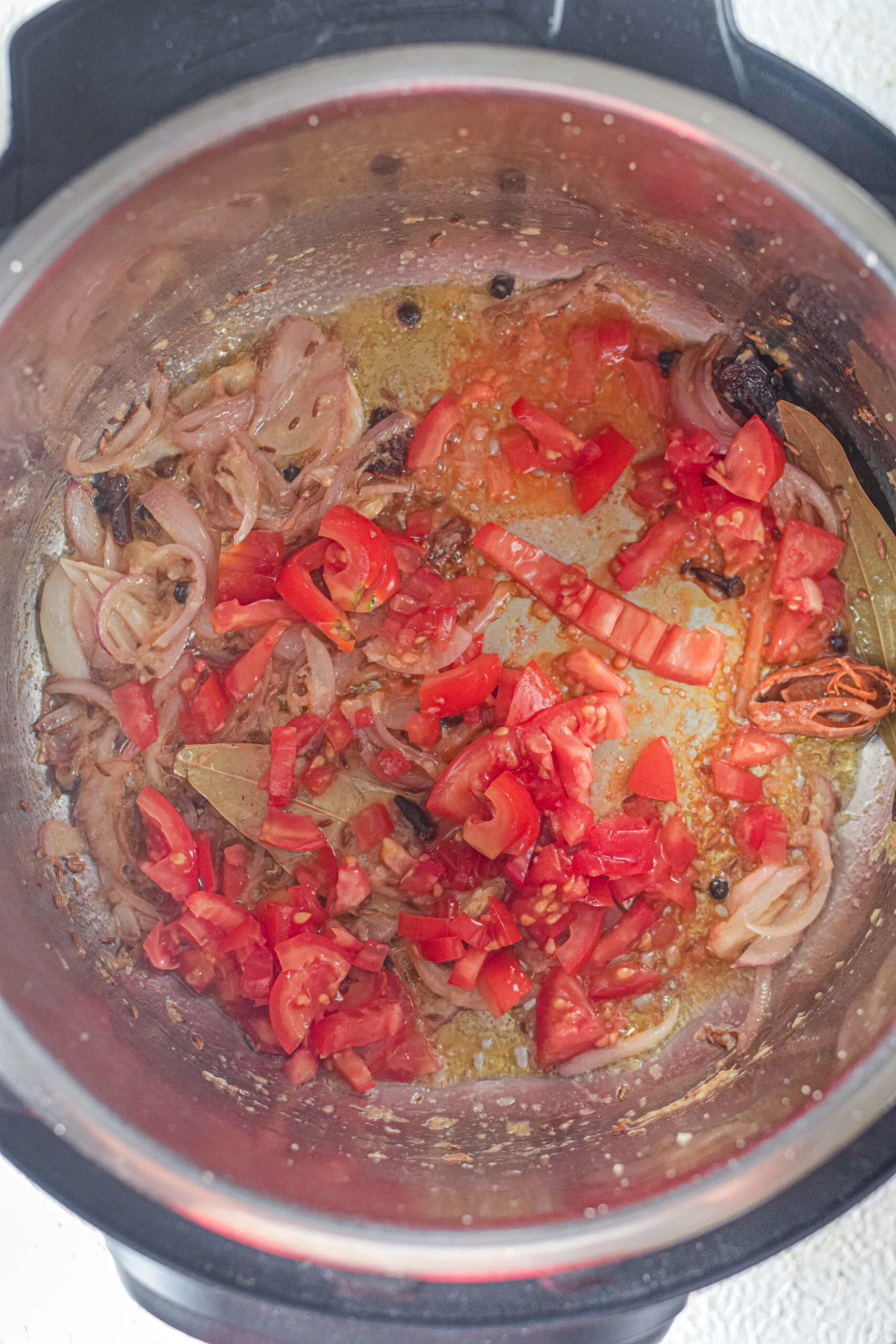 Add chili powder, turmeric powder, Garam Masala, coriander powder,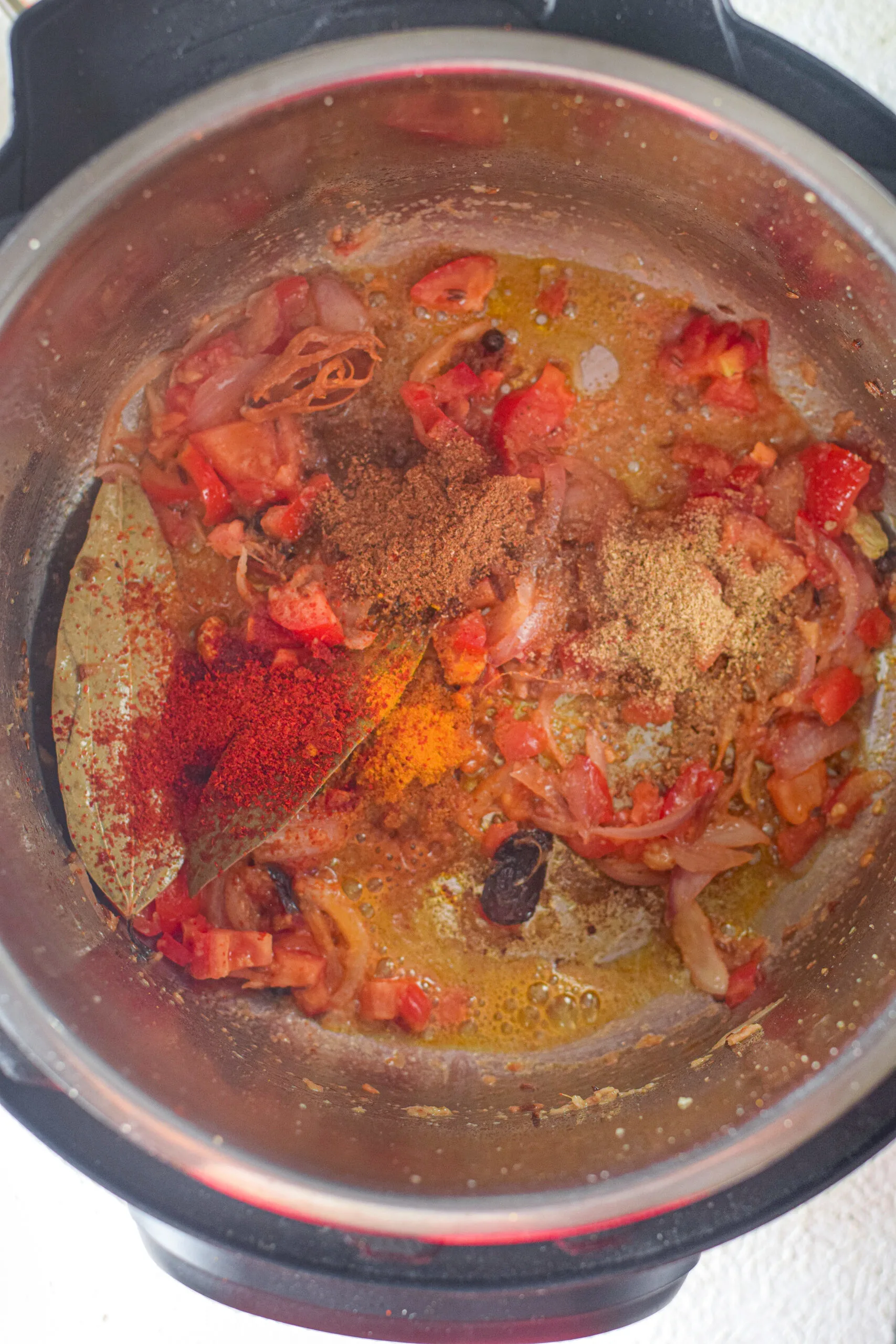 and plain yogurt. Mix well.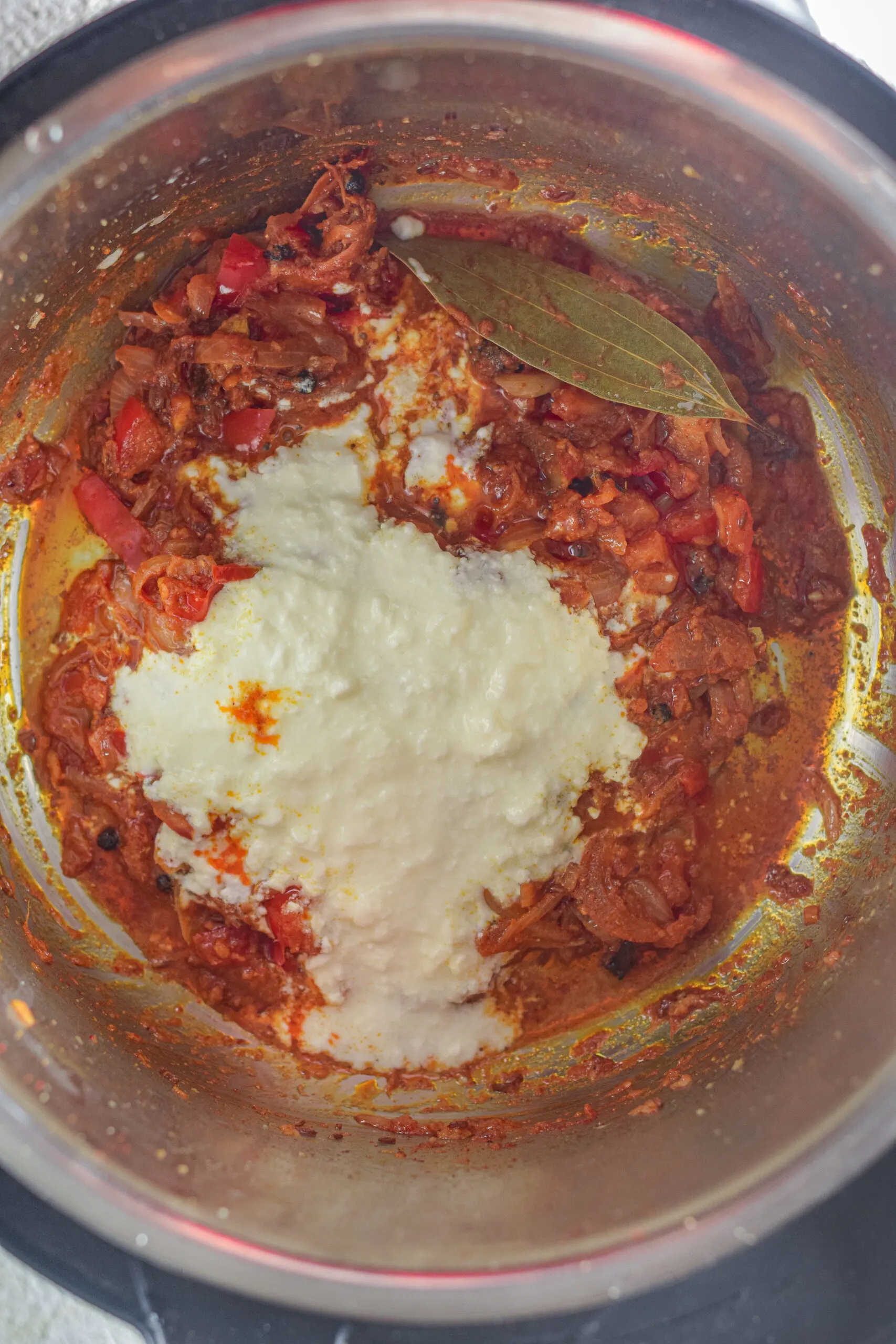 Add chopped mint and coriander leaves,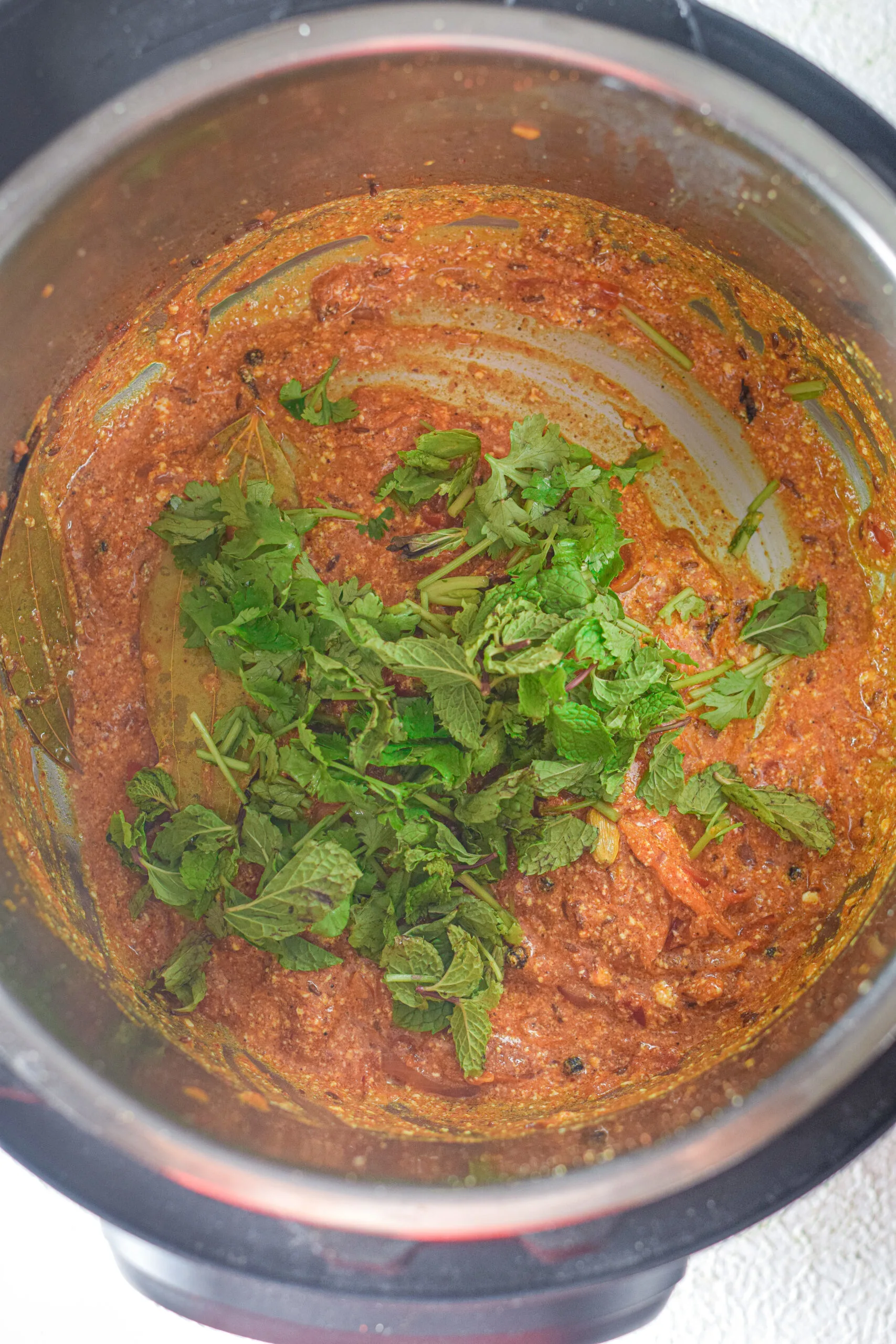 add soaked rice and mix properly,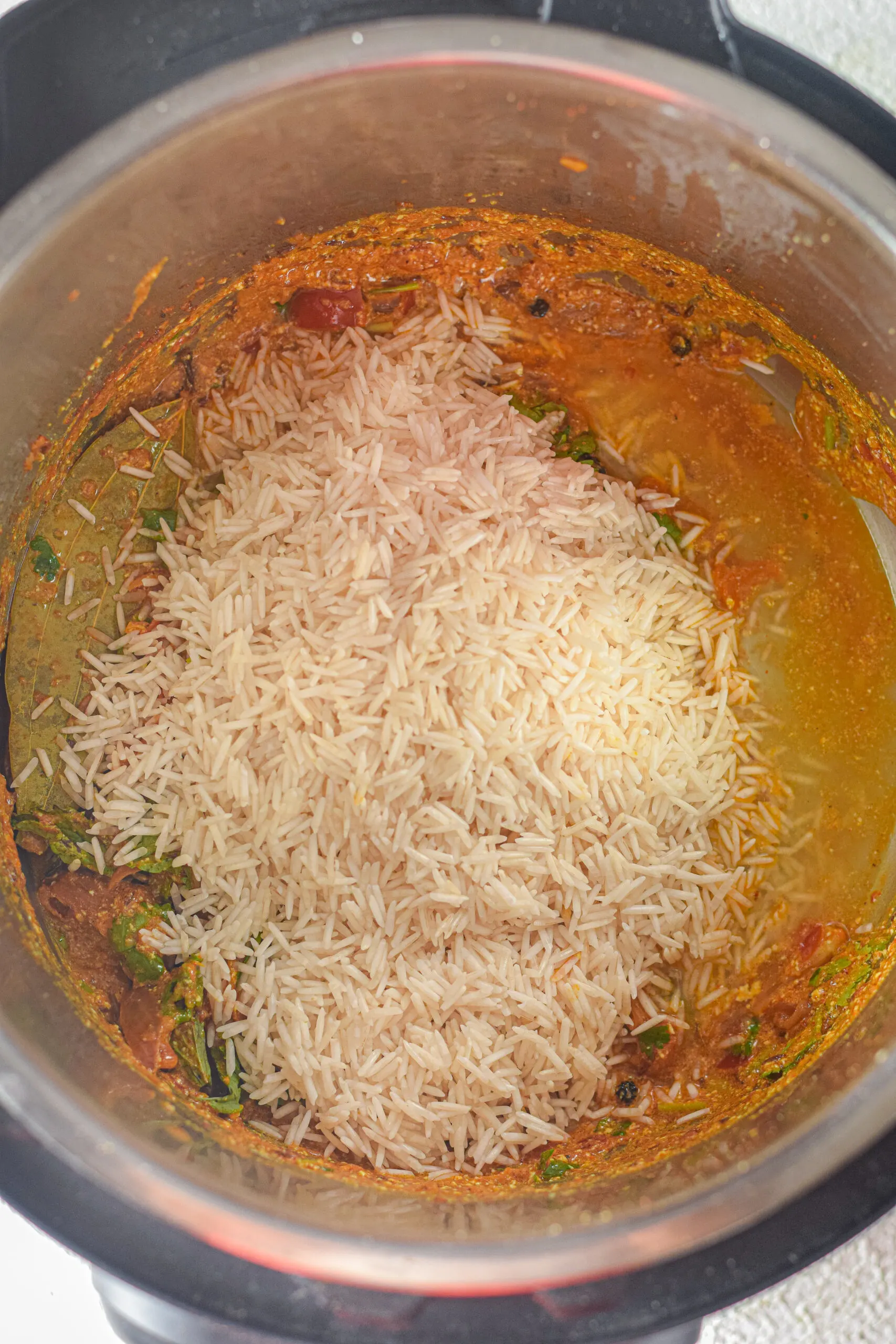 next, add the shrimp and water.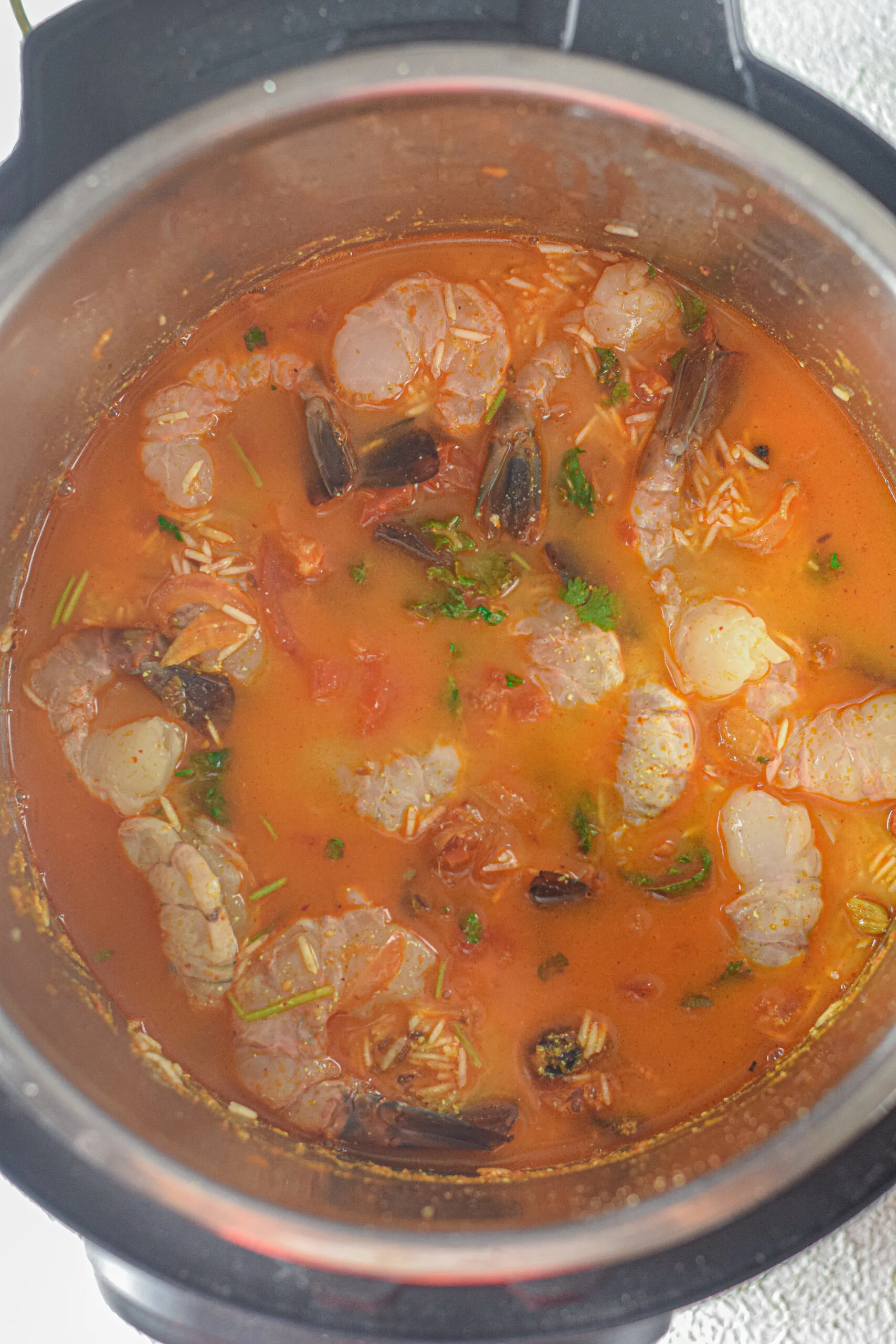 CANCEL the SAUTE button. Select the PRESSURE COOK button on HIGH PRESSURE for 6 minutes. (Make sure the valve is in the SEALING position).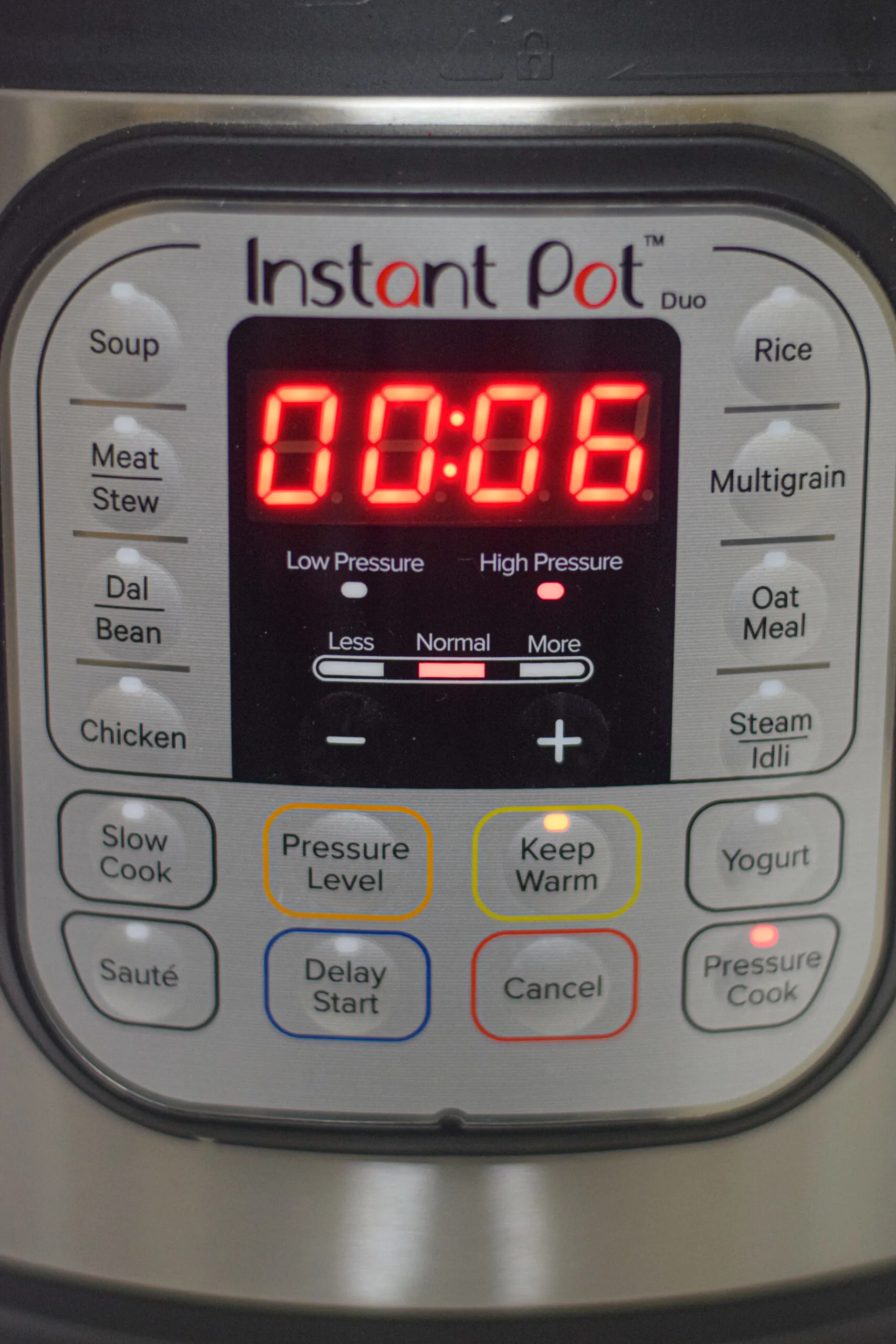 Once the pressure-cooking cycle is over; quick-release pressure by manually moving the valve from SEALING to VENTING position.
Open the lid carefully and select the CANCEL button. Fluff the top layer and gently mix the biryani.
Serve the shrimp Biryani hot with Raita and enjoy.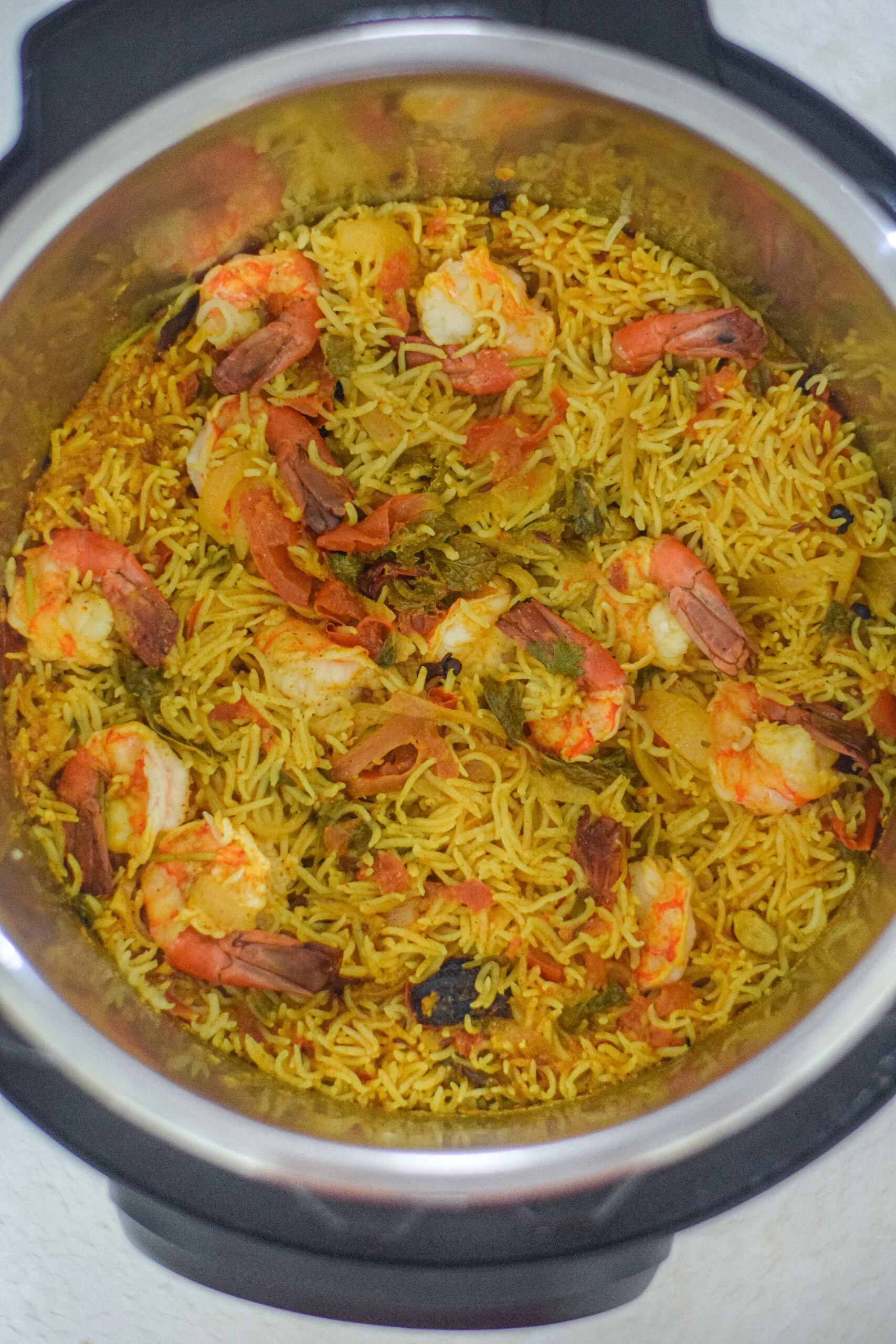 Notes
You can use jasmine rice or other short-grain Indian rice if you don't have basmati rice. However, don't use b can store the SHRIMP BIRYANI in an air-tight container for 3-4 days in the refrigerator or around 2 months in the freezer. To reheat, thaw overnight in the fridge and then heat in the microwave at 30-sec intervals until heated.
Brown rice as it requires a longer time to pressure cook, which will overcook the shrimp.
Make sure all the rice is under liquid before you begin the pressure cook cycle.
You can replace butter with Ghee if you like.
You can use fresh or frozen shrimp (defrosted and dried) if using frozen shrimp just make sure that they are not pre-cooked.
Helpful Tips
You want to be sure that you keep the added rice covered with liquid the whole time it's in the Instant Pot. This will help it cook evenly and have the same consistency.
If you want to add spice, you can! Add some red pepper flakes, or even dice up some fresh jalapenos to add to the mix. (Make sure that they're fresh for heat – pickled jalapenos typically aren't all that spicy!)
How to Store
Let the shrimp mixture cool down all the way, and then store the leftovers in the fridge. Add them to an airtight container, and eat within two days.
This dish is also best enjoyed fresh. I don't advise freezing it because it will unthaw a different texture.
Common Questions
Can I use various types of rice?
You can. I like using long-grain rice, but really any type of rice or texture will be fine.
What other ingredients can be added?
That's up to you and what you crave! You can add chives, potatoes, and even some frozen veggies to the dish.
What are good toppings to add?
Toppings are all about what you enjoy! You can add fresh cilantro, chopped peanuts, or even just a bit of hot sauce to the top. The options on what you can add are really up to you and what you're craving.
More Delicious Instant Pot Recipes