Rabat has an amazing selection of hotels for all types of travelers. Whether you're a couple looking for a romantic getaway, a solo backpacker, or even a family traveling with children you'll find plenty of places to stay when you visit Rabat, Morocco. Prices vary from around 40$ to 120$ per night (even higher for
luxury hotels) but can change depending on when you visit.
Keep in mind that Rabat is the capital city of Morocco and therefore attracts a lot of business travelers which makes the larger hotel chains a lot more expensive. If your budget is tight why not keep an eye out for a smaller hotel or Riad which won't hurt your wallet as much and might even give you a more authentic experience.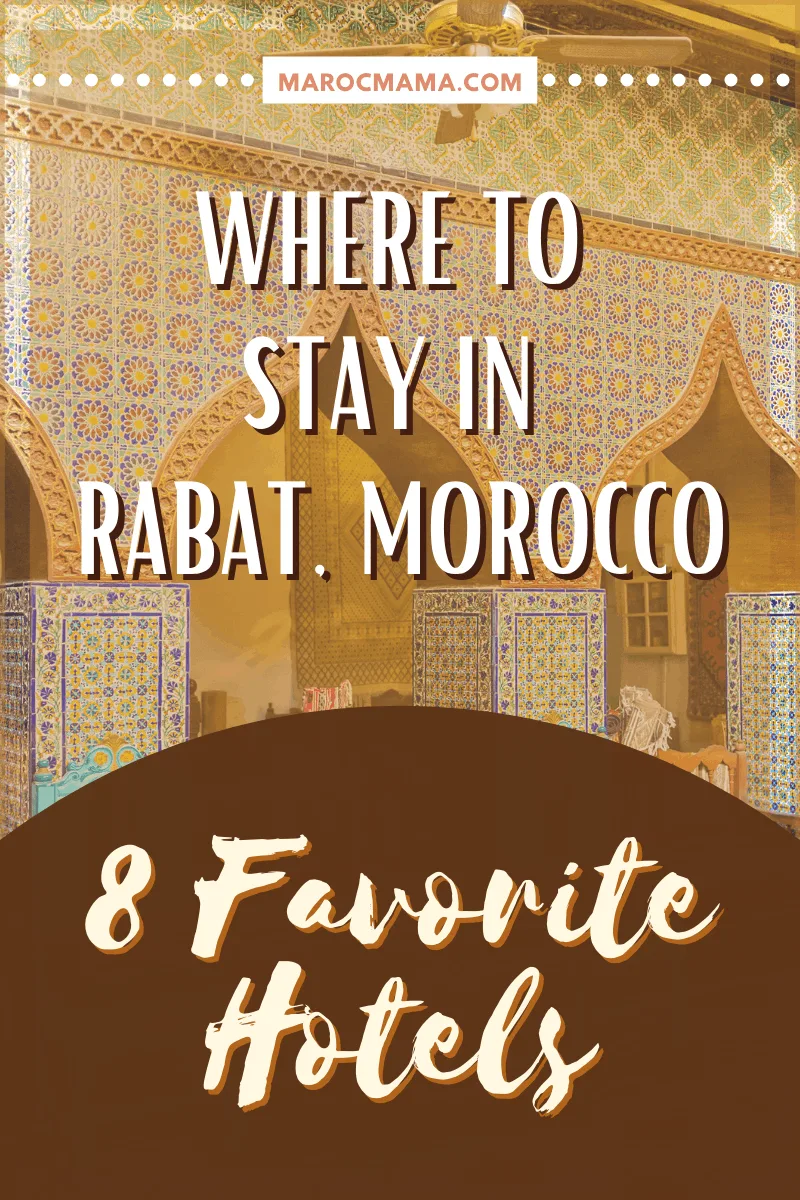 Best neighborhoods to stay in Rabat, Morocco
Rabat is a large city so it can seem overwhelming to pick a neighborhood to stay in on your trip. There is plenty to see and do in this incredible city so staying somewhere close to the main attractions is definitely advisable for first-time visitors.
We'd recommend picking a hotel in either the Hassan area or the Quartier des Orangers. That way you'll have the city at your doorstep with no need to travel long distances to see the main attractions. As a budget traveler, you could also consider finding a hotel in the Agdal area which will be more affordable.
If you know you'll be in a specific area for work then you may want to choose an option that is nearby as traffic can be stressful in the morning and evenings.
8 best hotels to stay in Rabat Morocco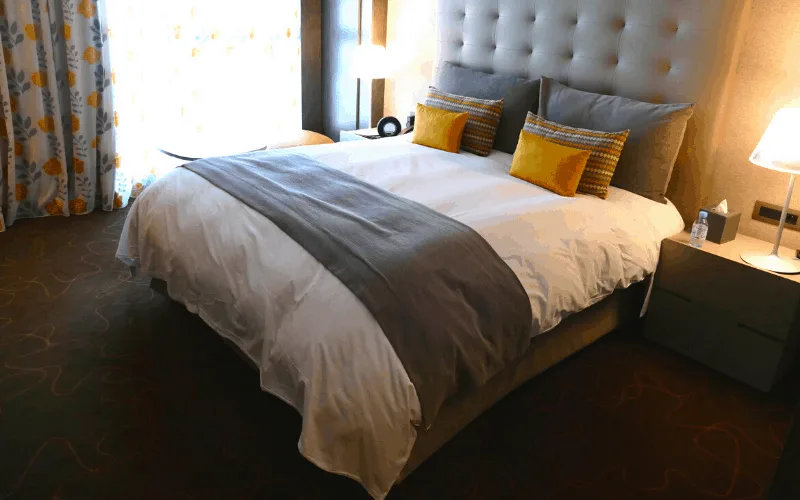 Here is a list of our 8 favorite hotels in and around Rabat, Morocco.
This is our preferred place to stay in Rabat-Sale. The riad is actually in the medina of Sale but with access to taxies and the tram that goes to Rabat. From the moment we walked in we felt like family and were treated as such for our entire stay. Each room of the riad has a different theme.
I also loved that their dinner menu (available at an extra charge) was completely vegetarian – what a nice change! You can request something special ahead of time as well. Breakfast was MORE than filling and they went out of their way to accommodate MarocBaba's celiac needs. Look to book here first, and then consider other options if they're full.
As far as hotels in Rabat go, this is one of the nicest – and most expensive. But, if you're seeking a luxury stay then you can't go wrong with this. Near the Royal Palace with more than 17 acres of gardens and 3000 roses the wafting scent of roses will make your stay all that more sweet. You'll be within a short distance of Rabat's major attractions or spend your day lounging by the pool.
No roses here, instead Villa Mandarine is surrounded by an orange grove. There are only 31 rooms and 5 suites creating a mix between a riad and boutique hotel.
All rooms have their own terrace and all bungalows have their own private gardens so you can have as much or as little contact with other guests as you would like. They also have an excellent restaurant mixing Moroccan ingredients and flavor with French and Mediterranean influences.
The View Hotel in Rabat is definitely one of the more expensive hotels on this list. If you're looking for a luxury stay then this is the place to go. You'll fall in love with the luxury amenities such as the full spa and indoor swimming pool.
As the name suggests most rooms at The View Hotel have an amazing view of the city and are perfect for couples or families. While the location could be more central this hotel is a great choice for those looking for luxury and a relaxing experience after a long day of sightseeing in Rabat.
The Mercure Hotel Rabat Sheherazade is a great mid-priced hotel for those seeking a central location and high-quality amenities while still keeping a budget in mind. This hotel often offers discounts to early bookers and sells out frequently.
Every room includes a free breakfast which is a huge benefit especially if you're only visiting Rabat for a few days and don't want to spend time every day looking for somewhere to eat in the mornings. With a great selection of rooms to choose from the Mercure Rabat Sheherazade should not be missed.
The Résidence Dayt Ifrah by Rent-Inn is one of the more affordable hotels on this list and perfect for those wanting to keep their budget small when visiting Rabat. Most rooms offer a small kitchenette (or even a full kitchen in some cases) as well as a balcony which makes them more comparable to small apartments than a classic hotel room. While the location is a bit further away from the city center this hotel offers incredible views and high-quality amenities at affordable prices.
The Hotel Le Musée is a tourist favourite in Rabat and known for its affordable prices and unbeatable location. If staying somewhere central is important to you on your trip to Rabat then this is the hotel for you.
Combining beautiful views with reasonable prices this hotel will provide you with all the necessities to make your trip comfortable and budget-friendly. The Hotel Le Musée is perfect for budget travellers and those wishing to experience Rabat without breaking the bank.
The Euphoriad Hotel in Rabat is a traditional-style hotel with incredible decor and a beautiful rooftop swimming pool. The hotel is small with a secluded and private feel which is perfect for those looking for some peace and quiet after a long day of exploring the city.
The rooms are beautifully decorated and great for those always looking for the perfect photo opportunity. You'll love the Euphoriad Hotel if you're looking for an authentic Moroccan experience combined with high-quality luxury at a reasonable price.