As soon as I found out I was pregnant the assumption everyone made was "time to stop traveling." To be honest I knew I needed to slow down but stop? No, I couldn't. I know that there are lots of people who look at pregnancy as some type of illness or disability.
I have always looked at it as just another stage of life. Things are different for sure but that doesn't mean it all stops. So, I set out to ask other women who traveled while pregnant to share their stories to encourage other women like us to get out there and keep going!
I found out I was pregnant right before I set out on several planned trips. Having had rough first trimesters with my older boys I was nervous what this time would bring. My first trip was a week in Montreal, Canada with my husband and I certainly was not as active as I normally am when traveling however this was easier in a lot of ways too.
I had easy access to the foods and products that were familiar and homey to me. This made a big difference. Immediately after this trip, I had to fly to Sri Lanka for a business meeting. I was sick the entire time! With more than 12 hours of flying each way I was unable to keep down anything and sucked on ginger lozenges continuously.
Two later trips to London and Seville were a lot easier as those early stages of pregnancy faded away. I later took a trip to Dakhla in Morocco, skiing in Austria, and still have a few months (and a few trips!) to go but I am giving myself the time and space I need to rest and prepare. If there's one thing I have seen it's that no two experiences are the same.
Destination: Chile

When I was 5 months pregnant I started experiencing the second-trimester energy boost. With memories of the exhaustion I felt during the first trimester fading away, I started thinking about how I could fit in one last adventure before we welcomed the newest addition to our family. We love road trips and exploring nature. So, when an opportunity to visit Chile came up, we jumped at the chance. The region near San Pedro de Atacama of the Atacama Desert is legendary for it's beauty. And we didn't want to miss out on it.
Unlike our other adventures, there was less spontaneity on this adventure. I wanted to run all of our activities by my family doctor before we left. Our plan was to experience some long hikes in the Valley of the Moon and watch the sunrise over the El Tatio Geysers. I wanted to be sure that the strain of the hike or the altitude of El Tatio would not pose any harm to either the baby or myself.
Also, unlike our previous trips, we built in a lot of downtime so I could get some rest after a few hours on our feet. Chile was easy to navigate on our own and we were able to self-drive. This gave us the ability to stop whenever I needed to eat! Also, Chile is full of natural gems, so I could go out exploring on some days but when I didn't feel like it, I could easily still catch stunning views without going very far from the car. Chile was a magical place and I am glad I didn't let my pregnancy prevent me from going.
from Christina of Wandering Wagars
Destination: Iceland
I had the opportunity to travel to Iceland very late in my pregnancy. The country's spa culture was just what I needed. There are geothermal heated hot pots and pools all over the country. These natural hot tubs vary in temperature and I could easily find ones that were warm enough to be blissful but not unsafe. I spent an afternoon at the famous Blue Lagoon seeking out the cool and lukewarm spots in its giant pool. I also booked an afternoon at Laugur Spa in Reykjavik, where I got a prenatal massage (a hole in the table let me lay stomach-down for the first time in months!). Then I bobbed around in their bath-temperature geotherm spa tub for ages. Floating around in the water, weightless, was a nice temporary escape from my increasingly cumbersome body.
It was early November and the weather was wintery. Sidewalks were slippery with frozen rain and the path down to the bottom of the immense Gullfloss waterfall was iced over. Boots with good grippy soles helped on the Reykjavik sidewalks. But I chose to admire Gulfloss from the visitor's center balcony.
On the upside, the days were short and I had a giant hotel bed with plenty of pillows all to myself. Between the darkness, the spa visits and the big bed, I slept longer and more deeply than I had in weeks. And I needed it! I came back rested and ready for the last few weeks before my pregnancy ended and motherhood began.
Read more about my Iceland Babymoon.
Book It: Airport Transfer and Blue Lagoon or Golden Circle Full Day Tour
from Eileen Gunn of FamiliesGo!
Destination: Spain and France
I was not allowed to fly anymore at 8 months pregnant, but it was the end of the summer and I was determined to travel. That's why we chose a road trip and rented a car, which gave us independence and the option to stop and go based on my needs and comfort. We lived in Spain at the time, so a road trip in the south of France was most convenient.
We planned the trip with plenty of stops to make it easier for me. In fact, the longest we spent in the car was about three hours. We followed this itinerary:
Madrid – Zaragoza – Barcelona – Mont Pellier – Cassis – Avignon – Girona – Barcelona – Madrid.
Zaragoza and Barcelona were mainly pit stops, as all we did there was spend the night to make the trip more manageable. The rest of the stops were either nice little towns with gorgeous cafés where I enjoyed decaf lattés and took short walks, or beaches where I was able to snooze under the shade or soak in the nice mediterranean sea.
It was an awesome experience because we had the flexibility of changing things if I felt like it – for example, we went to Aix en Provence from Cassis with the intention of staying there, but it was so hot that I preferred to move on instead of spending the night. I think it's key to be flexible when traveling while pregnant. You may have a plan, but when the time comes, you may have completed changed your mind! It was great to know and feel that we could move at my pace and that if I just didn't feel like doing something, we did not have to do it! Ultimately, traveling while pregnant is possible, if you plan wisely!
from Daniela of A Baby Abroad
Destination: London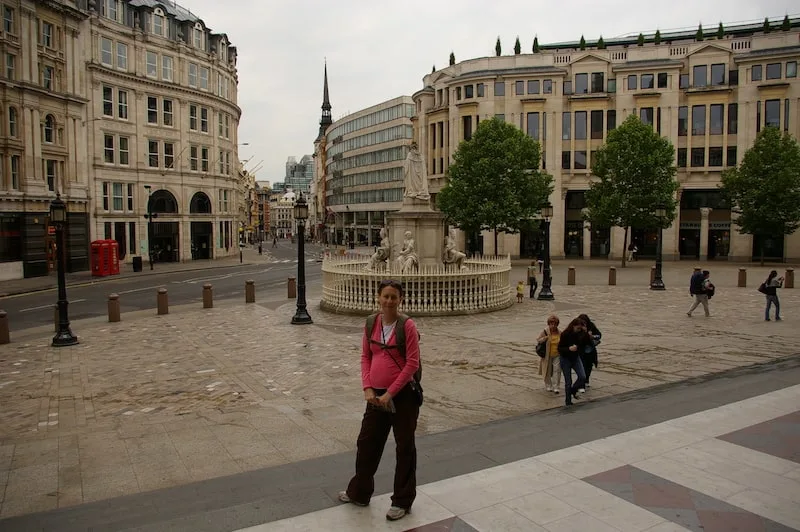 We chose London as our last trip before becoming parents for several reasons. First one, living in Europe, the flight to London wasn't too long – less than 2 hours and we were at our destination. Second, London has everything you might need even if all doesn't go according to plans and you need medical assistance. Luckily for us, all was well and we had a great time. Third, London offers plenty of possibilities come rain or shine: museums, galleries, the city itself, parks, pubs, shops…
And that is also the only downside I could find with London. Too many things we wanted to see. Up until that trip, we always overscheduled and we were usually exhausted by trying to see it all.
That time I had to learn to pace myself. We had to pick only a few sights to visit. I got tired quickly as we travelled in my last trimester, just before I'd be barred from flying.
But we learned that this can be a good thing, as slowing down and resting, gave us more time to enjoy the few sights we had chosen. We got to know the lovely Hyde Park well, we did a lot of people watching after visiting the Tower of London, National Gallery, or Trafalgar Square. And sometimes when I got tired, we'd board the famous red buses and skip walking.
We were very creative and still managed to see a lot. And the pregnancy combined with the exercise in the form of walking gave me the perfect excuse to enjoy the delicious food – such as scones, full English breakfast, sponge cakes, fish and chips, without the guilt.
That's what makes London a perfect destination – plenty of options and help nearby should you need it.
from Inga of Cool Kidz Cool Trips
Destination: Cambodia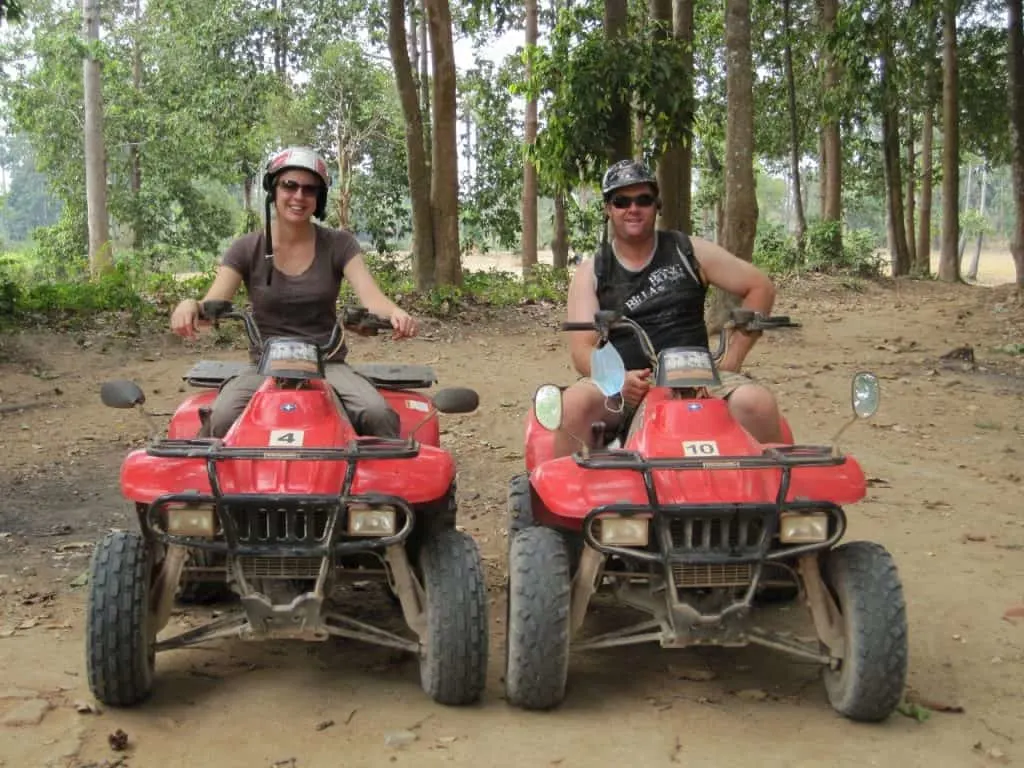 Finding out we were pregnant for the first time was exciting. We also thought it would be fine that we were traveling to Cambodia and Singapore when I was just over 12 weeks pregnant. Then the nausea started and I wondered how I was going to cope in Asia with the different smells and sights. To prepare for the trip I packed maxolon and vomit bags just in case.
A couple of days before we flew out I started to feel better and went on to have a fantastic trip. I was perhaps more mindful of what I ate, eating cooked hot food, and stayed away from spas and saunas. I still enjoyed adventurous activities like quad biking around the Siem Reap countryside and exploring Angkor Wat. A visit to the Killing Fields near Phnom Penh left me emotionally destroyed and perhaps my hormones were more at a peak during our visit. One thing that I did miss during our trip was a beer at the end of a hot day.
I love sampling the local beers and had to stick to mocktails instead. Cambodia was a great place to explore when pregnant as with kids in tow it would be a lot trickier to explore places like Angkor Wat. We were free to take our time and rest when needed which made it a relaxing holiday.
Katie of Rolling Along with Kids
Destination: Greece

Expecting my third baby and not feeling as sick as I had in the previous two, I was determined to make the most of my final days before I knew our family travel dynamics would change forever. Forget babymoons, I wanted to get out and do some exploring and have some girlfriend fun that isn't always possible to achieve with toddlers in tow. Obviously a rowdy nightlife wasn't a requirement, but something cultural, absent of needing strollers and central to reach by an international group of friends made Athens a great destination.
Climbing the famous Acropolis of Athens was very hard work at this stage of pregnancy, but certainly would have been even harder guiding small kids. Being able to visit a museum for hours on end without worrying about boredom and breakage was amazing. I did slightly underestimated just how much walking would be involved to cover some of the major sites of the city, but there are plenty of cafes and restaurants too if you need a break. Public toilets, however, were few and far between so bear this in mind when planning how far you can walk in one hit! We managed to squeeze in a day at a spa too, but sadly I couldn't join most activities as pregnant women weren't allowed in the hammam.
I wouldn't recommend it as a destination over the hot, crowded summer months but in Spring and Autumn, Athens is perfect. I was really thankful to have packed good trainers as there's a lot of hills and uneven footpaths to contend with.
Oh, and hope your travelling companion likes tsipouro after every meal as they will be drinking double!
from Keri of Our Globe Trotters
Destination: Ireland
When I was 8 months pregnant, we went to Ireland for 3 weeks. We hadn't planned to make a big trip at that specific time, but my sister-in-law invited us to her parents house in County Mayo, and my parents were going as well. The absolutely hardest part was the sleep deprivation. We were visiting in the summer time, and Ireland is really north! The sun set around midnight, and rose around 5am, which made for very short nights.
Add in my jet-lagged 2.5 year old daughter who thought bright lights meant playtime, and you can imagine how tired I was. Naps were a must! (for me and her!) The second biggest challenge was finding public bathrooms. Since we were mainly spending time in the countryside, exploring and hiking, I seemed to always be looking for a bathroom. I definitely kept toilet paper in my purse for emergencies, and got very comfortable heading into pubs to use their bathrooms. Finally, shoes were a big deal.
I needed slip-on shoes that were super comfortable and could expand with my sore feet. I found some Keen slip-on Mary Janes that were really like gym shoes (and they happened to be kelly green, perfect for Ireland!) on clearance at REI. These shoes saved my life, and were the only ones I brought on my trip.
from Becky of Kid World Citizen
Destination: Namibia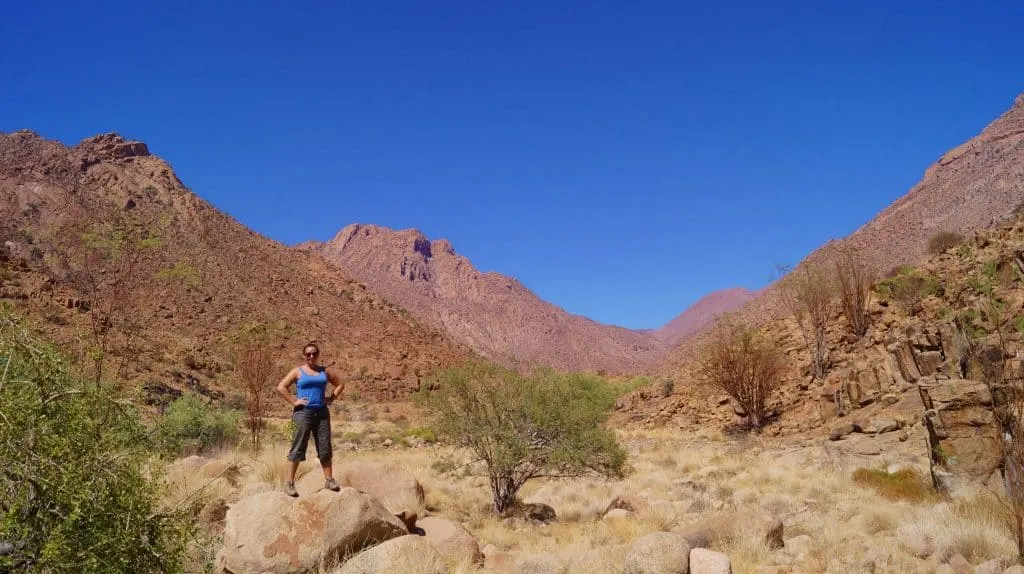 We had been travelling for 8 months and were making our way back to the UK to start a family after living in Australia for 5 years. We fell pregnant in South Africa and decided to keep travelling a bit longer until the 12 week scan, which we would have back in the UK. Tests in Johannesburg revealed that I was rhesus negative, meaning that we had to ensure that I was within 24hours of a good hospital at all times. Also, we wanted to avoid malaria zones as doctors warned us that it was no longer advisable to take anti-malarials. With all this in mind, we had to change our travel plans to be safe (we had initially planned to head north through Zimbabwe, Zambia, Malawi…). However, we still wanted some adventure! At 7 weeks pregnant we therefore decided to hire a car and road trip around Namibia for three weeks, staying at campsites. Namibia is a lot more developed (better roads, good hospitals) than the countries we had planned to visit further north and malaria free. Having our own car meant that we could stop whenever I felt queasy, and we could be flexible on our timings. Namibia as a destination was just incredible. The landscapes are simply breathtaking. The first trimester certainly sapped my energy and I did suffer from mild morning sickness. However, I would keep out of the midday sun, drink lots of water and take it slowly. Plus, driving along those lonely desert roads, no one minded if we had to pull over for me to throw up!
from Jenny of TraveLynn Family
Destination: Japan
I got pregnant and my mom came from Japan to help out as I suffer from severe morning sickness and I had 3 older kids. When I got better, she left and took my oldest with her. We thought it'd be a great time for both of them, as they love each other like crazy.
After a month, I went to pick my kid up and spent a great week in Japan. I was 7~8 months pregnant by then. Everything there is very organized, beautiful, and easy to navigate. It was great for me as I had a few moments alone to do whatever I wanted, my mom had my oldest and the other 2 were home with their dad.
I loved walking slowly around the neighborhood, amongst the rice plantations, watch the kids going home after school and the cars passing slowly through the narrow streets, drinking a can of tea from one of the drinking machines. It was fall and the trees were in their brown tones, the food was incredible (and safe, believe me, it's not all raw fish), and the slow pace of the country in Japan was the perfect time to relax and get ready for the real life back home full of energy!
from Thais of World Trip Diaries
Destination: Malaysia
We were in Malaysia when we found out I was pregnant. Thankfully, it turned out to be a great place to be!
Malaysia is a modern country with great facilities. It was an easy place for me to relax and I found the medical care to be very good. Since I spent the first trimester in Malaysia and then returned for weeks 19-20 (after travelling elsewhere in Asia), I did have an obstetrician I would visit especially as I had terrible all day sickness.
It was also very cheap – about US$20 would get me a visit, an ultrasound and anti nausea tablets!
You can also buy anything you need except good prenatal vitamins. I had my mum bring these from Australia. They have folate but not the multi vitimans I like to take.
If I have a complaint its just that I had problems stomaching the food in the first trimester. I usually love the food but I was very sick and would struggle eating any of the local options. It was definitely a lot more fun in the second trimester! The upside of being there while sick though was that I didn't have to cook and clean and could lie down all day.
I also had to miss out on the rides at Legoland.
We flew Air Asia from Malaysia and they did want a letter from a doctor stating how many weeks I was and that I was well enough to travel – even at only 19 weeks. It is worth having something no matter your stage of pregnancy just in case.
from Sharon of Simpler and Smarter
Destination: Overland in the Former USSR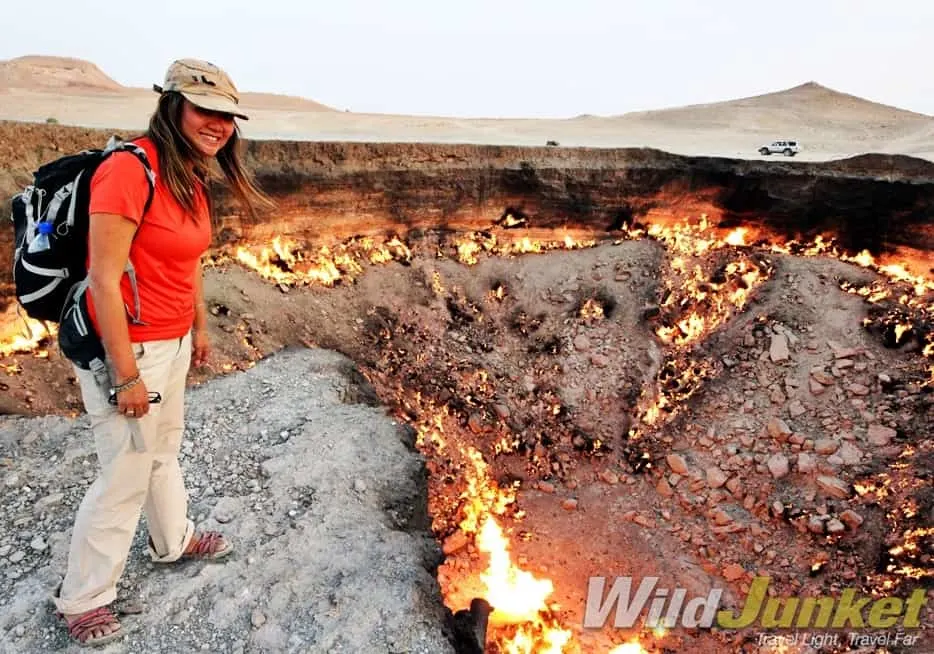 My story is a slightly unconventional one: I only found out about the baby when I was 6-months pregnant! Due to my hectic schedule and lifestyle, I somehow missed the signs that the universe was throwing at me. I felt perfectly fine, had occasional bleedings, and I was traveling for most of the six months.
In my first month of pregnancy, I went paragliding and canyoning in Spain and also spent two weeks walking the Camino de Santiago, a 300km pilgrimage/hiking route that brought me from one end of northern Spain to the other. I felt great and my energy levels were high, as usual.
Right after that, I went on a long overland trip to Mongolia, Kyrgyzstan, Kazakhstan, Turkmenistan, Uzbekistan and Iran. I was very active on the trip, camping everyday, doing hikes here and there, and exploring different corners of Central Asia. Again I felt perfectly fine and only had a day in Iran when I felt more exhausted than usual and had some heavy bleeding.
When I was five-month pregnant, I traveled Sri Lanka for a conference and had a lot of fun hiking up to monasteries, exploring the jungles by jeep, and going on boat trips. I had no idea about my pregnancy even then, and only realised I had a visible bump when I returned home.
That said, I was healthy and enjoyed a trouble-free pregnancy. Were it not the case, I wouldn't have been able to travel as much. But provided you are well too, there is no reason why you can't travel during pregnancy.
from Nellie of Wild Junket
Destination: Australia
While I would never have initially planned to spend extended time camping while pregnant, I ended up spending 5 weeks camping in various locations along the East Coast of Australia while 18-23 weeks pregnant with my first child. It turns out camping can be a surprisingly enjoyable and relaxing travel opportunity when pregnant.
I didn't know I was pregnant when we planned our trip and only found out about 10 weeks before we headed off. I was pretty apprehensive to start and we nearly canceled the whole trip but I'm so glad we didn't as it was amazing. There is something really special about getting back into nature and off the beaten track while pregnant.
One thing that was really special was finding out we were expecting a little boy while sitting by the side of a creek on Fraser Island. We had asked the sonographer to write the gender on a card and then put it in an envelope and we waited until we were on Fraser Island to open it. I love that we have a really special and unique location to take our little boy back to in years to come that holds incredible memories for us as a couple.
from Michelle of Life In A Family Tent