The best way to learn a language is by immersing yourself in the culture of a place. Whether you're planning to visit Rabat, the capital city of Morocco, or stay awhile it might just be one of the best places to learn Arabic. Not only will you find an amazing selection of world-class language schools, you'll also fall in love with the city itself which is a modern and welcoming place to live as a non-native speaker.
Language schools can be expensive, however, learning Arabic doesn't necessarily have to break the bank. You'll be surprised how affordable Rabat is and how accessible its foreign language schools are to foreigners.
Whether you're planning to stay in Morocco long-term or you're just looking for an educational holiday there are Arabic programs for everyone. If you're traveling with children there are great options for them to be involved too with tailored junior Arabic programs. You'll be amazed how
quickly they'll pick up a new language and be fluent in no time.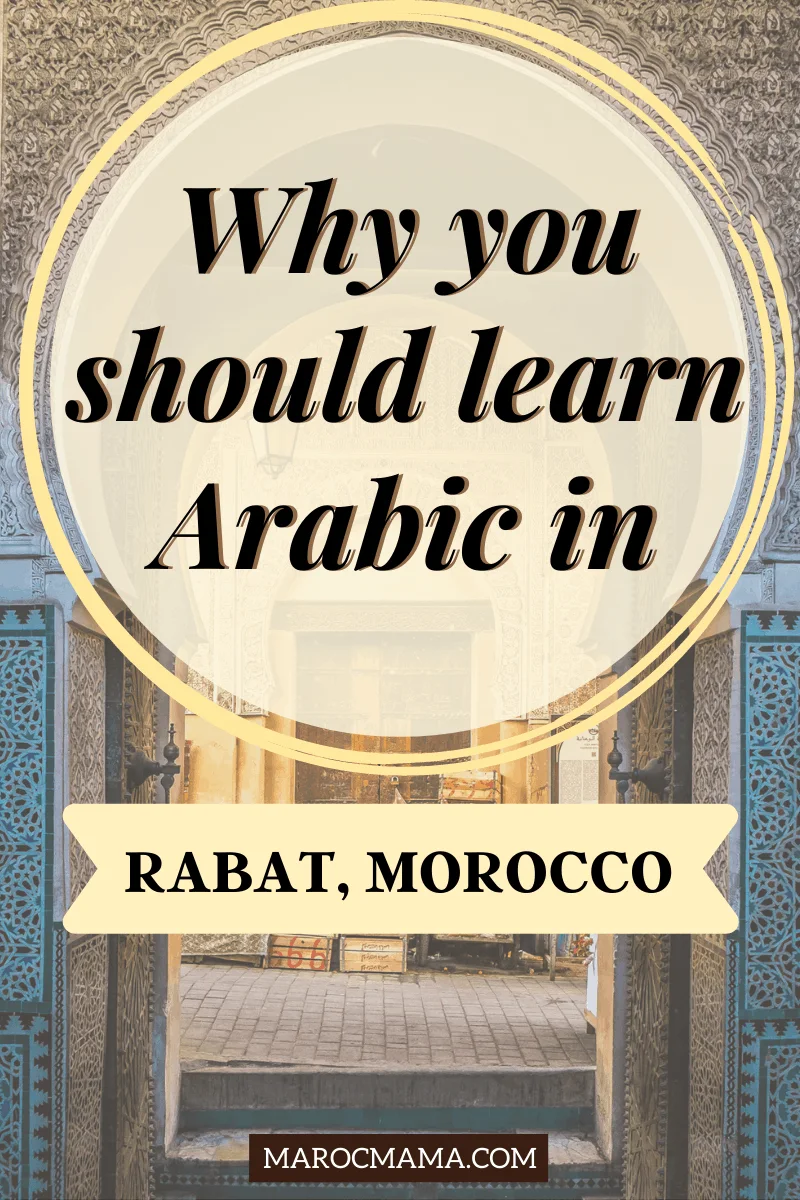 Different ways of learning Arabic in Rabat, Morocco
Depending on your budget and how much time you have you can pick different ways of learning Arabic in Rabat. A great budget-friendly option is to book lessons with a junior-teacher in a renowned language school. These lessons start at just 10$/hour which is a great deal you won't find in many other places.
If you're looking for more than just a few lessons why not make a whole trip out of it and book a complete Arabic-learning holiday package? These usually include accommodation with an Arabic family which lets you truly immerse yourself in the local culture. This will have a positive impact on your experience and help you learn the language a lot faster. Prices start at around 450$ per week and vary according to how many lessons you'd like to participate in per day. Of course, you are free to book your own accommodation if you like which brings the price down considerably.
Another great way to learn Arabic in Rabat while giving back to the local community at the same time is one of the many volunteer programs. These combine language lessons with hands-on activities such as spending time with school children or the elderly or even beach-cleanups and work in orphanages or animal shelters. This can be an incredibly rewarding experience while you are working on learning the language.
Many language schools also offer study-abroad programs that can be integrated with a university degree or work placements.
Language Schools in Rabat and what they offer
Here are some of the best language schools in Rabat and the different course options they offer for learning Arabic.
Qalam wa Lawh Center for Arabic Studies
The Qalam wa Lawh Center for Arabic Studies is a renowned language school in the heart of Rabat. They pride themselves in having a diverse student body and teaching their students Arabic in a fun and efficient way.
Many of their programs go outside the classroom such as their volunteering program where students work with local communities while learning the language. Their Arabic courses are highly specialized in programs such as "Media Arabic" "Classic Arabic" or "Arabic Literature". The minimum enrolment time is two weeks.
The Qalam wa Lawh Center for Arabic Studies also offers Arabic lessons for children of all ages. Their focus lies on teaching the language in a playful manner which helps children learn quickly and retain what they learn.
Ahlan World
Ahlan World is an international Arabic school with courses in many different cities including Rabat. This language school is extremely flexible and offers Arabic courses by the hour. You can choose between booking lessons with more affordable junior-teachers or more experienced expert teachers.
If you book a package of 20 sessions prices can be as low as 7,50$ per hour. Ahlan World also offers 2, 3, or 4-week packages which vary in intensity. Some courses even include accommodation with a local family which is the perfect way to immerse yourself in the culture.
Sprachkaffee Rabat
The Sprachkaffe in Rabat is a great choice for anyone looking for a one-stop-shop for learning Arabic in Morocco. They offer different levels of Arabic courses depending on if you're an absolute beginner or already have some experience with the language.
Once you've completed your course you'll even receive a language certificate. Like many other schools, the Sprachkaffe offers homestay accommodation or will even book a recommended hotel for you. To help you learn more about Morocco's rich culture they host regular field trips and group activities for those traveling alone.
CCLT Morocco
CCLT (The Cultural Centre for Language and Training) offers Arabic courses for all levels. They are a renowned school with a great selection of programs. Their courses range from 1-, 3- and 6-week intensive classes with homestay accommodation.
By focusing a large part of their curriculum on culture and including frequent field trips and group activities this language school aims to teach Arabic in a fun and efficient way. CCLT Morocco is not the most affordable language school in Rabat but their positive reviews and impressive reputation is worth considering.