Rabat is an incredible city rich in culture with a lot to offer to tourists. The city is very accessible and easy to navigate using public transport. These two example itineraries are a great place to start if you're planning to visit Rabat.
The first itinerary focuses on art and the rich culture of Morocco while the second takes you to all the popular tourist places around Rabat. Don't miss out on this incredible city and all it has to offer.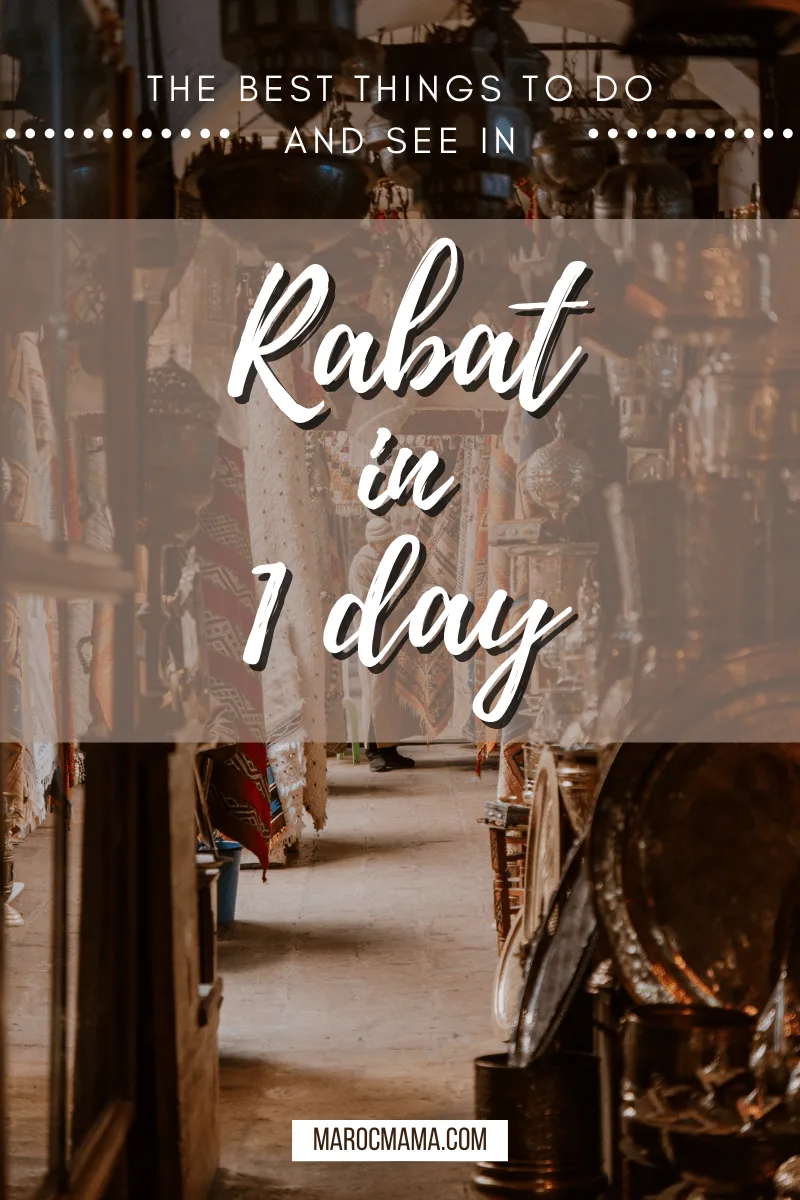 Building your itinerary for Rabat
To help you plan your trip to Rabat we've come up with two one-day itineraries with all the best things to do and see in this beautiful city. Itinerary 1 is focused on the art and culture of Rabat while
Itinerary 2 is a more general day with all the main sights and tourist attractions. We highly recommend doing both itineraries on your trip to make sure you get the best experience.
Rabat Itinerary 1: Art and Culture
Kasbah of the Udayas
Start your day off at the Kasbah of the Udayas. This 11th-century group of buildings is not only famous for its stunning blue walls and narrow alleyways it also has a fascinating history full of pirate stories. Visit the museum and mosque and the Andalusian Gardens while you are there. This is one of Rabat's main tourist attractions so coming early in the morning is recommended.
The Medina of Rabat
Not too far from the Kasbah of the Udayas is the Medina of Rabat. This area is a lot quieter than the busy streets of Rabat and you'll enjoy walking with fewer other tourists around. This is the perfect place to enjoy Rabat like it used to be and get a glimpse of a more authentic life. Keep an eye out for
the famous Rabati rugs which are a great souvenir or gift to bring home. Their design is unique and absolutely beautiful.
Don't forget to head to the Rue de Consuls in the Medina. This is the perfect place to shop for authentic Moroccan pieces of artwork and clothing. Make sure to stop at Dar D'Art Ceramics, one of the best shops for all things pottery and ceramics.
Lunch at Le Dhow
After a quick stop back at your hotel to drop off your shopping it's time for lunch. For this, we're heading down to the river not too far from the Medina. Le Dhow is a stunning restaurant in the shape of a traditional boat. They have a diverse menu with local as well as international specialties. The views are fantastic which will give you the perfect opportunity to relax for a bit after such a busy morning of exploring.
Mohammed VI Museum of Modern and Contemporary Art
In the afternoon you'll finally get the chance to explore some of Rabat's many art galleries. Start off with one of the larger and more famous museums, the Mohammed VI Museum of Modern and Contemporary Art. The building itself is worth seeing because of its unusual architecture. This
gallery has an extraordinary collection of Morrocan art with rotating exhibits by international artists. Definitely add this museum to your itinerary for Rabat, it's one of the best attractions in the city.
Kulte Gallery & Editions
Only a block away from the Mohammed VI Museum of Modern and Contemporary Art you'll find the Kulte Gallery. This is a much smaller museum with only a limited amount of art pieces. The focus lies on contemporary Moroccan art with strong messages. You won't need much time to visit this gallery but it gives an interesting perspective on art in Rabat.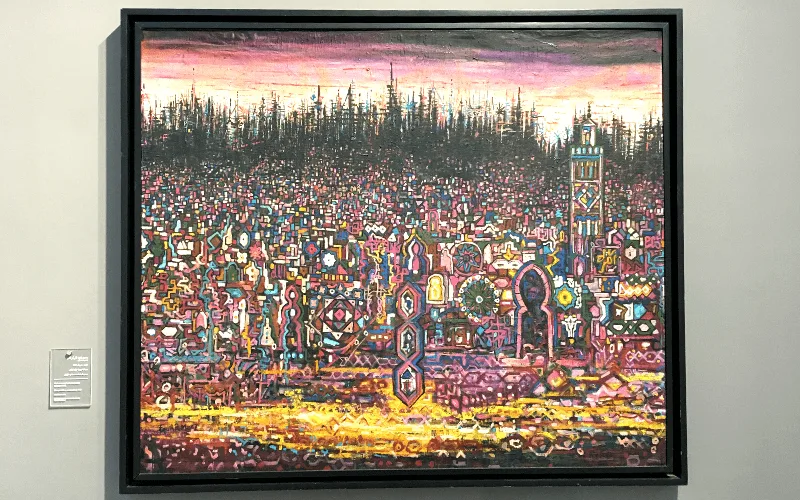 Oulja Poterie, Salé
For the last stop of the day, you're heading across the river to the Oulja craft complex. This is the perfect place for art lovers looking for authentic Moroccan pieces. You can find different workshops here producing pottery, ceramics, metalwork, furniture, and rugs. You won't find many other tourists here and can enjoy the local and authentic feel of this incredible place.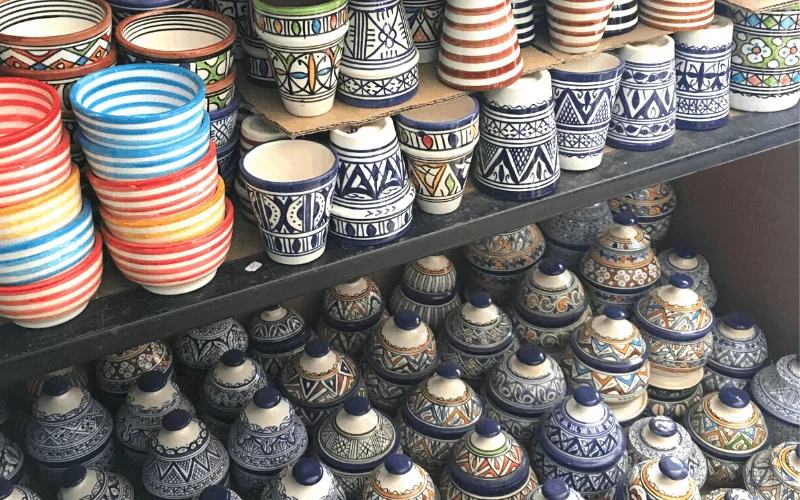 Rabat Itinerary 2: Rabat Highlights in one day
Chellah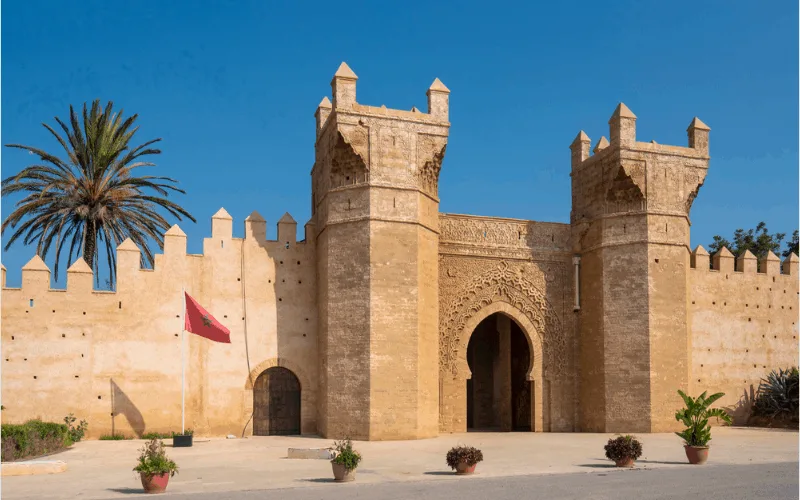 Begin your day a little outside of the city center of Rabat at the Chellah. This impressive building and ruins is a great place to visit in the morning to escape the heat and crowds. Definitely take your camera to take photos of this beautiful place.
Hassan Tower
Next make your way to one of Rabat's most famous landmarks, the Hassan Tower. This impressive construction was once meant to be the largest mosque in the world but ended up not being completed.
Today, you can visit the ruins and admire the beautiful architecture. The tomb of Mohamed V, Morocco's first post-independence king is also nearby and well worth a visit. Remember to be respectful and dress modestly when visiting.
Lunch at Ty Potes
Head to the popular Hassan neighborhood for lunch in a cute little garden restaurant. Ty Potes has a great selection of sandwiches, salads, and light meals perfect for a hot day. Away from the hustle and bustle of the city this little restaurant is the perfect place for a lunch break on a full day of sightseeing.
Great Mosque of Salé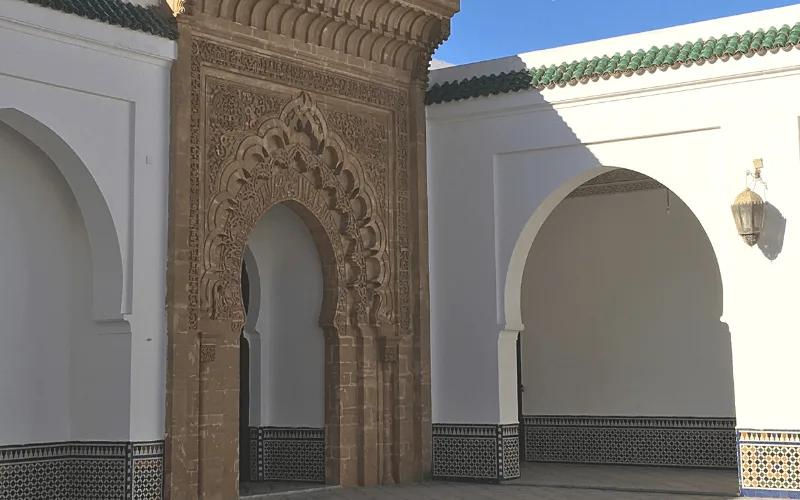 The Great Mosque of Salé is not to be missed on any trip to Rabat. This is the third-largest mosque in the world and an incredible place to spend the afternoon. It has been destroyed and rebuilt multiple times in the past and has not only religious but also political significance historically.
Keep in mind that Non-Muslim visitors are not permitted inside which needs to be respected. However, the building is worth a visit even if you're just seeing it from the outside.
While you are in the area make sure to check out the old Pirate Slave Prison which is nearby. This hidden place is not very well known and a great secret location to explore in Rabat.
Plage de Temara
Conclude the day by the beach of Temara to watch the sunset over this beautiful city. Depending on what time you arrive you can go for a swim but even if you're just sitting on the beach this is a beautiful place to spend the evening.