Rabat and Casablanca are two popular tourist cities that lie only an hour apart. Both are located on the west coast with incredible beaches and beautiful views. While Rabat is much smaller and a UNESCO World Heritage Site, Casablanca is a bustling city with busy streets and a unique combination of traditional and modern elements.
Both cities are fantastic places for tourists to visit and should be included in your Morocco itinerary. However, if your time is limited and you need to make a choice; Rabat vs Casablanca then this post will help you decide which one is right for you.
Should you visit Rabat or Casablanca in Morocco?
With only around 1 million inhabitants Rabat is a much smaller city than Casablanca. It is known to be a lot quieter and cleaner with lots of cultural sights and history. Come here for beautiful beaches and a small-town feel that you won't find in the much larger Casablanca.
Reasons to Visit Rabat
There are plenty of reasons to visit Rabat, Morocco. The city has a rich history and culture, beautiful architecture, and lovely weather. Plus, it's a great place to enjoy the outdoors with plenty of parks and gardens.
Cultural Sights of Rabat
Rabat has many cultural sights and lots of things to do. Some of the best places to see include the Hassan Tower, the Chellah, and the Kasbah des Oudayas. The city's been declared a UNESCO World Heritage Site and has more monuments and historic places than Casablanca. If history and culture are important to you Rabat may be the better choice.
Getting around Rabat
Due to its small size, most attractions in Rabat are located close together. Not only does Rabat have a great public transport system it is also possible to walk to a lot of places and explore the city on foot.
Nature and parks
Rabat has a decent selection of city parks and is also a great location for day-trips. From Rabat, you can see the surrounding area with its beautiful lakes and forests which Casablanca lacks.
Why you may not like Rabat
Rabat might not be the best choice if you're looking for vibrant nightlife and a large selection of places for going out to party. The city is a lot smaller and quieter than Casablanca with a more traditional feel. This does not necessarily have to be a reason not to visit it just depends on what your expectations are and whether you're looking for more things to do and see.
Casablanca
Casablanca has over 3.5 million inhabitants and is a much larger city than Rabat. Many first-time visitors find it overwhelming although it has a lot to offer like nightlife, restaurants, and cultural sights. The city has the largest international airport in the country which makes it easy to reach.
Why Visit Casablanca?
Casablanca is a city like no other. Located in northwest Morocco on the Atlantic Ocean, it's a melting pot of cultures and influences. French, Spanish, Portuguese, and Arab cultures all come together in this vibrant city.
Casablanca is also a city with a rich history. It was founded in the 8th century by Amazigh settlers, and later became a major trading port for the Arabs. In the 14th century, it was conquered by the Portuguese, and then by the Spaniards in the 16th century. The French colonized Casablanca in the early 20th century, and it remained under French rule until Morocco's independence in 1956.
Whether you're interested in its history, and culture, or just want to experience a city unlike any other, Casablanca is definitely worth a visit.
Cultural Sights of Casablanca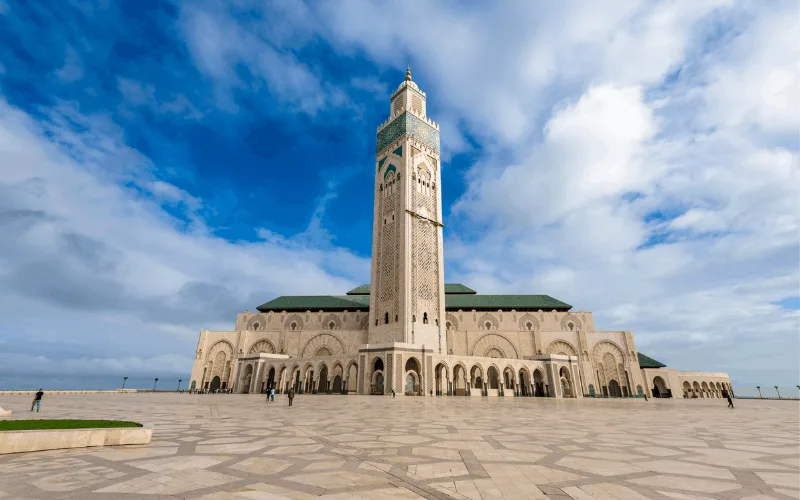 There are plenty of things to do in Casablanca. Since the city is much larger than Rabat there are more activities and things to see. The Hassan II mosque, the old Medina, and the old Art Deco neighborhood are some of the most popular tourist attractions.
Accessibility in Casablanca
Casablanca has a much larger airport than Rabat so it's easier to access especially if you're coming from an international destination. Plan your trip to Morocco carefully so that you get to spend one or two days in Casablanca when you arrive or depart.
Nightlife of Casablanca
Casablanca is known for its vibrant nightlife and diverse selection of bars and places to go out. Rabat is a lot quieter with little nightlife except for its annual Mawazine Music Festival. Go to Casablanca if you're looking for nightlife and a great selection of restaurants.
Shopping in Casablanca
Casablanca is a city that combines the traditional with modern elements. It's a great place for a shopping trip with a much bigger selection of both high street brand names as well as traditional products than Rabat. If you're looking for the best shopping opportunities and are coming to Morocco
for souvenirs and gifts to bring home then Casablanca might be the better choice for you.
Casablanca May Not Be For You
Casablanca can be overwhelming especially if you've never visited Morocco before. The city is loud and busy so it might not be for everyone. It doesn't have the diverse culture and large selection of monuments that Rabat prides itself in. While Casablanca has a number of beautiful beaches it lacks
greenery and the accessibility to nature that Rabat has.
So, should you visit Rabat or Casablanca?
If you only have a few days and need to decide between visiting Rabat and Casablanca then the choice between the two will not be easy. Both cities have a lot to offer and you will most likely enjoy spending time in either. Rabat has a reputation of being a little more tourist-friendly especially if it's
your first time visiting Morocco. The city is smaller and quieter and it's easy to get around.
However, Casablanca is the better choice if you're looking for nightlife and more things to do. It is also easier to reach and much larger. Keep in mind that the two cities lie very close to each other and you can easily see both if you have a bit more time. There is a train that connects the two in
about an hour and it runs regularly throughout the day.
Read More About Casablanca and Rabat
Wondering What to Do in Rabat, Morocco? Here are 18 Ideas!
Cooking Classes and Food Tours in Casablanca
What to do in Casablanca When You Visit