When the first watermelons appear at the street market here I get absolutely giddy. But, I also have to stop myself from buying dozens of them because the first melons are usually not the best. Too watery, not sweet enough.
But a few weeks later when they're really ready you won't find my fridge without some watermelon in it. So, what can you do with all of this watermelon taking up space? Make a slushie!
There's no 7/11 here so that means no gas station slushies, which were a favorite of mine growing up. The good news is they're SO easy to make! Seriously, I'm sure you'll find they're 10x easier to make than you think. This is a really nice alcohol free cocktail for entertaining too and a perfect summer Moroccan drink.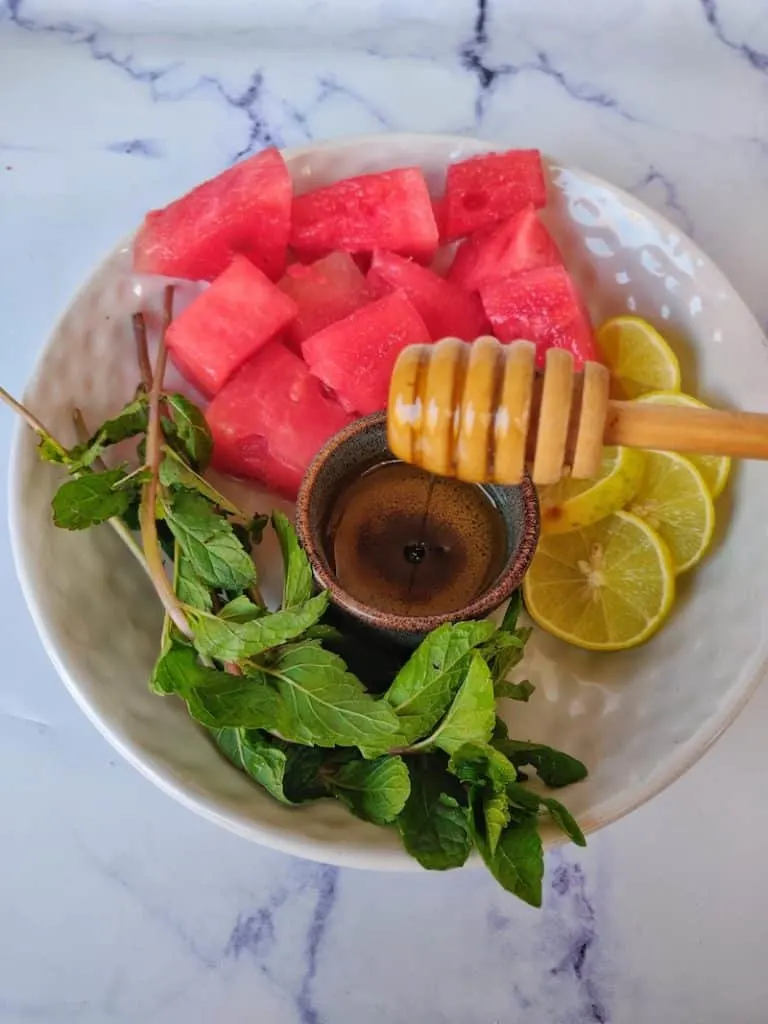 There are no artificial flavors in this recipe. Everything comes from whole, natural ingredients. Of course you can change this up and opt for a simple syrup instead of honey, especially if you have an allergy.
I also found that this is a great recipe for babies that are teething. If they're under 1 then of course you'll want to skip the honey and you don't need to use it at all but the coolness and the natural fruits are perfect for little ones with sore gums.
If you want to make it a little extra, you can always mix in some Sprite or carbonated water for a delicious drink.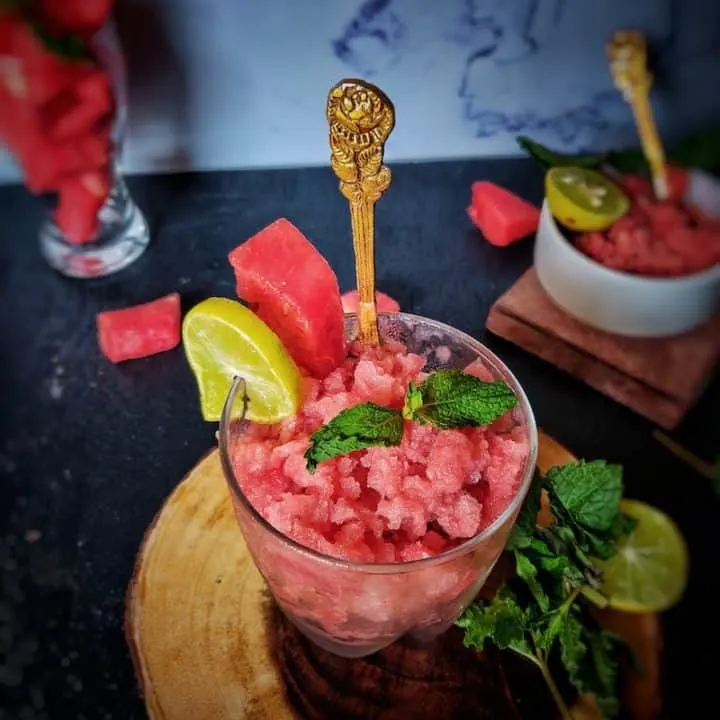 Yield:

4 servings
Iced Watermelon Slushie
Total Time:
1 day
10 minutes
Ingredients
10 cups of Watermelon Cubes (without seeds), frozen for at least 24 hours
2–3 Tbsp Maple Syrup/Honey
8-10 Fresh Mint or Basil leaves (add more if you like more)
Juice of 1 large lime
1 1/2 cup Water
Instructions
Let the frozen watermelon cubes defrost at room temperature for 5-10 minutes.

Once thawed add the Watermelon cubes, mint/basil leaves, lime juice, 2-3 Tbsp maple syrup or Honey, and water into a blender.

Blend everything to form a slushie like consistency. You'll want to taste it at this point and then adjust the sweetness based on what you prefer.
You can also add water if the mixture is too thick.

Pour into the glass and serve immediately with fresh lime slice and mint/basil leaves.