My teenagers are OBSESSED with Java Chip Frappuccinos from Starbucks. But we don't have a Starbucks on every corner here in Morocco so those frappuccinos are a real treat. Recently I saw a recipe on how to make whipped coffees at home. I think we all did as the trend swept lockdown 2020.
The first time I had a frappe (whipped coffee) was in Greece and I had no idea how easy they were to make. They're also referred to as chocolate dalgona coffee and the prominence online started thanks to South Korean social media!
I decided to take it a step further and make it a Moroccan drink by using mint. Usually, we reserve our mint for tea but it seemed fitting that it would work well with chocolate and coffee.
You'll need a few more ingredients to make my version but it is worth it. The recipe below is for 2 servings because it's always better to share with friends. You can adjust the sugar too. Some people prefer this more sweet while others omit the sugar completely.
I add ice cubes because I love iced coffee but of course, that's up to you too. Make it your own! While normally we have mint tea with breakfast in Morocco, this would be a fun drink for your Moroccan breakfast in summer.
If you're looking for a DIY mint syrup recipe – I've got that covered for you too.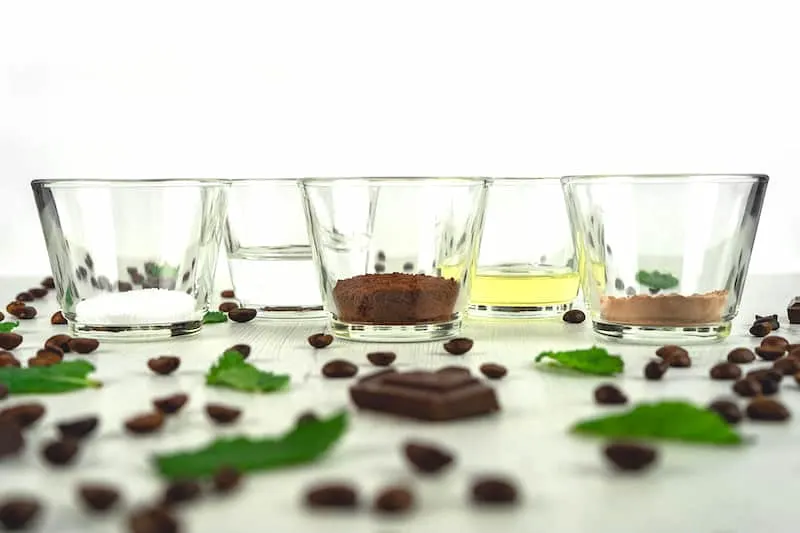 Ingredients for Chocolate Mint Coffee
This is very easy to make but it is helpful to have all of your ingredients prepped and ready to go before you start. Having these items pre-measured will also make a big difference.
You'll want a glass that is large enough to hold everything and then have about double the amount of space for the foam, an 8oz tall glass would work well.
This recipe uses instant coffee not brewed coffee so you will want to have that on hand. My favorite brand of instant coffee is classic Nescafe but feel free to use whichever brand you'd like.
How to Make Whipped Ice Coffee
To make whipped ice coffee there are two main steps, creating the froth and adding the liquid. The frothy part is made by whisking together instant coffee, water and sugar.
You will also need a hand frother. This handheld frother whisk in an inexpensive option if you want to try out this recipe. If you regularly make drinks that use frothed milk (like lattes or cappuccinos) you may want to invest in this stand-alone electric milk warmer and frother.
Once it's mixed cold milk (plant or animal-based) is added to the base of the cup and the froth tops it.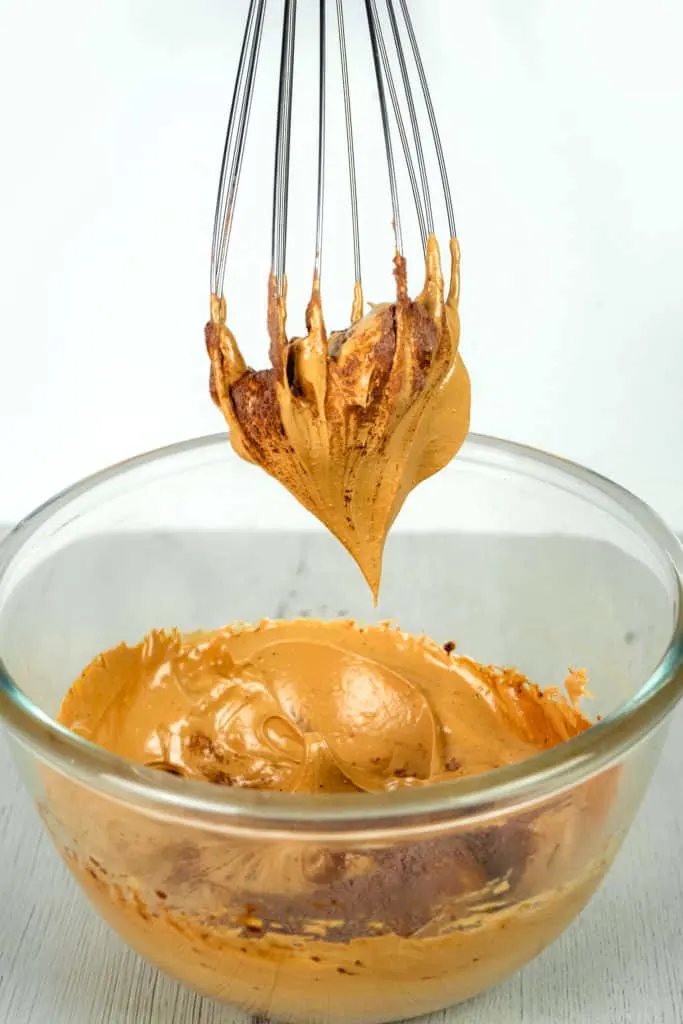 More Iced Drinks to Try
If coffee isn't really your thing or you're just looking for a different kind of iced drink to cool off, try on of these recipes.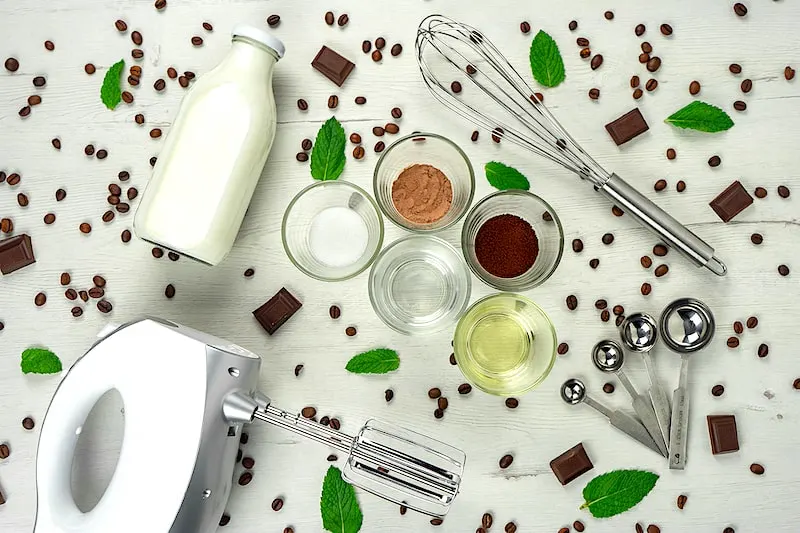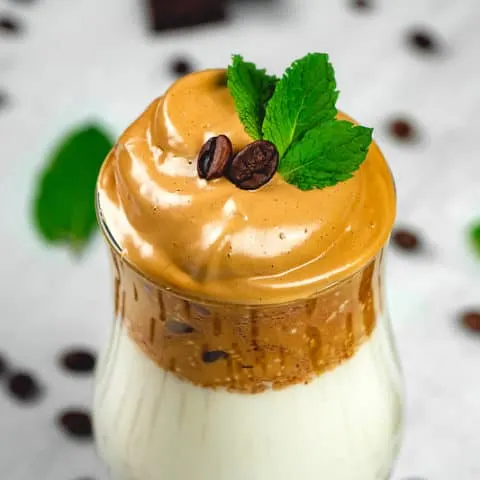 Yield:

2 cups
Mint Chocolate Whipped Iced Coffee
Kick up your coffee game with this mint chocolate whipped, iced coffee.
Ingredients
3 tablespoons of hot water
3 tablespoons of sugar
3 tablespoons of instant coffee
1 tablespoon of cocoa powder
2 tablespoons of mint syrup or 2 drops mint extract
Milk or a vegetal beverage of your choice
ice cubes
Instructions
In a bowl, put together 3 tablespoons of instant coffee, 3 tablespoons of sugar, and 3 tablespoons of hot water.
Beat everything well, with a hand mixer or a whisk until everything is well beaten and the consistency is similar to whipped cream.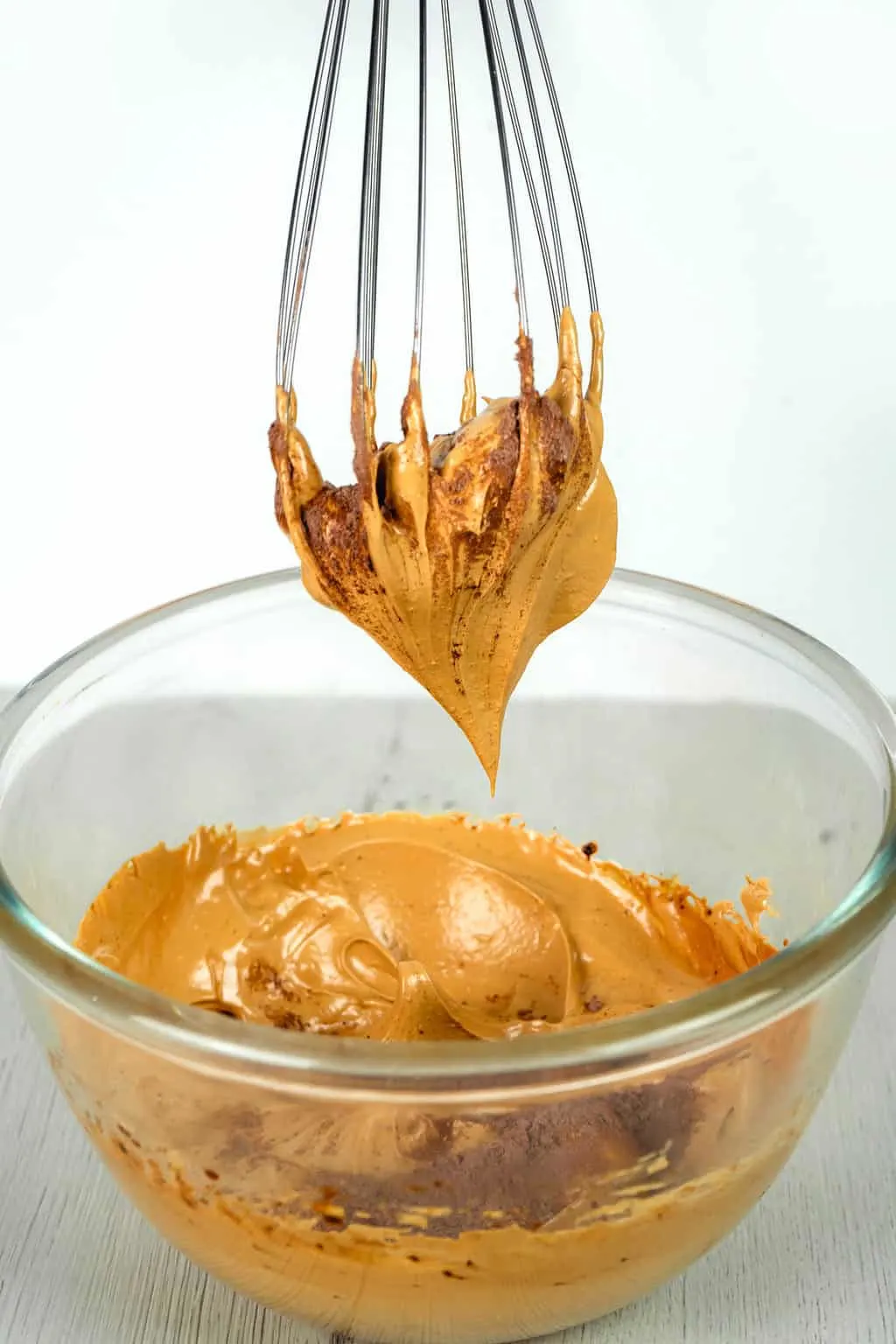 Add the cocoa powder and mix a minute more.
Fill a mug until about 2/3 with cold milk and mix one tablespoon of mint syrup per cup (or extract)
If you want it iced, add the ice cubes now as well.
On top, put a few spoons of the chocolate whipped coffee.
Use a spoon to mix the coffee with the milk as you drink it.
Notes
You can use whatever quantities you prefer, as long as you use the same amount of hot water, sugar, and instant coffee to create the whipped coffee. This is enough for two big cups.
Recommended Products
As an Amazon Associate and member of other affiliate programs, I earn from qualifying purchases.