Harissa is one of the best ways to flavor meals and dishes. The smoky flavoring paired with the warm spices is a treat for all types of people.
Kids and adults can agree that adding harissa to meals and recipes is a simple and easy way to kick up the flavor! The great thing about using harissa is that it's easy to make spicy or to leave mild – which means that you have great options to add to various recipes.
If you're looking for some information about harissa, you're in the right place. Here are some great tips, usage suggestions, and harissa recipes that must be tried.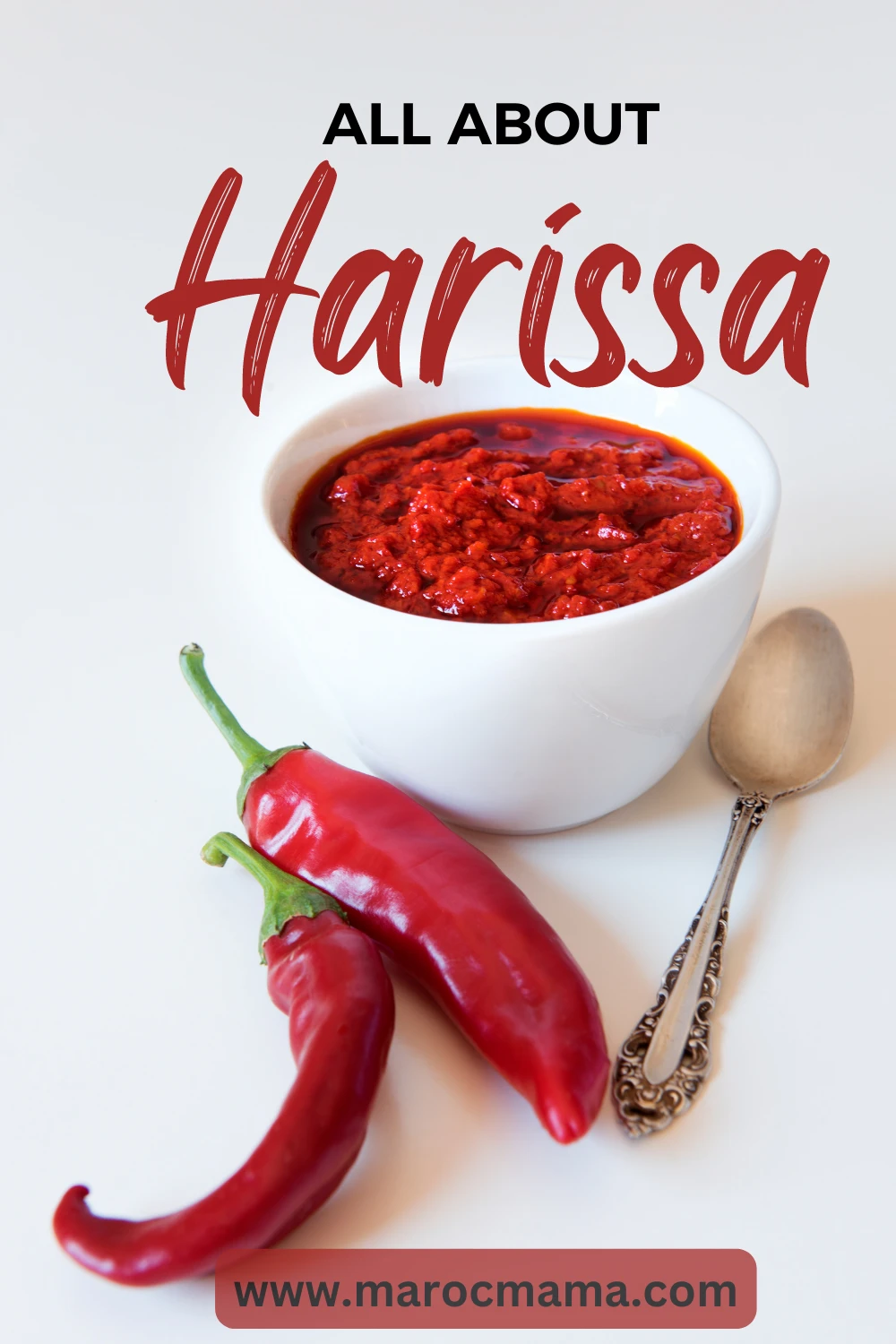 Top Questions People Have About Harissa Paste
What is Harissa?
More than likely, you've heard people talk about Harissa, and you might have even tried it a time or two, but what is it?
Harissa is a sauce and/or paste that is used in a variety of dishes. It has a subtle hit without being over-the-top spicy, making it something that everyone can enjoy.
Are there different kinds of harissa?
There are all different types of harissa recipes! In parts of North Africa, the recipe for harissa is made differently.
Also, in different parts of the Middle East, harissa is the word that is used for a type of dessert. This is also known as basbousa.
Harissa vs. Gochujang
While I'm a big fan of these two flavors, they are very different. They can be used in Moroccan recipes but shouldn't be used together as they're unique.
Harissa has that subtle heat and smoky flavoring, while gochujang is more spicy and salty in flavor and taste.
Is ras el hanout the same as harissa?
These two spices are not the same, but both are well-known in the region. Ras al Hanout is a dry spice that is used to flavor food. Harissa is a wet paste that is used as a side condiment to dishes. They do have some of the same ingredients, but they are not the same.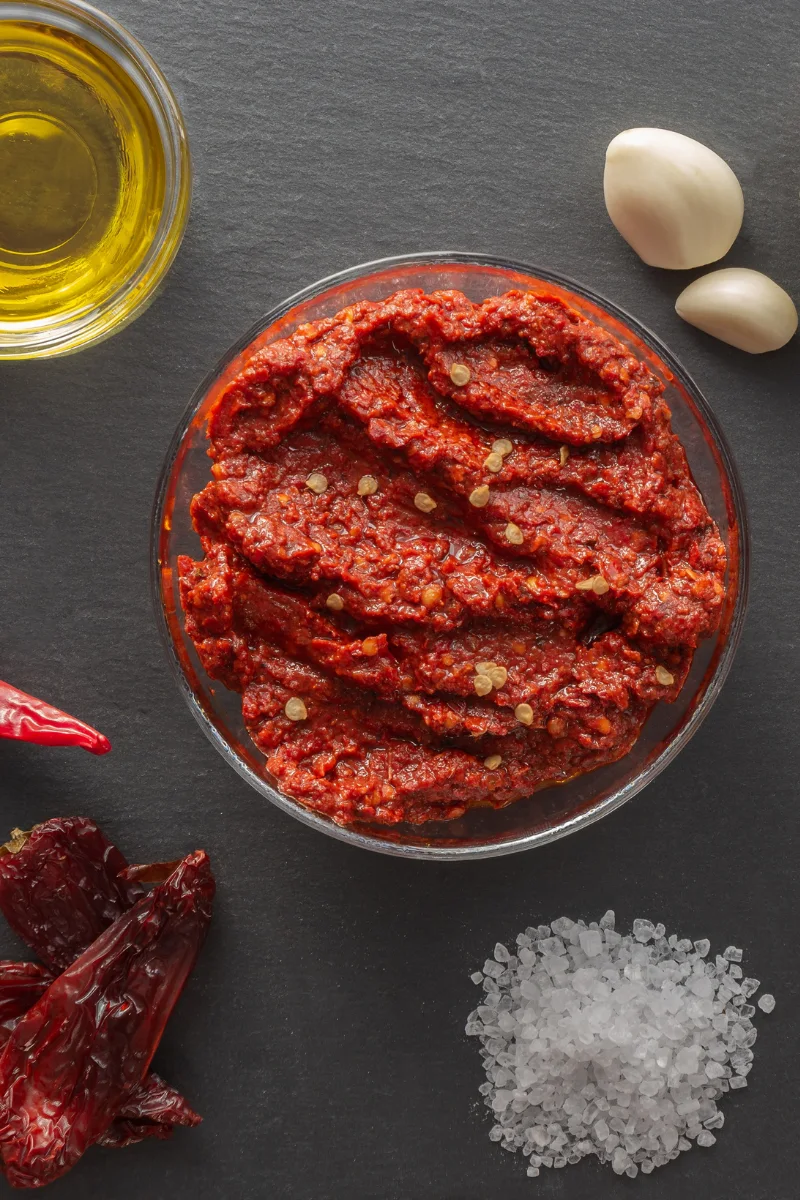 How Do You Store Harissa?
Storing harissa properly is essential to maintain its vibrant flavors and ensure it lasts for as long as possible. Typically harissa is bought either in a jar or in a squeeze tube (like toothpaste). I prefer the one that is in a jar but both are good!
Harissa paste, after opening, should be stored in the refrigerator. To maximize its shelf life, it's advisable to smooth the surface of the harissa after each use and pour a thin layer of oil over the top. This oil layer creates a seal that helps to keep the paste fresh and prevents it from drying out. Always use a clean utensil to scoop out the paste to avoid introducing bacteria into the jar.
If you've made a large batch of homemade harissa, a good option is to freeze it. You can use an ice cube tray to freeze individual portions of the paste, and once they're frozen, transfer them to a freezer-safe bag or container.
This method allows you to conveniently thaw out small amounts of harissa as needed, reducing waste and ensuring you always have fresh-tasting harissa on hand for your dishes. Regardless of the method, always remember to check for changes in color, smell, or texture as these could indicate that your harissa is no longer safe to consume.
Recipes with Harissa
In case you need some help with meal planning, here are some great recipes to which you can add Harissa. Start at the top and work your way down the list!
Mina Moroccan Harissa is my go to product in the US because it is the most versatile I've found. You can control the amount of spice you add. They offer a few different options. If you like it spicy, make it hot! If you like it mild, leave it be.
Making Homemade Harissa is a breeze when you have this recipe. You'll find that making harissa at home isn't hard or complicated at all.
Everyone will love these Slow Cooker Harissa Meatballs! We love making these and having them ready at the end of the day. Such a delicious meal.
Start your day off the right way with this Harissa Breakfast Scramble. The flavor of harissa pairs perfectly with cooked eggs.
A big bowl of this Roasted Butternut Squash Soup with Goat Cheese and Harissa Oil is the best for a cold night. Grab your favorite soup toppings and enjoy!
If you want a simple snack, make these Spicy Harissa Organic Pumpkin Seeds. These are great for the kids as well because they're loaded with fiber. You can make them spicy or leave them with a mild flavoring.
These Honey Harissa Glazed Meatballs would be perfect for a simple appetizer! They're the perfect sweet and savory dish.
When it comes to simple comfort food, you will love this Harissa Chicken and Rice. Fast, and delicious!
Add this Easy to Make, Homemade Harissa Mayonnaise to your burgers and sandwiches. This is a great spread on bread and can eliminate the need for other condiments.
This Moroccan Harissa Spiked Chili is one of my favorite meals to make on the weekend! It's hearty, smoky, and full of delicious flavor.
Everyone in the family will love these Moroccan Hamburgers with Harissa Mayonnaise. All you need to do is grab your favorite toppings and load up those burgers.
If you don't have harissa on hand, these harissa substitutes can fill the void until you can restock.
More Moroccan Condiments You Will Love