It's that time of the year again when we celebrate Ramadan with plenty of feasting and joy. As you're visiting family members and friends during this special month, why not show your love and appreciation by giving out simple-yet-thoughtful Ramadan food gifts?
To celebrate Ramadan, bringing a food gift is my favorite way to show appreciation to the host and/or hostess. The best part of food gifts is that they can be enjoyed, and then they're gone – because who needs more stuff in their lives?
From luxurious dates to cakes or pastries made in traditional recipes, there is an abundance of options for making thoughtful yet practical presents this Ramadan. Keep reading to discover some of our favorite ideas for homemade and store-bought Ramadan food gifts — guaranteed gift-giving success!
When Is Ramadan 2023?
This year, Ramadan is expected to start Wednesday, March 22nd, and end Friday, April 21st. The exact dates will be determined by a sighting of the new moon.
During this month-long period of fasting and spiritual reflection, Muslims abstain from food, drink, and other worldly pleasures during daylight hours. It is also a time to focus on prayer, charity, and purification.
Do People Give Gifts For Ramadan?
During Ramadan, gift-giving is a thoughtful and meaningful way to share appreciation and show love for family and friends.
Gifts are typically given during Eid, at the end of the holy month, but people also bring food items to show thanks when invited to an Iftar celebration. Desserts and specialty food items are common to give when invited to an Iftar party or to food-loving friends and family during Eid.
13 Ramadan Food Gifts to Give
Fresh Baked Gifts
If you love cooking and baking, your friends and family will love a homemade edible gift!
These crescent cookies are a cute treat to make for Ramadan. There are two different styles to try.
Beautiful cookies have never been easier to make. This is a fun option if you want your kids to help make something special for relatives!
The popular Moroccan fresh orange and cinnamon dessert takes a twist with this cake perfect for any event. It's laced with delicious crumb topping, juicy fresh oranges and spicy cinnamon to jazz it up. Plus, it's super versatile.
Photo Credit: www.thesugarcoatedcottage.com
So easy to make, with only 3 ingredients, yet so festive! These dipped apricots make the perfect little poppable sweet treat that anyone will love!
If you love cooking and baking, your friends and family will love a homemade edible gift!
Who knew you could make such a delicious and beautiful tart in just a few steps? Tarts are a great food gift as they can easily be stored and reheated, not to mention they are simply delicious with a blend of sweet fruit and buttery pie crust!
Make garlic-infused olive oil for a fraction of the cost of a premade bottle. It's perfect for the home cooks in your life as it can be used in many recipes!
Gifts Bought From The Heart
Mina Moroccan Harissa
This Harissa is my favorite brand, and it comes in a variety of spice levels. If you know someone who likes to add a little heat to their dishes, this condiment makes an excellent gift. Consider giving your loved one a few different heat levels to try them all out!
Mina Preserved Lemons
Preserved lemons are a must in any Moroccan pantry, and they make an excellent food gift during Ramadan. They are easy to make on your own, but make sure you have a few weeks to let them sit in a dark cupboard before gifting them. Alternatively, I also love buying Mina Moroccan Preserved Lemons online when I don't have time to make them myself.
Assorted Tea Gift Box
Vahdam has several different boxes of tea that are available for gifting. This is a fantastic Ramadan gift idea for anyone who is a tea connoisseur and can't get enough of new brews.
Gourmet Chocolate Gift Box
Who can say no to gourmet chocolates? These chocolate-covered sandwich cookies come in a variety pack featuring 5 decadent flavors: Cranberry, Nut Crunch, Coconut Crunch, Crushed Peppermint, and Rainbow Chips.
Himalayan Salt Gift Pack
Home chefs will love this salt variety pack featuring Basil, Smoked, Chipotle, Garlic & Pink Himalayan salt varieties. The festive colors also make using these salts such a pleasure!
Movie Night Popcorn Seasoning Set
If your host or hostess loves a good bowl of popcorn, get them ready for their next movie night with this gift set. Featuring 3 gourmet popcorn varieties along with 5 styles of seasoning: White Cheddar, Sweet & Salty Kettlecorn, Chili Lime, Buttery Caramel, and Sizzling Sriracha, it's sure to please any snacker!
Luxurious Chocolate Covered Date Arrangement
Spoil your friends and relatives with luxurious, chocolate-covered dates from the Muslim-owned business in Canada, Lindates. You can order collections and arrangements of the most delicious, rich, flavor combinations: Hazelnut coffee praline, Almond, Coffee cream, Crunchy Ferrero, and so many more!

You can check LinDates
Best Trays & Wrapping For Food Gifts
Presenting your food gift on a lovely tray or in a special basket will make your gift complete. If you order a gift set, they often come in a pretty package, but if you are making your own food or you simply want to add a little something extra to make your gift special, these are some lovely and festive containers for gifting food.
Decorative Moon & Star Tray Set
This wooden tray is one that can be used over and over for years to come. What a fun and festive piece for your loved one to have in their Ramadan serving dish collection.
Islamic Patterned Wooden Board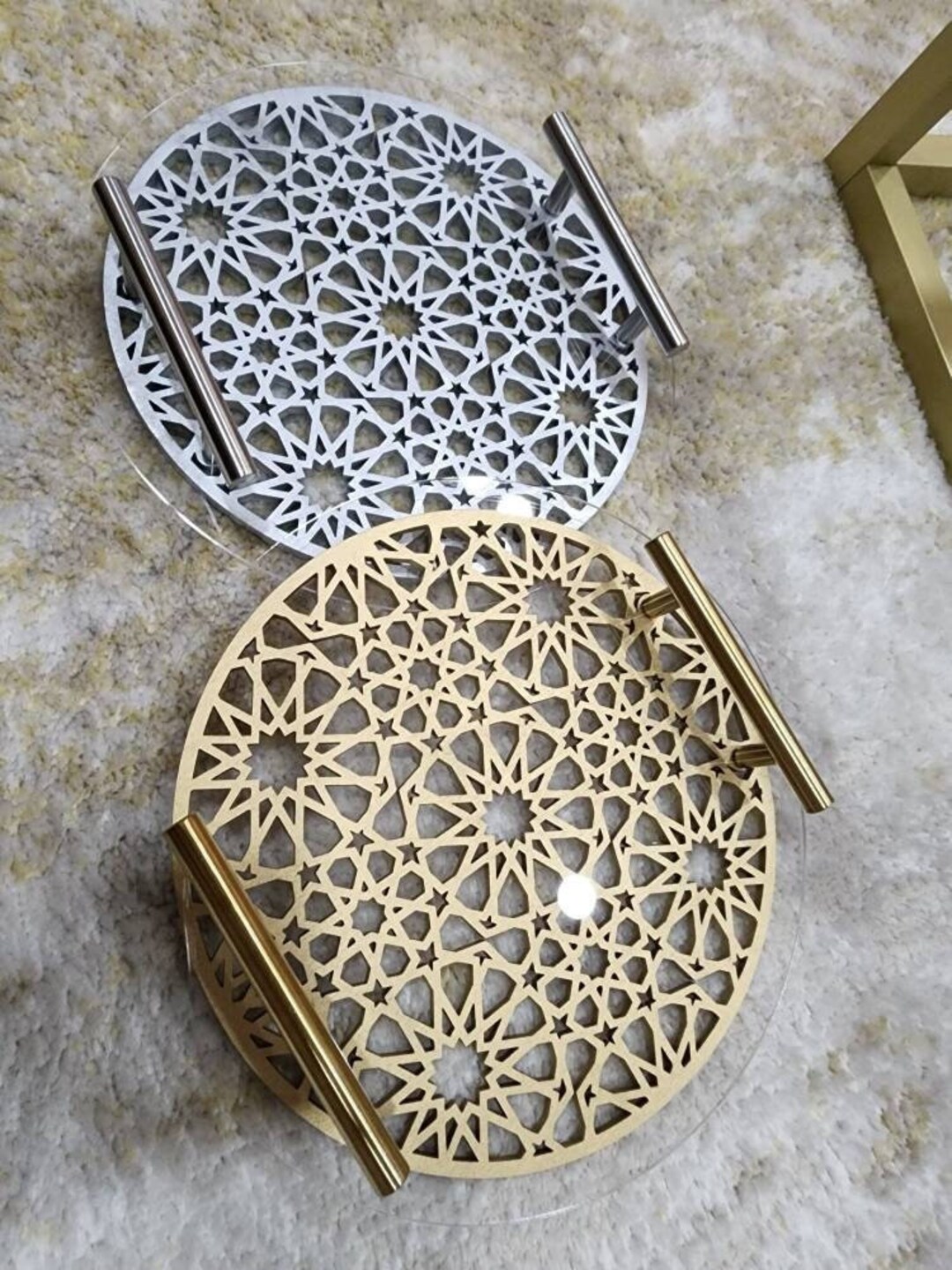 If you are bringing sweets, this board makes for such an elegant display. And it's something your host or hostess can use year-round.
Marble, Sparkly Black & Antiqued Marigold Wrapping Paper
Using color-themed wrapping paper and the ribbon is a great way to wrap edible gift sets, and Hallmark paper always has that premium feel.

Ramadan is a great time to show your loved ones how much you appreciate them with food gifts. Whether you choose store-bought gifts or bake your own treats, food gifts for Ramadan are always a hit.

So what are you waiting for? Get started on deciding what food gift you will give your loved ones this Ramadan!
More Ramadan Gift Ideas
If you're looking for gift inspiration or ideas for your family for Ramadan, look no further! Try some of these!

Great Ramadan Gifts For Kids Of All Ages

How To Transfer Money To Morocco For Eid Or Ramadan

Ramadan Gift Ideas To Bring For Iftar