When we lived in rural Wisconsin the local Muslim community would have a monthly community potluck. This harissa chicken recipe was born out of desperation one night when I really wasn't sure what to make! If you're not familiar, harissa is a pepper paste that is found in most of North Africa.
Because we were a small community there isn't one ethnic group that is in the majority which made the potluck even more fun because there is food from all over the world. There were people from Pakistan, Egypt, Turkey, Bulgaria, Morocco, Guinea, Algeria, Libya, and even more places. The food represented all of these cultures.
But this also meant there was a lot of pressure to keep up. As the American wife I was often expected to either
a) bring an amazing Moroccan dish or.
b)bring soda pop.
There's really no wiggle room in there.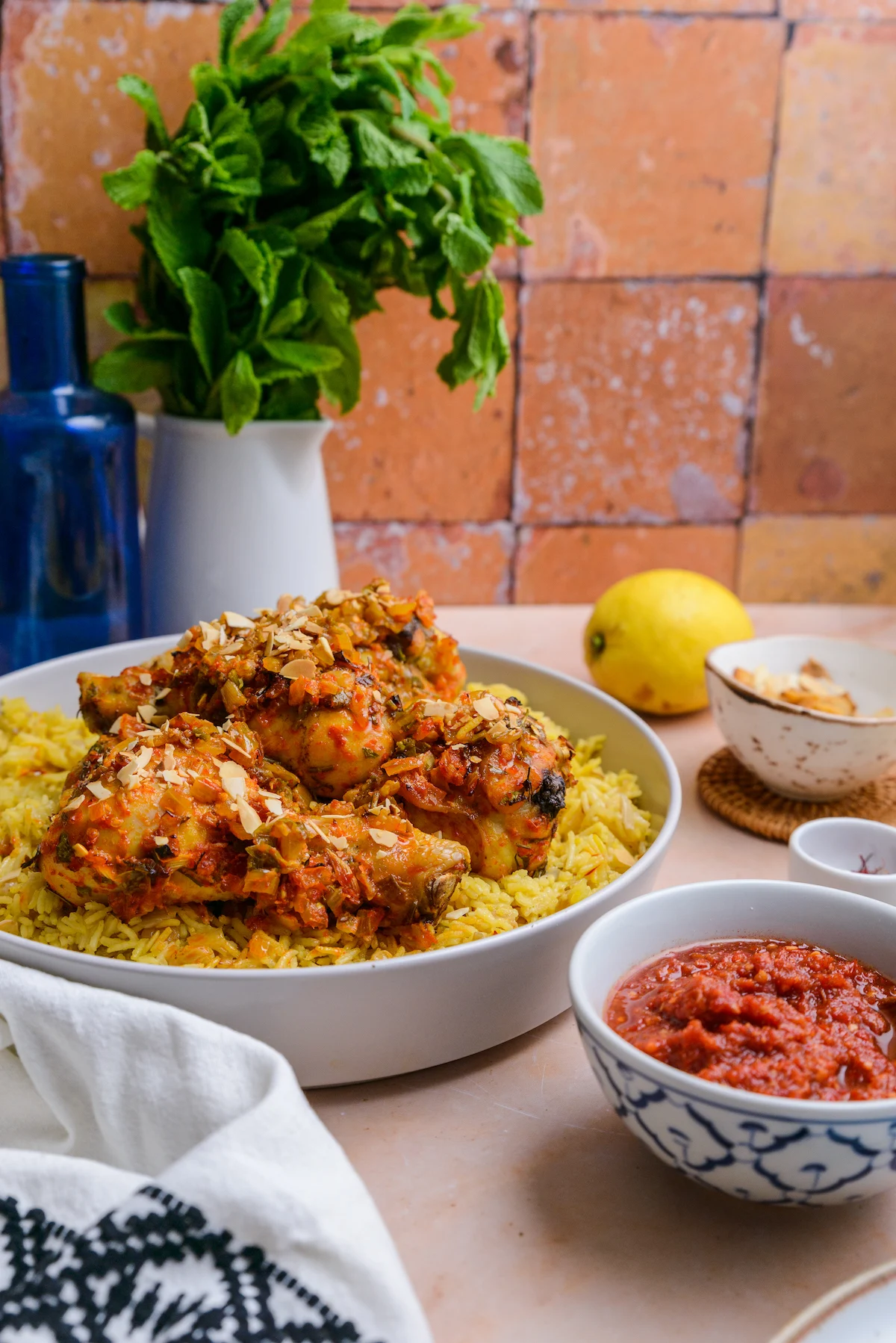 My Harissa Chicken Recipe
This ended up being a big hit with everyone including my husband and it was completely random. I love when that happens! I'm going to be really honest when I say I didn't originally measure anything. I really wasn't sure if this recipe would turn out.
I've since reworked it so that the measurements are clear and you'll have an easier time making it. This recipe is paired with a saffron and caramelized onion rice. But, you could totally make just the chicken portion of this recipe and use it.
I think that it would make a great sandwich filling if it were cut up. You could also put it with regular white or brown rice.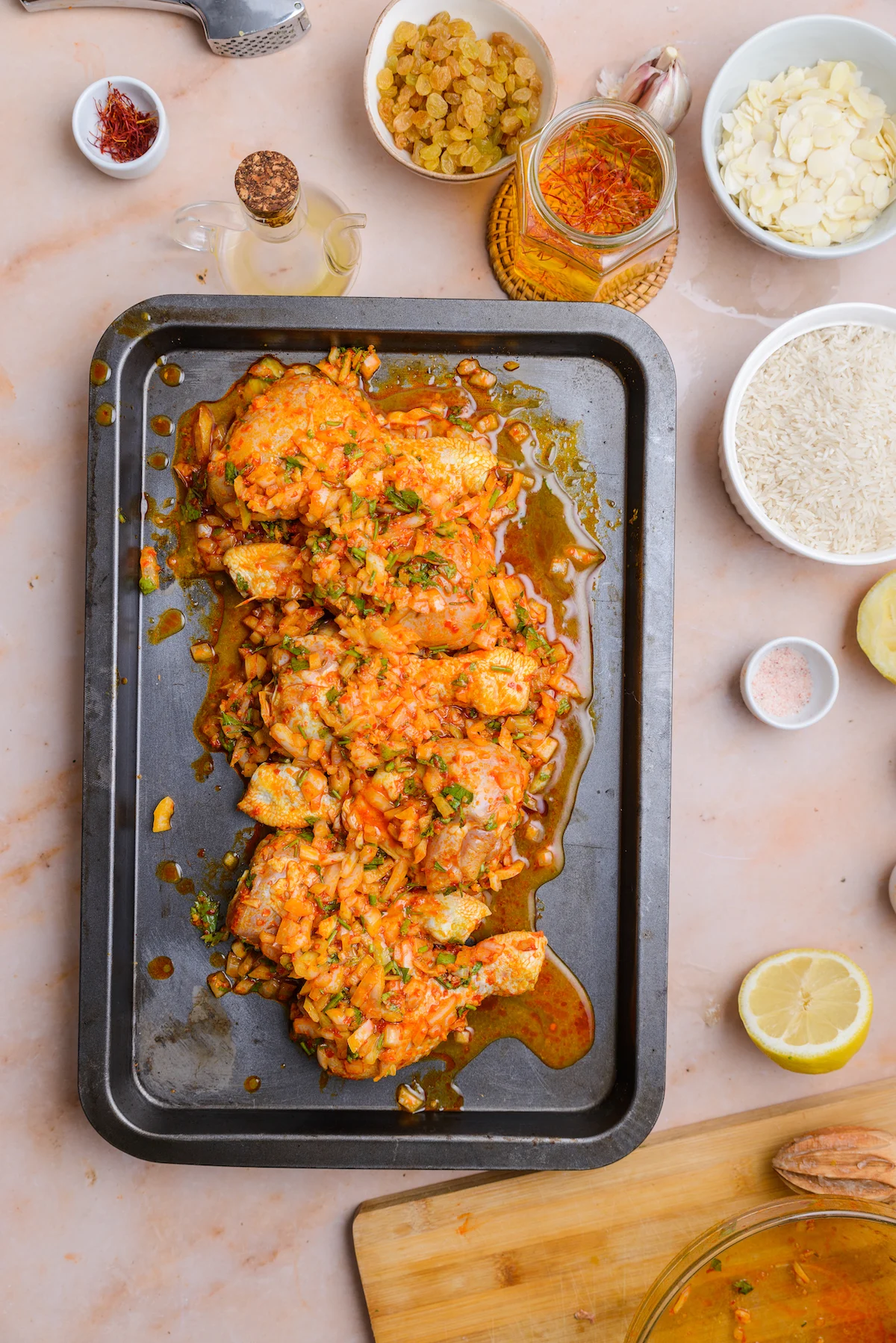 Is Harissa Chicken Spicy?
That depends on a few things. Harissa paste has different levels of heat. I really like Mina Harissa and it is pretty mild on the temperature scale. This is my go to option in the US. But the more you add, the hotter it will be.
If you're going with a concentrated harissa paste like you would find in a Middle Eastern market you may find it is a lot spicier. I definitely recommend trying it before you mix it into your dish and adjusting based on what you like.
For dishes like this – especially in a potluck setting – I go easier on the heat and offer extra harissa on the side. Then people can adjust as they want.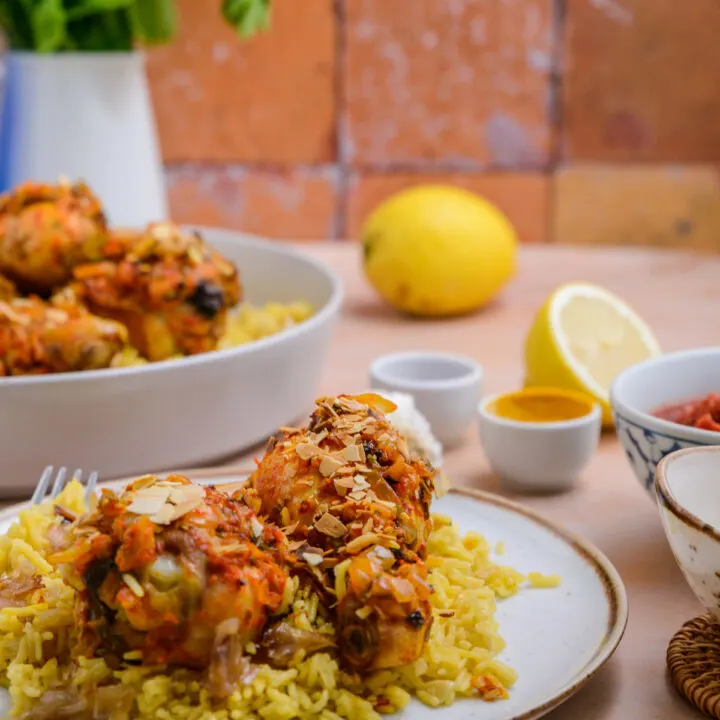 Yield:

2-4 servings
Harissa Chicken with Caramelized Onion and Saffron Rice
Total Time:
4 hours
15 minutes
This harissa chicken was a recipe that I originally put together for a potluck. I've upgraded it and paired with a delicious rice that will contrast the spice of the harissa.
Ingredients
Chicken Ingredients
2 lbs chicken with the skin on
½ cup Harissa (adjust to liking depending on heat preference)
1 tsp salt
3 garlic cloves
1 white onion - diced
1/3 cup chopped parsley
1 ½ teaspoon ground cumin
1 teaspoon turmeric powder
juice of 1/2 lemon
1/3 cup olive oil
Rice Ingredients
1 1/2 cups long grain rice
3 cups water
3-4 large shallots (roughly 1 1/2 cups chopped)
7-8 saffron threads
1/3 cups golden raisins
2 Tbsp olive oil
sliced, toasted almonds for garnish
Instructions
Peel the garlic cloves and onion. Dice the onion finely and crush or mince the garlic cloves. Set aside.
Chop the fresh parsley. Set aside.
Juice the ½ lemon and set aside.
In a big bowl add the minced garlic and onion, alongside the harissa paste, lemon juice, chopped parsley, cumin seeds, turmeric powder, olive oil, and salt. Mix well.
Add the chicken to the bowl and mix well, ensuring every piece is well coated with the marinade. Cover the bowl and let marinade for 1 hour to overnight in the fridge.
When you are ready to prepare the meal follow these steps. The rice can be made immediately after the chicken is put in the oven.
Preheat the oven to 375F
In an oven tray, add the marinated chicken alongside all the marinade. Spread evenly.
Cook for 45 minutes checking to see if the chicken is cooked through.
When finished turn the oven onto broil and crisp the skin for 5-10 minutes.
Peel the shallots and dice them finely.
Prep the saffron infusion, for this add the saffron threads to a glass and infuse with 1 cup hot water. Set aside letting it rest.
In a pan add 2 tablespoons olive oil and the diced shallots and cook on medium-low stirring every once in a while.
Cook until they become brown and super soft (minimum of 30 min)
In the same pan add the long-grain rice and mix well with the caramelized onions.
Pour the saffron infusion into the pan and add more water.
Add the salt, mix well, and let cook on medium heat without stirring.
Before all the water evaporates add the raisins into the pan.
Let all the water evaporate (around 15 min)
While the rice is finished, toast the almonds over low heat in a pan on the stovetop by stirring constantly.
Serve the chicken over the saffron and caramelized onions with some of the toasted almonds on top for garnish and crunch.
Notes to Adapt This Recipe for Harissa Chicken
Depending on the chicken parts you use, and your oven, you might need to adjust a bit the cooking times to avoid the chicken from drying up, or not getting cooked through.
For a whole chicken, I'd cook on 365F for 1 hour. For chicken thighs and drumettes 40-45 minutes is good with higher temperatures.
For the marinade, you can grate the onion or process it in a food processor to turn it into a paste so the flavor distributes more evenly.
Depending on how long you leave the chicken to marinate, it can amp up the heat from the harissa. In my case I love heat and I left the chicken marinating 3 hours with this amount of harissa and it was spicy but not ultra spicy.
For the rice you can use either shallots or white or red onion, the results will be the same, same for the raisins, either golden or dark raisins will do.
Once it's finished, taste it, and if it's still a bit too "al dente" you can cover it with a lid and let sit and soften a bit with the residual heat.
By making an infusion with the saffron you'll ensure all of its beautiful color and subtle flavor gets evenly distributed.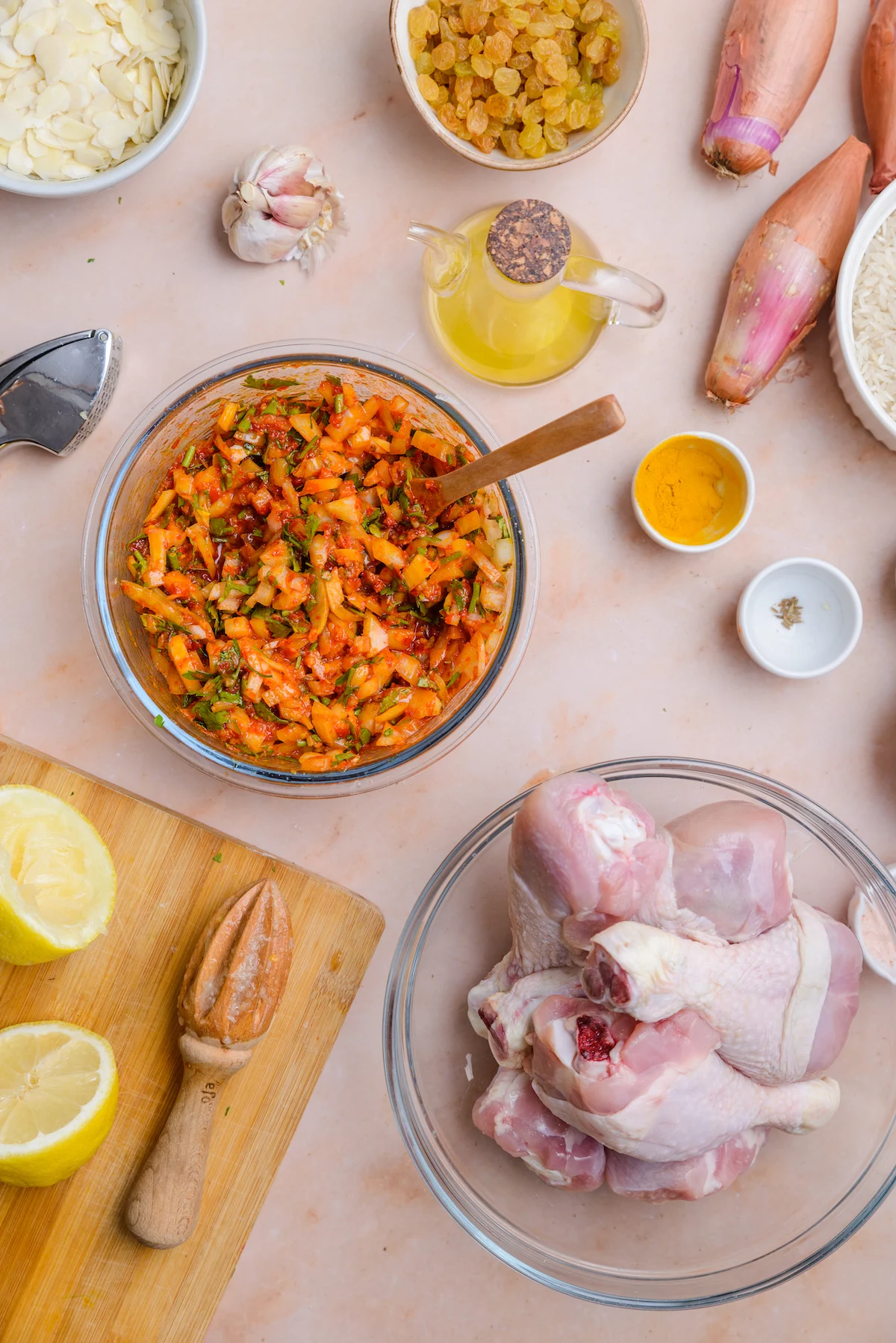 How to Store Harissa Chicken
The cooked chicken can last up to 4 days in the fridge in a sealed container. Reheat in the microwave for 10-15 min or in a pan with a drizzle of olive oil.
Don't Have an Oven? Other Ways to Cook Harissa Chicken
It is possible to attain equally delicious results using an air fryer, cooking directions are almost the same, the only thing that changes is the time, since with the circulation of hot hair, the chicken can turn a bit drier so I'd cook it for 30 minutes and check the inside of one of the pieces to check if cooked through and the consistency of it.
I love when I come up with easy, go-to dishes like this. It can take on a completely different taste each time that I make it.
More Ways to Use Moroccan Harissa
Butternut Squash Soup with Harissa Oil