When the temperatures begin to dip the first thing people reach for are soups and stews. But, by this time of winter the novelty of those hearty, warming foods has worn off. Where is spring, already?!? Here in Morocco, winter is nothing like the upper Midwest. Our day time temperatures rarely go below 60F, and generally are in the 70's and sunny. But nighttime temperatures drop fast to the 40's and 50's. Without indoor heat, it is very cold! I love making stews and welcome any chance to try something new.
This week for #SundaySupper we're having a virtual chili cook-off! I've never entered a cooking competition but with the prize of a chance to attend the Food and Wine Conference in Florida this summer it's worth it! You can see all of the chili entries at the bottom of this post, and then please head over to the Sunday Supper website and cast a vote for your favorite (*fingers crossed* it's mine!) You can vote through the end of the day on Thursday, 2/27.
I started thinking about how I'd make a different kind of chili. I mean, what really makes a chili, chili? Some digging online told me that it needs to have chili peppers. We have a few different kinds of chilis in Morocco but the most famous is the chili paste- harissa. To me chili also has to have a tomato paste and beans. I combined all the flavors that mean chili to me and created this —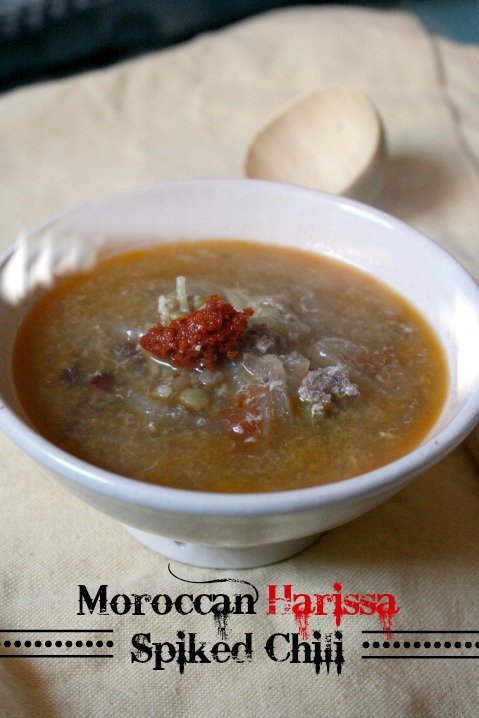 Moroccan Harissa Spiked Chili for #SundaySupper
Ingredients
1/2 lb ground beef
1 onion
1 Tbsp crushed garlic
2 large, fresh tomatoes
2 Tbsp tomato paste
5 cups beef broth
2 Tbsp cumin
1/2 tsp harissa
1 tsp salt
2 tsp paprika
1 cup red beans
1/4 cup lentils
1/4 cup vermicelli noodles
1 egg
Instructions
If you are using dry beans and lentils, rinse and clean the night beforehand. Soak in water overnight to prepare for chili.
Begin the soup by browning 1/2 lb ground beef in the bottom of a stock pot. While the meat is cooking, thinly slice 1 onion.
When the meat has been cooked remove it and set aside, but leave any fat left in the pot. Add the sliced onions and cook until softened and browned. Drain any liquid left.
Add the meat back to the pot, along with the 5 cups of beef broth.
Grate the two tomatoes (or leave in chunks if you prefer chunkier chili) and add to the soup. Mix in the tomato paste, harissa, garlic, cumin, salt, and paprika.
Allow soup to gently simmer for 15 minutes.
Add lentils and red beans and cook until soft (appx 20 minutes).
Lastly add the vermicelli noodles, cook another 5-7 minutes until al dente.
Crack the egg in a bowl, whisk, and using a cup slowly stream some of the liquid from the soup into the egg to gradually heat up the egg, without cooking it. Continue doing this until you can feel the egg liquid is warmed. Then slowly stream the liquid in the bowl, back into the pot. This is the Moroccan way of thickening traditional harira soup. It's a great way to thicken and add some extra protein.
Serve with harissa on the side or on top to increase the heat.
https://marocmama.com/moroccan-harissa-spiked-chili-for-sundaysupper/
**If you've never tried harissa, or don't have access to buy any you can make your own at home! It might become your new favorite hot sauce!**
What is everyone else making? Take a look!
Beef and Bison Chili
Pork Chili
Chicken, Duck, and Turkey Chili
Mixed (meat combo) Chili
Fish and Seafood Chili
Vegetarian Chili
Twist-on-Chili
Best Wines To Pair with Chili #SundaySupper from ENOFYLZ Wine Blog
Chili Cook-Off Voting at the Sunday Supper Movement Online Community Magazine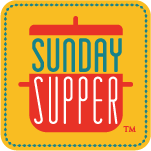 Join the #SundaySupper conversation on twitter on Sunday! We tweet throughout the day and share recipes from all over the world. Our weekly chat starts at 7:00 pm ET. Follow the #SundaySupper hashtag and remember to include it in your tweets to join in the chat. Check out our #SundaySupper Pinterest board for more fabulous recipes and food photos.
Would you like to join the Sunday Supper Movement? It's easy! You can sign up by clicking here: Sunday Supper Movement
Be a part of the MarocMama family!
Do you want the inside info? When you sign up I'll send you bi-weekly personal updates and information.
Get the info that won't be on the blog!