It seems way to early to start thinking about back to school – seriously where did the summer go?? My last few shopping trips to pick up items for packing I couldn't help but notice more and more parents and kids walking the aisles with their supply lists. i have to admit it made me a little teary. I know we'll have school supplies in Morocco but my favorite part of the new year is checking things off of that supply list! The thing I dislike the most about the school year is making breakfast. I just don't like it! I'm always on the look out for fast, healthy meals that I know my kids (and husband) will eat. I think this is a real winner.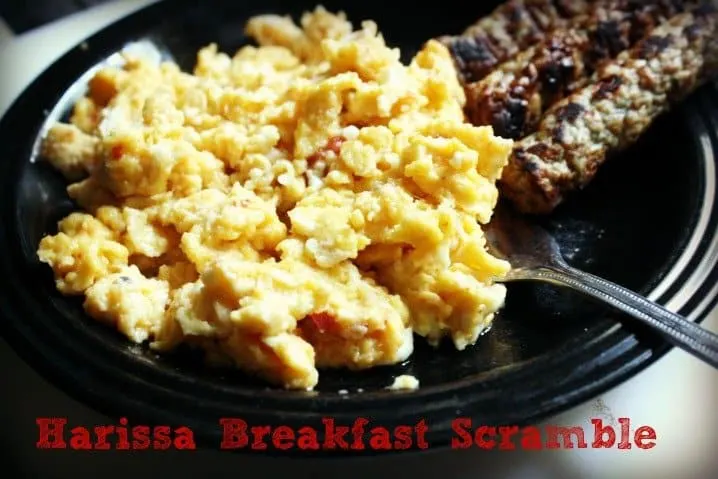 Eggs are such a good way to get a lot of protein. I know so many people who like to add salsa or hot sauce to their eggs. I thought why not harissa? Not only is this excellent for a quick weekday breakfast, it's also good for brunch. You could add in chopped vegetables, shredded potatoes, anything really to bulk it up.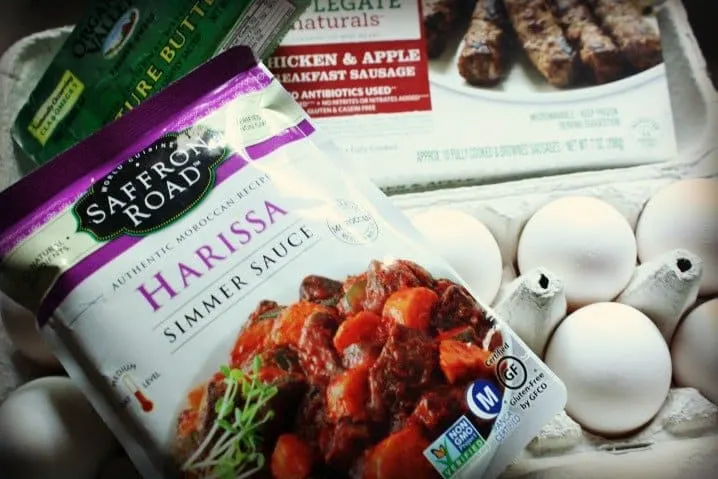 If you're not one for scrambled eggs, make a frittata or omlette. Instead of scrambling the eggs while cooking just leave them sit alone and set up. You can adjust the amount of harissa too – maybe just a little bit for kids while adults might like more of a kick. One more great suggestion – if you only eat egg whites adding a bit of the harissa sauce will add flavor without fat. I think egg whites have no taste so this is a great idea!
Harissa Breakfast Scramble
Ingredients
3 eggs (free range or organic if possible)

1 package Saffron Road Harissa Simmer Sauce (you won't use the whole package)
1 Tbsp butter
any other breakfast sides or fillings you enjoy such as meat, potatoes, or vegetables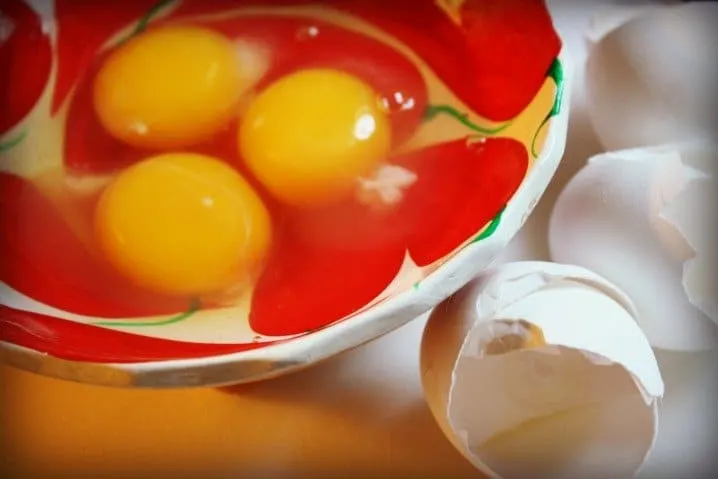 Directions
In a skillet pan melt 1 Tbsp of butter.

Crack eggs into a bowl and whisk with a fork to scramble.
Add 1-2 Tbsp harissa simmer sauce to the eggs and whisk. You can add more harissa until you achieve desired "heat" level.
Once the butter has melted, add the eggs to the skillet and use a silicone spatula to continually stir the eggs until cooked through.
The eggs will have a reddish/brown tint this is from the harissa. The eggs will only take 3-4 minutes to cook through on medium high heat.
Serve with extra harissa on the side and any sides of your choice.
What are some of your favorite go-to breakfast ideas for school mornings?