As part of my preparation to move to Morocco, I've been trying my hand at creating things I know may not be easy to find or won't taste the way I expect. Mayonnaise is certainly found in Morocco but why buy it when it's so easy and inexpensive to make and tastes so much better homemade?
I never knew mayonnaise was so easy to make!
Harissa mayonnaise was something I randomly put together thinking it would taste interesting. I was right! Harissa is a common pepper sauce used in Morocco but it's not THAT spicy. It works really well blended into this homemade mayo and you can adjust how much or how little you'd like.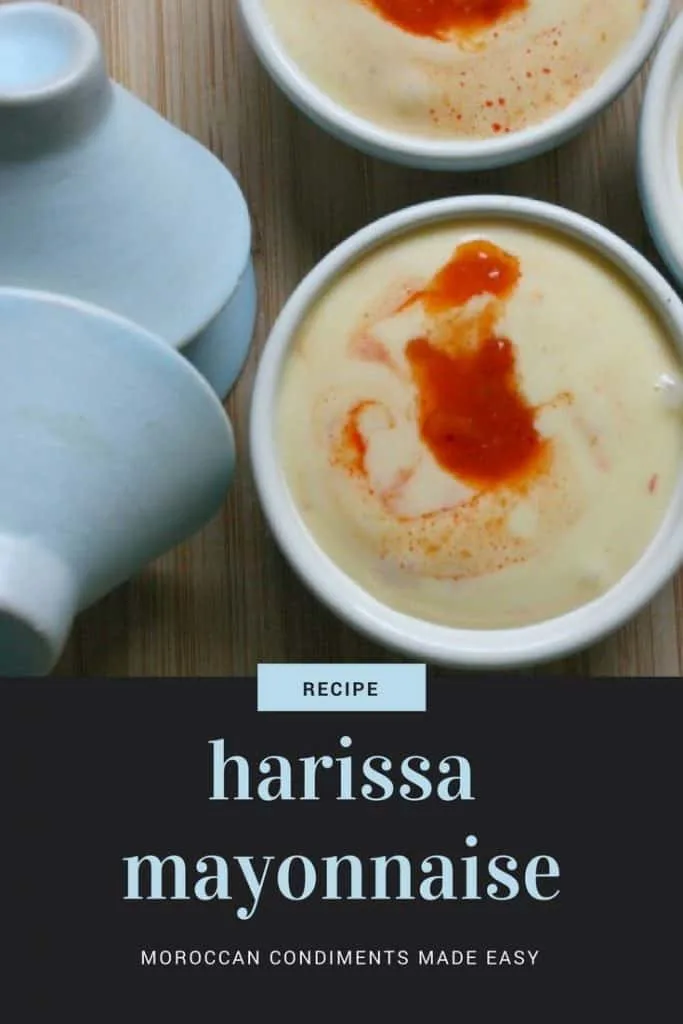 What I learned from this experience was that I can really make something very simple unique and delicious. I envision many more mayonnaise variations in the future.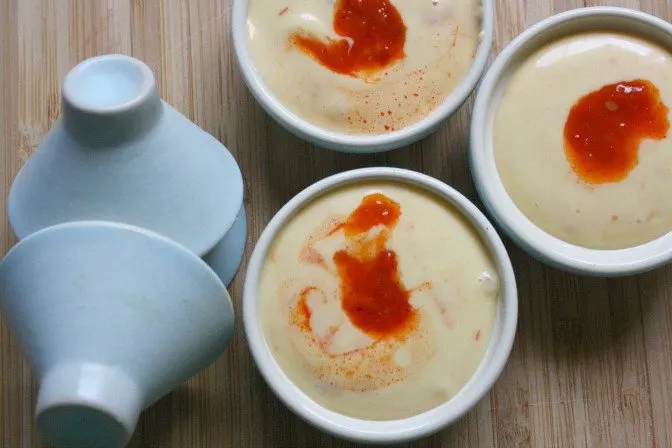 If you have a food processor, I think it's really the best and quickest way to make mayonnaise. If you don't have one, you can use a whisk to pull it together but it will be more tricky. I also use my regular blender to make this but it may not work if you have blades that have a big gap in the bottom of the cup.
Harissa Mayo Recipe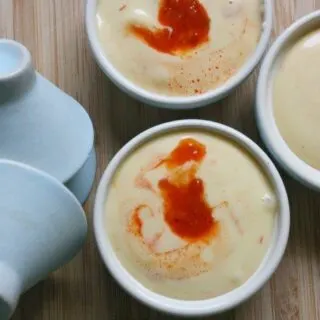 Yield:

appx 1 cup
Harissa Mayonnaise
Making your own mayonnaise is not only easy to do but the flavor is even better with a dash of harissa.
Ingredients
1 egg + 1 yolk organic eggs
1 tsp harissa (add more to make it more spicy)
1 tsp salt
2 tsp vinegar
1 1/2 cups olive oil
Instructions
I think it's really important to use fresh, organic eggs. The egg won't be cooked so the best quality you can use is really best.
In the bowl of the food processor, add the eggs, salt, vinegar and harissa.
Turn the food processor on.
After about 20 seconds, begin to slowly stream the olive oil through the top spout. Do not stop the food processor.
Watch the contents of the bowl and continue to add the oil until the mixture comes together.
As soon as it begins to look like mayonnaise, stop.
Refrigerate immediately, and keep in a cool place for up to a week.
If you decide you would like to increase the heat, you can add more harissa by mixing it into the mayonnaise.
Safety Tips for Homemade Mayo
Refrigeration: As soon as you've made your homemade mayonnaise, it's essential to refrigerate it immediately. Given it typically contains raw eggs, keeping it at room temperature can promote bacteria growth.
Airtight Containers: Store your homemade mayonnaise in a clean, airtight container. This helps keep out any external bacteria or contaminants that could otherwise spoil the mayonnaise.
Keep Track of the Time: Generally, homemade mayonnaise can last in the fridge for up to one week, but it's best to consume it as soon as possible. It's good practice to label the container with the date you made it to keep track of how long it's been stored.
No Double Dipping: Each time you need to use some of the mayonnaise, scoop out what you need with a clean spoon. Reusing a spoon can introduce bacteria into the remaining mayonnaise and promote faster spoilage.
Check for Signs of Spoilage: Keep an eye (and nose) out for any signs that the mayonnaise has gone bad. These can include an off smell, a change in color, or a layer of water at the top.
Always Use Fresh Ingredients: When making your mayonnaise, always use fresh eggs. Older eggs or those that have been stored at room temperature for long periods can carry a higher risk of bacterial contamination.
Remember, when it comes to food safety, it's always better to err on the side of caution!
More Moroccan Condiments to Make!