"You're making what?" was the question I was asked by MarocBaba and American Grandma after I told them I was making ketchup. MarocBaba added quizically "why would you want to do that? – there's a bottle in the fridge."
Truthfully I wanted to see if I could do it.
Ketchup goes quick in our house!
K is a ketchup addict, he eats it on everything. The kid eats ketchup sandwiches (ketchup + bread = sandwich). Lots of conventional ketchups are loaded with artificial ingredients and a lot of sugar. I really wanted to make a good, natural ketchup to pair with our favorite chicken bites from Saffron Road.
It's not hard – I swear and while this doesn't taste exactly like what you would squeeze out of a bottle of nottobenamed ketchup it's close and it's really much better for you.
Homemade ketchup is so easy to make. This simple recipe is delicious without the preservatives of bottled ketchups.
Ingredients
1 medium onion chopped
2 Tbsp olive oil
3 large ripe tomatoes
8-10 pitted dates (I used medjool)
2 tsp ginger
2 cloves of garlic chopped
1 Tbsp tomato paste
2 tsp salt
1 tsp pepper
3/4 c vinegar (white or apple cider vinegar)
1 c water
Instructions
Bring a large pot of water to a boil. While waiting, score the three tomatoes across the top or bottom, making sure not to cut too deep.
Remove pits from dates.
When the water is boiling add the tomatoes and cook until the skin starts to pull away from the flesh of the tomato.
Drain the boiling water and cover tomatoes with cold water until they can be handled.
Drain water again and pull away the skin of the tomato. Place on a plate.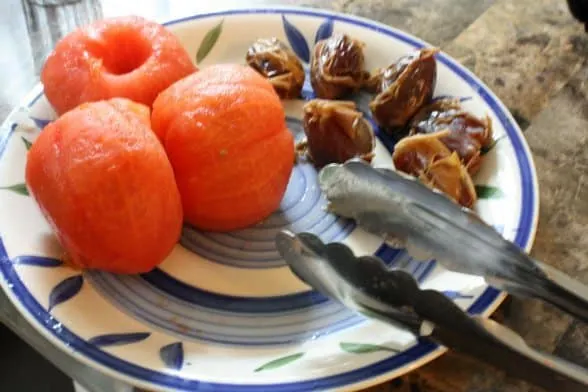 In the same large pot, add the olive oil and onions, cooking 5-8 minutes until the onions are soft and translucent.
Roughly chop the tomatoes and add to the pot along with the dates and 1 cup of water.
Set heat to medium.
Mix in the ginger, garlic, tomato paste, salt and pepper.
Cover and cook for 15-20 minutes until the tomatoes and dates are soft.
Stir in the vinegar.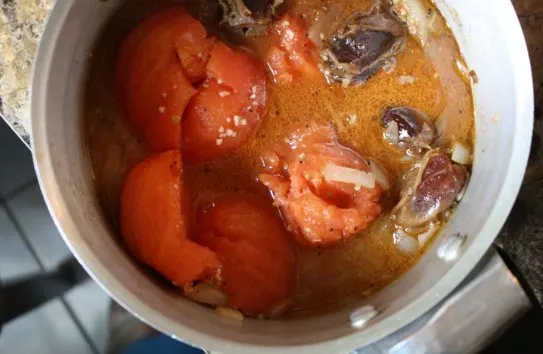 Using a stand blender, immersion blender or food processor, pulse the mixture until smooth.
At this point it will have a thin consistency.
Return to the pot and continue cooking until it reduces to a thick consistency.
Check the flavor and adjust seasoning.
You may need to add more vinegar (this depends on how acidic your tomatoes were to start with), or salt to balance out the sweetness of the dates.
Watch the ketchup as it reduces and once it is at a consistency you associate with ketchup remove from heat.
Pour into a container and allow to cool at room temperature or in the refrigerator.
If you would like to preserve this for more than a few days follow canning procedures. I doubt this ketchup is going to last more than a few days here!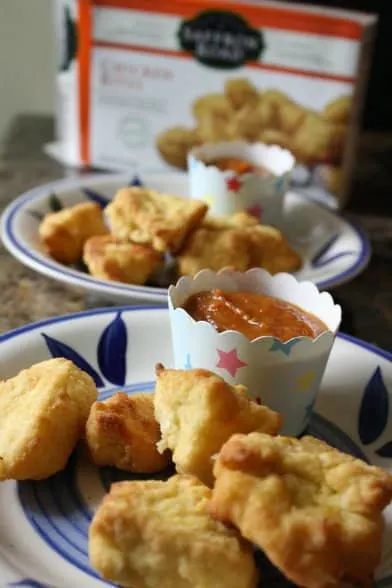 I'm sure that you will find 100 uses for this ketchup. My boys loved dipping their Saffron Road Chicken Bites for a tasty lunch. I think that this combination for upcoming Eid parties is also a great idea.
This experiment has me wanting to give mayo and mustard a try too!
(Psst – I actually did make my own mayo and it was delicious! Try it!)