We have been having unseasonably warm weather, that is until this week when temperatures have dipped to single digits. Whenever I start to feel a slight winter chill it's time to dig out my heavy blankets and soup recipes. It has only been in the last year that I have been able to get MarocBaba and the boys to enjoy soup.
You must understand how difficult that was for me, a soup lover. For years I went without, choosing to sacrifice my soup-love. Mostly that was because I would never eat a full pot myself but also I didn't want the work of cooking two different things.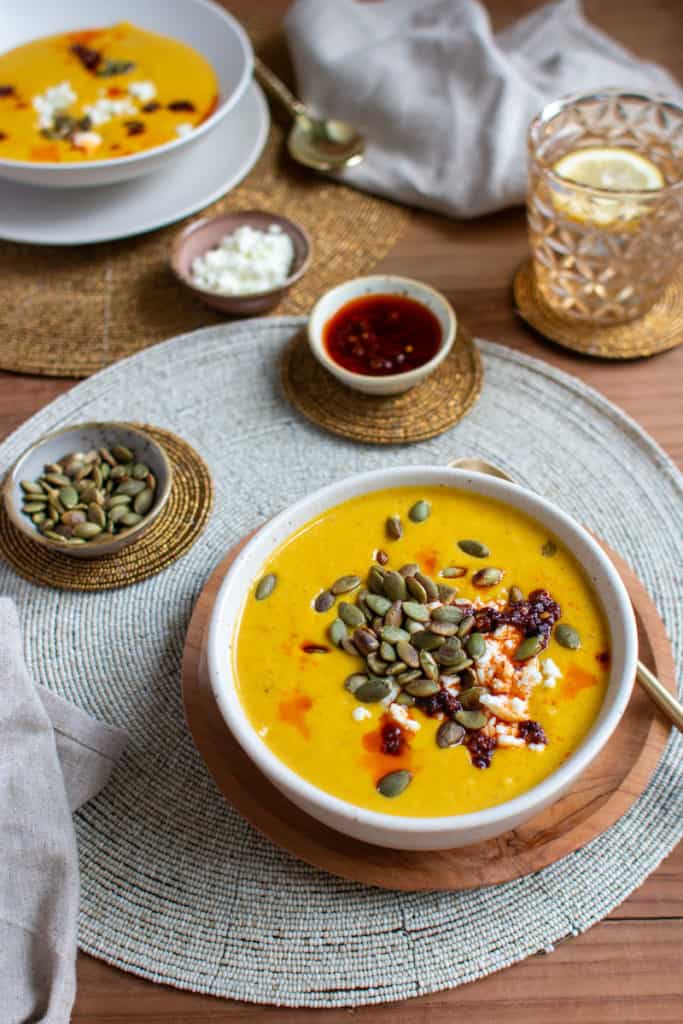 When Paula Wolferts' Food of Morocco came out I poured over all of the recipes. Moroccans don't eat a lot of soup save for the traditional harira. But what I did find in this book was a Spiced Butternut Squash Soup. Creamed soups aren't usually my thing, I like broth, but we had gotten butternut squash in some of our last CSA boxes.
This recipe is from the Rif Mountains in northern Morocco (most likely why I hadn't had it before) where the winters are cold as they are here in the Midwest. You can find Paula's original recipe in her book. I adapted this recipe to make it slightly different.
I think this is the perfect recipe to add to a Moroccan Thanksgiving celebration!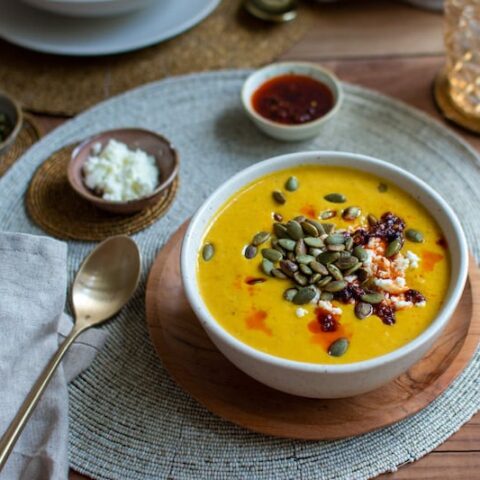 Yield:

6 servings
Roasted Butternut Squash Soup with Goat Cheese and Harissa Oil
Need a savory fall soup with a hints of sweetness and depth of flavor? Look no further!
Ingredients
Soup Ingredients
1 large butternut squash
1 small onion (optional)
2 Tbsp butter or olive oil (or half and half) (optional)
½ tsp each salt and pepper
¾ tsp ras al hanout
1 tsp cumin
1 ½ tsp turmeric
1 cup milk (dairy or non-dairy)
olive oil or vegetable oil for roasting
Harissa Oil
high quality olive oil
harissa paste
goat cheese or another soft cheese like feta, boursin, or cream cheese
roasted pumpkin seeds
Instructions
Preheat oven to 375F
Halve the squash, remove the seeds and drizzle the flesh with olive oil or vegetable oil.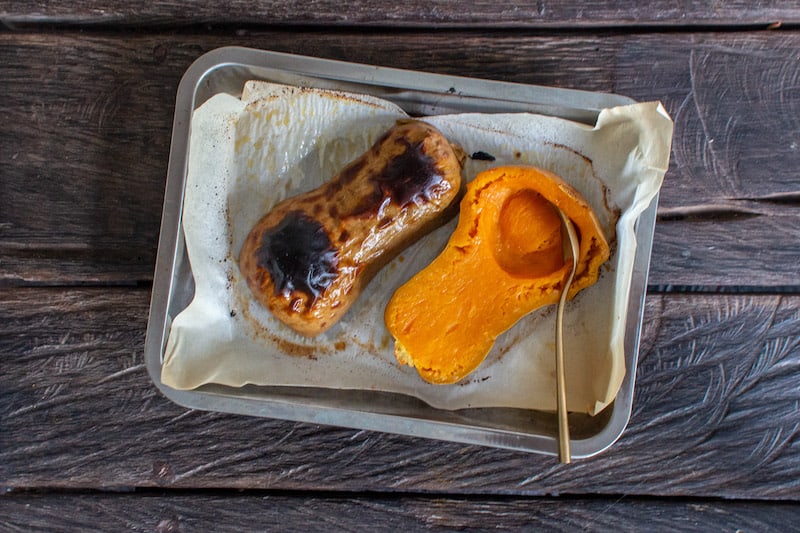 Place flesh side down on a baking sheet and put into the preheated oven.
Cook until you can easily insert and remove a knife to the thickest part of the squash. Time will depend on the size of your squash.
While the squash is cooking you can caramelize the onions if you are choosing to include them.
To make slice onions as thin as possible. In a pan on the stovetop add butter or oil (or half and half) to the pan along with the onions. Cook on low heat until onions break down and begin to turn a light caramel color. Remove from the heat.
Once cooked through remove from the squash from the oven and allow to cool down.
Remove the flesh of the squash from the rind and place into a blender. Add the onions as well as salt and pepper, ras al hanout, cumin, and turmeric. Blend until smooth, adding milk as needed to thin out and blend.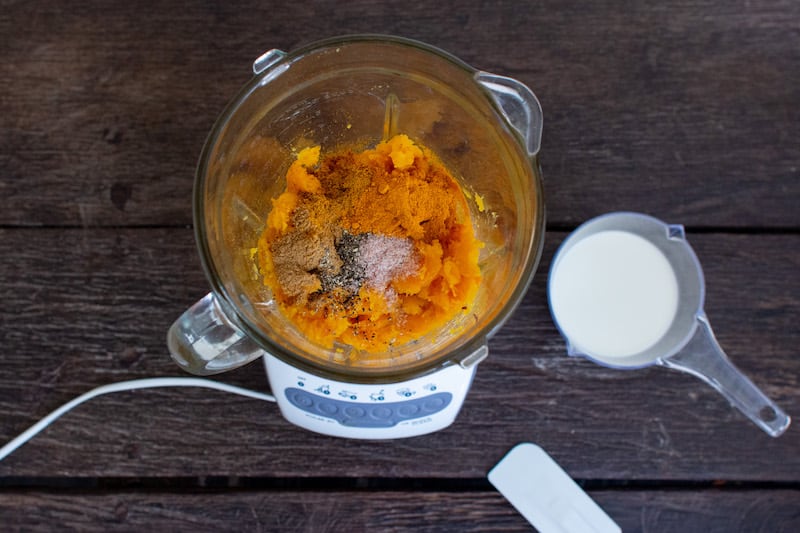 Transfer to a pot on the stove top and add more milk as needed to get to the consistency you would like. Cook on low at least 10 minutes to get the flavors to blend well.
Make the harissa oil while the soup is heating up by mixing 1 tsp harissa paste with 4 tsp olive oil. You can adjust the amount of harissa based on how spicy you would like it.
To serve soup place in a bowl, top with cheese, harissa oil and pumpkin seeds or any combination that you would like.