If you're a fan of adding some heat to your Moroccan dishes, let's chat about Moroccan Mina Harissa! It's not only delicious, but you can easily control the spice level by varying what you add.
Harissa is a chili pepper sauce that can instantly make a bland dish into one that pops fire into your mouth! (or, if you want just a tad bit of heat, that can easily be done as well by choosing one of the milder flavors). It's the perfect brand to add to your harissa recipe ideas.
What Are the Three Flavors of Mina Moroccan Harissa?
Yep, you read that right. Heat comes in all different levels, and Mina Harissa knows that! You can go from burning mouth to subtle burn, and you get to control the outcome.
The three flavors are:
Mina Harissa
This is like Moroccan spice meets buffalo sauce, mixed and ready to use. While most hot sauces are vinegar-based, this one is different. You'll instantly notice the flavor of garlic, olive oil, and red chili peppers with each and every bite.
Mina Mild Harissa
You'll still have some of the heat that you've been craving, but it's subtle and toned down by adding bell peppers into the mix. This is a great alternative to ketchup or could be a fun topping on burgers, too.
Mina Harissa Green Hot Sauce
If you're a fan of salsa verde, you HAVE to try this sauce. It's SO good and can be used on anything from eggs to chips to even tacos.
Are These Sauces High in Carbs?
They're actually not! They're keto-friendly, making them a perfect sauce or topping to any of your protein dishes.
You'll find that many sauces have a ton of sugars and ingredients that bump them into the higher-carb category. This isn't a worry at all with any of these sauces, making them much more enjoyable!
Is This a Condiment or a Cooking Ingredient?
Honestly, it's whatever you want it to be! This is how good this sauce is because it's 100% versatile in how it's used.
You can add a tablespoon or more right into your dishes that you're cooking on the stovetop or baking in the oven, or you can dip it right out of the jar and put it right on top of the chicken, eggs, and more.
I highly recommend that you try using them in as many ways as possible because eating them as an ingredient addition and eating them as a condiment will taste different every single time.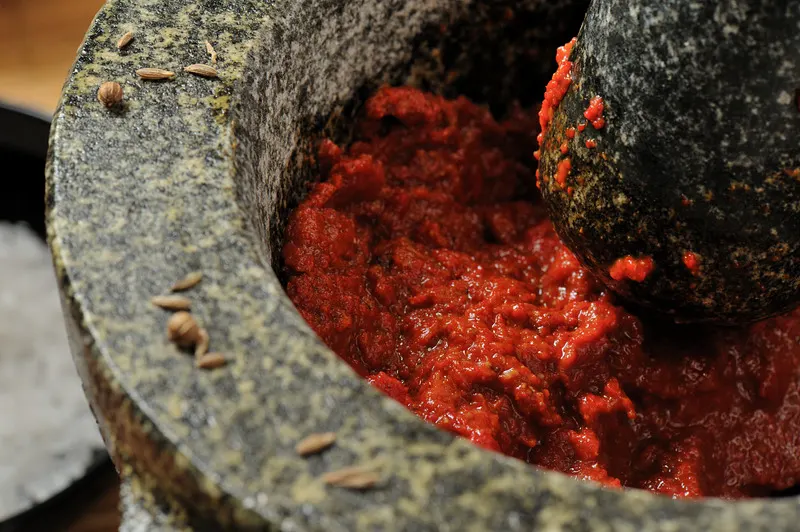 How Do I Store These Moroccan Sauces?
Once the jars have been opened and used, please keep them in the fridge. Keeping them sealed and cool is key to keeping them as fresh as possible for as long as possible.
Also, use a clean spoon or fork each time you dip into the jar so that you're not adding germs from saliva. This is also crucial in keeping the sauces fresh and ready to use over and over again.
With the main ingredient being spicy chili peppers, you can't go wrong! Even though all three of these sauces are made by the same company, they taste entirely different!
Where to Buy Mina Harissa
Mina harissa is available in many supermarkets however you can also easily buy it online via Amazon. If you don't want to look around check out and order them below!
More Great Ideas for Harissa
Roasted Butternut Squash Soup with Harissa