My kids LOVE pumpkin seeds. Actually, they love any kind of seeds or nuts, sunflower seeds, soybeans, almonds, peanuts, squash seeds, you name it, and roast it – they will eat it. We had two organic pumpkins to carve for fall/Halloween and harissa roasted pumpkin seeds sounded like the perfect snack.
I don't love cleaning and separating seeds from pumpkins but it also feels like such a shame to throw them away so every now and then I will clean them. This recipe uses fresh pumpkin seeds but if you want to save time, you could use unsalted packaged pumpkin seeds too.
When we made these the kids did most of the gutting and then the seeds were passed on to me to clean and cook. I came up with this idea because I wanted to do something a little different.
But what could be better than regular 'ole roasted pumpkin seeds?
Harissa Coated Roasted Pumpkin Seeds!
I had a jar of Mina Harissa just waiting to be tested out in a recipe. This was perfect. We bring home a new jar of harissa from Morocco every trip. However, the harissa we get is usually close to a paste in consistency. At first glance, the Mina harissa has a bright, vibrant red color. The smell on opening is inviting not frighteningly spicy with a much thinner consistency than what I was used to I wasn't sure how it was going to turn out.
I'm happy to say they worked and tasted really wonderful. Not too spicy but with enough of a kick to know you've eaten something with a little bit of a bite. The recipe couldn't be easier.
Do You Have to Use Organic Pumpkin Seeds?
No, you don't have to use organic seeds. I try to buy produce that is organic when it makes sense financially for us. But, if you have regular pumpkins (and pumpkin seeds) this recipe will be just as good!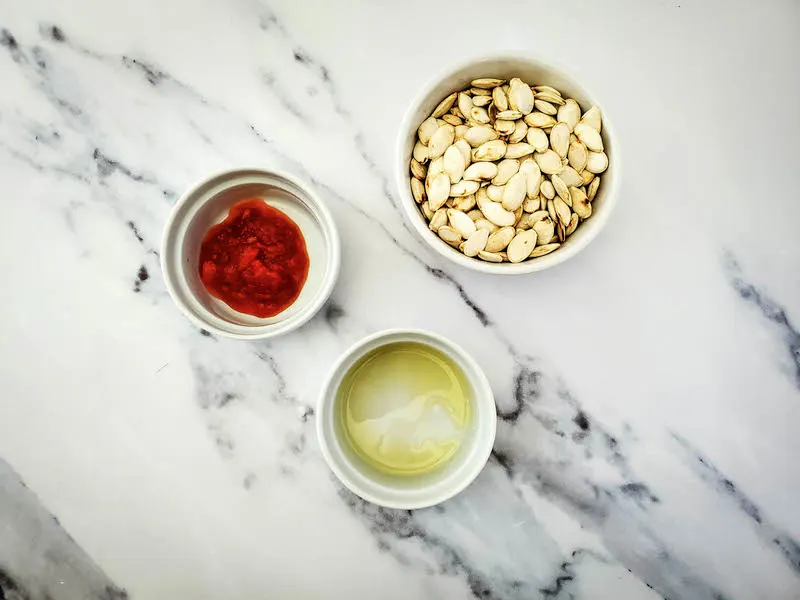 3 Ways to Use Spicy Harissa Pumpkin Seeds
If you manage to save any of these pumpkin seeds from snacking, there are a few ways you can use them.
Top your favorite salad with these crunchy seeds
Use them to sprinkle on your soup
Mix them into a trail mix with other seeds, nuts or dry fruit
I've also decided these are the perfect snack to have out for a Moroccan Thanksgiving celebration!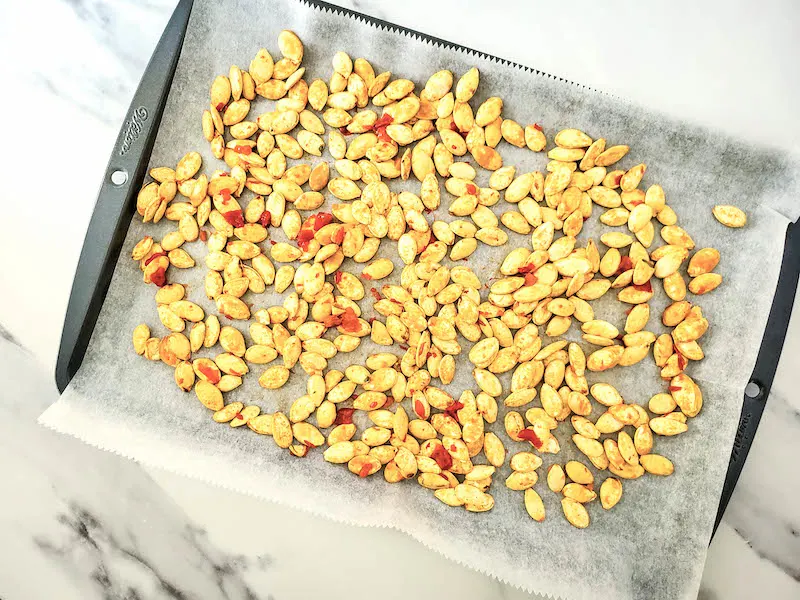 Clean your pumpkin seeds well and pat dry. If they are too wet the spice mixture won't really stick to them.
One tip for crunchy seeds is that you don't want them to be too wet. So, your spice mixture should just coat the seeds, not leave them drowning. Spreading them out so that the seeds are in one layer on the baking sheet is also important.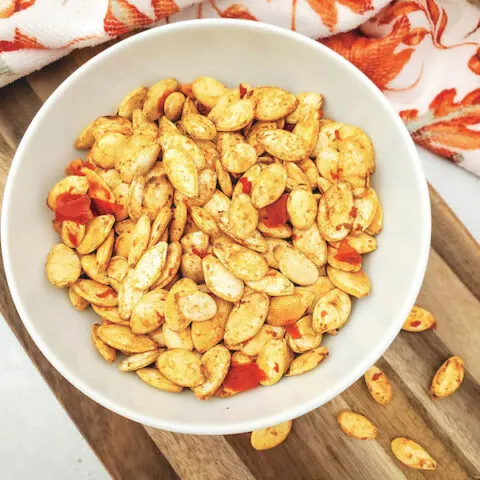 Spicy Organic Pumpkin Seeds
A simple recipe to add a little "pop" to your pumpkin seeds!
Ingredients
1 cup organic pumpkin seeds
2 tsp Mina harissa
1 tsp olive oil
Instructions
This recipe is to make pumpkin seeds using seeds extracted from a pumpkin. After removing the seeds place into a mixing bowl and clean any excess pieces of pumpkin "guts" from the seeds. Add plenty of water to the bowl to cover the seeds (they will float).
I allow my seeds to soak for 2-3 hours in the water and add 2 tbsp salt to the water as well. This is optional
Preheat oven to 425F.
In a small bowl mix together the harissa and olive oil. Drain the water from the bowl with the pumpkin seeds and pour the harissa mixture on top of the seeds. Use a spoon to mix, ensuring all of the seeds are covered.
Pour the seeds out onto a baking sheet in a single layer.and bake for 20 minutes or until the seeds are crunchy.
Notes
You can add more harissa if you want seeds with a little more zing. You could also add black pepper or another hot pepper to the mix.
Recommended Products
As an Amazon Associate and member of other affiliate programs, I earn from qualifying purchases.
More Ways to Use Harissa
If you've got a jar of harissa to make these pumpkin seeds but want to know how else you could use it up here are some more recipes that include this pepper sauce.
Roasted Butternut Squash Soup with Goat Cheese and Harissa Oil
Easy to Make, Homemade Harissa Mayonnaise