It's one of my favorite areas of Marrakech, due in no small part to the long-standing history I have with the neighborhood. It's a unique part of the city that has been growing in interest with visitors however many still leave it off their visit list. I highly recommend checking out a riad in the kasbah when you're looking at where to stay in Marrakech.
Historically the kasbah was home to the people that worked in the royal palace. There are several different parts of the kasbah that have entry points to the palace (since sealed off). Traditionally the gates of the city in the kasbah and medina would be closed and locked after the last prayers of the evening and opened after the first prayer in the morning.
This was the seat of the government beginning in the 12th century and the Almohad Dynasty and has been used as such off and on through history.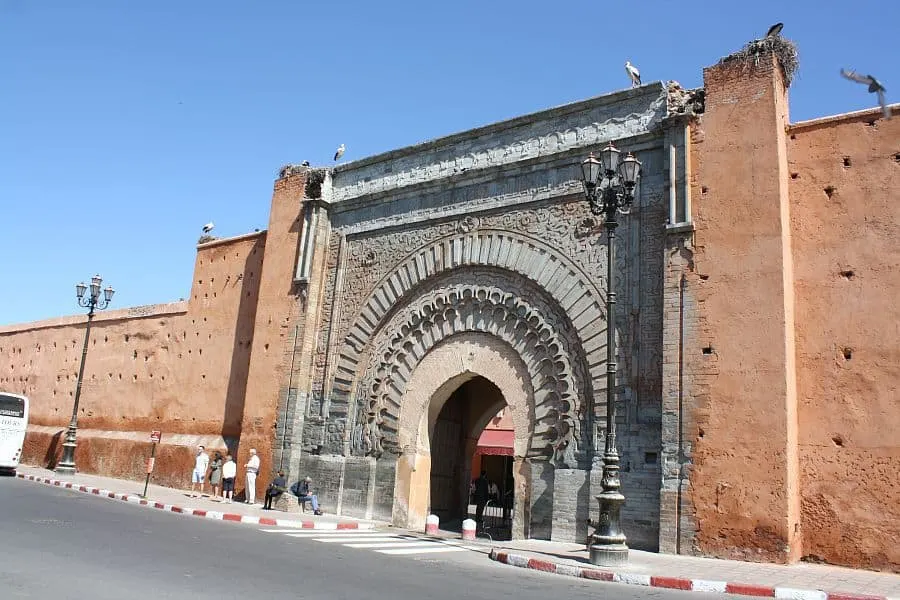 Where is the Kasbah?
The kasbah is located south of the main medina area at the southern end of the old city walls. It is marked by the large Bab Aganou gate, the original king's palace (there are two palaces in Marrakech), and the bordering Mellah area.
What else is in the neighborhood?
Lots!
Some of the most notable sites to see in the kasbah are the Kasbah Mosque (Moulay Yazid Mosque) which is a scaled down version of the Koutoubia mosque and the Giralda tower (once mosque) in Seville. The Saadian Tombs are another important historical site right next to the mosque. These are the tombs of the Saadian kings.
On the edge of the kasbah and mellah areas is the Badi Palace. It was commissioned in 1578 and took 15 years to build. It was only in use for a little over 100 years when Sultan Moulay Ismail eventually stripped it of its splendors and transported them to his palace in Meknes.
Hungry?
You've got a few options here. The main street of the kasbah has plenty of street food options- look for where the Moroccans are and try it out. Cafe Clock and their famous camel burger are also in the kasbah. Also try Zeitoun Cafe which offers a wide variety of Moroccan dishes.
Why choose to stay in the Kasbah?
Here are three reasons to consider this neighborhood for your stay in Marrakech.
It's smaller and easier to navigate than the larger medina – a bit less overwhelming.
For anyone that wants to stay in a smaller area where you can experience Marrakech without walking the entire city – the kasbah is a mini-Marrakech!
There are some really lovely small riads that were smaller family homes, many retain a very simple charm including their small courtyards. The houses in this area are smaller because the rooftops couldn't be built higher than the palace walls.
Riads and Hotels to Choose in the Kasbah of Marrakech
La Sultana
At the entrance of the hotel you'll find staff waiting to escort you to your hidden retreat in the kasbah. The riad is gorgeously appointed with unique rooms. A truly boutique hotel with 28 bedrooms and suites for guests with king size beds for ultimate relaxation.
There are multiple dining options as well as a hammam and spa so if you decide to stay in you'll have all your needs met. There is direct taxi access to the hotel so you can come and go at will on foot or by car.
La Villa des Orangers
When you walk up to the door here you might second guess if you've made the right call but walk through the door and you'll be surprised – as with most things in Marrakech you can't judge by the exterior. It was a private home from 1930-1998 when it became the luxury oasis it is today.
Three heated swimming pools are available and 27 rooms and suites make up the property. Breakfast, lunch, and dinner are served on site as well as room service through most of the day and evening.
Ksar Kasbah and Spa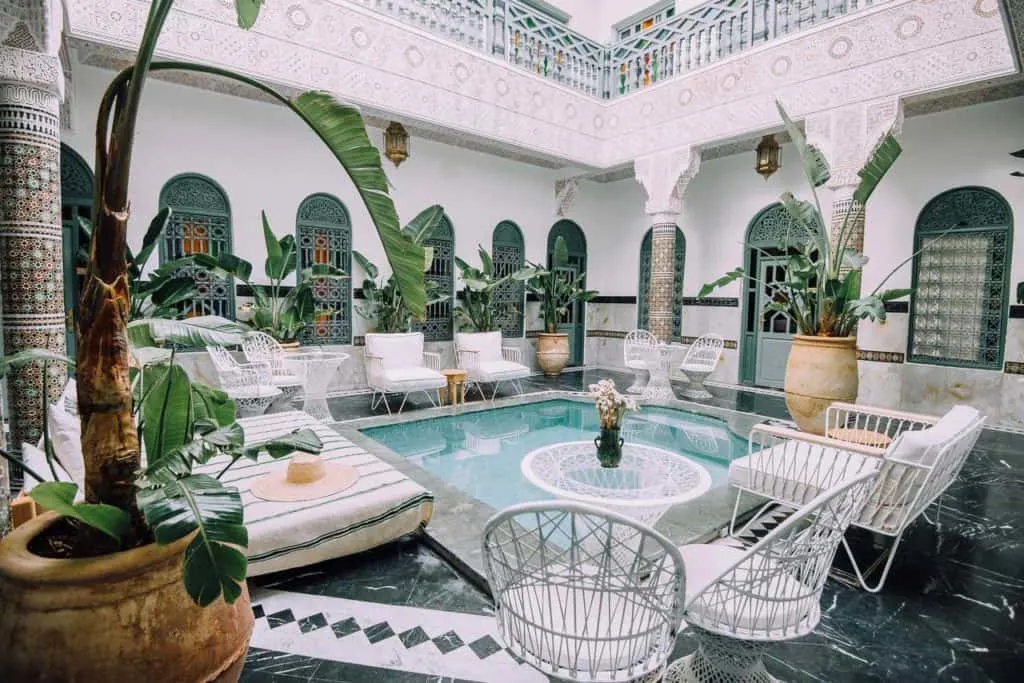 A beautiful, simply decorated riad with 11 rooms and suites as well as a plunge pool in the central courtyard for lounging or swimming, Ksar Kasbah is a place to get away and disconnect. Relax in the spa or on the rooftop when you're not out discovering the city.
Riad Palais Calipau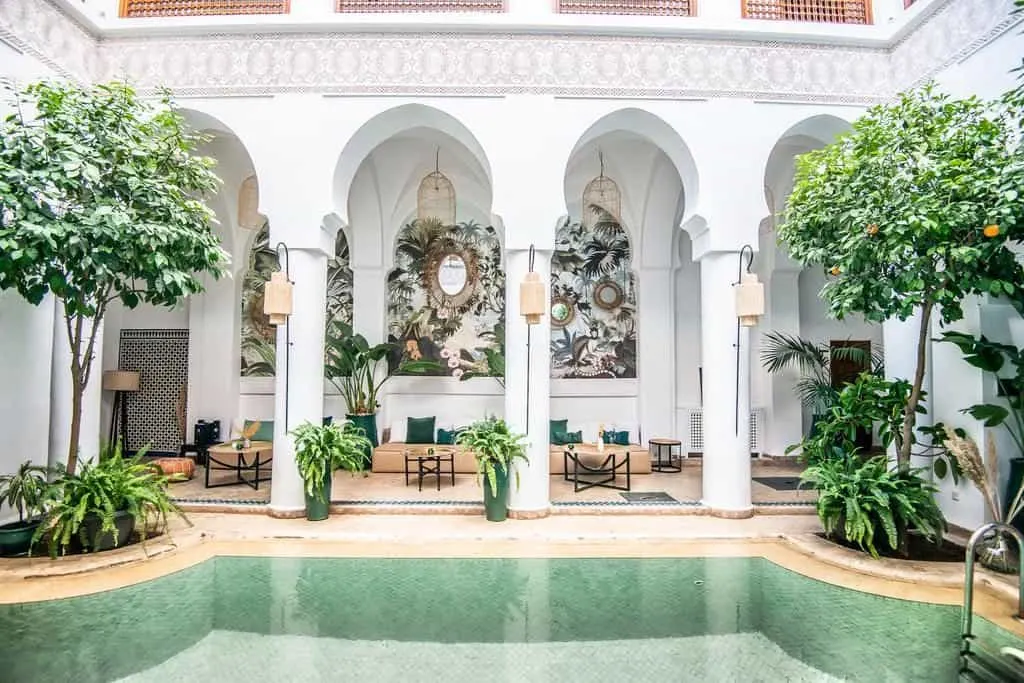 Check in to this lovely riad when you come to Marrakech for an inviting and relaxing stay. The riad features a central pool feature, large ceilings and spacious rooms ideal for couples or families traveling together.
Riad Belko
For those travelers seeking a homey riad to stay in this may be an option. It does get mixed reviews and may have a bit more of a hostel vibe. It is a more affordable option than some of the luxury places but do keep this in mind if you are seeking a place to stay.
Almaha Marrakech and Spa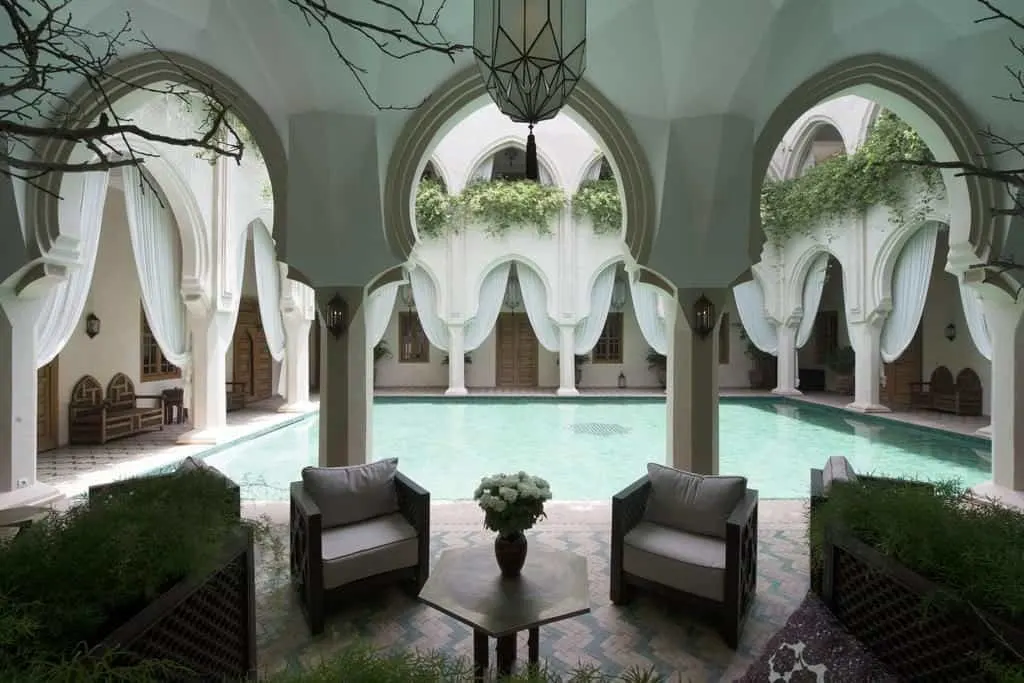 Almaha bills itself as an artists' retreat and features an art-filled lounge space for drinks and relaxing among other unique touches. Twelve spacious, and individually decorated rooms are made up with oversized beds, artwork, soaking tubs and fireplaces.
Riad L'Arganier
This small riad features just 5 bedrooms for guests leading to a very homey feel. It can be rented by the room or the entire riad can be rented for a friends or family getaway. A rooftop terrace features loungers to lay out as well as a hammam treatment room. Rooms are just €70-90 per night making it an affordable option in the kasbah.
Riad Inaka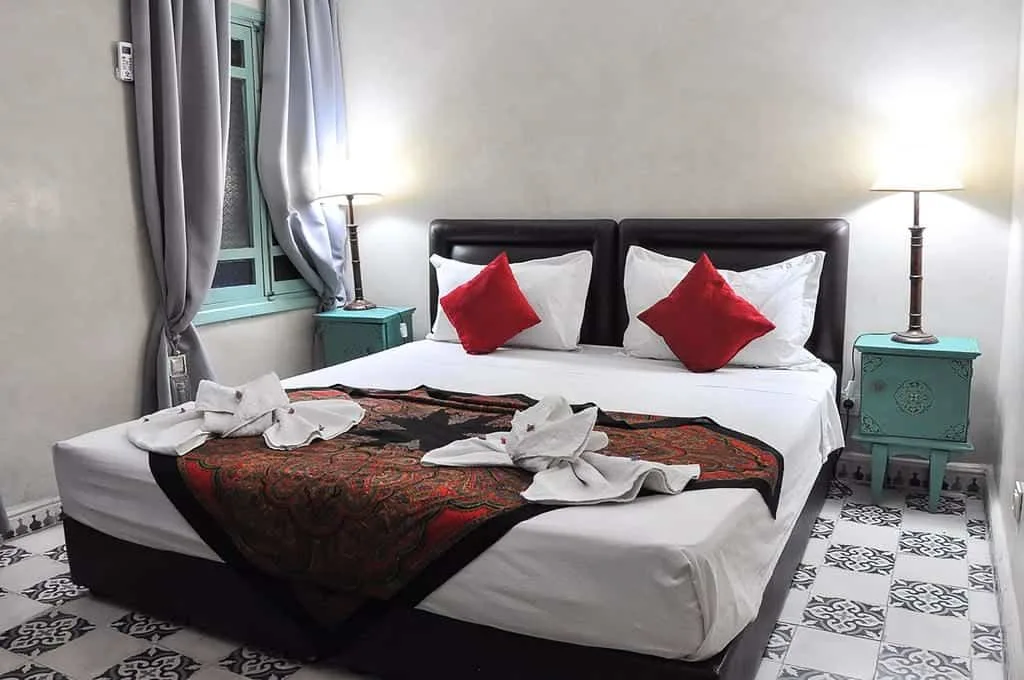 Riad Inaka is a 7 bedroom riad that features Moroccan design but lots of modern touches. Each room has heating and air conditioning as well as a private bathroom. Enjoy the rooftop or courtyard during your stay. For those on a budget rooms start at €50.
Riad Hikaya
Eight rooms make up Riad Hikaya and nightly turn down service with rose petals is part of your stay. The riad is an eclectic mix of modern amenities, Moroccan craftsmanship, vintage film posters and African influences.
This is one of the few riads in Marrakech that not only have a large swimming pool but also a hot tub. Cafe Clock is just around the corner if you're looking for a bite to eat or cultural event.
If you choose to stay in the kasbah I hope these riads give you some ideas of where to stay to make your time special.