If you've snapped up one of the cheap flights to Marrakech with your sweetheart it's time to start searching for where to stay in Marrakech. Choosing one spot is no small feat. With nearly 1000 riads plus even more hotels and Marrakech resorts where do you even begin?
For couples planning a Marrakech honeymoon or simply just a nice stay, I've put together some suggestions that will help you decide where to stay in Marrakech.
You need to think about a few things when you start choosing a place to stay. First, it's the variety of options available. I would suggest taking a read of this post I wrote on whether you should stay in a hostel, hotel, or riad in Morocco. It will give you an idea of what to expect and how to choose. Some of the choices you have on where to stay include;
riads – traditional Moroccan homes, similar to a bed and breakfast.
hotels – ranging from very basic to extra luxurious
hostels – for those on a budget that don't mind shared accommodation (some have private rooms).
all-inclusive hotels/resorts – hotels that include food and sometimes beverages as well as entertainment in room costs.
apartment rentals – sites like Airbnb have many apartments and private riads available for rent. Airbnb is one of the sites that I often use for booking apartment rentals and is worth a look if you're thinking of this.
Boutique Hotels in Marrakech
Often times riads are referred to as boutique hotels. This often means the riad has more rooms than the average. A normal riad has 3-6 rooms. It was once a private family home that has been made into a guest house. A boutique hotel in Marrakech often has 10-15 rooms. Sometimes this can mean it was two riads that were combined to create one space. Here are my suggestions for this type of accommodation.
Palais Khum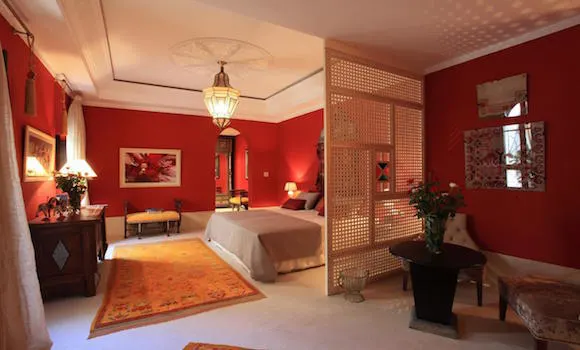 This riad has been gorgeously restored and you'll feel like you've stepped back in time. The art deco feel, white decor and plenty of lush greenery immediately sets the tone for a secluded hideaway vacation. This riad is in the Dar el Bacha neighborhood and very easy to access.
La Sultana Marrakech
La Sultana
This is the smallest five-star hotel in Marrakech and a lovely boutique hotel with 28 rooms and suites on site. You'll relax in complete comfort with king-size beds and a stocked mini-fridge. The swimming pool is heated and a full spa can help you relax. La Sultana is in the Kasbah neighborhood of Marrakech.
Les Deux Tours
This Marrakech boutique hotel has 37 rooms or suites along with 8 private pools and a large heated swimming pool that is open to all guests. It's the largest boutique hotel on the list and I'm including it because of its lovely gardens, hidden location and great amenities. If you want to run away with your sweetheart it's a good place to run! Les Deux Tours is in the Palmeraie area of Marrakech.
La Maison Arabe
This small hotel has been open since 1946 and has a great reputation in the city. There are 26 rooms and suites with private entrances as well as 3 onsite restaurants. The cooking school is one of the best in the city. Located in the medina neighborhood you can spend time relaxing on-site or easily venture out and be right in the middle of the action.
Ksar Char-Bagh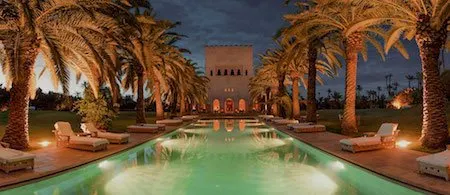 Outside the city you'll find Ksar Char-Bagh. You won't just find hotel rooms here, each room or suite is spacious – an apartment to yourself, with multiple sizes and amenities available. It has won several awards and you're sure to feel like royalty if you decide to stay here. This hotel is in the Palmeraie neighborhood of Marrakech.
Luxury Riads in Marrakech for Couples
You want the riad experience but luxury too. These five luxury Marrakech riads will give you just that.
Riad Kniza
This beautiful 18th-century riad is a gem in the medina of Marrakech. Eleven rooms and suites are available to rent and the onsite restaurant is known for its attention to preparing traditional Moroccan dishes in a beautiful way.
Dar Les Cigognes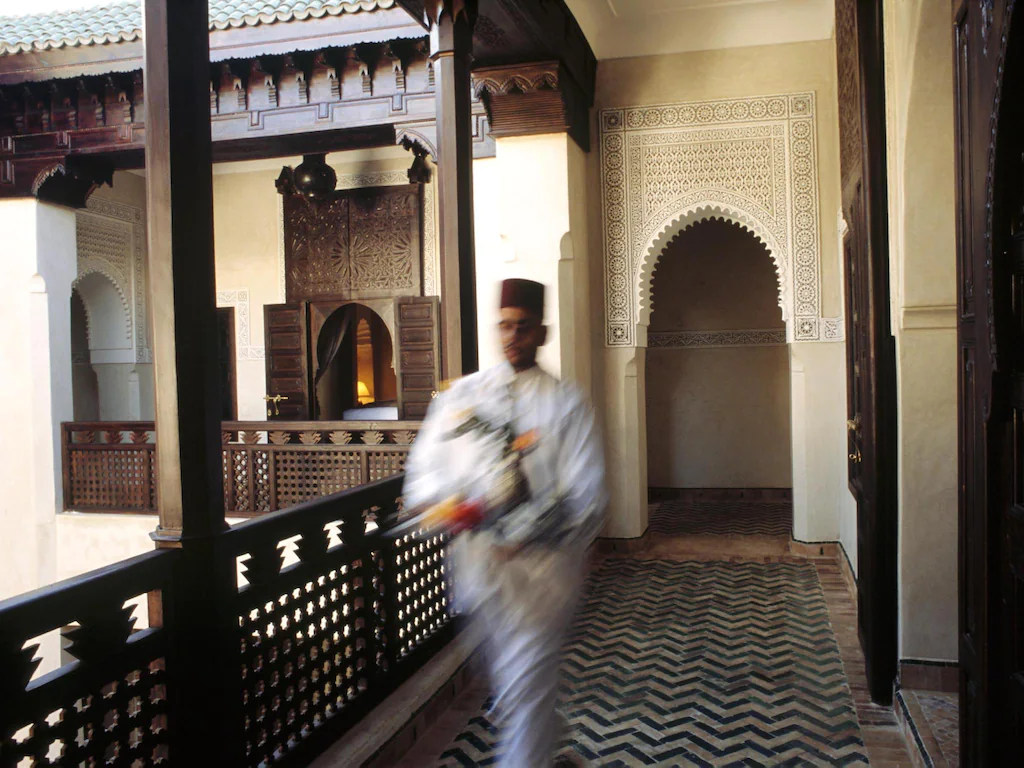 Translated to "House of the Storks" Dar Les Cigognes is conveniently located near the Badi Palace and Mellah. Relax in your room and enjoy a hammam or massage onsite. Eleven rooms and suites are available with different amenities. You can also participate in their very well-known private cooking classes.
Riad Farnatchi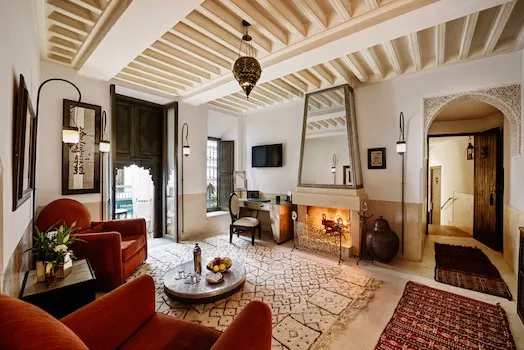 Ten suites make up Riad Farnatchi, each with handmade beds and Egyptian cotton linens. Relax in the common areas or enjoy a meal in one of the dining rooms. It also boasts what might be considered one of the best spas in Marrakech. You can visit Le Trou au Mur, part of the Farnatchi family and conveniently located just across the street.
L'Hotel Marrakech
With only five rooms but plenty of space you'll feel like you've got the place to yourself. This riad has been tastefully decorated with some elements that were acquired from the collections of famous Marrakech-based designers Bill Willis and Yves St. Laurent. This riad is truly luxurious and would be a special experience for anyone visiting.
Riad Joya
Here you'll experience a mix of Moroccan design and Italian style. Seven rooms make up Riad Joya each with a different style and aesthetic. An onsite butler will ensure that all of your needs are catered for and can assist with booking anything you would require outside of the riad.
Riad BE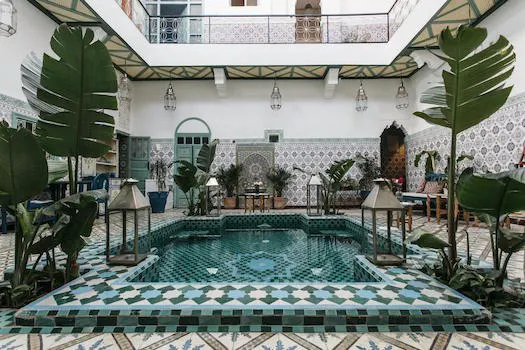 If you want to spend your time in Marrakech in the heart of the medina this is the place to stay. With just six rooms you'll feel relaxed and get all the personal attention you want. Take a cooking class together or enjoy a meal on the rooftop, they'll help arrange what your heart desires. To book this riad you'll need to directly contact the property.
Affordable Luxury Riads in Marrakech
These riads might be some of the best riads in Marrakech if you are seeking luxury and comfort but are on a bit more of a budget. You'll have a personal, relaxed and romantic experience at a price that won't leave you crying when you get home!
Riad Adore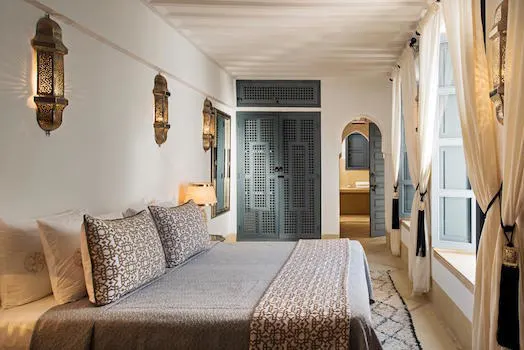 Light and airy are the words to best describe Riad Adore. It's tastefully decorated ten bedrooms are luxurious and welcoming. Antique kaftans (traditional Moroccan women's dresses) are used in each of the rooms as decorative pieces. For book lovers spending time in their beautiful library must be added to your to-do list.
Riad Dar Zaman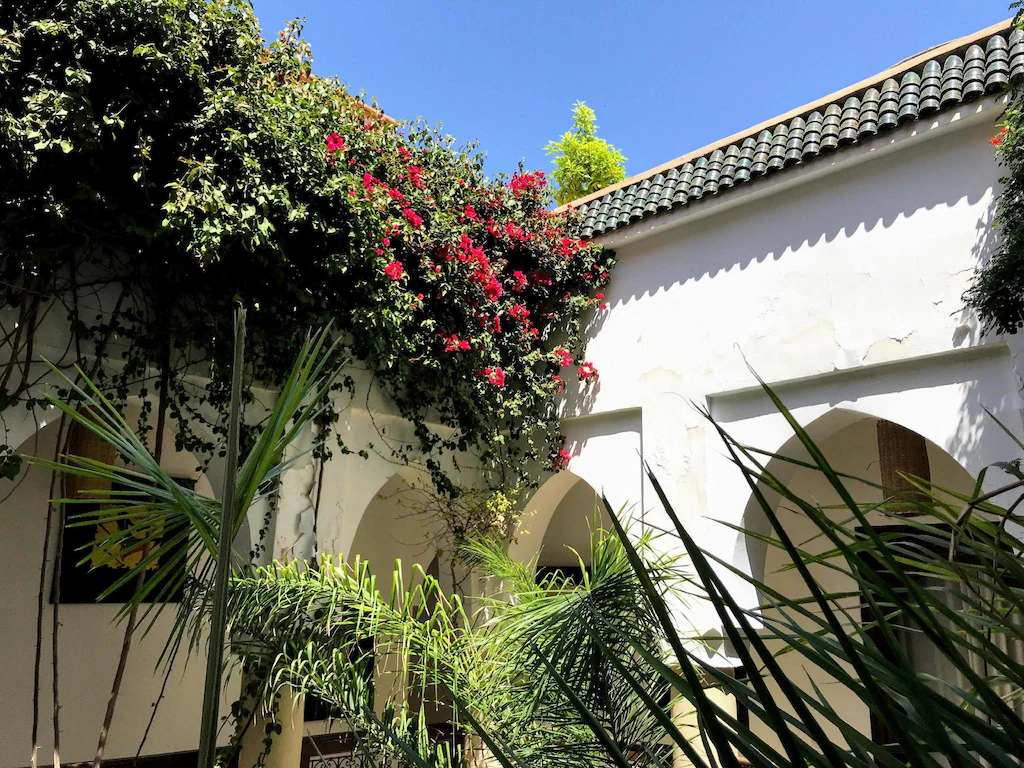 With four rooms, Dar Zaman is a cozy hideaway for couples honeymooning or simply looking to getaway. Depending on the season enjoy their plunge pool or open fireplaces! Each room has unique decor with a combination of Moroccan and West African inspiration. Make sure to enjoy their lovely breakfast on the rooftop (weather permitting.)
Riad 107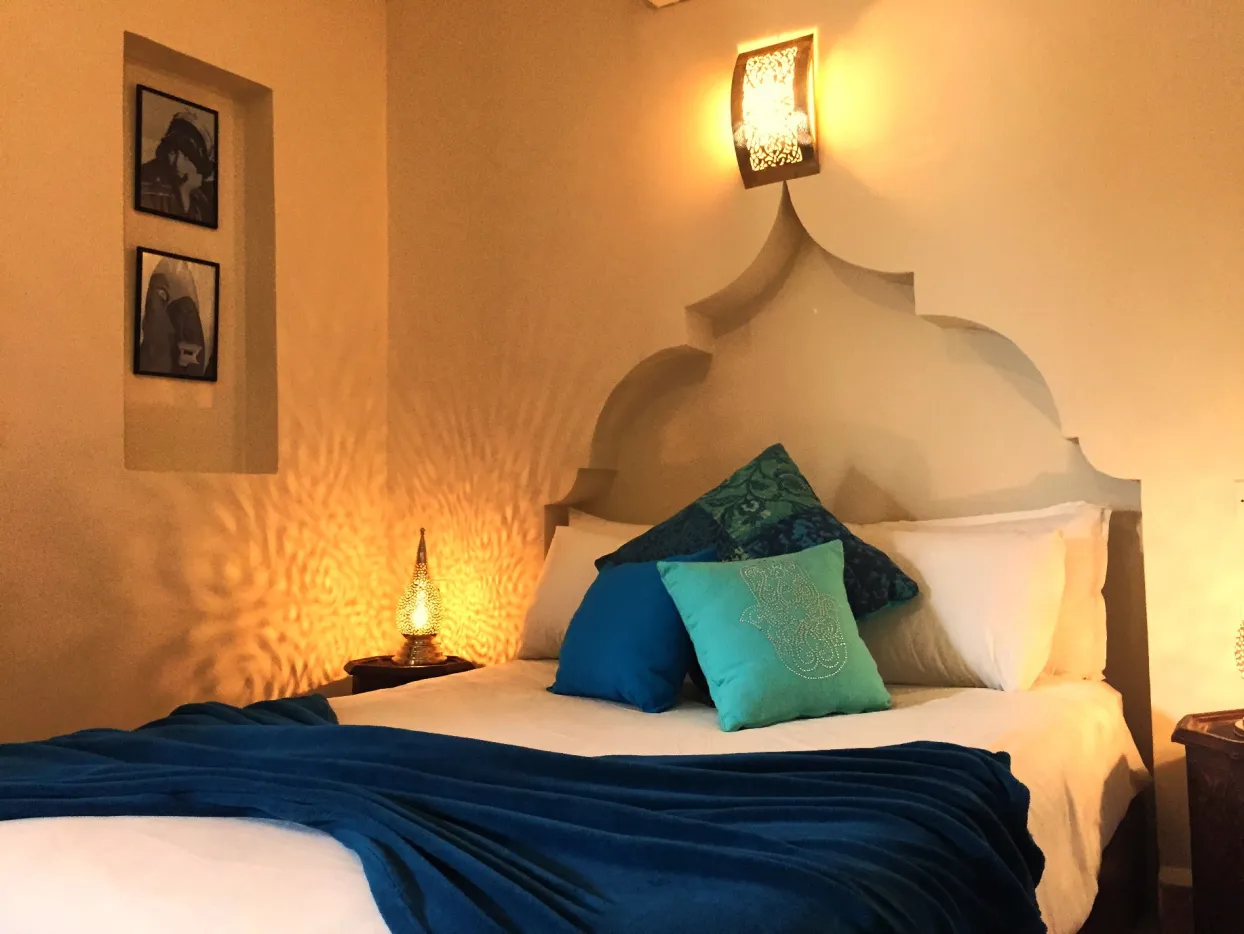 A hidden oasis in the streets of the medina. This small riad is tastefully decorated and calming after a long day exploring Marrakech. Enjoy the roof terrace and plunge pool. Daily breakfast is included and you can also order lunch or dinner to be served in the riad (highly recommended as the cook is excellent!)
Riad Mur Akush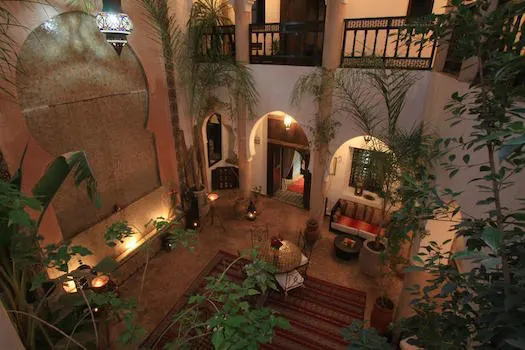 Amazigh (Berber) for "Land of God" is what Mur Akush means. Inside the doors you'll find this 300+ year old home has been restored with attention paid to reviving the traditional Moroccan details. Six luxury suites are available in different configurations, two of which include fireplaces.
Luxury Hotels in Marrakech for Couples
I purposely left off some of the more well-known luxury hotels like La Mamounia or The Royal Mansour as they're on everyone's radar. Instead, I've chosen five other luxury hotels to show you other options in Marrakech.
The Oberoi Marrakech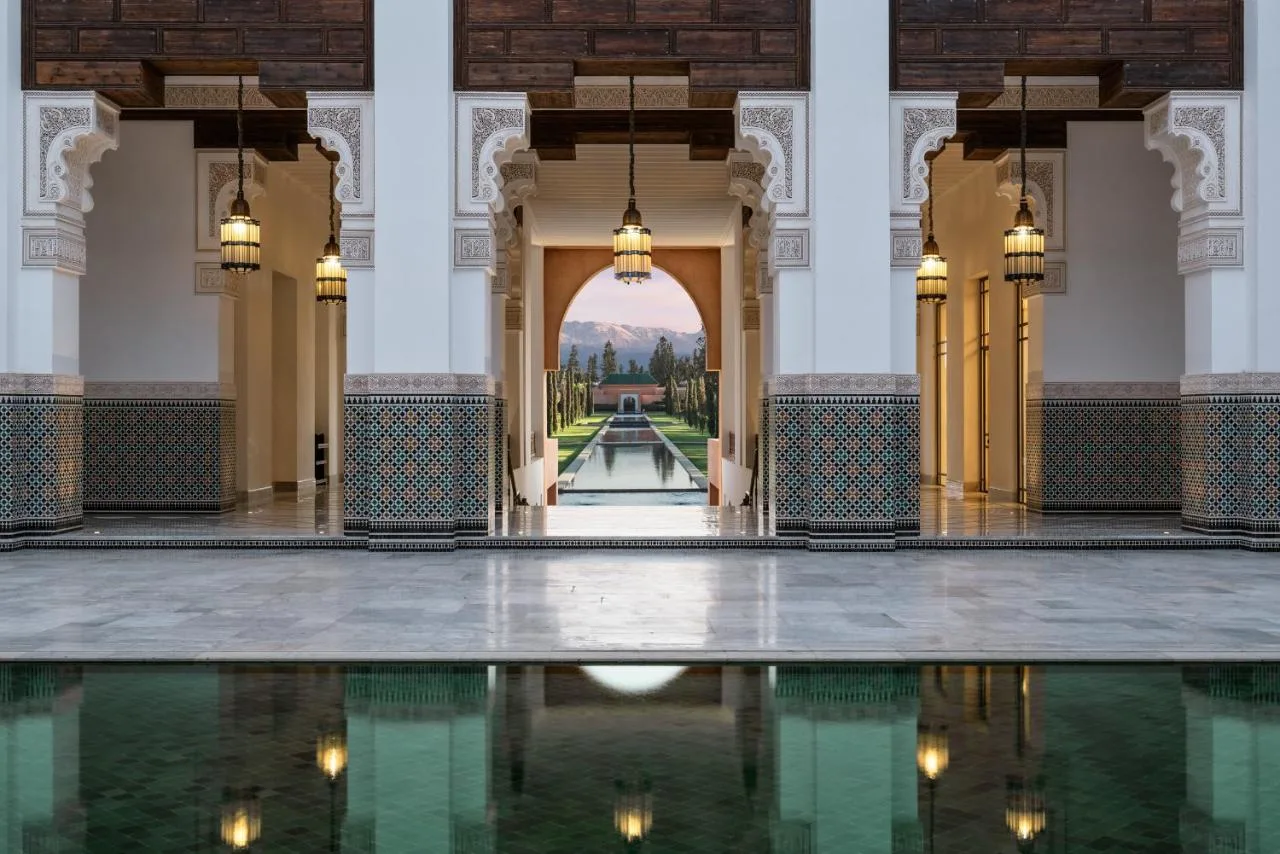 Here you'll find five-star luxury amenities that truly pamper you. The property is surrounded by palm and olive trees giving it the feel of seclusion just outside the city with beautiful mountain views. Rooms are a mixture of spacious rooms as well as private villas with pools. For guests that have reduced mobility, there are accessible rooms and amenities available.
Mandarin Oriental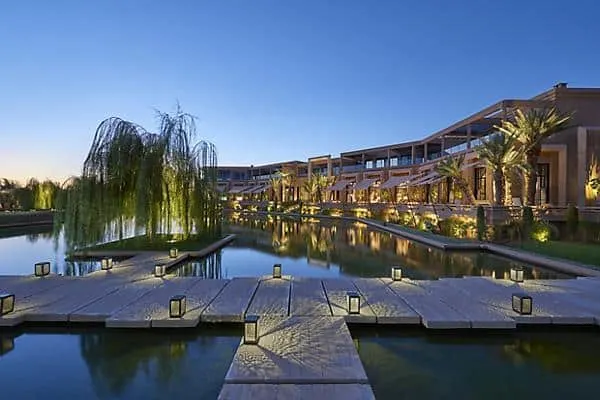 I included this globally known brand because its Marrakech location is truly lovely. Book into one of their villas where you'll have complete privacy including your own swimming pool. You can also use any of their onsite amenities. Eat at least one meal at signature restaurant Mes'lalla to enjoy traditional Moroccan flavors in a modern way.
La Villa des Orangers
Most 5-star luxury hotels in Marrakech are located outside the city – not this one! You will be situated in the heart of the city but with lush gardens and relais et châteaux status, you'll feel like you're miles away. Gorgeous rooms and suites have a modern feel with traditional Moroccan elements.
Selman Marrakech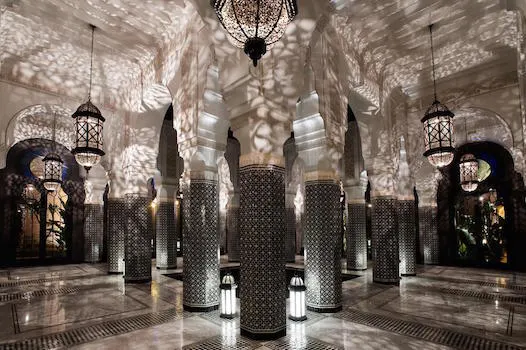 One of the most unique features of this five-star property is the stable of thoroughbred Arabian horses that could be considered the mascots of the hotel. Each room is deliciously decorated, and the signature experiences offered will make any guest feel like a VIP.
Fairmont Royal Palm
This sprawling property includes hundreds of hectares of gardens, an 18-hole golf course, a 3,500sqm spa, and six restaurants. Each of the 134 rooms, suites and villas offer views of the Atlas Mountains and surrounding gardens.
All-Inclusive Marrakech Hotels
For those travelers who would rather have everything taken care of for them, there's the option of all-inclusive resorts in Marrakech. These resorts are outside the city center but many have transportation options.
Sol Oasis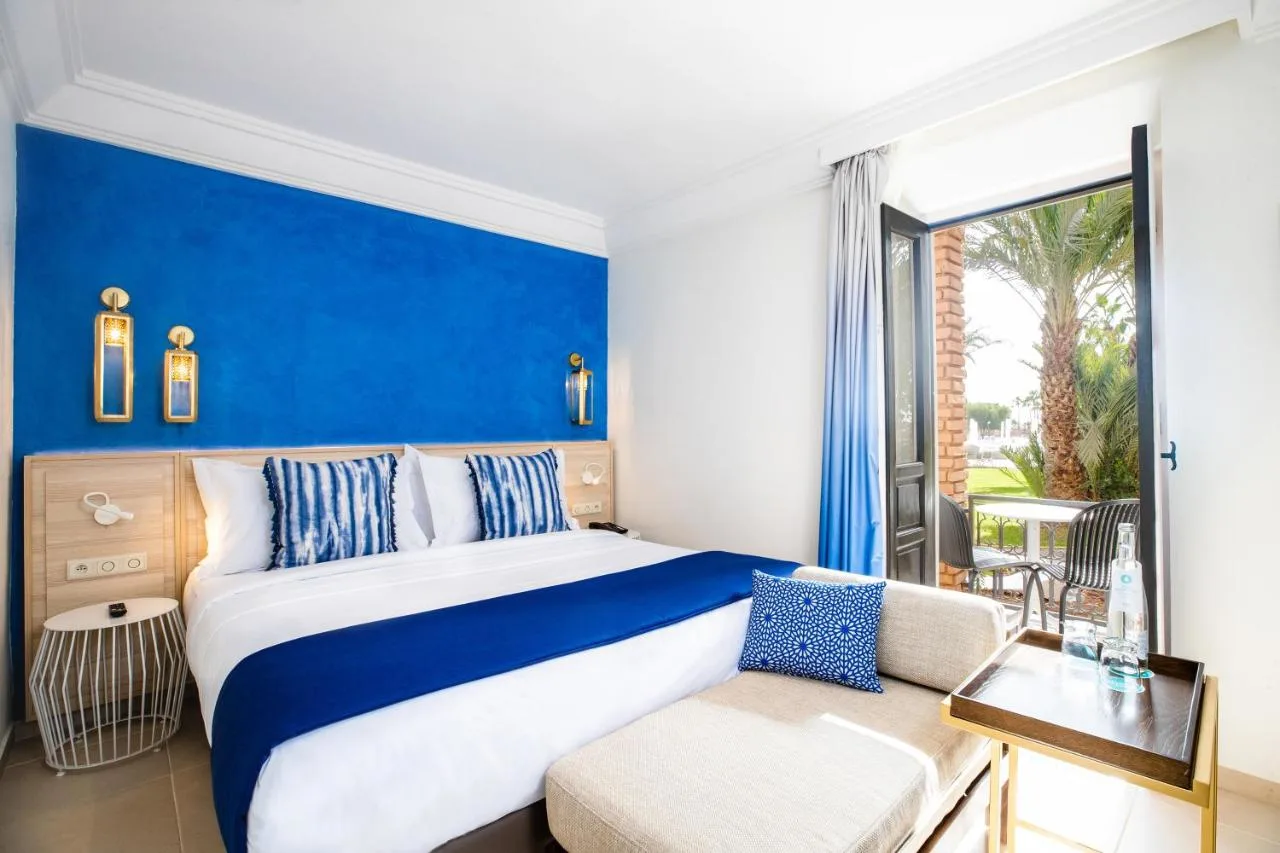 This property is large, with various categories and configurations. Guests have complimentary access to the year-round pool as well as a spa and lots of outdoor activities like a soccer field, tennis courts and basketball courts. The buffet restaurants are available with the all-inclusive plan for breakfast, lunch and dinner as well as complimentary drinks and snacks at the onsite bars.
Eden Andalou Club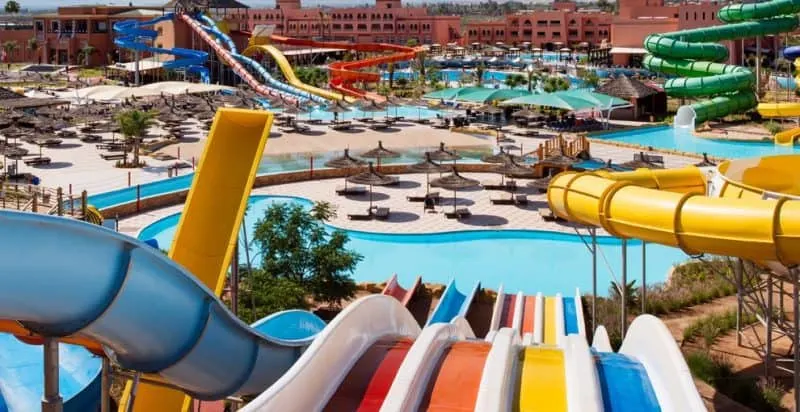 For the couple that is seeking an all-inclusive option with plenty of water activities, this is a good option to consider. There are on-site restaurants as well as a half-board option if you plan to take some of your meals in the city. The team in charge of entertainment are particularly well-liked at this location.
Kenzi Club Agdal Medina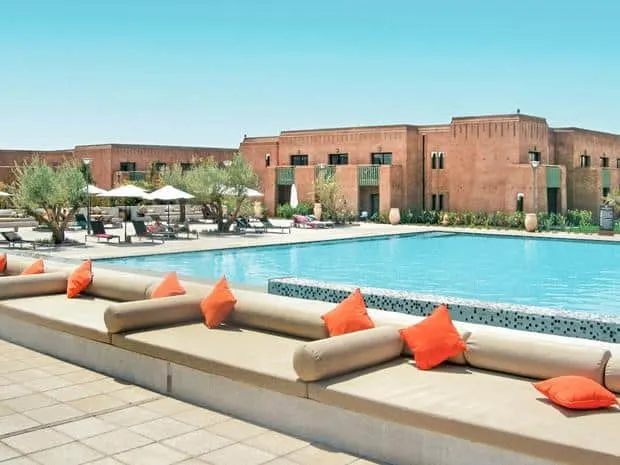 Of the all-inclusive options, this one is one of my favorites for people who want an all-inclusive hotel not far from the city. Two hundred and fifty deluxe rooms are complete with modern amenities and a hotel feel. Each room has a balcony and all-inclusive guests have access to onsite restaurants and bars throughout their stay. A shuttle bus will get you to and from the city center – just a very short drive away.
Medina Gardens
While many all-inclusive hotels cater to families, this hotel is an adults-only property. It's also located in the heart of the city so you won't need to worry about getting around. Wander the gardens or swim in the pool. Choose from eating onsite or find the city at your fingertips just by stepping outside the doors.